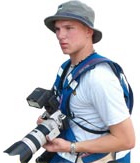 Jarrett Baker
Jarrett Baker is a freshman at the University of Florida. He is studying photojournalism and occasionally finds time to write for DCSki and his hometown newspaper, the News-Sun. Because Florida is so far away from the slopes, Jarrett can only ski several times a year. After graduation, he hopes to be a D.C. photojournalist, covering national events or perhaps even White House politics.
When he was 11, Jarrett experienced skiing for the first time at West Virginia's Timberline resort. Nearly 8 years later, he is hooked on the sport. Jarrett stays occupied with school and photography, and also enjoys swimming, cycling, water skiing, and singing in the Men's Glee Club.
You may visit Jarrett's web site here.
Jarrett has written 9 stories for DCSki since 2003.
0.01 seconds