Firsthand Report: Snowshoe
4
Snowshoe Mountain opened for the season on November 27th. With an average base that first week of nearly 50 inches, the 2002-2003 ski season was off to a roaring start. Nearly five months and 193 inches of snow later, I was at the summit of Cheat Mountain making my first tracks of the season! I was pleased to notice that Snowshoe had survived the beginnings of spring much better than last season. When I visited last season I was treated with rain. This year, however, was much different. The three days I skied, March 23rd, 24th, and 25th, were beautiful. On Sunday, Mother Nature hinted of snow. Yet on Monday and Tuesday, the shirtless snowboarders and bikini clad girls reminded me more of central Florida than Snowshoe, WV!
After acquiring Dynastar Max Threes from E-Bay, I needed a pair of boots. When I arrived at The Tool Shed near Top of the World, I was greeted with a warm smile and caring attitude. Amy helped me find boots and made sure that they fit well. She had me stand in a skiing stance and normal stance, making sure my toes were not at the end of the boots. She informed me that if my toes hit the ends of my boots, the toenails would fall off! Although my Dynastars only cost me $70 after shipping, my Head Edge 10.0 boots cost $286 on sale with tax included! When I left The Tool Shed and hit the slopes, I only returned to thank the staff for helping me and told them that my boots fit great!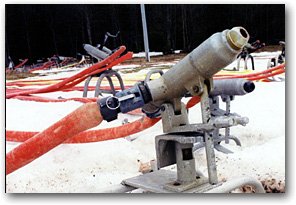 With new skis and boots, my first runs were very interesting. I took several falls on greens, and moguls on the expert terrain caused even more embarrassments. As the day went on, I became more accustomed to my skis and headed to the Western Territory. The snow was soft, but I found the moguls to be very nice. 1.4 miles of moguls was quite a work out. I had to stop every so often to catch my breath. I spent a few hours at Silver Creek as well. However, it was definitely that area's last day to be open. Snow guns littered the side of the mountain, and slush was found on many of the slopes and trails.
On Tuesday and Wednesday, F-18's flew overhead. After spending the morning on the basin side with my less experienced friends, I headed to Cupp Run. Blue bird skies and mild temperatures were the norm on Monday and Tuesday, and my time at the Western Territory was much better than on Sunday! The basin also offered me a variety of runs. Other than the slopes closed for trail improvements, I coasted from one trail to the next. The crowds were minimal, and the snow was excellent! The bumps on Cupp were much bigger than those at the Basin area, and I enjoyed the mild bumps and fast speeds that the Basin had to offer.
Unlike most trips to the slopes, where people stay in condos or hotel rooms, I chose to camp at Whittaker Campground with my Venture Crew (a division of Boy Scouts designed to keep older boys in Scouting utilizing high adventure activities). Whittaker is located roughly 5 miles west of Cass on 66 (a ten minute drive to Snowshoe's new access road). The new access road is very nice, and definitely cut our travel time up to the parking lot! Although I didn't enjoy spending all of my time in the cold temperatures, I will definitely winter camp some time in the future when I have better cold weather gear. Clothes get very wet in Spring conditions, and unfortunately, soaked garments don't dry very well in a small tent.
In the mornings and evenings, we ate at our campsite. Breakfast consisted of Pop-Tarts and Milk, and Dinner was either a Meal Ready to Eat, Steak and Potatoes, or Mushroom and Potato soup. At lunch, we ate hamburgers at the Shavers Center on Sunday, and ate ham and turkey sandwiches at our car on Monday and Tuesday. Bringing our lunch was cheaper than eating in the Village, yet cutting cost for cold food in the snow didn't give us time to defrost at lunch! Overall, the camping was an interesting experience but not as enjoyable as a weekend in the woods in late March or April. My advice is to stay on the mountain, and eat at the resort's facilities!
Spring has definitely come to area ski resorts. On Tuesday, the temperature rose to the mid sixties. Skiers and snowboarders weren't only shirtless, they were skiing in their bathing suits! By late Tuesday, many trails had bare spots on them, forcing the resort to close some of its terrain. With temperatures staying above 32 degrees at night, the groomers couldn't get on the slopes. As a result, everything was bumpy. As I headed up the Widowmaker lift to begin my journey home, Mountain Operations was packing up the snow guns. Currently, the resort has 32 trails open on a base of 42-56 inches. Silver Creek is closed but plenty of terrain is open on the Basin side and Cupp on the Western Territory is still in decent shape. Snowshoe plans to close on 6 April. The season was phenomenal, and the great spring skiing was definitely worth a twenty hour drive from central Florida. It was certainly not Spring Break MTV style, but big moguls and soft snow definitely enhanced my skills, and the camping experience gave me an appreciation of the hardships of living outdoors in all weather conditions.
[Editor's note: Shortly after Jarret's visit, Snowshoe received 18 inches of fresh snow in a late-season snowstorm.]
Photos provided by Jarrett Baker.
Jarrett:

I enjoyed your article. Too bad you missed the big storm. Maybe next year, you will have better luck. :)
excellent report. the click rate on this story would go up 1000% if you got the editor to include photos of a few of those bikini clad snow riders! you are following in the footsteps of many of us older enthusiasts with camping..skiing for skiing, instead of for amenities
Unfortunately I don't have any pics like that because the camera was in the car! I enjoyed winter camping, and with a snowfall it would have been super cool. I just need better winter gear. clothes for the slopes and those for camping so they dont smell like campfire!
Too bad you weren't at Snowshoe earlier in the ski season. A natural snowpack of 4-6 feet coated everything from December-late February. Snowshoe was 110% open this year with brazen kids riding off piste'anywhere open enough to slide downhill. This has definately been a season to mark in the record books.