In DCSki's Interview Series, we take a look at interesting people who have a connection to the mountains. Today we interview Kenny Hess, who has served in numerous positions at Virginia's Massanutten Resort.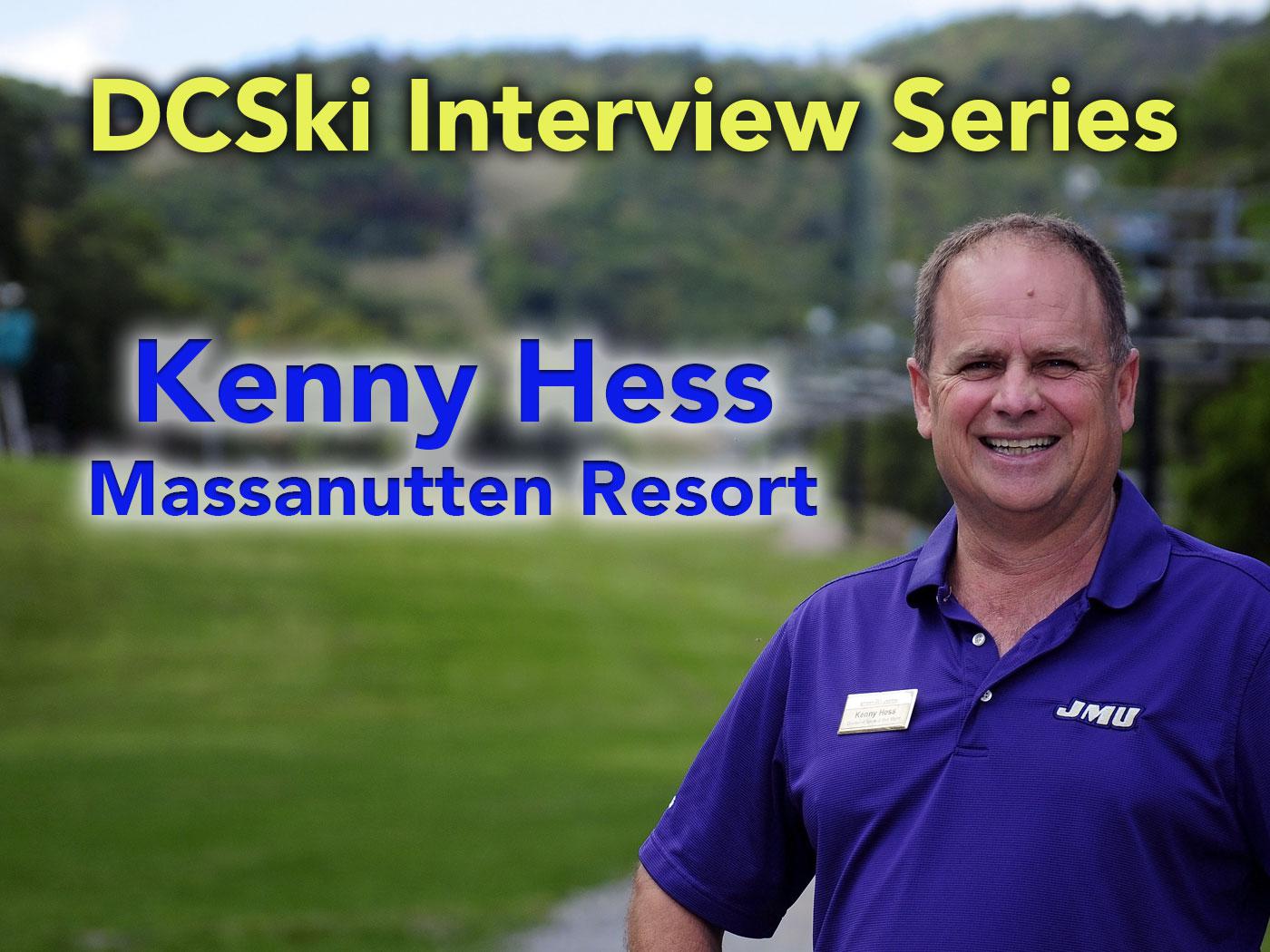 Scott: Hi Kenny, thank you for participating in the DCSki Interview Series. It's great to talk with you, especially during this special year when Massanutten is celebrating its 50th anniversary! What positions have you held at Massanutten, and what role do you currently play?
Kenny: I've held many different positions at Massanutten over the years. I started as a part time lift operator while attending James Madison University in 1980 to get a free season pass. I then joined the Ski Patrol for a few years before graduating and moving to Vermont to work at Sugarbush.
I returned to Massanutten in 1986 to take the role of Ski Patrol Director. From there, I added Resort Risk Manager and Assistant Ski Area Manager duties along the way. I became the Director of Business Operations for the resort in 2007, which included oversight of Ski/Tube, Adventure Park, Water Park, Recreation, Spa, Golf, Mountain Bike operations and Resort Risk Management functions. We expanded our Director Group in 2012 and my current title is Director of Sports and Risk Management with a primary focus on Ski Operations, the Family Adventure Park (including Snow Tubing, Zip Lines, Canopy Tour, Climbing, etc.), Golf Operations for two courses, and Resort Risk Management.
Outside of Massanutten, I've also had the pleasure of serving on the National Ski Patrol Board of Directors, serving as President of the Southeastern Ski Areas Association, and representing the Southeast on the National Ski Areas Association Board of Directors. It's been quite a fun, diverse, and challenging experience that I certainly wouldn't have envisioned while applying for a lifty job many years ago.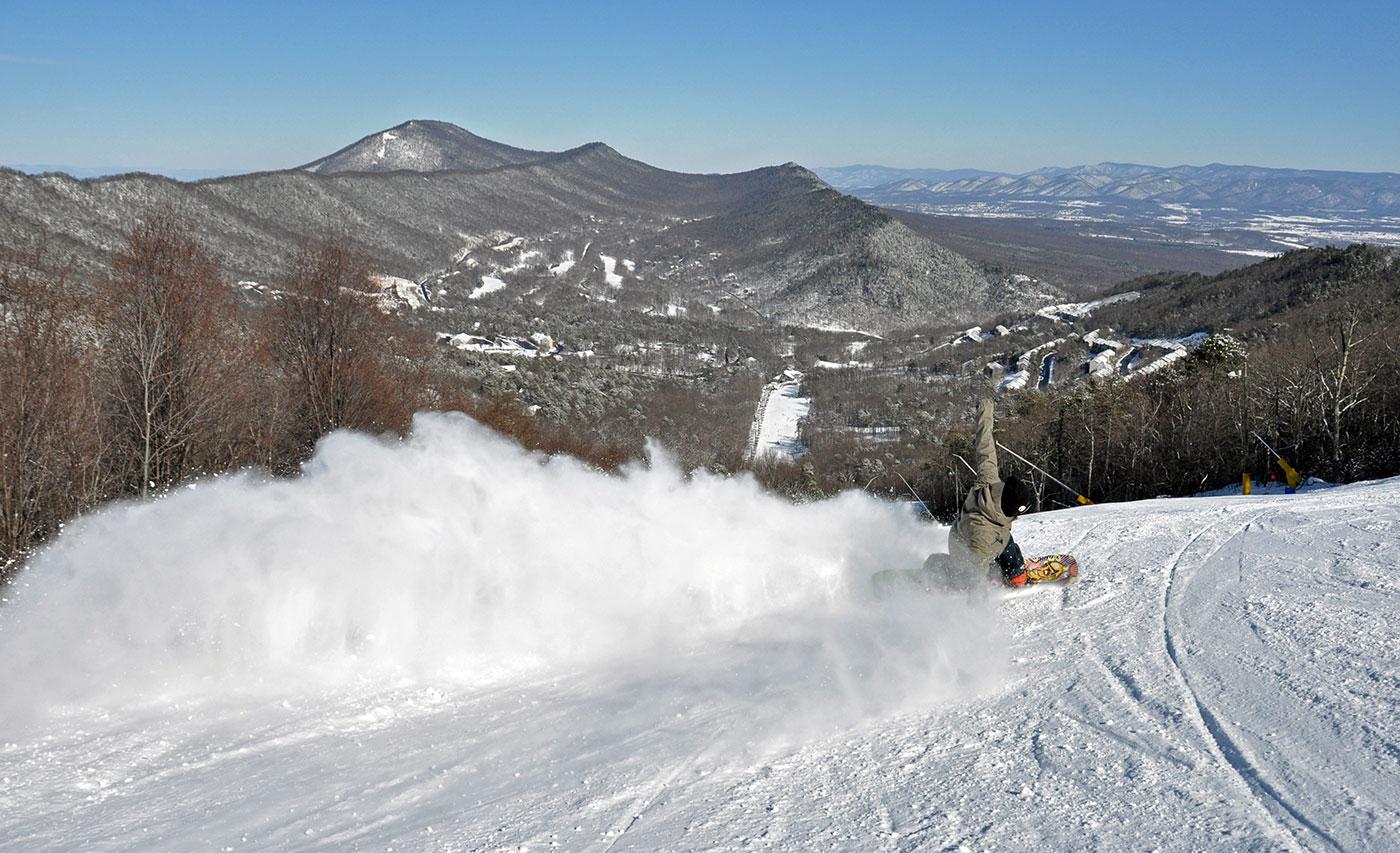 Scott: Describe a typical work day for you during the ski season.
Kenny: One of the things that keeps the job interesting is the variety of things that I get to do on an irregular basis. I'm not sure if there is a "typical" work day, but my day generally starts with a meeting with the Mountain Operations crew about the snowmaking and grooming plan (or how it differed from the plan we had made the day before). A lot happens at night behind the scenes that can go unnoticed and nothing beats a sunrise snowmobile ride to start the day.
I try to check in with each department manager in the morning for a quick hello and to see how things are going and if they need anything. I make sure the snow reports, operations and marketing are all on the same page with what's really happening out on the snow. I usually have a couple of staff, department, and resort meetings throughout the day sandwiched around some time for e-mail correspondence. I really try to get out and talk to guests and line staff as much as I can to see what we can improve on.
We've made a lot of changes to programs and processes this year and last year with COVID protocols, on-line sales, RFID gates, etc. We're always evolving to make the experience better for guests and employees and we're constantly tweaking in an effort to improve.
I usually end the day back with the Mountain Operations crew to review the short and midrange snowmaking and grooming plan.
Scott: What are some of the biggest challenges in your job, and what are some of the biggest rewards?
Kenny: There are so many moving parts to operating a ski area. The biggest challenge (besides the weather) is keeping everyone on the same page and getting everyone to realize the downstream or upstream effects making a change has on other people and departments.
Easily the biggest reward is seeing a person, group of friends, or family out on the snow having fun or talking about coming back or how much fun they had. We all know that skiing isn't the most inexpensive thing to do, and if it's not fun why would they come back?
Scott: How often are you able to make it onto the slopes?
Kenny: I try to get out 4-5 times a week but have not made that goal so far this season. When I do get out it's usually only for an hour or two, but I make an attempt to ski every trail or at least ride every lift.
I also get a trip in up north or out west as the season is over or winding down, along with some day trips to check out the regional competition. The ski industry is fairly unique in that we're all friendly competitors and pretty free to share ideas, so Research and Development trips are beneficial.
Scott: Are you a skier or a snowboarder?
Kenny: I've been a skier since I was 8 or 9 years old. I was fortunate that my family got into skiing and I have some great memories of family ski trips. I've snowboarded a handful of times and joke with my boarder friends that I'm going to take it up when I'm too old to ski.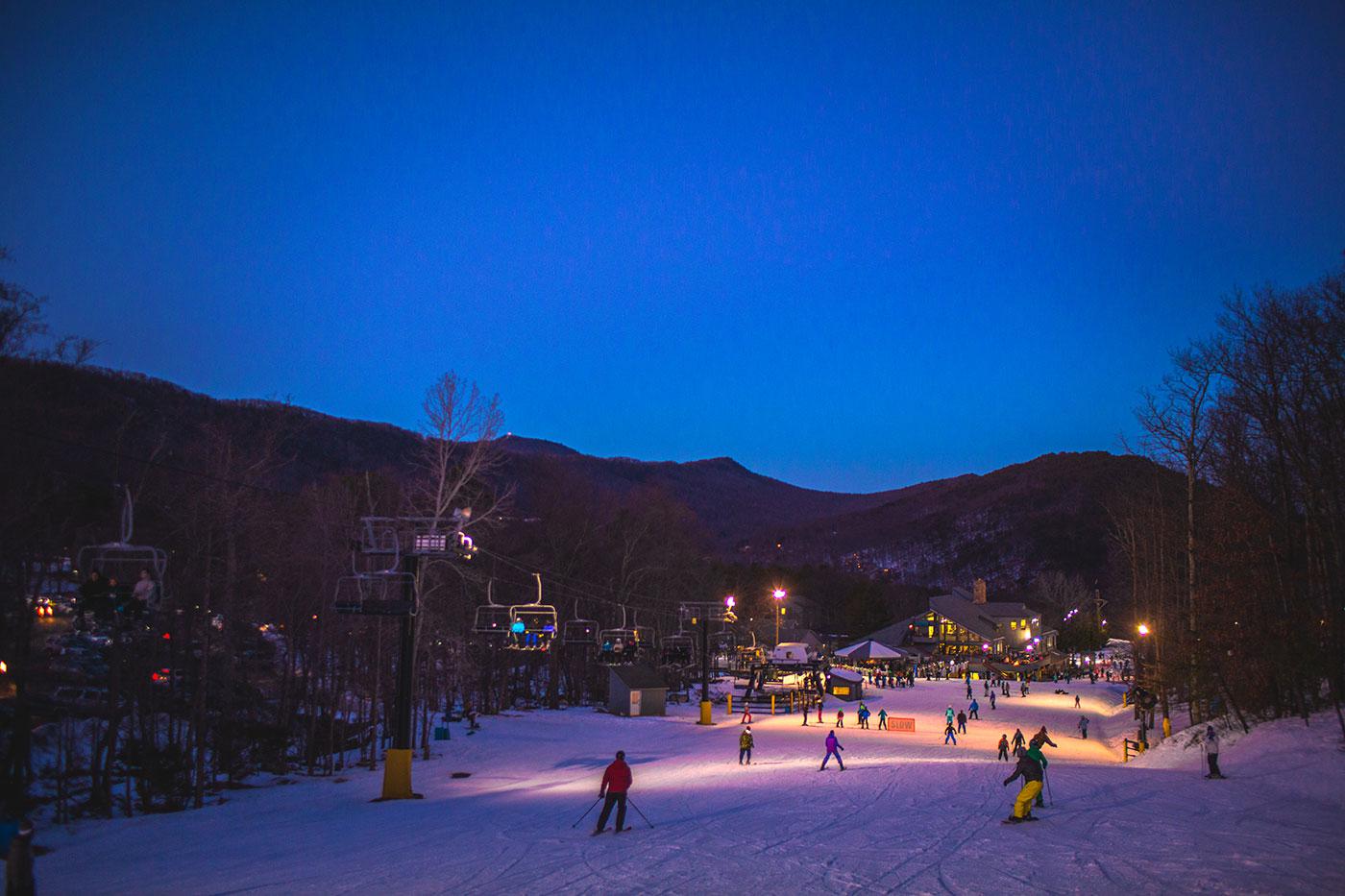 Scott: Massanutten Resort is celebrating its 50th season this winter, having begun development on May 26, 1971. What can you share about the early history of Massanutten? Was skiing always an important component of the resort experience?
Kenny: Skiing was really the focal point of the original developers or at least the driver to sell real estate. The original concept was a mountain resort community centered around ski and golf. The 1,200 original lots have become mostly year-round residences, with the timeshare component and development starting in the late 1970s.
The resort, like many other similar developments, went through a series of owners in the early years until it was purchased by our founders in 1984. The timeshare development they brought helped capitalize ski expansion in the late 1980s and many other resort amenities like the Conference Center, a second golf course, two recreational facilities, snow tubing, zip lines, bike park, many pools, and the indoor/outdoor waterpark.
Skiing has always been an important amenity and the revenue driver for our winter lodging guests and day skiers, but the other amenities have really solidified the four-season aspect. Our lodging model is fairly unique to the region and ski business but has really allowed us to keep heads in our accommodations instead of a bunch of vacant condos and homes for large periods of time.
Skiing is very important to us, but available water for snowmaking had limited what we could do to expand skiing operations. Three years ago we were finally able to resolve the water challenges with a 2.5-mile pipeline and additional water storage at the base of the mountain. That project is what is allowing us to move forward with expansion plans that are really not much different than the original master plan from 1971.
Scott: What are some of the biggest changes that have occurred at Massanutten over the years?
Kenny: Great question, it's really just the continued investment as a whole in the resort amenities and continued expansion of the lodging component. The improved amenities serve to drive lodging, which in turn drives increased amenity usage. It's been an interesting cycle to watch in the long term.
In my opinion, the two biggest changes are probably the construction of the WaterPark, which we recently expanded, and the company now being 100% employee owned. The employee stock ownership plan (ESOP) was started in the early 1990s and as of three years ago, the employees own 100% of the company. Having a real retirement plan is pretty unique to the resort industry and has allowed us to retain many key staff over the years.
Scott: Mid-Atlantic skiers might not always realize that they can find better snow when they head south, but many of the southern ski areas are among the first to open and have the longest seasons. What characteristics of Massanutten allow it to offer great ski conditions from early to late in the season?
Kenny: I like to think of Massanutten being more west than south of the DC area, but I understand the perception of not wanting to drive south to ski. Exposure, elevation and willingness to make snow in November are the biggest reasons some of the "southern" areas may at times offer better snow.
While we don't have the greatest elevation, our lodge is roughly at the same altitude or higher than the summit of some of our northern neighbors, which can certainly help with both making and retaining snow. Our primarily northern exposure also helps in the snow retention and quality department.
That said, I think the willingness to fire the guns up in November or March given a decent window is the biggest reason we may have better snow than some of our neighbors. Making snow takes a lot of electricity and each area has differing deals with their provider, which they have to base into their go- or no-go decision. We are fortunate to have a program with our provider where making snow in November and March makes the financial decision easier than some of our competitors.
Scott: The Mid-Atlantic has always suffered from finicky winter weather, and this year is no exception, with unseasonably warm temperatures in the latter half of December limiting ski operations. How important is snowmaking to resorts like Massanutten?
Kenny: Without snowmaking, skiing wouldn't be a viable business in our region.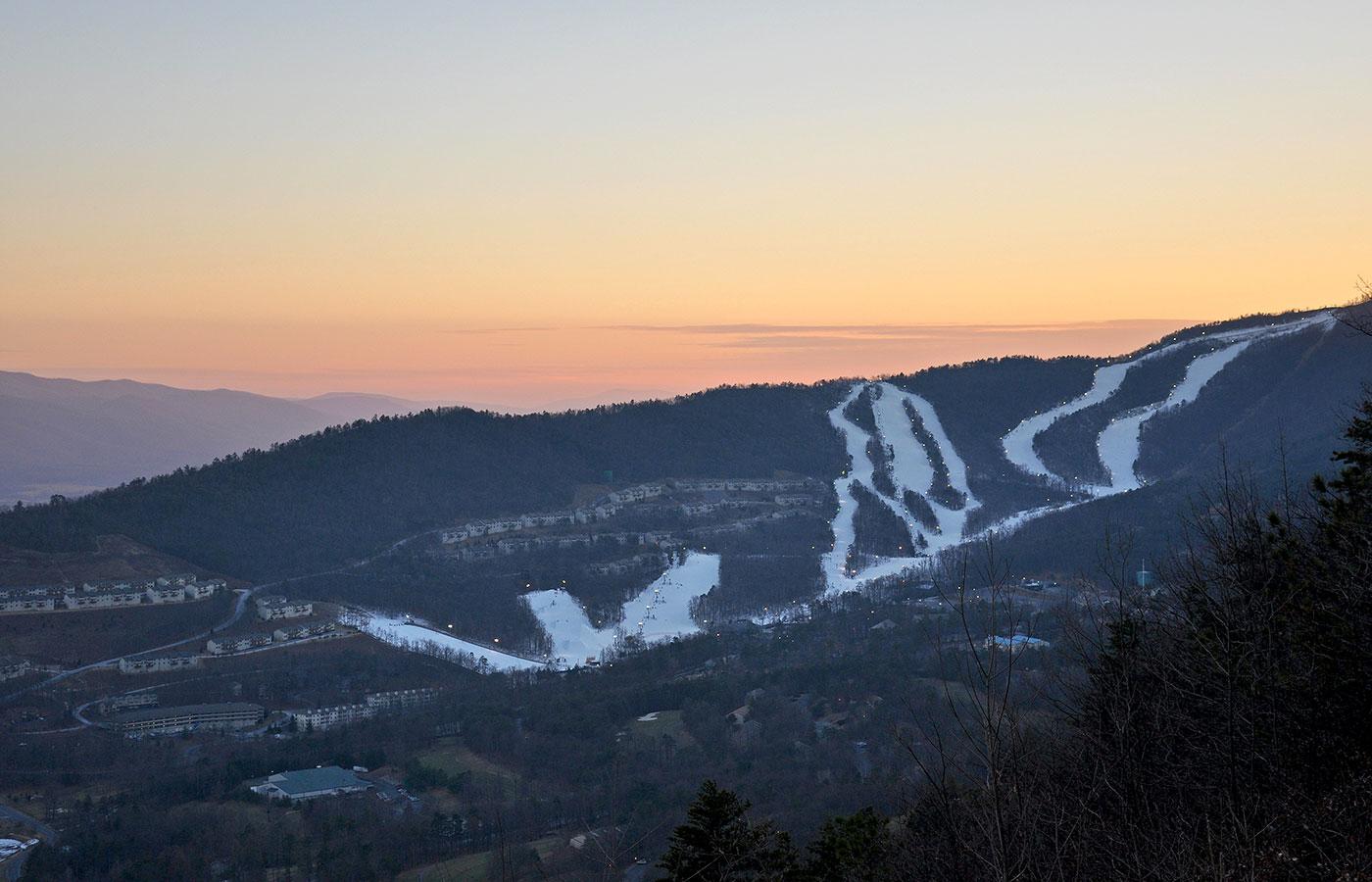 Scott: Massanutten has regularly upgraded its snowmaking systems. What are some of the biggest advancements you've seen in snowmaking technology, and how has Massanutten benefitted from that?
Kenny: The biggest changes in snowmaking over the years have been a reduction in energy use of traditional air /water guns, improved fan gun technology, and the integration of automation to the process.
Automation is becoming increasingly important due to being able to take better advantage of shorter snowmaking windows and finding the labor required to run the system. Improved automation allows areas to make snow for a few hours if that is all that Mother Nature gives you. Without it you'd just be getting the system running and you'd have to shut down with little to show for it.
Automation simply allows for much better efficiency and reduced labor required, plus being able to adjust snowguns from a desktop or cell phone in a snowcat is pretty darn cool. In today's labor market it's pretty hard to find someone who wants to work all night in that environment. Overall — the newer guns and automation simply provide a better product while using less energy, both of which is what it's really all about.
Scott: Beyond snowmaking, what are some of the biggest changes you've seen in the broader ski industry over the past decade or two? How have those changes impacted Massanutten?
Kenny: Guest expectations are very much higher in every aspect of their visit. From on-line ticketing to food options to snow conditions to off-snow activities, in every touch point the expectations are higher and it's making the industry and experience better.
We, like many in the industry, have been behind incorporating the technology advances that guests have come to expect from their experiences in other travel and leisure experiences. COVID forced many to rethink their processes and sped up investments in technology that has existed in other industries. We've had some bumps in the road but we're trying to get better every day.
On the hill itself, things like flex tickets and high-speed lifts are undoubtedly changing the ski day. Guests are looking to ski when they want and for how long they want and to not be tied to a traditional 9 a.m. to 4 p.m. ski day or half-day time blocks that are convenient to the ski area operations. They are also looking for other things to do for the rest of the day after they get 15 runs in before lunch on the high-speed lift. I don't know too many people who can ski from first to last chair riding a detachable lift.
Again, this is COVID related, but I doubt Massanutten will be returning to the standard group lesson anytime in the near future. The industry has long had a dismal record for new skier retention, and I think a lot of it came from a poor group lesson. We, as an industry, have always said you have to take a lesson the first time out and in too many cases it's a disaster.
Most destination resorts have long ditched the beginner group lesson and COVID forced us down that path last season. With private lessons, the experience for the guest and instructor has been much better and I feel like we are offering a much better experience and chance of retaining that guest to the sport. Now if we just had enough instructors to meet demand, we'd be golden!
Scott: During your career at Massanutten, is there anything that has surprised you?
Kenny: Not really, after so many years you kind of get used to weird things happening and you say wow, that's a new one but it doesn't really faze your too much.
Scott: Massanutten has some exciting plans for capital improvement projects in the coming years, including new terrain and a new lift. Tell me more about these projects and when they will come on-line.
Kenny: As I stated above, it really started with solving our water issues a few years ago. We've looked at expansion for quite a while and until we solved that it was really the end of the discussion.
New for this year are 50 new HKD low energy guns; four new auto TA fan guns; a new conveyor lift to replace the J bar, our last original lift; a short section of expert terrain under lift 5 (Ridge Triple); and a Piston Bully winch cat groomer.
On top of all that, we are super excited about our expansion plans for the next few years. We've already obtained permitting and started on much of the infrastructure needs like upgrading pumps, pipe, electrical service, slope and lift design, product procurement, etc. The plan is to start construction on a new intermediate trail off of lift 6, recently renamed "Peak Quad," in February and cut a new expert trail shortly after this season ends. The intermediate trail will be very nearly a mile long and the expert trail will be an offshoot of Diamond Jim back towards the lower lift line. Both of those trails are planned to open next season.
For the 2023-2024 season we'll be adding another expert trail under the lift and replacing the fixed grip quad with a detachable lift. To get an idea of the timeline for lift construction these days, we signed the contract for the lift last week to make sure we could get it for the 2023-2024 season. The expert terrain under the lift will offer our skiers and riders some much needed true expert terrain.
The following season we will be adding a intermediate trail from Paradice along the ridge towards the top of lift 5 (Ridge Triple) and another intermediate trail from Mak Attack to Pacesetter trail. The general timeline is 3 years, but we are looking to speed the process up wherever we can. Snowmaking will consist of a mix of automated low energy air water guns and fan guns and will primarily be fixed in place. Automated fan guns will be added to Showtime for the 2022-2023 season to allow us to open that terrain faster.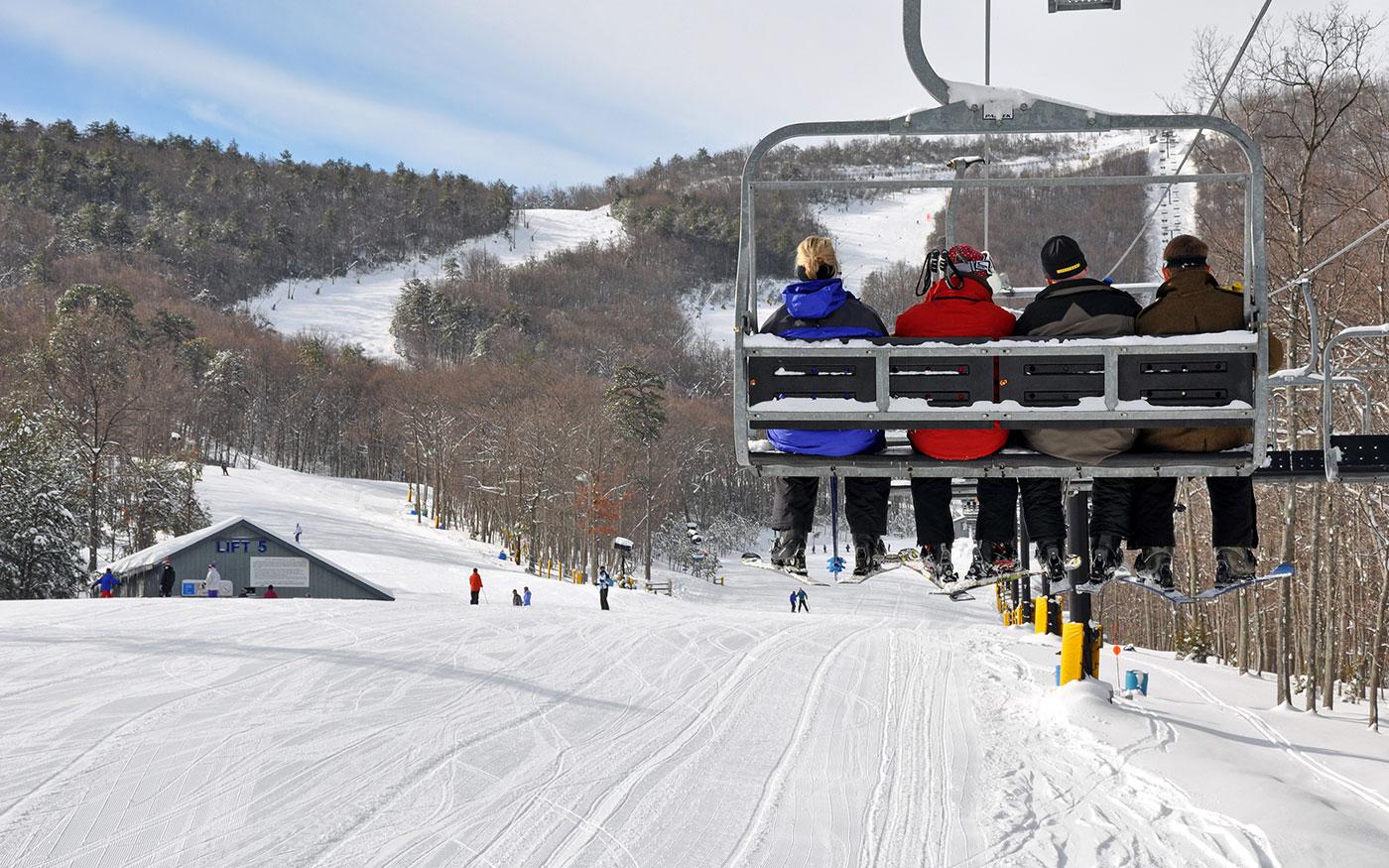 Scott: If you had to pick three words to describe Massanutten, what would they be?
Kenny: Something for everyone!
Scott: Massanutten is a true four-season destination resort, with plenty of activities year-round to draw guests once the slopes close. What are some of your favorite non-snow activities at Massanutten?
Kenny: My two favorites are golf and mountain biking. We offer two 18-hole courses, one of which is a challenging mountain course and the other is a much more forgiving course at the base of the mountain.
For mountain biking we offer a lift-served downhill park and 30+ miles of cross-country riding on our Western Slope. We are still working through how the new ski trail construction will affect the downhill bike park, but our park riders will be happy with the reduced ride time once the new detachable lift goes in. The cross-country terrain has some of the best riding in the region and continues to improve through a unique partnership with the Shenandoah Valley Bicycle Coalition.
Scott: Is the winter season the busiest season at Massanutten?
Kenny: Winter is busy but summer is actually busier from a lodging standpoint. Summer visitors tend to stay longer while winter visitors tend to be more weekend centric outside of the Holiday periods. However, we do see much more day traffic in the winter.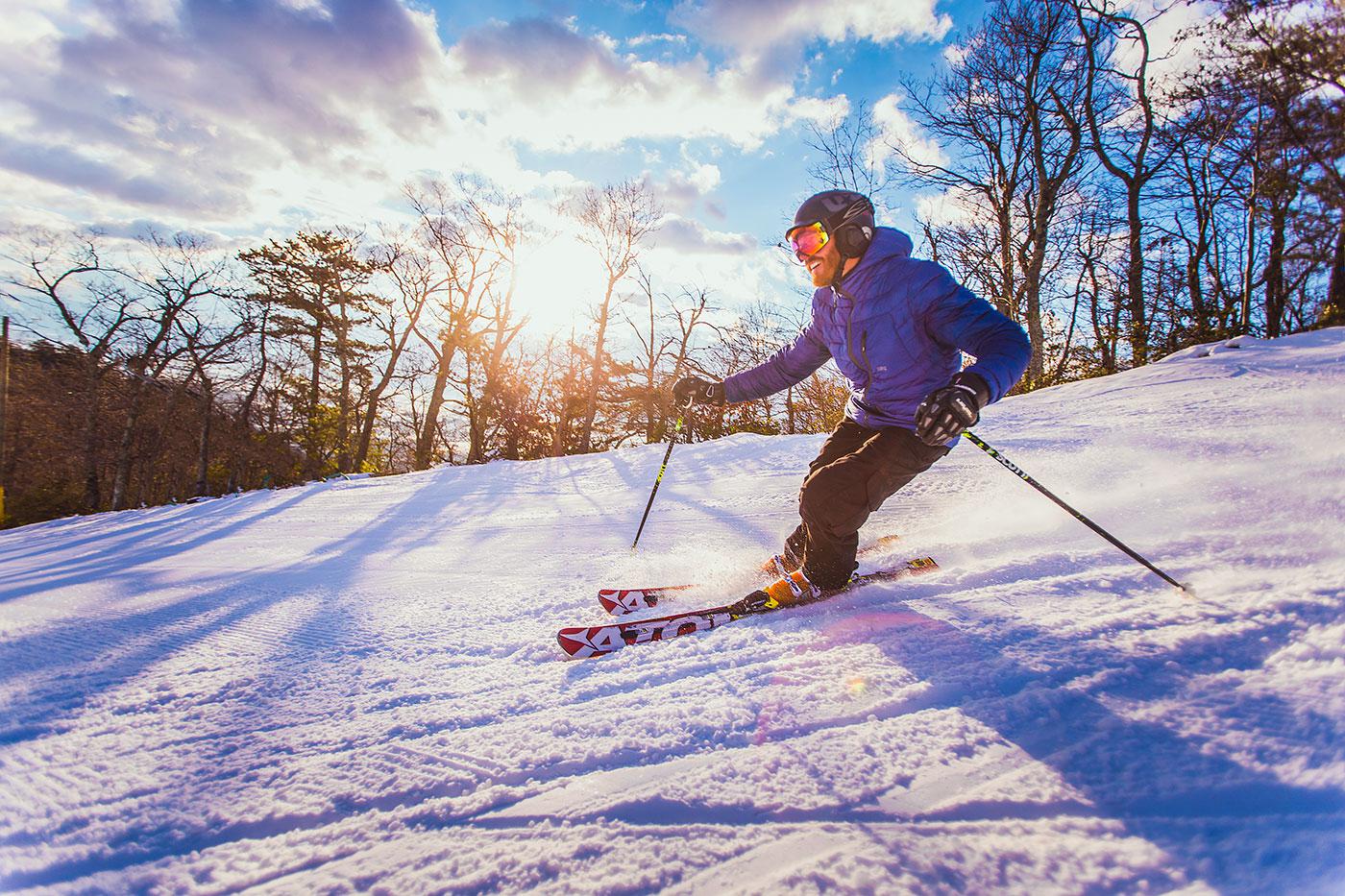 Scott: We've seen accelerating consolidation in the ski market in recent years; for example, Vail Resorts just closed on its purchase of Seven Springs, Hidden Valley, and Laurel Mountain, after recently acquiring Whitetail, Roundtop, Liberty Mountain, Jack Frost, and Big Boulder. Vail now owns over 40% of the ski areas in Pennsylvania. What do you see as some of the pros and cons of this type of consolidation?
Kenny: The industry consolidation and multi pass deals are probably the biggest industry change and we could probably talk about this all day. We've seen conglomerates come and go but this time it feels different. I have to wonder how committed the big guys are to running some of the smaller feeder areas and what they will do to the entry-level programs that they have provided for generations.
While the pass deals are great for the dedicated skier/rider, they don't do much for the entry-level guest. The pricing strategy is to drive season pass sales and not day tickets, and I'm not sure how that generates new skiers. Not many families are going to fly to Vail or Aspen for a week to see if they like to ski. I think that's where places like Massanutten and some of our independent neighbors can fill a niche.
It seems they are taking some of the local flavor out of the Pennsylvania areas and there is undoubtedly a loss of some local talent to job consolidation. My fear is that they will not support them as well and potentially close some of the underperformers instead of spinning them off.
Scott: As you note, one of the big trends in recent years is the rise of the "mega pass," which provides access to dozens of resorts across the country with the purchase of one pass. Massanutten Resort is an independent ski area, but participates in the Indy Pass program. Do mega passes like Epic and Ikon put pressure on independent ski areas? Or do they provide a chance for independent areas to differentiate themselves and highlight their unique benefits?
Kenny: The mega passes do put more pressure on independent areas but at the same time allow independent areas to carve their own niche, and it appears there is a growing anti-mega pass or "fight the man" sentiment growing.
Last year the smaller- and medium-sized areas across the country saw great growth and we're confident that trend will continue. While it seems counterintuitive, we have seen steady growth in our pass products and are exploring how we can better cross market our winter pass products with our summer amenities.
We were one of the first to sign on to the Indy Pass and it has been a great partnership so far. The Indy Pass is unique in that it is the first and only pass program that I'm aware of that was developed by a third party to fill a void versus a group of ski operators getting together to create shared privileges. The Indy offers the more casual skier with no "home mountain" the ability to explore the smaller independent areas in the region and across the county.
Our hope is that once we get them here and they see what we offer, that they will become more regular customers. The Indy also offers the add-on product for our existing pass holders, which is an alternative to the mega passes to get out and explore other resorts.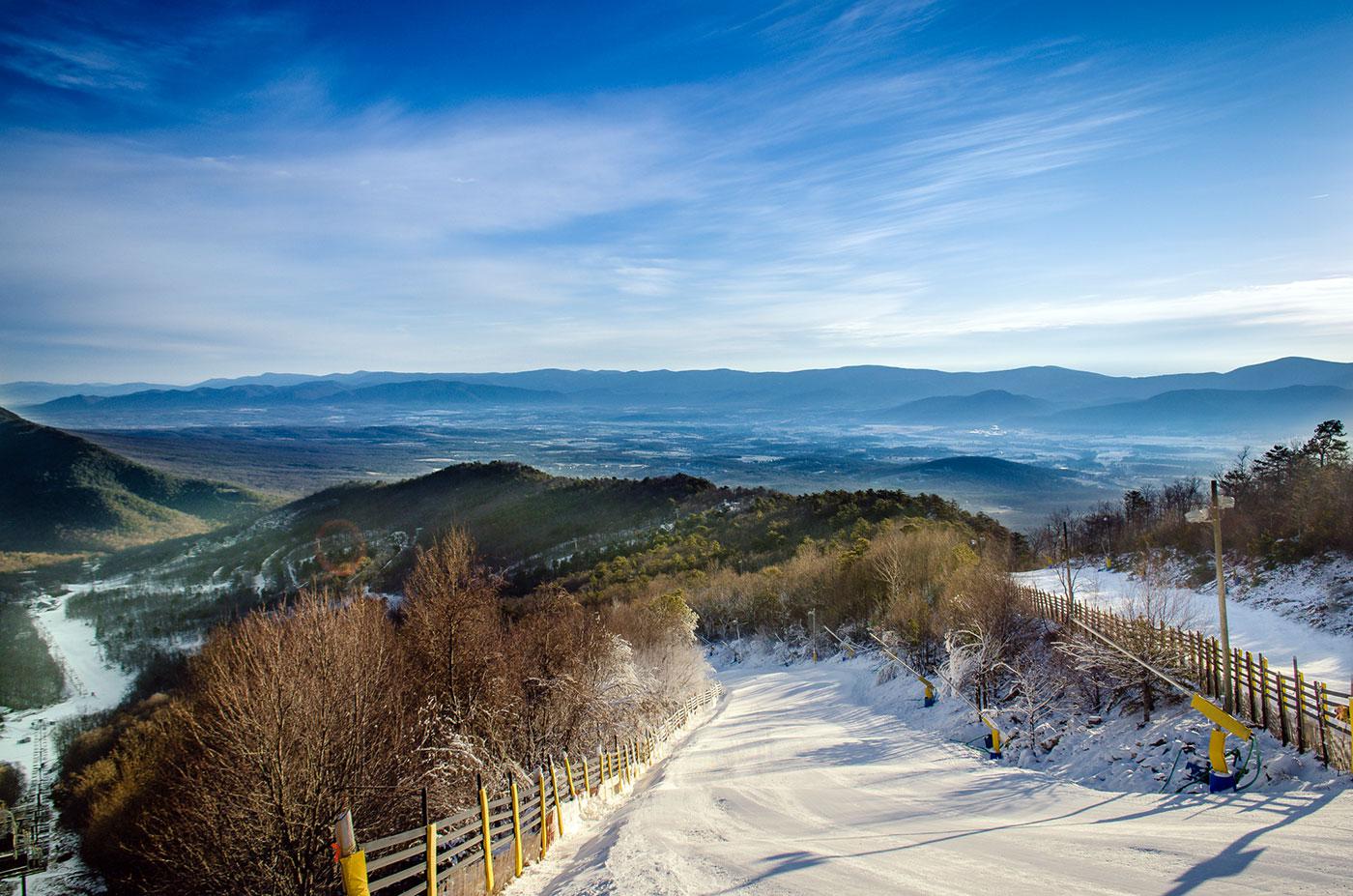 Scott: The ski industry is always looking for ways to get new blood into the sport. What are some of the ways you would convince someone to give the sport a try?
Kenny: The industry statistics show that there are a large number of people trying the sport for first time, but we aren't converting enough of them to frequent or core skiers for various reasons.
The first-time experience is critical and we need to do better at communicating with first timers what they can expect before they get here, and where to go and what to do once they are here. We need to make it easier to navigate so that at the end of the day they say "wow, that was fun, let's do that again." I think the selling point is to them is: get off the couch, get outside, get some exercise and do something fun with your friends or family.
It's an activity that the family can do together to create fantastic memories in a healthy environment. COVID has forced a lot of people to re-think how they spend their leisure time and entertainment dollars, and snowsports, whether skiing or snow tubing, fits the bill perfectly during the winter. What else is more fun in the winter?
Scott: What kinds of programs does Massanutten offer that are geared towards new skiers and snowboarders?
Kenny: We offer various pricing specials to reduce the price barrier for example. For example, we offer a "Last Chair" Special the last two hours of every day we're open for $20 lift and $20 rental to give people a less expensive and shorter time window to give it a try.
The conveyor lifts we've installed over the years take a lot of the apprehension out of the lift experience. We've also partnered with Sno Operating to create a learning area that is geared towards improving the beginner experience through shaping the snow with berms, rollers, and terrain features to enhance learning.
Additionally, as we talked about earlier, the private lesson model, while more expensive, is improving the return rate with first timers.
Scott: Describe your best day on the slopes. When did it occur, and what made it so memorable?
Kenny: I've had so many great days on the snow it's really hard to describe any single day as the best day ever. I've had blower pow days and awesome spring days with everything in between, all over the country. At the end of the day when you're totally worn out and headed for some après ski, they all seem like the best days ever.
My favorite days are the days that they are calling for flurries or it's raining at the bottom, and it instead dumps all day long, particularly when they come in the late spring when no one is there.
Most memorable days didn't really have much to do with the snow conditions. I was at Alta the day Gold Miners Daughter blew up, and Jackson Hole the last day the old tram ran. Both were very memorable as was watching my daughter step up on the podium for the first time in a local ski race. The sport and industry create so many friendships and memories that I'm just glad to have been a part of it for as long as I have.
Scott: Outside of skiing, what are some of your hobbies and passions?
Kenny: Already hit on that with what I like to do at Massanutten: mountain biking and golf are my two biggest hobbies. Mountain biking and skiing are so similar in that you're outside and exploring the hills and woods with your friends getting some exercise and making memories. Then there is always tailgating for JMU football in the fall — Go Dukes!
Scott: Are there any other things you'd like to share with DCSki readers about Massanutten?
Kenny: If you haven't been to the Nutt in a while, it's time to give us another shot. We have some big plans in the coming years and we are excited about the future.
Scott: Kenny, thanks so much for your insight. I look forward to seeing the continued evolution of Massanutten Resort!