As you may have figured out from some of my previous posts, I am spending this week "spring skiing" up at Timberline. The conditions have been different than I expected, but I haven't done a lot of spring skiing before.
I didn't get a chance to ski on Monday because of a dentist appointment Monday morning that took longer than I had expected. Tuesday, was nice; Partly sunny, not too warm and not too slushy. Today (Wednesday) I went out just after 9:00. The temperature was 52 degrees and it was cloudy all day. I was fully prepared for slop and what did I find? Corral reef. Yup, the entire top 1/3 of the mountain was corral. I can't really explain it because I'm pretty sure wind chill doesn't affect inanimate objects; must be a GW thing. It softened up below that but the corral stayed hard until I went in at 11. When I came back out around 1:00 it was softer, but not "soft". Timberline has not groomed since Sunday. I think this is smart (although tough on the legs). Because of this, a "shell" has formed over the trails and I think it is conserving the cold - but what do I know?
One thing I know is that the trails look and feel great. I don't think that T-Line will have any problem making it through to the end of March. I will have a better feel if the predicted rains come tomorrow, but I'm not concerned at this point. All trails are open and the only thin spots are on the "natural" areas - glades, Thunderdraft and Silver Streak. Everything else seems to have 3'+ of base.
For what it's worth, here is a picture of some of the snow evaporating this morning.....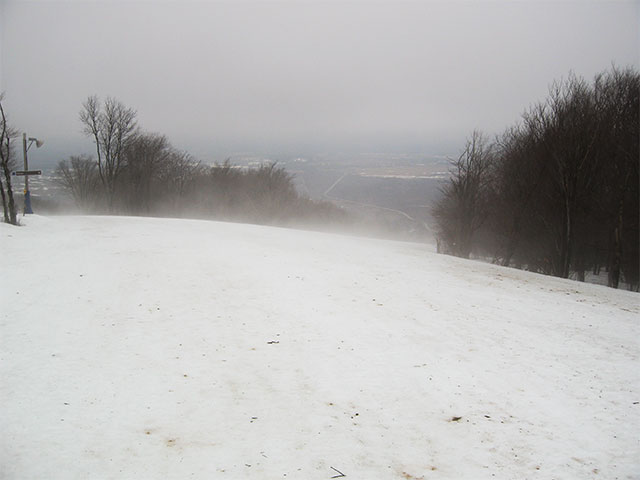 Clay