13
posts
11
users
1k+
views
New timberline trail map is available at https://timberlinemountain.com. Of note - Thunderdraft is no longer shown. For me this is the first bit of disappointing news I have heard out of TLM since the new owners took over. Don't get me wrong - apart from that I love what they are doing with the place and I am looking forward to getting back out there!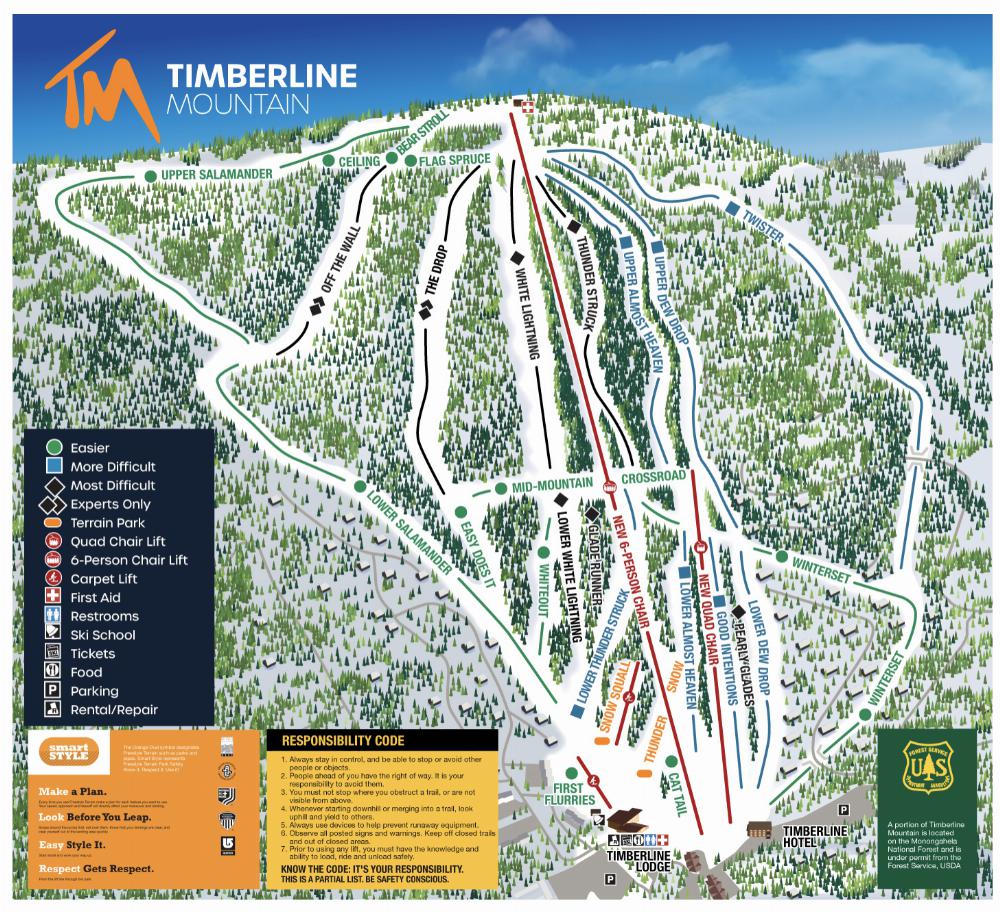 Nice!  Been waiting for that so I could update Timberline's
Resort Profile
.
Interesting that there will be two magic carpets—thought it would just be one.
It is concerning that Thunderdraft and the glades are not shown on the trail map.  The glades are what made Timberline truly unique.
The map shows two magic carpets, but if your read in the terrain park section they are saying its a rope tow. That's consistent with what I have heard out of the staff working the mountain now.
What portion of the trails have snow-making?
Keith_Moon wrote:
What portion of the trails have snow-making?
 Pretty sure all the named trails that show white on a trail map have snowmaking.  That's pretty much true for every ski resort in WV, VA, NC.
Are you asking which trails have fixed snow guns?  Meaning poles along the side of a trail?
The one time I went to Timberline was in early Jan quite a few years ago.  There were PSIA clinics going on that day.  The snow whales on one of the double blacks had been deliberately left in place.  Probably partially to settle, but also because the trainers wanted some challenging terrain to work with.  Front sides were good but you had to be careful on the back sides since that was pretty slick.
Timberline Mountain has added 75 fixed pole cats all over the mountain. I haven't seen all the slopes but have been told they have added snow making to all the slopes. The base is littered with them, almost to the point of it being overkill based on what used to be on the mountain. I've also been told Salamander has snow guns all over as well. I've seen picture of many new guns on White lightning. I have not seen Twister, Dew Drop, Almost Heaven or Thunderstruck. But, based on what the Perfect North team has done I can bet there is increased snow making on all those slopes.
 
These guys are pros and they aren't trying to just improve the skiing experience at Timberline - they are focused 100% on their competitor's skiing product and experience, primarily 7S and Snowshoe.
Has anyone heard if Timberline will attempt to clear and open Cherry Bowl Glades this season?  Further, do we know what the policy may be regarding Cherry Bowl and other glade areas not represented on the map? 
I had thought about it too. Just my thought that the reason the other glades didn't appear on the map might be because of the time frame it would have taken to clear them this Summer. The focus was on the lifts and snowmaking.
I wouldn't be surprised if they may reappear on the map next year. But who knows. 
If we can't ski in the trees at Timberline the management will hear about it.
Better they get a crowd on the slopes rather than a few in the woods! Bet a compromise can be found!