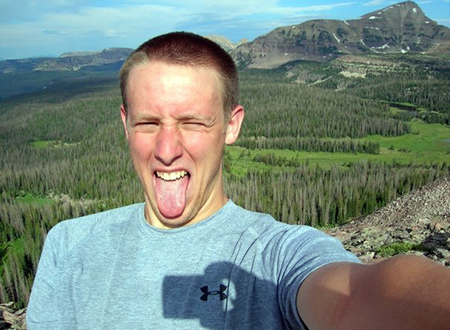 J.R. Patten
J.R. Patten is an outdoor nut and would probably still live in the middle of the woods if the animals hadn't kicked him out for being uncivilized. He does anything and everything that gets him outside, and a lot more other stuff than he has time for. Among other seemingly unrelated things, he enjoys playing banjo, running ultramarathons, doing freelance web development, backpacking, camping, kayaking, reading, writing, and spending what little money he has traveling places. He also manages to get to class at Georgia Tech from time to time, where he is majoring in Computer Science.
If he's not at the computer or in class, you can find him in the mountains of north Georgia, the Smokies, or his new favorite place east of the Mississippi: Mount Rogers National Recreation Area. However, more and more frequently you'll find him in the mountains west of the Mississippi. If and when he ever gets out of school, he plans on moving out west, starting a company, and doing fun stuff all day long.
J.R. has written 3 stories for DCSki since 2008.
Vail has been the subject of many DCSki Firsthand Reports: The Colorado ski area offers a setting and conditions that are unparalleled. But sometimes, the adventure - or misadventure - starts before you arrive at the slopes. DCSki Columnist J.R. Patten provides an engaging story in this unconventional Firsthand Report.
By J.R. Patten | January 6, 2009 7
Timing can be everything: A lack of early December snow meant that The Canyons had little of the "Greatest Snow on Earth" to offer DCSki Columnist J.R. Patten on a recent visit. But this didn't stop J.R. from checking out the Utah resort and filing this Firsthand Report.
By J.R. Patten | December 26, 2008 7
DCSki's newest Columnist, J.R. Patten, just returned from a trip to The Canyons Resort. While most visit the Utah resort in the winter to take advantage of its deep powder and 3,700 acres of skiable terrain, J.R. discovered there's more than one reason to visit during the "off season."
By J.R. Patten | August 6, 2008 10
0.01 seconds