"Let's make it a terrific March!" That was the suggestion of Troy Cardwell, the General Manager of Canaan Valley Resort. He said March usually has the best snow and the most marvelous weather. There are also terrific deals on lodging in the Conference Center cabins, and discounts on lift tickets. But, some spring days, there are no more than a handful of people on the beautiful, and varied mountain. He suggests a major effort to attract more people to the slopes in March, to make up for the time they lost in the first one third of the ski season. It is fine to think about golfing, gardening, biking, and other spring and summer pursuits, but this time, put those off a bit longer, and make up for time lost on the slopes. It is also a great way to help celebrate Canaan's 35th anniversary as a ski resort and conference center. In fact, there are tempting discounts all season, as the 35th is commemorated. Many activities are free for children under twelve.
I love our visits to the resort. The deer are out in force, waiting to be fed and petted. There are laws against feeding the wildlife, but they are irresistible, and a major tourist attraction. One smart man suggested the resort sell health food for the deer, so we could all feed them openly, and stop giving them old pizza and other leftovers!
The Conference Center has lots of activities -; especially important for lousy weather. There is a big pool, hot tub, sauna, an exercise room, game and pool rooms, bars, restaurants, and meeting rooms. It is the biggest facility of the type in the county, and the entire resort employs 277 people. Troy told us he and Guest Services, Inc. (the Fairfax operation which runs Canaan) did not have to lay off anyone during the bleak start of the season. GSI also made a special financial contribution to "Special Love."
Charles and I were especially pleased that the rooms included free, high-speed broadband service and free 800 phone calls. These are very important features for people who combine business with recreation. And, for the families, the kids can play games or watch videos. I wish the higher priced hotels would follow this pattern.
It has been a rough year so far in Canaan, as it has been all over the East Coast, Eastern Canada, and parts of Europe. The previous week, things were looking better for Canaan, which had established a firm base of snow on the 7 major runs. Then, there followed 7 inches of beautiful natural snow from heaven. But, the gift was soon rescinded.
The skies opened up during the Martin Luther King weekend, but they doused the mountains with rain, not snow. The rain and the wind eroded much of the base overnight. Amazingly, there was still pretty good skiing in the rain. The runs down from the main lift and the beginner area were quite good - fast, packed, and generally contained more snow than ice. The runs open included Valley Vista, Face, Cutback, and Lower Timber. On the learner's side, there were Sissy Schuss, Bunny Buster, and Slope. It is fortunate they were open, since we were with a group of beginners, who were struggling hard to learn and did a great job. The airboarders were also taking their first lessons, zooming down the beginner's area. And the snowtubing runs next door were also in operation, part of the time.
There were a few hard packed areas, and some dirt patches in the middle. But, it was a miracle there was any snow at all. And, it was so good to actually be skiing again in the East; the wait had been much too long. Since it was not very crowded, it was a pleasure to zoom down the runs. My new Atomic skis did a wonderful job carving in the conditions. Special thanks to the master ski fitter, Larry Snyder, who fit my comfortable old boots into the rather complicated Atomic bindings.
I could have skied for several hours, but the wetness drove me, and many others, off the mountain after a few runs. We were all bedraggled, as we poured onto the shuttle buses which run frequently from the mountain to the resort conference center, and back. But, it was a great morning! As usual, the most inspiring troopers were the children.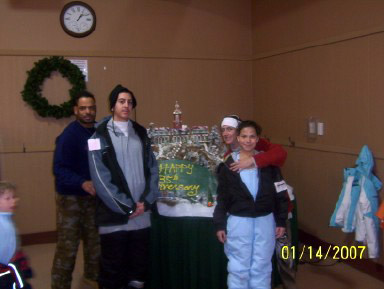 For the second year in a row, my husband Charles and I joined the "Special Love" retreat, with a group from the National Institutes of Health. This is a terrific organization. The volunteers are dedicated to helping children and families of those who have or have had cancer. Sometimes the brave "Superheroes" as they are called do not make it. One loving, exceptional 9 year old boy died on October 2nd. Eric Ware was an identical twin, and his brothers and parents returned to Canaan this year. Parents Angela and Byron, and brothers Bryce, 12, and Aaron, 9, are a terrific family. It was extremely painful and difficult for them, and they have had a very rough few years. But they all believe Eric was with them in spirit, and will be forever, wherever they are. We are so glad they returned to the Special Love weekend this year. We were especially touched by Angela's recounting of the way she struggled to bring Eric to a Redskins Game the day before he died. He was able to see one final Redskin's victory, and then went to sleep.
Charles and I joined the other volunteers, and tried to teach some of the children on the beginner slopes. They made remarkable progress. We spent most of our time with two brave young teenagers - Dominique Dietz and Brandy Lightfoot. After two days, they were turning, stopping, and taking the toughest trails. The brother and sister have survived cancer and leukemia. 12 year old Brandy also had surgery on her knees two years ago, but you would never know it if you watched her ski or dance!
These kids and their families have been through so much and they are amazing fighters. Last year we were trying to teach them in 10 below zero weather and snow. This year, the temperatures were in the 50's and the rain soaked everyone on Saturday. But they stuck to it and made rapid and remarkable progress. There were the usual frustrations faced by first day skiers, but most said they were anxious to return the next day.
By Sunday, the weather had cleared. Even after a full weekend of rain, there was snow on the runs! I don't know how they do it - mountain manager Mike Chaney must use crazy glue. But it was enough for another few hours of lessons and skiing. I was pleased to see about 15 airboarders taking their lessons; Canaan is one of the few areas teaching the sport. I am also happy the teacher survived, after I had knocked him into the woods, when I tried airboarding last year!
Monday was devoted to more skiing and tubing, which the kids loved. Charles and I took several more runs. By this time, the snow was quite hard packed and icy, but still skiable. Everyone is looking forward to an approaching storm and cold, snowmaking weather.
Monday afternoon we had a smooth bus ride back to NIH. Buses, driven by skilled drivers, are the only way to go. The group was able to eat, sleep, or watch videos on the bus. It was a challenge for the driver, Norvel Willis, who had to come back and forth from Front Royal and Bethesda several times in four days. But he never complained and kept trucking; just doing his job.
A few more words about "Special Love" - a group dedicated to helping survivors and their families. It is in its 25th year. They sponsor several camps and retreats together for the entire families. Some of the organizers include Dave Smith, CEO of Special Love, and Board Member Mark Atherton, who was at Canaan with daughter Claire. The group from the National Institutes of Health included Bob Bingaman - head of the NIH Ski Club - Larry Chloupek of the National Cancer Institute, and Jayne Robak, among others. Apologies to the many people I left out. Special Love and the NIH Ski Club sponsor a variety of fund raisers, including a dance each November and a Valentine Gala at the Finnish Embassy this February the 10th. The NIH ski group has been coming to Canaan for 25 years; and 18 with Special Love, according to Bob, who has sponsored many events for the families. The Gala is a celebration of the 25th; it shows their big hearts for Valentine's Day. Bob says, "there was a lack of snow this season, but no lack of enthusiasm" among the participants. He also says "more people are returning each year, because more are surviving cancer". So, until these diseases are cured, look for many more "Special Love" weekends at Canaan in the future!