Road Trip Journal Entry #1: The Long Road West
4
During September of 2000, DCSki's Editor loaded his car up and headed west, with no fixed agenda - just a yearning for some adventure and fun.
Journal Entry #1: The Long Road West
Last summer, I began to daydream about dropping everything I was doing and heading west for an extended road trip. This wouldn't be a first for me; I took a couple months off following college graduation to take a similar trip. But this time, I had a few more restraints, such as work, a mortgage, graduate studies - the usual burdens of (sigh!) being an adult. Until I was able to find some free time, the trip would have to wait.
This summer, it gradually became clear that there was a narrow window of opportunity in September to take three weeks off. At the same time, I was exhausted from work and desperately needed a vacation. I blocked off the calendar and began to make some firm plans.
Or, rather, I made a firm plan: head west. Beyond that, I didn't know what I would do - nor did I care - because for this trip, I didn't want to be tied down with an itinerary. I wanted to wake up each morning and do whatever felt right. Some days that would mean sleeping in. Other days it might mean spending a day (or two or three) mountain biking. Although I didn't know exactly where I would end up, I knew my travels would probably take me to Colorado and Utah.
Fast forward: I am now on I-70 heading across the Heartland of America.
The problem with driving out west is that you have to drive through everything from the east coast westward until that magic moment when you arrive west.
I know there are people who will rave about the endless opportunities for excitement in states such as Ohio, Illinois, Missouri, and Kansas.
I am not one of those people. (If you are one of those people, and are particularly sensitive about your beliefs, you might wish to skip the next paragraph.)
It takes a good 2-3 days of solid driving on I-70 (allowing time for such necessities as sleeping and eating) before the Rocky Mountains rise majestically out of the Great Plains. Until that point, things are pretty much the same: mostly flat, mostly cornfields. Not much to do, unless you're campaigning for President.
On that note, here's a fun fact. More presidents (eight in total) came from Ohio than any other state.
That's the most exciting fact I have to report so far.
During this long drive, I have also scientifically confirmed a long-held assumption: within two minutes of cleaning your windshield, a bird flying overhead will spot the crystal-clear windshield and immediately, uh, relieve you of your clean windshield.
That is particularly true in Missouri. I am now convinced that migrating birds fly at night (when many of these occurrences happened) and use the car lights from interstate highways far below as a navigational system. This would explain why my windshield was pelted with hundreds of bird droppings in a short period of time, while in person, the top of my head has only been pelted by a bird dropping once in a tragic seagull encounter at Atlantic City that I'd rather not go into now. (I now harbor a healthy and rational fear of seagulls.)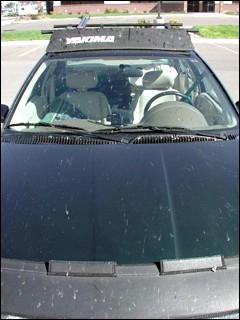 There is a different problem in Kansas: bugs. I drove through Kansas as the sun set (and for a good period of time before and after the sun set, because Kansas is a very wide state), and after the sun went down, there were literally thousands of moths lining the highway. As I drove down I-70, these moths would continually fly up off the road and, in moth-speak, remark to each other with glee "hey, wow, check out the beautiful lights!" and fly directly at my car, where they would meet an unfortunate fate.
Splat.
No amount of windshield wiper fluid could clean the continuing barrage of bugs splatting against my windshield. Any attempt would result in an unpleasant smear across the entire windshield. By the time I exited Kansas, my car looked like it had been driven through a war zone.
But, alas, squinting through the bug-stained windshield, I see the peaks of the Rockies rising out of the ground. And with that, I promise the next journal entry will be bug-free.
Next stop: Rocky Mountain National Park.
In the meantime, here are some tips for surviving the long trip west:
Fly.
Although reception fades in and out, it is actually quite interesting to listen to talk shows on local AM radio stations. This allows you to get a good idea of the issues that face different communities across America. For example, there is currently a lot of debate in Denver about limiting growth. (Denver has faced a huge problem of urban sprawl in recent years.) When you're driving through sections of the country that have little or no radio stations, it's good to bring your favorite music on CD's or tapes. (Books on tape aren't a bad idea, either.)
It's always wise to make hotel reservations, even if you do it on the same day you plan to arrive. Most hotels along I-70 have plenty of vacancies in the morning but many fill up in the evening. Through desolate areas like Kansas, you might drive hundreds of miles and not find any vacancies. This isn't as much of a problem during September as it is during the busy summer months. Take advantage of AAA rates or Entertainment rates if you have an Entertainment card.
Bring a bag of popcorn so you have something to munch on while you drive.
I don't have kids, so I can't offer any suggestions on how to deal with the "are we there yet?" syndrome.
Stop frequently to stretch your legs!
I've made two ski road trips from DC to Colorado. One when I was in college, the other when I was pushing 40 and old enough to know better. I incorporated one technological advancement on the second trip though. I brought a radar detector and cut about 1/2 day's driving time off each way, but possibly took a year or two off the life of my car... and fellow passengers! Once saw a tremendous bolt of lightening outside Kansas City near the end of a 17 hour driving stint, scared me straight to the nearest Motel 6. The first trip was an epic, but slightly lonely, solo effort in a VW bug. The second time was with friends and family, much better, but required major life decisions in the interim. Have fun, don't fall asleep at the wheel.
Hey Jim, thanks for the comments. The last time I did this (a couple years ago), I was stupid and drove straight back - from Burlington, Colorado to Baltimore - stopping only for a couple meals and restroom breaks. I still haven't caught up on the sleep I lost on that stupid drive.

This time, I decided it's better to get some sleep on the way (in a hotel, not behind the wheel). So I made stops in Pittsburgh (to visit relatives), St. Louis, and Burlington, CO (just on the Kansas/CO border.) Still a lot of driving for one person each day, but manageable.

The speed limits out here are really high now. On I-25 between Denver and Ft. Collins, there's more speed limit signs saying
Oops, guess I placed a limit on the size of characters and then got bit by it.

Continuing where I got cut off:

The speed limits out here are really high now. On I-25 between Denver and Ft. Collins, there's more speed limit signs saying 55 - MINIMUM (the speed limit is 75 on that road, even though it seems busier than even I-95 between Baltimore and D.C.).

Of course, in places like Kansas, 75 or 80 makes sense since there's little traffic and a straight-ahead road.
I didn't see many people going faster than the speed limit. Of course, there's always road construction.
Sounds like you had an interesting drive with all of those bugs!