August 16, 2006: Magical Visit to New Zealand
Lord of the Rings had nothing on this. The magical, snow covered, majestic mountains defied description. They unfolded under us for nearly two hours, as we flew from Wellington, New Zealand to Queenstown, one of the most beautiful little cities on earth.
We took an ordinary Air New Zealand flight, but mentioned to the flight crew the fact my husband had never been in this country before. So the pilots got permission to change routes. Rather than taking a gentle trip over the Canterbury Plains and Christchurch, we went over the Southern Alps. The pilots made a point of narrating while turning and banking so that everyone got a view; cameras were clicking all over the plane. New Zealand is also called "The Land of the Long White Cloud," and there were pockets of clouds beneath us. But, in general, the rugged Southern Alps, the clear, deep lakes, and the Tasman Sea and the Pacific were clearly visible. Our thanks to Captain Tim McClintock, First Officer Nathan McGraw, and Flight Attendants Suanne Clitheroe and Natasha Edlin for this special welcome.
Most people on the rather small, twin engine turboprop were impressed, and they were native New Zealanders. We arrived at Queenstown exactly on time, and were met at the airport by Lorraine Cooper, the vivacious former Mayoress of the City. She and her husband Warren have lived in Queenstown for 45 years. Warren in addition to being a former Mayor of Queenstown held posts as New Zealand Foreign and Defense Minister. They have both had a challenging life, but remain upbeat, positive, and generous, with a wicked sense of humor. Watch out for Kiwis (New Zealanders) pulling your legs, even with skis on!
Now, back to the practical realities. New Zealand is far from the US, and the trip is expensive. But, the skiing, boarding, paragliding, bungee jumping, jetboats, and a host of other adventure sports make the visit well worthwhile. As usual, I suggest a package trip, where all is arranged for you, and you get the best rates on flights, lifts, rental equipment, and luxury hotels. In addition, you have the camaraderie of the group. There are several organizations which provide packages - the most comprehensive is nzski.com. Our trip with them was also arranged by Ski Holidaze, which is a US organization and booked our NASJA snowsports writers tour. Because of business commitments, we met the tour in Queenstown.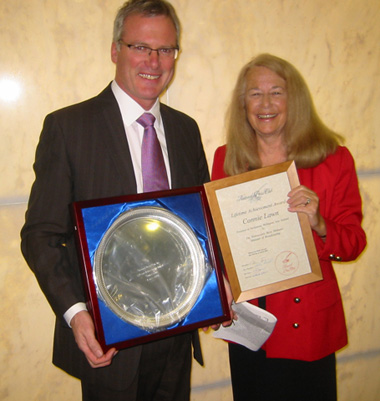 My husband and I arrived in NZ two weeks earlier - I received a journalism award in Wellington, and delivered speeches in Auckland, Wellington, and Queenstown. My husband Charles attended a scientific meeting in Auckland, and delivered a keynote speech there. After working our way down, we were ready to head to South Island to investigate and report on the ski scene for you! There is also pretty challenging skiing on one mountain of the North Island. Mt. Ruapehu is a live volcano, and suffered a major eruption years ago. It literally blew its top, and skiiers on the slopes had to race down to avoid lava and ash! No one is believed to have died. I skied on it once with my then-young sons and it was a true adventure. But Ruapehu can be crowded, with rather narrow trails. It gets the city crowds from Auckland and Wellington. It is worth a visit if you are in the region, but the major mountains are the Southern Alps. Unless you have business interests in the North Island, it is best to fly into Auckland or Christchurch (if you can) and then head directly to Queenstown. Even Bill Clinton said it was one of his favorite towns in NZ, and he has returned to the country several times for speeches and golf - no bungee jumping for him!
Our first stop in Queenstown was the centrally located offices of nzski.com. David Ovendale, the sales and marketing director, was our terrific point of contact throughout the trip. He arranged the skiing, transportation, and rental of top of the line equipment. Even excellent quality ski jackets and pants can be rented. This is highly recommended - with the new airline restrictions, you don't want to carry excess weight. David sacrificed his time to drive us up the narrow, winding, but dramatic road to the Coronet Peak Ski Fields. It is one of the most breathtaking drives in the world; with the mountains and clouds above, and the sharp river valley and deep lakes beneath. The road has several one lane bridges. Carrying tire chains is recommended and, with the opposite side driving, different conventions, and gasoline prices higher even than ours, we don't recommend renting vehicles. Shuttle buses for transportation to all the ski areas are available within easy walking distance of virtually all the accommodations in Queenstown, reasonably priced, and quite modern. Unless you know the area well, and are adept at driving on the other side of the road, take a bus! Do not think of driving in New Zealand. It is dangerous enough to even cross the streets on foot; the traffic comes from the "wrong way" and doesn't yield to pedestrians unless there is a clearly marked crosswalk. Don't forget, this is a nation of risk takers!
Coronet Peak is described as the most popular ski area in NZ, and that appears to be true from the size of the crowds. During our visit, even Bode Miller was there - that made us feel great. Part of the US Olympic Ski team was practicing, and competing in the Southern Cup Racing Slalom. Bode did not excel when we were there; he straddled the gates and was disqualified twice. But other American racers did well. They included Tm Rothrock, Tim Ligity, and James Cochrane. The women ski team members were also in training.
On our first day at Coronet, the snow was in great condition. We had three good runs down greens and blues, while we adapted to our rental equipment. Thanks to instructor Alli Edwards who guided us down, and drove us back into the city later, when heavy rains closed in. The rain was constant throughout the day and night, but blessedly became snow in the higher altitudes.
The next day was magnificent! Think of the best of Vail, Loveland, and Park City on perfect days! We had packed powder, wide, groomed runs, and small crowds, even on a Saturday. We only had about two good hours, before heavy snow and zero visibility set in. But, by that time our legs were burning. It was time to sit in the crowded cafe and catch up with dear friends from around the world. On our drive down, we broke through the heavy snow, and encountered a wonderful rainbow, or snowbow, which followed us down the valley. Charles now understands why the Greenpeace ship sunk in Auckland harbor was called the Rainbow Warrior.
Earlier, on the mountain, some of the best runs were blues. They included M 1, Million Dollar, Walk About, Greengates and Wall Street. We rode two chairlifts - a detachable quad and a new detachable 6-seater.
This is the start of our 10-day adventure in South Island, and there is more to come at Coronet Peak, the Remarkables, and other areas.
August 20, 2006: Camelot at Queenstown
The rain and snow stops at sunrise, in time for the long white clouds to part, and the bright sun to shine over the sparkling mountains, lush valleys, and deep, aqua blue Lake Wakatipu - one of the deepest lakes in the world. The view from Coronet Peak has to be one of the most beautiful from any ski area in the world. The magnificent vistas in our West are also dramatic, but they do not compare to this. It is hard to concentrate on skiing; I keep looking at the view and the colors that make New Zealand special. This is my eighth trip to Queenstown, and I cannot get enough!
My husband Charles says the conditions remind him of the lead song in Camelot. Our third day of skiing was the best yet. Plenty of powder and well groomed trails. The weather was relatively warm; no cold fingers or toes. It had snowed heavily overnight and rained at the lower elevations. Perfect for skiing in the mountains, and better for driving in the valley. The change adds to the drama - en route to the top of the mountain, all vehicles had to stop and put on their chains. Must be rough for the bus drivers who made the dramatic trip several times a day.
Our day was enhanced by the help of Tom Newman - chief of the Ski School and top instructor. He and his wife Michele are both instructors at Coronet, and live in the best of both worlds. They teach in New Zealand for six months, and Beaver Creek, Colorado for the rest of the year. They are Americans who also love and respect the Southern Alps of New Zealand. Tom spent several hours with us on this, the busiest Sunday of the year so far. He taught me many tips, which basically involved skiing in the opposite way than I have before. I have been misusing my shaped skis all these years. When I did it correctly, the skis did most of the work. When I got nervous, I returned to my old, inefficient ways.
My rented equipment, by the way, was top of the line. We rented from Snowbiz, which is in the central "Station" area, and the closest rental shop to the shuttle buses. They have a terrific array of equipment and clothes. In our case, the price was part of the package tour. I used Saloman Symbio boots and very short skis - Elan 142's. The boots were a bit heavier than my old battered ones back home, but all worked well. My husband Charles rented Nordica Boots and Fischer 160's. It was a challenge finding boots to fit his large size feet, but the selection was adequate. The employees at Snowbiz were very professional and gave us excellent advice. They come from many countries and speak several languages, which is necessary in an international area such as Queenstown.
I returned to Coronet Peak for a fourth day, because I was getting quite used to the area, and felt comfortable with the slopes. It is also the closest to Queenstown. The other major area, The Remarkables, is a bit further away and was pelted with heavy winds and snow. Best to save it for another day. After a few runs in the fog and flat light, the heavy snow and Antarctic cold moved in on us too, and we made it down the road just hours away from a heavy ice and hail storm, which closed many roads and caused accidents. Believe me, you do not want to drive down the steep, corkscrew mountain roads in such weather. I did have one great experience before leaving Coronet. I met most of the men's Olympic team, as they continued their training. Had a good talk with the chief physician, who is actually called "Dr. Bones" although the name has a slightly different spelling. He said some of the team soon goes onto Portillo, Chile, to continue their training. Others go to Europe in the winter. For them, the rigorous training is a 12 month matter.
The crowds continued to flock to Coronet after the storms, and the snow remained abundant. We lucked out - it is one of the best snow seasons New Zealand has had in years; all while my friends back home are sweltering in the heat and humidity. Sorry about that friends!
Wednesday, I returned to Coronet for a fifth day. Again, the sun was abundant, and the trails well groomed. I guess you get the picture - I like Coronet. This time, I met more members of the Men's US Olympic Team, and joined them as they practiced. Had some good talks as we shared the T-Bar lift together. It was a thrill to stand at the top of the run with them, and watch them speed down the slalom course. I have never been so close to world class athletes as they were making their runs, and it was a truly awe inspiring experience.
Before I leave Coronet, I want to try one more time to describe this mountain, but it is really beyond description. From the top of most runs, you can see the breathtaking view. On clear days, you see the snow capped mountains. Then they are intersected by the long white clouds - that is the Maori name for New Zealand - Aoteroa - the Land of the Long White Cloud. Beneath the clouds, there are more snowy peaks and the huge, startling Lake Wakatipu. If the skiing does not take your breath away, the movie-set scenery around you is certain to do so!
August 22, 2006: Challenge at Treble Cone
Challenge at Treble Cone - August 22, 2006
Treble Cone is the steepest and one of the largest ski areas in New Zealand. It is outside of Wanaka, and is about a 2 hour bus trip from Queenstown, where we were staying. There is also abundant lodging at Wanaka, which is a slightly smaller town. Both towns are located on magnificent, deep clear lakes. In addition to expensive hotels, both towns also have inexpensive hostels and bunk dorms for backpackers. There are also camper vans outside of Wanaka; many people rent them, but they can be tricky to drive on the steep, narrow, and twisty mountain roads. Again, I recommend a bus service; we took our shuttle from Kiwi Discovery, and their drivers know what they were doing. My driver even remembered me from another visit to New Zealand in 1999 to the Rainbow Ski area. How is that for some remarkable people!
The drive up to Treble Cone was incredible as were the snow conditions - lots of fresh powder and fast, smooth, groomed tails. I shudder to think of the challenge of grooming those steep trails. There is also much backcountry skiing. The avalanche danger was high; part of the ski area closed for a time while the blasting of loose snow was undertaken, with its signature loud booms.
While Treble Cone is fantastic, I did not do it justice on the day of our visit. The cold was really intense, especially on the two chairs near the top. Wind chill factor hovered around zero F. The wind comes up from the Antarctic and has a sharper bite to it than we experience up north. But the day was sunny, and the colors bright. The beautiful Lake Wanaka and Mount Aspiring can be seen from many sections of Treble Cone. There is a viewpoint to the Mokatipu River but getting down from it requires being able to negotiate some moderately steep terrain.
Charles and I tried to spend most of the time on blue trails, and even they were tough. Most of the area is very steep and challenging, with features similar to Taos or A-Basin. While there are intermediate trails, Treble Cone is known here as the mountain for advanced and extreme skiers and snowboarders. Special extreme competitions were scheduled, but postponed because of high winds.
There are two long chairs to the major bowls of Treble Cone - the six seater express from the base area and the Saddle Quad. There is a magic carpet for beginners and another easy section with a T-bar. Treble Cone has presented a proposal to Wanaka to allow a major new Gondola, which would be a ten minute ride from the foot of the mountain to the base area. If approved, it will cut out the drive up the mountain road. It should also bring new growth and revenue to the area.
In short, Treble Cone is a great area, but I need to improve my skiing to do it justice. If you have well-honed advanced skills, and enjoy steep skiing with breath taking views, Treble Cone is a mountain you should try on your visit to South Island, New Zealand.
August 23-28, 2006: Snowsports Writers Descend on Queenstown
Snowsports Writers descend on Queenstown - August 23 to 28, 2006
After two weeks in New Zealand, and 6 full days of skiing, we joined the NASJA tour for the final week. The North American Snowsports Journalists Association (NASJA) is a group of serious athletes and snow writers. There were 29 other reporters on the tour, in addition to Charles and I. Queenstown rolled out the red carpet for us, even though New Zealanders ("Kiwis") are warm and generous people to everyone.
The tour was put together by Holidaze Ski Tours of New Jersey, partnered with Ski Express and other organizations in New Zealand. Between them, they put together hundreds of snow tours a year, and are able to juggle complex events and schedules. We were housed in the Novotel Gardens Hotel - a luxury hotel right on the beach and Lake Wakatipu. The snow covered peaks were clearly in view, providing dramatic sunrises and sunsets.
The first evening we took the steep cable car up to the Skyline Gondola Restaurant - a large, modern, wrap-around structure which dominates Queenstown. The view is grand, and the sumptuous buffet appeared to have over a hundred selections, offering the major selection of New Zealand food and wines. The cable car and the view of the city lights below made me a bit tense, but some wine soon cured that. Beneath us, many paragliders floated in the sky. Bungee jumpers also hurled themselves off the ledge extending beneath the restaurant. Kiwis and their tourists seem to love to toss themselves off steep structures, and we eventually got used to hurtling bodies. Each such jump costs roughly $100, which can include photos, a videotape, and a shirt. I was not about to jump, even if they paid me to do so.
The next day our group took the dramatic drive up to the Remarkables. Every mountain road seems steeper and more twisting than the one before. The fact that buses can make it up and down the road is amazing, and not to be done in ice and snow. Remarkables is a fine ski area, and I had some good memories from my previous seven visits. It is challenging, specializing in advanced, high intermediate, and some beginning areas. It was our misfortune to hit a day with cloud and flat light, which gave many of us the "vertige," the feeling you are skiing off the mountain into the clouds. When the sun reappeared, I could see many fine bowls with fresh snow; the Kiwis call it "wicked snow." There is also excellent backcountry skiing, so common in New Zealand. When you reach the end of your run, you make your way to the road, and shuttles ride by to take you back to the base area.
At one point, we skied down to the tubing area, and had several great, fun runs on the snow tubes. Unlike in the states, you are allowed to tube in your ski boots. This makes the ride faster and more fun. There are not as many people in the area, and you are not likely to plow into them with heavy boots on. Even if there was an accident, you cannot sue! New Zealand has special laws against injury lawsuits, and anyone hurt is treated for free in the Government-run hospital system. Perhaps we should look at this.
After several hours on the snow, we were treated to a barbecue on the lodge balcony. Ski Express has a luncheon for its guests twice a week. Then back down the Mountain road, past lakes, farms, vineyards, and the airport. On the way to Queenstown, we stopped at the Hackett bungee jumping center off the Kawarau Bridge. We received a tour and several lectures about the art of bungee making and jumping. Then six of our group joined others in jumping into the river. Since the water was cold, only a small part of their body got wet. We non-jumpers could wander where we wanted, and I spent some time very close to the edge of the bridge. I watched the participants rope up and take off. After a while it became routine, and I nearly considered it. The bungee people insist it is safe, and claim no deaths or major injuries in their company. But, our friends admitted it was a strain, as blood rushes to your eyes and head as you bob, weave, sway, and dangle upside down. Finally, when the raft rescues you, you are deposited on shore and have to walk back up steep stairs to the original site. Maybe I will test myself someday, which is the goal of bungee jumping. For now, my timidity dictates I stick to skiing!
August 26-28, 2006: Queenstown at Play
Queenstown, New Zealand is a region for thrill seeking residents and visitors, and our group of 31 NASJA writers was no exception. We are members of the North American Snowsports Journalists Association, so our main focus is the snow. We skied and rode up a storm at the four major resorts in South Island. One member, Matthias Giraud, is a free skier, who completed a 45 foot jump at Treble Cone. He is being photographed by Scott Smith for Couloir (not our Scott!). Matthias admits to always having fears before a jump, but has taken many in his young life, and shows no signs of quitting. Another young member of the group, Andrew Crocker, took two life-defying bungee jumps at two dramatic locations. He hopes to post his videos on the web. Other members of our group defied age and fear to bungee and to paraglide, with dramatic views over the mountains, forests and deep lakes. For the rest of us, there were tamer attractions - well worth taking during a visit to South Island. Even we could not ski all the time, although we wanted to! The conditions were great, and the sun was out for a majority of the time, so it was hard to pull away from the slopes. But they were always in our sights during the trip - we just saw them from another perspective.
One of the most enjoyable excursions was a trip across Lake Wakatipu on a 94-year old coal fired steamer, the TSS Earnslaw. It is a dramatic and relaxing trip. On the way back, the large international group sang lusty folk songs from all cultures. Many of the songs were the nostalgic ones from the World War eras. With a songbook provided by the tour company, "Real Journeys," a great time was had by all.
The purpose of the trip was to visit Walter Peak, an elegant and historic High Country Farm across the Lake. It was developed by hardy Europeans in the 1860's; before that, the area served as a shelter for the Maoris who were searching for supplies of fish and greenstone. The staff are very efficient in serving a generous and elegant buffet in magnificent surroundings. Afterwards, we went out back in the dark, and watched two border collies round up, release, and herd sheep again. They stare the sheep down and control them with their eyes and threats of nips from their sharp teeth.
Then the farmer sheared one of the older sheep for us. This sheep was nursing triplets, and we had the chance to bottle feed one of the adorable lambs. It was a good thing we had eaten first. It was off-putting when he said the lamb could be sold for slaughter in a few months. Then he said the old ewe - who was propped up in a seating position for shearing - would be sold for mutton soon, because she was too old for breeding. At that point, the old Mama let out a plaintive "baa" and the entire group laughed and applauded! Our vows to give up lamb soon evaporated, the next time we were served a lamb curry at the next buffet.
That buffet was served on another interesting boat excursion, this one to Fiordland and the incredible Milford Sound. We took a four hour bus trip from Queenstown to Milford Sound, with four stops along the way to walk through ancient forests and gather water from a crystal stream. The rain forests are warm, lush, and incredible. Some of them were glimpsed in the movie Lord of the Rings, and the trees do appear to have faces on them. The Maoris call the 800 hundred year-old trees "the old folks." The warmth of the area is startling, when you realize you are in the tip of the South Island, relatively close to the Antarctic.
The bus trip was the most dramatic part. We saw several bold rainbows, and avalanches from the shear peaks above us. You can understand why so many accomplished mountaineers - including Sir Edmund Hillary - trained on these peaks.
At one point, coming home, we saw a rather large avalanche coming down above us. At first, we stopped the bus and watched. All of a sudden, it looked at though it was about to engulf us. The entire busload appeared to shout at once, in a variety of languages, "go, go," But, by that time, the experienced bus driver also made that split second decision, and we were beyond it, before the heavy snow hit the single lane road. Avalanches often close the road to Milford, and that was probably the case.
The boat ride on the "Pride of Milford" was also interesting and dramatic, but the Tasman Sea can be rough. Even on a relatively calm day, I got a bit seasick. You might want to take motion sickness pills for the boat and bus trip! The sights on the boat were terrific. In addition to towering cliffs and waterfalls, we saw seals sunning themselves and dolphins cavorting. There are said to be plenty of sharks, but we did not see any. Our Captain was Vaughan Campbell, who has been making 3 trips a day for 5 and a half years. He admits it can be challenging to pilot the ship in high winds and rough seas.
One of the best parts of the bus trip to Milford, which was arranged by "Great Sights," was our guide Paul James Brown. Like many Maoris, he appears to be mixed with "Pakehas" or whites, and bears English names. His English and Maori are fluent and poetic. He provided the commentary in both languages, while another guide translated in Japanese for the large number of Japanese tourists.
Paul's deep love of New Zealand, and knowledge of the ancient history, was evident. He told the Maori legends in both languages. We could feel the struggles of his people as they made their way in ancient canoes from Hawaii thousands of years ago. We could understand the hardships of explorers like Captain Cook, who was killed by ancient Polynesian tribes years after he left New Zealand and explored Hawaii. And, we could see the legendary "Sleeping Giant," who was meant to have formed Lake Wakatipu after he was killed. The Maoris say his giant heart still beats beneath the Lake - this is why the Lake rises and falls several inches a day.
Charles took the option of a flight in a small plane back from Milford Sound which follows the route of the Milford Trek and gives dramatic views of the alpine Lake Quill and Southerland Falls, the highest in NZ (580 meters) and McKinnon Pass (1,100 meters). He can't believe that in summer, people walk from Te Ana to Milford Sound in 4 days. He says the plane ride was dramatic, as the small craft wove through the clouds and hovered close to the peaks. I would have been terrified.
Charles has gotten into rugby (spectator only!) and is following the NZ All-Blacks as they have beaten the Aussie Wallabys and South African Springboks in crucial playoff games. Fortunately the pubs here are now smoke free and each has its own microbrewed ale. On his more civilized days he shaves and samples the famous wines of this region.
August 27, 2006: Carving at Cardrona, and Luxury on Air New Zealand
Our last day in New Zealand was another perfect one, making it harder to leave. But, this was my eighth trip, and my husband's first. With luck, "we will be back."
Our group of snowsports writers took another comfortable, hair raising bus tour, up the windy mountain road to the Cardrona Alpine resort. It took slightly over an hour, and is actually closer to Wanaka than to Queenstown. But, it is not as far away or as high and steep as Treble Cone. Cardrona and Coronet Peak compete for the same type of skier and boarder - beginner, high intermediate, and those like us who love to cruise. In my mind, I am still following my friends down the smooth, well-covered, perfect trails of Cardrona. Few things on earth equal that hypnotic, musical type of snow dancing. The sun was shining, the weather comfortable, and all was perfect. Cardrona was crowded by New Zealand standards, and the lines a bit long. But, it was a Sunday, and crowds were expected. The conditions were nothing compared to our East on a popular snow day. Cardrona has three major chairlifts but one, on the right side and down the hill a bit, is less crowded. The Captains Quad also services the best and widest slopes, and is close to a nice restaurant, The Captains Cafe. I highly recommend the sunshine from the outdoor deck!
None of the New Zealand areas are quite as large as in the US, but they all offer enough challenge and variety to make the trip well worth while. They do not compete with the American areas, since the season is reversed. With package tours, the trips are affordable (I highly recommend Holidaze from New Jersey, which has run over 40 ski tours to New Zealand in 33 years. They have all the right connections, and get good deals.)
The New Zealand areas are the preferred June-to-August training grounds for the Olympic ski and board teams from the US and other countries. I enjoyed watching the experts perform, close at hand. Some of the athletes also go onto Portillo Chile, but they tell me NZ is better and bigger. Best to check out the conditions in both countries before making a decision. There is also skiing in Australia, but the Aussies tell me the areas are comparatively small, lower, more crowded, and the season shorter. Worth a try if you are in the area. But, most Aussies come to NZ to ski, if they can, so that tells something. There is also a huge variety of skiers from all the Asian countries. Japanese food and signs compete with English ones in most areas. We were treated to a terrific noodle bar at Cardrona, and sushi is plentiful all over NZ. There is also some of the best cappuccino in the world in NZ; others prefer the fine wine, but I go for the coffee.
One other point - never underestimate the New Zealand athlete, or driver. They are tough! Some of the most skilled, daring, and reckless athletes in the world come from New Zealand. They like to hike, heliski, and ski or board "off piste" or out of bounds. Most of the groomed slopes do not really have names - too inhibiting. The "Kiwis" can be tougher than most Americans - our ironman bike, ski, kyack, and running races are easy compared to most of theirs. And, their driving of huge, high buses and trucks up the steep, winding, narrow mountain roads is incredible. As could be expected, there are a number of driving and pedestrian accidents all year. One American friend said she thought little about bungee jumping after the drive up. Compared to the drive, she said it was no big deal to jump off a high bridge!
Our nearly perfect 11 days of skiing sadly came to an end. In all that time, we only had two days of extreme cold and flat light. Even when there was heavy snow and clouds in the morning, it cleared in the afternoon, exposing the breathtaking peaks, valleys, and lakes. The ski season had started in June in NZ, with record high snow falls. With luck, it will last until October the 8th. All the major areas have snow making, and appeared to use the machines each day, to top off natural snow fall. Last year, Australia had the better snow season. So, if you are making the 2 day flight just for sport, you might want to buy travel insurance and watch conditions carefully before boarding those planes.
Speaking of flying, I highly recommend Air New Zealand, from LA or San Francisco. I have flown it dozens of times, in New Zealand and internationally, and find it the best. The planes are comfortable, clean, safe, and the food and staff are terrific. Some of the best parts include the "Koru" lounge in LA airport and most NZ ones. You can often gain admittance, if you are part of the Star Alliance of domestic partners. The lounges have showers! There is an endless supply of food and drink, and business spots for computers and phones. No exercise rooms yet in the lounges, but I am trying. The best way to start or break up a flight is to get into the Koru Lounge. This flight, we had the pleasure of visiting them in LA, Auckland, Wellington, Christchurch, and Queenstown. They are usually in the departure lounges, which is very helpful since you have to check in 2 or 3 hours ahead of time. In LA, there is usually a layover of several hours before you can return East. Since I can't get into a Koru lounge enroute to DC, I usually end my magical trip sprawled out on a carpet or bench at the LA airport. At least they now have carpets. A truly glamorous end to a visit!
We flew Air New Zealand on the regular, economy class to New Zealand - a 12-hour flight. Before that, we took United from Dulles. Neither Charles nor I got much sleep on the way over, and were zombies when we both had to deliver major speeches in Auckland a few hours after landing! The Kiwis are, fortunately, very understanding people. The entire flight cost about $2,000 each. That included all the stops in New Zealand. It is much cheaper to book those all at once, from the US. Unfortunately, I had to later change one stop over, and that cost us $180 in penalties for both of us.
On the return, the security was tight, but not offensive. Officials handled the situation very well in LA. We could take our laptop on the plane, but no liquids or gels. I felt very reassured by the security precautions.
On the way back, there was plenty of room in First Class Air NZ and we were lucky enough to be upgraded, at no extra cost. I guess, with the latest terrorism scare, more people wanted to get into NZ than leave that paradise and return to America! First class has high tech sleeping pods, and sophisticated movie and entertainment systems. All are operated independently, and movies can be stopped, started, or fast forwarded. After sating ourselves with food and wine, the sky staff showed us how to transform our seating pods into beds. Alas, there is only one person per pod! Charles appeared to sleep an entire 8 hours, and I managed 5. Thank you Air New Zealand - a great treat!
And, thank you New Zealand for being there, and being so wonderful to all of us who visited. Hope to follow the path of many visitors, and enjoy "back to back winters." Here's to another snow season in the Land of the Long White Cloud!