Whitetail Fall Foliage Festival: Firsthand Report
1
The heavens opened up, and the precipitation came down in buckets. Unfortunately, it was rain, and not snow. That was Saturday, October 22, 2005, the day my husband and I were able to get to the beautiful mountain resort of Whitetail. The next day, Sunday, was sunny and mild, with the trees, mountains, and fields bursting in autumn colors - a fitting reward for those who labored so hard to create the fall festivals.
In addition to the devoted staff members, there were dozens of vendors selling local food specialties, crafts, and jewelry. There was a terrific blue grass band. The bird man with his collection of hawks and falcons was not there this year. Outside, there were horses, a small petting zoo, a fishing pond, a climbing wall, and more vendors. One chairlift was running, and a brand new snow grooming machine was parked, ready to go into action. An active ski swap was in progress, near the huge new ski rental facilities built by Whitetail. It is a much-welcomed addition.
A family was in the cafeteria with their large collection of fascinating snakes - a seven foot Texas rattler; other rattlers, copperheads, and some of the 40 breeds of snakes which reside in the Pennsylvania woods. Don't worry - they will be safely sleeping under the snow when winter season begins. And, judging by the amount of water we have had recently, I predict that snow will arrive by November. With luck, our local resorts will open by December, if not before!
Fall festivals are a wonderful time to catch up with devoted staff members - most of whom have been working on the mountain all summer. The labors don't end when the snow melts. We were so pleased to catch up with General Manager Don MacAskill, Marketing Manager Chris Black, Mountain Host Manager Buddy Hauk and all the other regulars.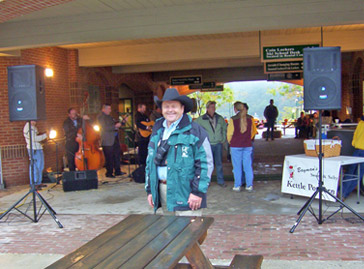 Other local areas also had their fall festivals. Ski Roundtop had theirs this past weekend. A week earlier, Ski Liberty sponsored their customer appreciation day and activities. All of these events foster the feeling of family and community among our local areas. Many of the skiers and snowboarders in this region have gone to the nearby areas year after year. Whitetail and Liberty are under a two hour drive from the Washington/Baltimore metro regions. I encourage snow lovers to try to go for a half a day or evening session, when they can get away. Less crowds, cheaper prices, and a definite attitude adjustment from the rigors of work or school. The areas have excellent night lighting - I find it easier to ski under the lights than in the flat light of dusk. And, night adds to the drama of the sport.
The areas are also intensifying their training for ski instructors. I had a nice talk with Sue Slick, head of the Whitetail Instructor Training Course. She is one devoted, hard working lady! Sue has a series of training sessions coming up for those who want to try to become instructors. Even if you don't pass, you learn a lot from the courses. The 4-day courses cost $95 and start in November. Contact Sue at skischools@skiwhitetail.com. The training is intense and specific, with such topics as the student-instructor partnership, performance concepts, safety and risk management, the beginner lesson, teaching children, and finally, the weekend intensive course. Five of the six courses are conducted indoors. There are also special courses for those who want to help with adaptive skiers, including those born with afflictions, or who have later had strokes, accidents, or other injuries.
The hard work and technical nature of the training courses should not deter - Sue also says, "the Whitetail School is made up of individuals who have one common goal - to have fun. Friendships are forged that last a lifetime. They ensure that when there is snow on the hill, you can always find someone to ski or ride with. "
Nice thoughts - the world is going through some intensely rough times, and we all know it. But, for anyone lucky enough to be able to get to the slopes, do it! It is all out there - just make the effort, bundle up, and think snow!
Hi Connie,
Thanks for your kind words and for giving me voice through your column. I would welcome anyone who might be interested in instructing to contact me. Check out our website for contact info. Becoming an instructor was one of the best things that ever happened to me! I'd like others to share the fun and great feeling of helping others. Thanks again!
Sue