For sheer drama, there are few sights as dramatic as the drive through Boulder Canyon up to Eldora, Colorado. With its sheer cliffs and winding road, you have the sensation of driving through Yosemite or Zion National Parks. Eldora is only 47 miles from downtown Denver. To get there, you pass though the university town of Boulder, through Boulder canyon, and through the new-age town of Nederland - one of the most dramatic mountain biking areas in the Rockies. We saw mountain climbers, bikers, fishermen, and - of course - skiers and snowboarders on their way to get in the last runs of the season. Nederland also has a neat Expresso bar in an old passenger train car.
From a Washington, D.C. perspective (if you take away the majestic Continental Divide in its back yard), Eldora has the look and feel of Whitetail. It is a small resort by Western standards, with a loyal following of local families and Colorado University students. It boasts 680 skiable acres, 12 lifts, and a top elevation of 10,800 feet. The longest run is 3 miles. There is also a large Nordic skiing center in the Roosevelt National Forest and adaptive skiing. Trails have some colorful names -including one black diamond called "Psychopath." When I asked a native about the name, he said "you have to be a psycho to take it." I passed on it. "Ambush" and "Dream and Scream" ranked among the other original names. From Lookout at the summit, you can see the challenging grade that the Union Pacific railroad used to take to cross the Continental Divide.
Unfortunately, my husband Charles and I had only two hours to ski Eldora in late April, 2005, since we had to return to Denver for a convention. But, "we will be back." Our first run was down "Muleshoe," a black diamond into Corona Bowl, which was quite challenging - partially groomed and crusty in the morning cold. It was work getting through it, but not impossible. We earned a ride to the summit Lookout where Charles saw Superman change into mild mannered Patrick Wagoner, a recent CU graduate, who was preparing to light a barbecue to celebrate the end of the season. We took Wayback, a nicely groomed corduroy blue cruiser. It enabled me to have the best skiing of the entire winter. After that, we briefly met some of the staff. The co-eds were in their bikini tops; the men in Hawaiian shirts and costumes. How I wish we could have stayed!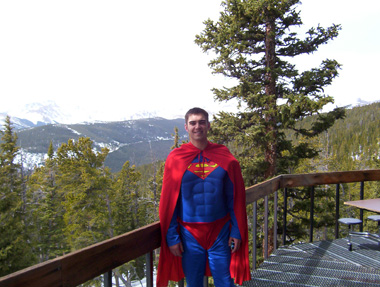 All the staff know their winter sports, and are devoted to Eldora. Marketing and publicity director Rob Linde has been an executive in the ski industry for a long time, and knows most of the resorts and their key personnel throughout the country. The fact that he chose Eldora for his home base attests to the beauty of the mountain and the special attributes of the area.
Some other notes about Eldora - you must be a good driver, and have a car that can manage steep mountain roads, especially in the winter. Even on our tame spring day, we could see evidence of rocks newly fallen from the sheer cliffs onto the road. It is definitely not a drive to make during snow, ice storm, or after a university party. Fortunately, there is frequent public bus service from Denver, into Boulder, and then up to the mountain (free for students). This is a good one to leave to the professional, experienced driver!
The next time you are in the Denver or Boulder area and want an excellent adventure within a short distance from the cities, think of Eldora. Let's just hope this genuine area does not become too commercialized or crowded.
There are no reader comments on this article yet.