Springfest at Whitetail and Liberty: Firsthand Report
1
It is a sad time when a ski season is drawing to an end, but it is also joyous to celebrate another terrific season. It is also a time to remember how much fun snowsports can and should be! The sense of fun and celebration were manifest this past weekend at many mid-Atlantic resorts, including Whitetail and Liberty.
My husband Charles and I visited both Whitetail and Liberty, and got a glimpse of the festivities. It is too bad we could not stay to attend them all, but we got a great flavor of the events. We also took some runs down our favorite trails, which were in remarkably good condition, given the recent rain and warm weather. The trails were easy to dance down in a fluid, effortless rhythm. There were no crowds at the lifts, and the slopes were nearly empty, except for ski patrollers going through their training at Whitetail. The small crowds are bad for the resorts, of course, but good for the skiers and snowboarders.
Kudos to both areas on their mogul runs. They are in excellent shape, and provide a challenge to even the most advanced skier. The well constructed and well maintained bumps covered most of "Exhibition" at Whitetail and "Upper and Lower Eastwind" at Liberty. Bumps are a true art and science. These slopes can stand with the best mogul courses of any ski areas in the world. They may be shorter in length, but they are difficult. I am sad to report, I don't handle them any better than I did over 40 years ago! But, I am still trying. It is such a joy to watch the experts take to them so effortlessly. Whitetail had a terrific bump competition in progress while we were there.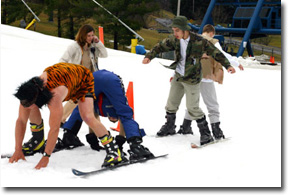 As for the Springfests - great effort! Again, it is a shame the earlier rain and warm weather deterred many more people from attending. They missed a lot of fun. At the ritual pond skimming at Whitetail, there were over 40 competitors. At Liberty, 70 were counted, with four actually crossing the pond. Whitetail also had a cardboard derby, raffles on a cruise, a dog sled ride, live music, children's games, and many other events. There was even a surprise birthday party for manager Don MacAskill - an event which brought the Whitetail family ever closer together. By the way, the theme of their Springfest was the Caribbean weekend, with beach-style decorations and flowered shirts proliferating. In the afternoon, as the sun broke out, some skiers managed a few runs with bare arms, in short sleeve summer shirts.
Liberty's theme was the Safari Springfest, with some incredibly intricate decorations. Their two-day events included a survival of the fittest competition (don't ask!), an air guitar competition, cookie decorating for the kids, and the pond skimming competition. Both areas also offerd buffets specializing in Caribbean or Safari food. With so much effort expended, when do these people have time to ski or board? I would expect they had a great deal of time over the season which, unfortunately, is far too short.
Editor's Note: Liberty and Roundtop are temporarily closed midweek, but plan to re-open on Friday for one last weekend. Whitetail remains open this week. During this time of the season, we recommend contacting any resort to verify operating conditions before visiting.
Hi Connie!
Gr8t article ... yeah I know the feeling @ ski Liberty ... the closing days are always bittersweet. Fine spring conditions (hmmmm except for that March day in 2002 when I busted my collar bone when I hit some wet snow @ 40 mph LOL) are excellent ... my fav time to do bumps. Well, hang at The Tavern for me and have a drink on that balmy Sunday when you are feeling good and tired after doing it up and down the back side and revel in how excellent it is to be a skier ... like Glen Plake said ... "it's a life sentence" LOL !
smiles!