Snowshoe Trip Report: March 13-14, 2004
2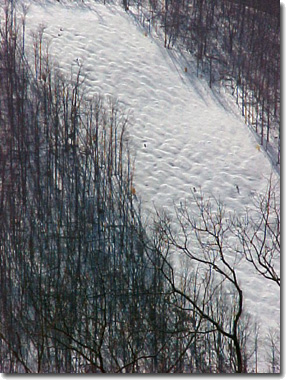 My wife and I traveled to Snowshoe this past weekend to make what will likely be the last turns of the season. Heading out from northwest Baltimore County, the drive to Snowshoe's summit totaled 4 hours, 40 minutes, including two pit stops. The 14-mile stretch of Corridor H along Rt. 55 that ends before Moorefield helped us speed things up and get past the inevitable dumptruck or two.
We weren't sure what to expect from these spring conditions, though 17 inches of pow had fallen during the previous week. The snow turned out to be excellent. You have to hand it to Snowshoe - they put out a good product. While the recent powder had come and gone, the snowmakers and groomers have been put to the task each night. Most other area resorts have packed it in for the season, but Snowshoe is pushing it over this last stretch of the season. There's still four to six feet of snow on all runs, though plans are to shut down Silver Creek after this coming weekend.
Snowshoe's main basis trails were primarily a loose granular surface, as we scouted the softest snow on trails' edges. Apparently spring skiing is no longer a secret at Snowshoe. A strong crowd was on hand, though lift lines averaged just 3-5 minutes. At 2 pm or so, we crossed Snowshoe Road over to Cupp Run. Expecting skied-out crust conditions, I was thrilled to find good snow on the majority of the 1,500-vertical-foot run. The same couldn't be said for the ice-sculpture bumps on Lower Shay's, but the resort rightly declared so on a sign at the Western Territory's entrance.
We bunked in a well-appointed studio at Rimfire Lodge in the heart of the Village at Snowshoe, and didn't mind a bit that the hot tubs were just 15 feet from our room after skiing all day.
The resort plans to close Sunday, April 11, and between now and then spring skiers and riders can book a low-budget vacation with the deals Snowshoe is offering. Keep your fingers crossed for the clipper hitting our region right now to dump powder rather than rain in the West Virginia highlands.
Good to hear that some of us are still skiing this time of year! I'm headed up to Snowshoe on friday for the Mountaintop Beach Party. Would like to know what way you think is best to get there from the Baltimore area.
Others might disagree, but I think the fastest route from Baltimore is 70W to 340 W thru Harpers Ferry, then 340 S to 7 west to 81 south. Pick up 55 W and follow to 28 then 66 to Snowshoe (going from memory, check a map to confirm). From the Baltimore burbs you can make this trip nonstop in 4 1/2 hours.