Helicopter Skiing: Man, You Have Got to Try This!
6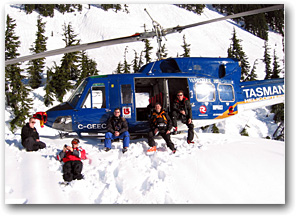 If you are an avid skier, your to-do list must include a heli-skiing trip. I recently had the opportunity to experience heli-skiing firsthand when my family and I joined a group of friends in Whistler, British Columbia for an early ski vacation. During the early phases of the planning for this trip, discussions were made over the potential to do some heli-skiing. After all, with its low base elevation, favorable exchange rate and famed snow, Whistler seemed to provide the ideal setting for trying heli-skiing. The plan came together when the group arrived in Whistler and my buddy Tom and I signed up with Whistler Heli-Skiing (WHS) for a three run day. At first, we were a little concerned about a mere three runs for the day. But we were assured that additional runs could be made once we got out there. WHS has been in operation since 1983 and is licensed by the Province of British Columbia. Their office is located in the village of Whistler, BC. The night before our planned heli-skiing trip, Tom and I dropped off our ski boots to have them fitted to the wide powder skis we rented from WHS. The next morning, at 8:30 a.m., we arrived at the "Powder Hut" located behind the WHS offices in the village. We quickly found our boots and assembled at the post marked for our guide, Neil. There, we met the others in our group, including two guys from Boston, two from Chicago, two Austrians and two Japanese fellows. Neil showed up a few minutes after we had conducted introductions and greeted everyone with a big grin. He then turned to the two Japanese skiers and proceeded to greet them in fluent Japanese. One thing I learned quickly on this trip was that a lot of folks working in Whistler are fluent in several languages. Neil was no exception, being able to converse easily in English and Japanese, switching between the two at the drop of a ski pole! Another nearby guide was providing instruction in fluent German to another group of heli-skiers.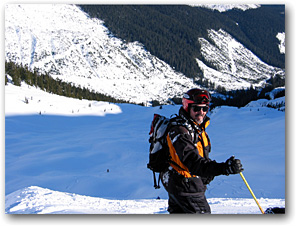 Before heading to the helicopters, Neil gave us a full briefing on the avalanche transceivers provided by WHS for our use during the day. Tom got appointed to carry the spare pack containing a collapsible shovel, avalanche probe and spare radio to call for help. WHS takes its job seriously! Neil assured us that these were precautions only and in the twenty years he had been guiding these trips, WHS has never had a customer buried in a slide - guides, yes, customers, no. At the helicopter take-off site (a short 15 minute ride from Whistler village), we practiced using the transceivers and heard a short presentation on helicopter safety, including entering and exiting the helicopter. Then, we were off! We rode in a Bell 212, a helicopter capable of carrying eleven passengers plus the guide. The helicopter took us to the top of an area called Mount Fee located south of Whistler. After the drop off, we were left on a pristine mountaintop with breathtaking views, including a view of Whistler and Blackcomb several peaks to the north. Further to south, we could see tracks from backcountry snowmobilers. Some of the tracks went straight up the mountains before making a U-turn back down. Neil informed us that some of the snowmobilers head into the backcountry without much training or awareness of avalanche risks. The heli-skiing guides call those guys "snow test dummies." With Neil leading the way, we hit our first run. From the first descent, we immediately hit shin-deep powder. Some of the group (myself included) were not very experienced in the real deal when it came to powder snow. As a result, my first run was a learning experience involving a couple of falls and some experimenting with weight placement. Of course the Austrians skied the first run with no problem (rumor has it that Austrians are born with skis on their feet!). The Japanese group also showed considerable skill in carving beautiful turns through the powder.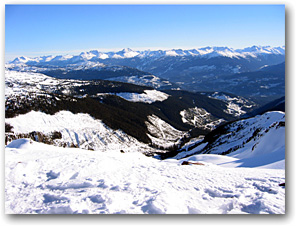 After an exhausting first run (for me), the helicopter came to pick us up for the second run. From the air, we could see our ski tracks through the previously untracked powder. Traveling in your own private lift has to be the best way ever devised to get to the top of a run! By the second run, I had stopped fighting the skis and let them track instead of jumping from turn to turn. Shifting my weight over the top of the skis and moving forward with the shape of the fatboys proved the trick. The appeal of skiing in untracked powder was now beginning to really dawn on me as I connected turn after turn. Tom, being a senior patroller back home, had been grinning ear to ear from the get go. The professional photographer hired by WHS to snap videos and pictures of the group joined us on the second and third runs. As with the guides, the photographer was fluent in two languages. He was also one heck of a snowboarder to boot! Lunch was provided by WHS a third of the way down the third run. After the exhilarating runs, the simple lunch of overstuffed sandwiches, hot tea and Canadian chocolate bars (Aero's, Mr. Big's, and Coffee Crisps) was a feast. During the lunch break Neil asked if any of us were interested in a fourth run (keeping in mind we still had two-thirds of the third run to complete). Reclining in the snow surrounded by mountains with sun and blue-sky overhead, it was easy to say yes. A decision Tom and I ended up reversing when we finally finished that third run down over half an hour later amongst the trees. Instead, we opted for joining the majority of our group in some more sunning on the side of the mountain as four brave members of our group did one more run. By the time the brave four finished their last run, it was about 2:30 p.m. and we were ready to head back, tired legs and all. Our pilot treated us to an exhilarating helicopter ride involving some dives down the mountains and some serious banking through valleys to land at the WHS heliport. Back at the village where the bus dropped us off, we were able to relax over a couple of Canadian brews and munchies at Buffalo Bill's. Our photographer had done double-time back and we were able to enjoy our second beers over the compiled videos of the day's exploits. Our total cost for the day, not including the video and photos purchased or the tip for Neil, was about $700 Canadian per person or about $460 US at current exchange rates. Tom summed up the day best when he said, "Anyone that likes to ski has got to scrape up the money to do this!"
Sounds GREAT Jim. Really enjoyed story and photos. All my occasions in serious powder have been with old skinny skis, not parabolic and definitely not wearing "fat boys". I'm curious, with fat boys do you sink under snow or mostly stay on top?
Jim - Fatboys are definitely the way to go. The snow was at least knee deep in a lot spots (which we discovered when we took off the skis). With the fatboys, we pretty much stayed at ankle to just-above-ankle depth. This helped a LOT with turns. Despite the Warren Miller pictures of folks effortlessly moving through fluffy powder, this stuff can really pile up and be a load to push. The fatboys made turns and maneuvering much much easier.

Jim
Here's a link to some photos taken recently by the www.tourthealps.com group. Caption on one mentions how fat boys sink in snow, but not as much as regular gear.
http://www.tourthealps.com/photogallery/index.aspx
I second James' recommendation to try heli-skiing if you get a chance. I've done two previous trips through the same operator that James used. It's expensive, but worth every penny. The helicopter ride alone is almost worth the price of admission. Fortunately for us, the rates were a bit more affordable at the time, probably due to different exchange rates and more competition among the heli-ski operators. (I believe WHS has acquired most of the heli operations in Whistler so it has a virtual monopoly on the market.)

You don't have to be an expert to give it a try. WHS seems to segregate heli-groups by ability level and you'll ski terrain compatible with the group's ability level.

I didn't rent the fatboys but used my normal mid-fats. On mid-fats, you'll go a bit slower but you get more of the porpoising in and out of the snow. Those on the fatboys seemed to plane on the surface of the snow similar to snowboarders. Unless you're Glen Plake, they probably won't even let you on the helicopter with old-school straight skis.

James, how did you like the in-bounds Whistler/Blackcomb terrain? Pretty amazing, eh?
I want to be the pro photog! Sounds like a great trip! I'll go soon! caugh caugh...several years
When choosing a helo skiing outfit, look for those like WHS who use Bell 212s. The 212 is an updated version of Bell UH-1 of Vietnam War fame. The Bell 212 is a 15-place, twin, jet-turbine powered helicopter designed for high performance, low maintenance and maximum versatility. It is a favorite with many police and rescue organizations including Washington's very own U.S. Park Police. In extreme Alpine environments, one can feel confident riding on the powerful 212.