Snowbasin, or how I learned to ski blind and love the powder! I am wild about all the Utah ski areas, but Snowbasin has to be the most spactacular of all! There are similarities to The Canyons. Both have an excellent gondola which takes you over wild, fantastic mountains and forests. I really appreciate the gondola in the extreme weather we had during our brief visit. But, in the short time I was there, Snowbasin appears to have more challenging trails, and you could get to them without having to take a chairlift (unless you wanted to). There also appeared to be more flat runs at The Canyons than at Snowbasin, although the flats are great for people like my husband who enjoys cross country (in fact, I saw a growing number of telemark skiers who were skilled on the flat runs, the steeps, and the extreme powder. I would like to shake their hands, if I could catch up with them!)
A young man named Justin Rowland made the day for us. He and his family have management roles in the mountain, and he volunteered to guide us. He also saved us by loaning us goggles that fit over our glasses. In my case, the yellow goggles provided a psychological boost in the heavy snow and near-whiteout conditions.
Justin stayed with us, showed us the most suitable trails, and helped us with the best techniques I have ever received for powder skiing. By the last run, we had become addicted! What a difference a few days made! I admit, I would have problems with virgin powder and deep moguls, but that is not a problem at Snowbasin. Our trials were groomed under the snow. There are not enough skiers around on a usual day to cut up the mountain. In fact, Justin told us there is so much territory, there is an average one acre per skier. Try to find that in the East.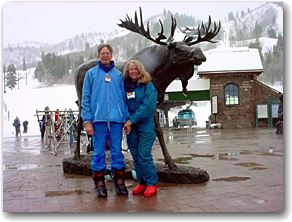 Snowbasin received so much snow in the last week, it could stay open for another few weeks, if it wants to. It also tries to open a bit earlier than the other areas we visited - by the start of November, if possible. When we left, it had been getting about 14" of wonderful, light snow, each day. With the cold temperatures, if should last! Snowbasin, and the other areas, also have extensive snowmaking facilities, which are used earlier in the season.
Snowbasin, like the other areas, is close to the Salt Lake City Airport - that is one major advantage Utah has over Colorado for quick visits (Colorado tends to have a longer season, but most areas are further from the airport). The Park City resorts are about a half an hour drive; Snowbasin is about 45 minutes.
Snowbasin does not yet have lodging facilities on the mountain, even though it has been a ski resort since 1940. Lodges are coming. Until then, it is best to stay in Salt Lake City, the Park City area, or Ogden, which is closest.
A pity you can't camp out at Snowbasin's incredibly luxurious, dining and day lodges - at the base and summit of the mountain. Wow! They have imported the finest marble, silk tapestries, rugs, and chandeliers from Italy. Even the bathrooms are gold and marble. It seems a sin to walk on the Oriental rugs with ski boots. What a far cry from the dorms and barracks I used to stay in during my first days of skiing in the 60's!
The lodges are graced with enormous fireplaces, and serve gourmet food. But yes, you can eat your own food downstairs by a fireplace. Special sections of the restaurants are "clubs," so you can circumvent Utah's liquor laws, and have a drink with your meal. The lodges are so wonderful, there were many people who chose to stay inside, relax, eat, sleep on the plush couches, or whatever. They had the right motto - "if you can't see, don't ski!" But, I am happy we forced ourselves to ski - it was a dream that will keep me going thoughout the summer.
Now, some statistics. Snowbasin gets so much snow, it requires special "avalanche dogs" to patrol the slopes. They are around all day, even though the mountains have been blasted in the mornings. Now, where were the barrels around the dogs' necks?
Snowbasin hosts many competitions. In the Olympics, it was the venue for the Men and Women's Downhill, Super G, Combined, and Paralympic events, according to their fact sheet. It also hosted the 2001 Disabled World Cup. The mountain goes up to 9,350 feet, with a vertical drop of 2,959 feet. The longest run is 3 miles. Total skiable area is 3,200 acres. Average annual snowfall is a mere 400 inches - this year, I think it all came down when we were there. There are so many trails and bowls, it is an injustice to try to count them - just go. But, savor the vista while you are dancing down the powder!
Again, on Snowbasin, thanks also to publicist Roger Toll (who used to run Snow Country Magazine) and manager Chris Peterson. Boy, will I be knocking on your door again!
In short, I was fortunate to visit four excellent ski areas in Utah, and recommend you ski in all of them. The Canyons and Snowbasin have the wildest areas. Park City is a bit of the Old West, with the historic, decaying mines left in place on the slopes. Again, I think their slopes provide the best skiing, because of the way they are cut and groomed. Deer Valley may be my favorite. I love the atmosphere, incredible slopes, and the euphoria of skiing among the homes of the rich and famous. Think Beverly Hills with mountains and snow.
There are so many other wonderful ski areas to visit in the West. This is a modest start; there are miles to ski before I sleep! But, let's hope next year's Eastern season is as excellent as this has been. Then, we can save the West for the spring. By the way, New Zealand is great in August! Happy Summer!
Have you skied at them and what do you think? I think snowbird is closest to the airport isn't it?

How far is Snowbasin from the airport?
Hi Kevin - thanks for asking such great questions!
I also love Snowbird and Alta - in fact, I don't think you can find a bad ski area anywhere in Utah or Colorado. But, I have not skied in those two for a few years - next time! I have the impression they are a half an hour drive from the airport, while Snowbasin is 45 minutes. But, they can all take longer if you don't know where you are going, or if the weather is bad.
I was just amazed I could leave here at 7:00 am and be on the slopes at noon. The 2 hour time difference helped!
There is inexpensive lodging in Park City, if you hunt for it. Many people stay in Salt Lake City, and go to a different area each day from there. But, I prefer staying in a ski town. Check those package deals and specials. If you choose Park City, you don't need a car - the shuttle bus service (including from the airport) is excellent.
How am I going to make it without skiing for 8 months? Yours, Connie
Connie, thanks for the insights! I already have a ticket from southwest just ready to be used for a Utah experiment. I have been thinking about this for two seasons and I think it's time, well in the fall, to go for it. I even know someone that lives in SL area and skis regularly! I have no excuses for not given it a shot -- that is trying a weekend ski in Utah. I'd like to do it between Thanksgiving and Christmas before things open up here (or perhaps in a really good season as they are opening here...) You are the third person now that seems to confirm that its do able to leave early AM on a Friday and return late Sunday. I am not sure this is truly worth it and ideally I'd like to add another day to it... Next up, I want to stay super cheap and with ideal slope side convenience! :-) Ok, so maybe I'll have to compromise a bit there on the convenience part. Another option would be to stay on one of the bus routes in town -- at a hotel or motel. If I don't have to mess with a car that would be better I think, as long as the bus is relatively speedy and convenient... As for super cheap stays, I searched for hostels in or near any of the ski areas, and came up with zilch. There is a hostel down by the Temple though... I'm not sure this a good idea with all my ski stuff I tote along but for some reason I'd like the option to be available...
Now if you really can't wait I hear one can jet off to South America for some summer skiing. Now that would make a great DCSKI article!!!
Any takers???
Kevin, I have often contemplated the same sort of Utah escape because I think it's one of the quickest/cheapest/bestest ski trip options. If traveling with more than 2 people I think a rental car is the way to go with most flexibility, but alone or with just one other it may save to use public/bus transportation. If trying the carless option, I would consider Alta/Snowbird as primary ski destination. It is connected to the airport by public transportation. Alta is famous for its cheap lift tickets and also offers half day AM or PM tics for late arrivers and early departers. Fri-Sun is feasible, but obviously Thur-Sun would be better for the extra day onsite. There is no getting around fairly high lodging costs if you want slopeside, but Alta and Snowbird (now lift linked) both offer dorm room type arrangements for about $120 a night with meals (just a guess based on old knowledge, check me on this). You can beat this a little by staying in SLC and using public bus to Alta/Snowbird. One motel I know about that offers a bus package involving nearby Alta/Snowbird is Best Western Executive Inn, link at:
http://www.bestwesternexecinn.com/ski.html
I took bus transport one time from airport to Park City. It worked fine but was private and cost a lot compared to public bus available to Alta, but once in Park City, as Connie mentions, there is a free bus system for ski ticket holders to the various areas, so it is a good option too for carless visitors.
For real cheap Utah stays, I've stayed at several of the Motel 6's in town (Salt Lake City or Ogden - Snowbasin). The Motel 6's in Utah are even cheaper than those on the east coast. Two years ago I paid 27 bucks a night for the Ogden Motel 6. Not sure if a hostel would be any cheaper.

I strongly recommend renting a car for Utah ski trip, even for the budget trips. The carless beware; the public transportation shuttle buses up to Alta/Snowbird don't operate on Sundays. (Utah really is very Mormon.) Not sure about the other buses lines.

You'll probably save money by staying in Salt Lake City and renting a cheap car than by staying in the mountains (without a car). Salt Lake City is more of a grungy working class town than a resort town; as a result, you should be able to find a cheap car rental. All the areas are at most 45 minutes from downtown; most are much closer. With the possible exception of Little Cottonwood Canyon(Alta/Snowbird) being closed due to avi risks, you really aren't that inconvenienced by staying in town on a budget trip.

If you stay in Park City without a car, you're gonna be missing the best terrain in Utah. Park City is a great ski town with a nice mountain living atmosphere. Relatively speaking, the mountain is very poor, probably the worst mountain I've been to out West. And my sample size is close to 30.

The Canyons (next to Park City) has better terrain. It's on the local bus route. To access the best terrain in Utah (Alta - Snowbird - Snowbasin - even Solitude and Brighton) from Park City requires a drive back down to Salt Lake City and back up the respective canyon. (There is another route to Snowbasin, but it's still a long drive.)

To access several areas, you can't beat the central location of staying in Salt Lake City. (But you won't be getting the experience of staying in the mountains.)
I am ready to go! I have the plane ticket and I think it will be Snowbird/Alta. Maybe if I am successfull I'll write up something ... but that's for next season.
Thanks friends for all the input and advice! Again, I really love all the areas in Utah (and Colorado!). They are all different. So, don't rule anything out - try them all. As I said regarding Park City, I like relatively easy cruising, so it was great for me. But, I also like the giant moguls that develop at Whitetail here at home. In short, I will take anytype of skiing I can get! I even tried grass skiing once, but was lousy. It is not much fun to fall on the hard dirt or rocks!
Re summer skiing, I have been fortunate enough to ski in New Zealand seven times in August, because I had a business reason to make the trip. It is incredible, and much wilder and more primative than anything here. In fact, Mt. Ruapheau in the North Island is a live volcano - you ski when it is not erupting! Usually the trips are expensive. But. the
SARS disease is scaring a lot of people from flying to the Pacific or Asia.
It is a sad commentary, but you may be able to get some cheaper trips now.
Let us know! Yours, Connie
I don't have any plans to do it but if someone does they should write up their adventure and post. I know little about it other than it can be done at the right place.
I've thought long and hard about summer skiing. It has always remained my ultimate ski dream. The thought of going from the sweltering DC heat in August to some cool mountain in South America just blows my mind. Imagine the stares one would get at Dulles trying to negotiate check in lines with skis.

From what I have been able to glean from web sites and reviews, the three best resorts are Portillo in Chile, Las Lenas in Argentina, and Valle Nevado in Chile. There are others but those seem to offer the most terrain and best snow for summer sliders.

http://www.laslenas.com/

http://www.skiportillo.com/

http://www.vallenevado.com/idiomas.phtml

Another option is something called Powderquest, a company run by former DC area skier David Owen. Powderquest caters to riders and skiers who want to experience the legendary off piste powder of Chile and Argentina. David and his experienced guides offer very reasonable week long packages at various levels ranging from intermediate to expert. For more, check out Powderquests web site:

http://www.powderquest.com/homepage.html
Nice. I'll check out the websites. I actually know someone (not very well) that claimed to have gone skiing in either Chile or Argentina recently. All I recall of the conversation was that it was "expensive." There's a pretty good chance that I will run into this person again in coming weeks and I will repump for some info and details which I will post if I get any.
I also have a friend that did some glacier skiing somewhere in Europe I believe in a dormant/extinct volcano (?) and he told me he felt it wasn't worth the trouble. Again I recall few specifics and I might even have the continent wrong BUT I will definitely see this person next week and I will get some info.
I have to confess that I'm intrigued by the idea of summer skiing but I'm not enamored of it. If it was relatively easy and cheap to do, I might be tempted to really pursue it more vigorously.
Kevin:

Europe apparently has more lift served ski terrain than all of South America combined. That being said, glacier skiing in the summer leaves a lot to be desired. You generally only have a couple of good hours of skiing on a glacier before everything turns to mush. Friends of mine who have skied the Euro glaciers in the summer claim it is fun for a day but thats about it. Id only do it if you have some other reason to go to Europe. Also, be sure to check glacier schedules very carefully. Because the glaciers are mainly part of national parks, they close during shoulder seasons for the sake of wildlife. Also, if a glacier is not in good shape, a resort may close it at any time.

South America, on the other hand, has real winter during our summer. The Pentagon Ski Club is organizing a tour to Portillo (including 4 nights in Santiago) from 1-14 August for $2600. Before you gasp, let me emphasize that the tour includes air, hotel, lift tickets, ground transport, and most meals. Peter Porton is running the tour and it is open to anyone, including those with no Pentagon affiliation. PSC has a reputation for running some of the best ski trips in the DC area. Ive spoken to Peter on several occasions and he seems to be a decent guy, and more importantly, well organized. It might be more fun to go to South America with a group rather than solo. Youll have people to hang with after skiing and more importantly, play cards with on that long 16 hour flight. :(

http://www.pentagonskiclub.org/flyers/portillo/portilloarticle.pdf

This is the main PSC page if you do not have pdf:

http://www.pentagonskiclub.org/

PSC chose Portillo because it has a reputation for being well-run and completely un-crowded. Portillo has a vertical drop of 2,665 feet on 801 skiable acres
with 66 trails. These trails are served by 12 lifts.
Hi - in response to one message - you should see people checking in their skis to New Zealand, with a stop in Fiji or Tahiti in August. I have seen that - it is really funny! And, you have to explain it in French!
Tourism New Zealand may have some ski packages for August, or any of the clubs. I agree - it is expensive. Only go if you have another business reason to be in the area. But August is the height of their winter season. Yours, Connie
I think that's a pretty good price for 14 days/air fare and food... not bad at all, although I have to confess more than I think I'd like to spend.
Kevin:

I stumbled across this article on summer skiing in First Tracks:

http://www.firsttracksonline.com/welcome2.htm

It lists some resorts in the US and Europe that offer glacier skiing and also talks about Australia and New Zealand. I still think the best bet snow-wise is South America.

Adventures on Skis may have some deals to Portillo, Bariloches, Las Lenas, and Valle Nevado:

http://www.advonskis.com/

Portillo also has some sort of ski dorm according to its web site. That may be your least expensive bet.

, and I'd basically hit one of the big three: Portillo, Las Lenas, and
John L wrote:

The carless beware; the public transportation shuttle buses up to Alta/Snowbird don't operate on Sundays. (Utah really is very Mormon.) Not sure about the other buses lines.

Maybe a few years ago that was true.

But last winter, the Utah Transit Authority bus to Alta, Snowbird, Brighton & Solitude DOES operate on Sundays.
with 16 aussie we skied s/bird alta in 1985 after a week in vail a week in aspen. snow in utah the best.but getting a drink was an effort.hope things have changed.you guys should come on downunder and ski Australia,
end july august the best