Whitetail in October - The 3rd Annual Great Outdoors Festival
2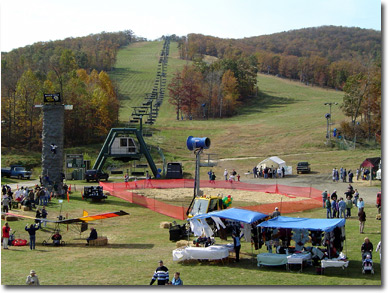 The good news is - most of the slopes are groomed. The bad news is, they are green! That is the status report on Whitetail in October. But the leaves are wonderful, the views splendid, and there is the smell of snow in the air.
My husband Charles and I went to the Outdoors Festival, held October 25-26, to revisit our beloved Whitetail and see our friends - manager Don MacAskill, marketing coordinator Chris Black (congratulations on his marriage this summer!), the ever-present Buddy Hawkes and lots of others. They were all there, along with beautiful Huskie sled dog exhibits, hay rides on a cart drawn by Belgian horses, a rock climbing wall, fly fishing and lumberjack demonstrations, a Blue Grass band, lots of animals at the petting zoo, country crafts and delicious food!
All that was great for families - especially those with younger children. For us, the real draw was the chance to explore our ski trails before they are covered by snow. Yes, I know you can walk up, but I am not into that! On Festival Days, the Express chairlift was running. From the top, the vista of farmlands, uncut corn, flowing lakes, and leaves of red, orange, and gold was beyond description. Again, that is part of the spiritual side of mountains and snow sports which so many people neglect.
We decided to hike across the top of Ridge Runner, through the woods and walk down the 935-foot Bold Decision trail. Let me tell you, it is far easier to ski it than it is to walk! The trail is a lot steeper than it looks. Unlike the main trails (where the grass was cut and groomed, and many people were walking down), Bold Decision was too steep. The grass and weeds were thick and biting. The rocks just waited to twist our ankles. At one magical point, four deer ran by us in the woods as we struggled down. We think they were laughing at us.
The interesting thing about Bold Decision is the gullies. We think they were constructed to bury the pipes which lead to the snow making machines. But, they also served to terrace the mountain, and make it easier to build up the moguls.
The hike down Bold Decision gave us an even greater appreciation of that trail. That, of course, is true of the entire mountain.
Whitetail is selling its Season Passes at a discount until Halloween. Estimating by the long lines, they are selling well. There are other discounts available through the Advantage Card, and other arrangements. No one can predict the winter. But, judging by the number of woolybear caterpillars we saw on our hike, it could be another cold, snowy season!
Photo provided by Whitetail Resort.
Another great article Connie! I'm glad you enjoyed the trip. When you get a chance, please drop me an email.
skiguy59@yahoo.com
please note underscores between ski guy 59