The second half of December wasn't ideal for Mid-Atlantic ski areas: cold temperatures from early in the season yielded to unseasonably (and, to skiers, unreasonably) mild days. The warm weather put a hold on snowmaking, while rain ate away at bases and prevented ski resorts from expanding and fortifying their open terrain. Some areas, such as Pennsylvania's Whitetail Resort, were only able to open a couple trails for a few days before succumbing to the weather.
As the calendar advanced from December to January, it seems Mother Nature made a New Year's Resolution to deliver actual winter-like conditions during the winter. And so far she's delivering: in the first week of January alone, two winter storms have brought natural snow to local resorts. And with the long-range forecast showing ample opportunities for optimal snowmaking, Mid-Atlantic resorts will be blasting the snowguns at every available opportunity as they aim to open 100% of terrain. Winter has finally arrived.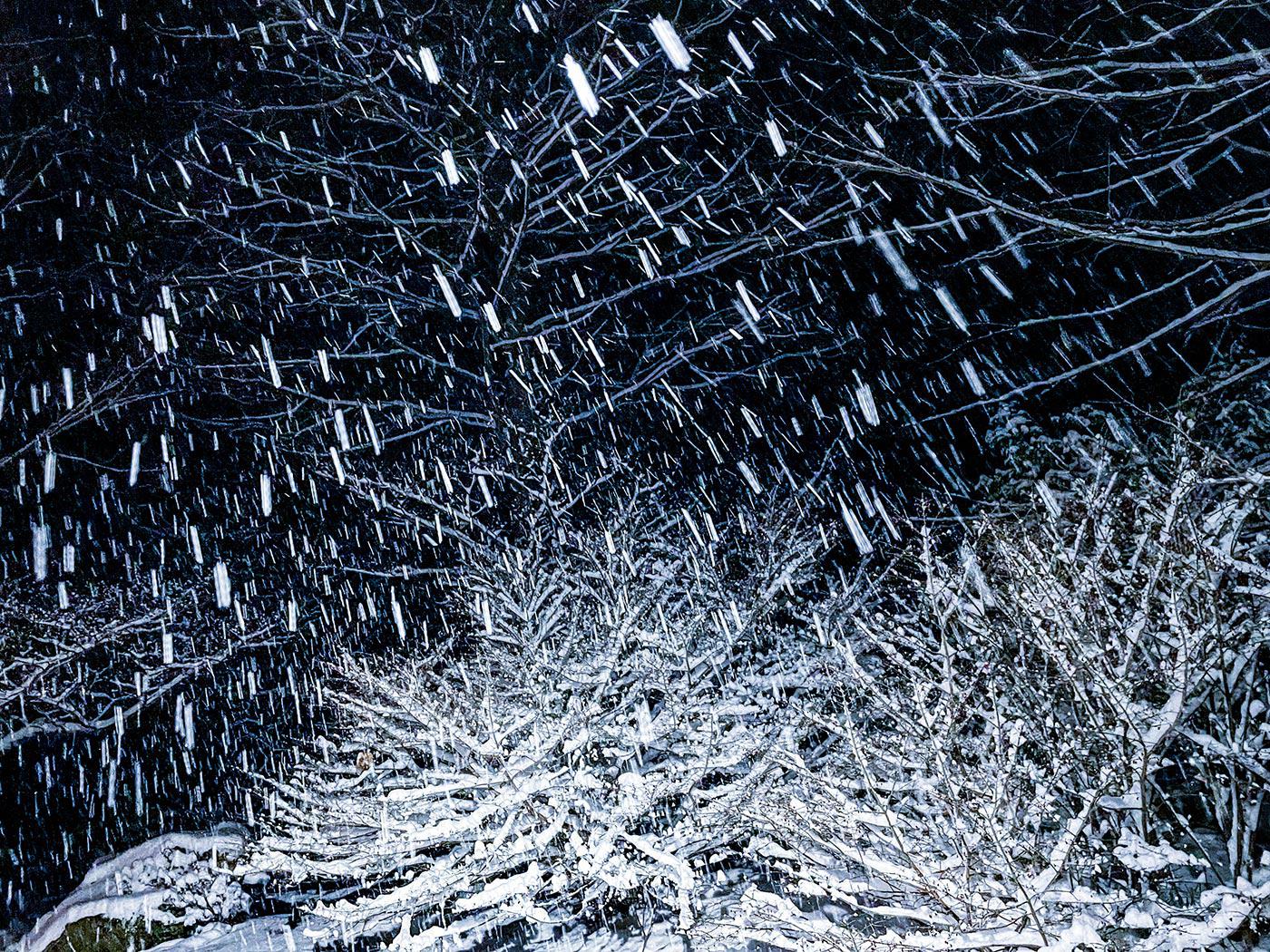 In the south, North Carolina ski areas Sugar Mountain and Beech Mountain are reporting that over half of their terrain is open with packed powder and machine groomed surfaces. Sugar Mountain and Beech Mountain both have base elevations above 4,000 feet, which allowed them to open early in the season and survive through the December meltdown.
Heading north, all four Virginia ski areas will be open this weekend.
Massanutten Resort — which is celebrating its 50th anniversary this winter — was blasting the snowguns Thursday night and expected to receive natural snow as well. Six trails were open Thursday with more terrain expected to come on-line soon.
The historic Omni Homestead will be launching its ski season on Saturday, January 8, 2022, and to celebrate, the resort will be providing free lift tickets to all registered hotel guests during the January 8-9 weekend. The ice skating rink has already opened, and The Homestead plans to open snow tubing by the following weekend.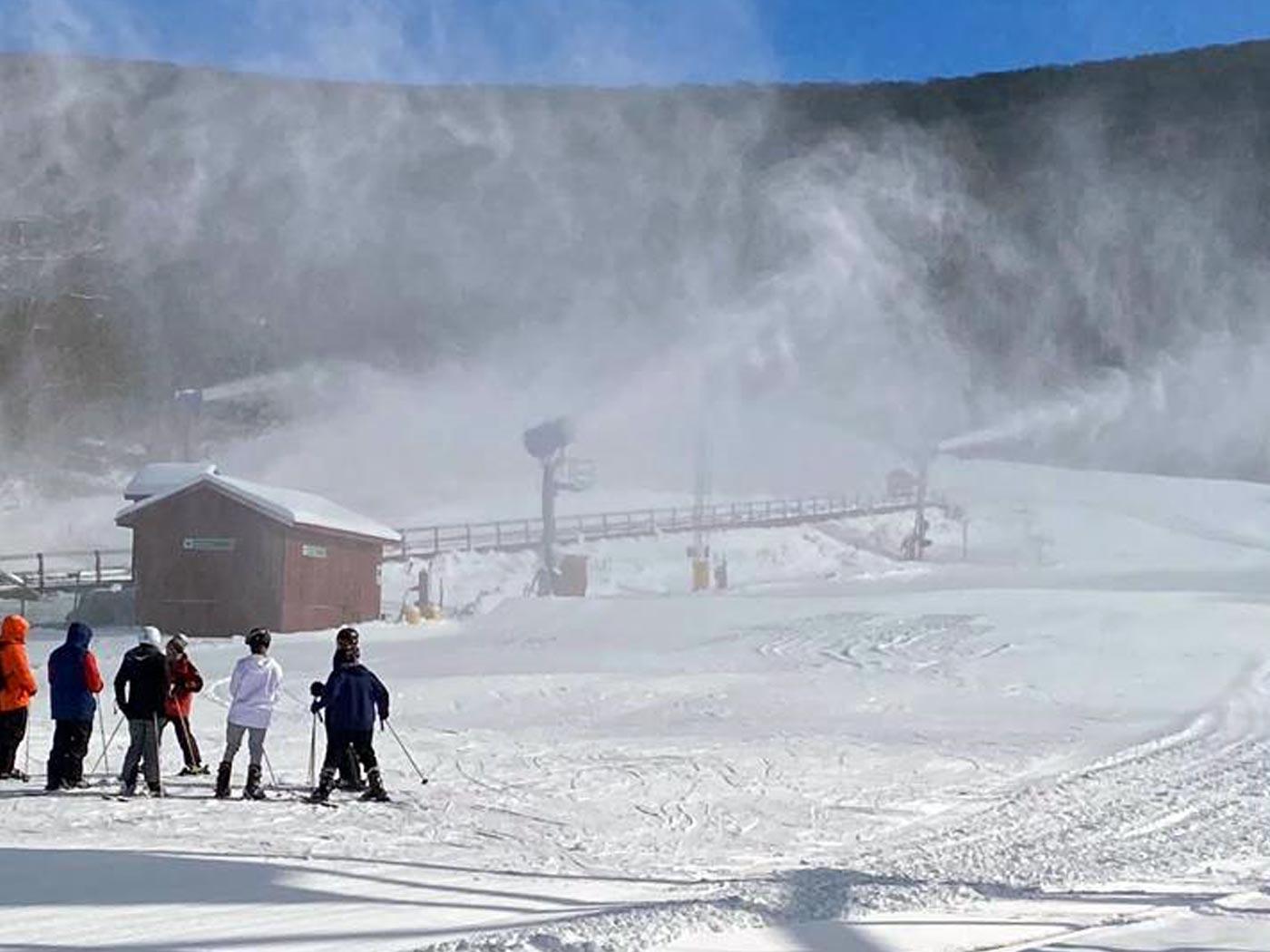 DCSki readers have been sharing positive comments about Virginia's Bryce Resort this winter; the smaller, family-focused ski area was able to open some of its terrain in early December and plans to have all nine of its ski trails open soon.
Also in Virginia, Wintergreen Resort received around a foot of natural snow in the early January snowstorm, and has been adding to that with snowmaking. 7 trails were open on Thursday, January 6, and more trails should open soon.
In West Virginia, Canaan Valley Resort began its 50th ski season on Christmas Eve. The ski area was blasting its snowguns overnight Thursday as it prepared to expand open terrain.
Winterplace Resort is actively making snow on all trails and was reporting 5 trails open on Thursday.
With aggressive snowmaking earlier in the season, Snowshoe Mountain Resort weathered the recent warm spell well, and was reporting 28 trails open on Thursday. Heavy snow was falling at Snowshoe overnight Thursday as temperatures dropped into the single digits.
DCSki readers continue to rave about the new ownership of Timberline Mountain, whose investments in snowmaking have already begun to pay off. Timberline had nearly half of its terrain open on Thursday, and plans to have more terrain open heading into the weekend after additional snowmaking and snowfall.
Maryland's only ski area, Wisp Resort, is celebrating Hero's Day on Friday, January 7, 2022 by offering complimentary tickets on that day to first responders including military, fire, police, and rescue (EMS) personnel. Contact Wisp Resort at 800-462-9477 for additional details. Wisp had four trails open on Thursday and is working to open additional terrain.
Swinging up to Pennsylvania, most Pennsylvania ski areas are now open or will be re-opening soon. After briefly opening with a small amount of terrain, Liberty Mountain, Roundtop, and Whitetail Resort will all be re-opening on Saturday, January 7, 2022. All three areas have been blasting snow in preparation for their re-opening.
Seven Springs, Hidden Valley, and Laurel Mountain — which were all recently purchased by Vail Resorts, significantly expanding Vail's Mid-Atlantic footprint — planned to be open by this weekend. Seven Springs is currently open, while Hidden Valley plans to re-open on Friday, January 7. Laurel Mountain will launch its season on Saturday, January 8.
Blue Knob, which temporarily closed due to warmer temperatures, plans to re-open on Friday, January 7.
As always, before visiting any ski area, check with the resort to verify current operating conditions. With winter storms continuing to be in the forecast, it's also a good idea to keep an eye on road conditions. You can read recent reader reports from the slopes and engage in discussion in the DCSki Forum.