Favorable snowmaking temperatures have enabled many Mid-Atlantic ski areas to begin snowmaking operations in preparation for their season openings. In North Carolina, Sugar Mountain and Cataloochee have already begun their ski seasons by opening a handful of trails. In West Virginia, Snowshoe Mountain Resort opened for a preview day for season passholders on Wednesday, November 24, 2021, and plans to open to the general public on Thanksgiving day. Pennsylvania's Seven Springs Resort and West Virginia's Timberline Resort have also begun laying down a layer of snow as their prepare to open in the near future.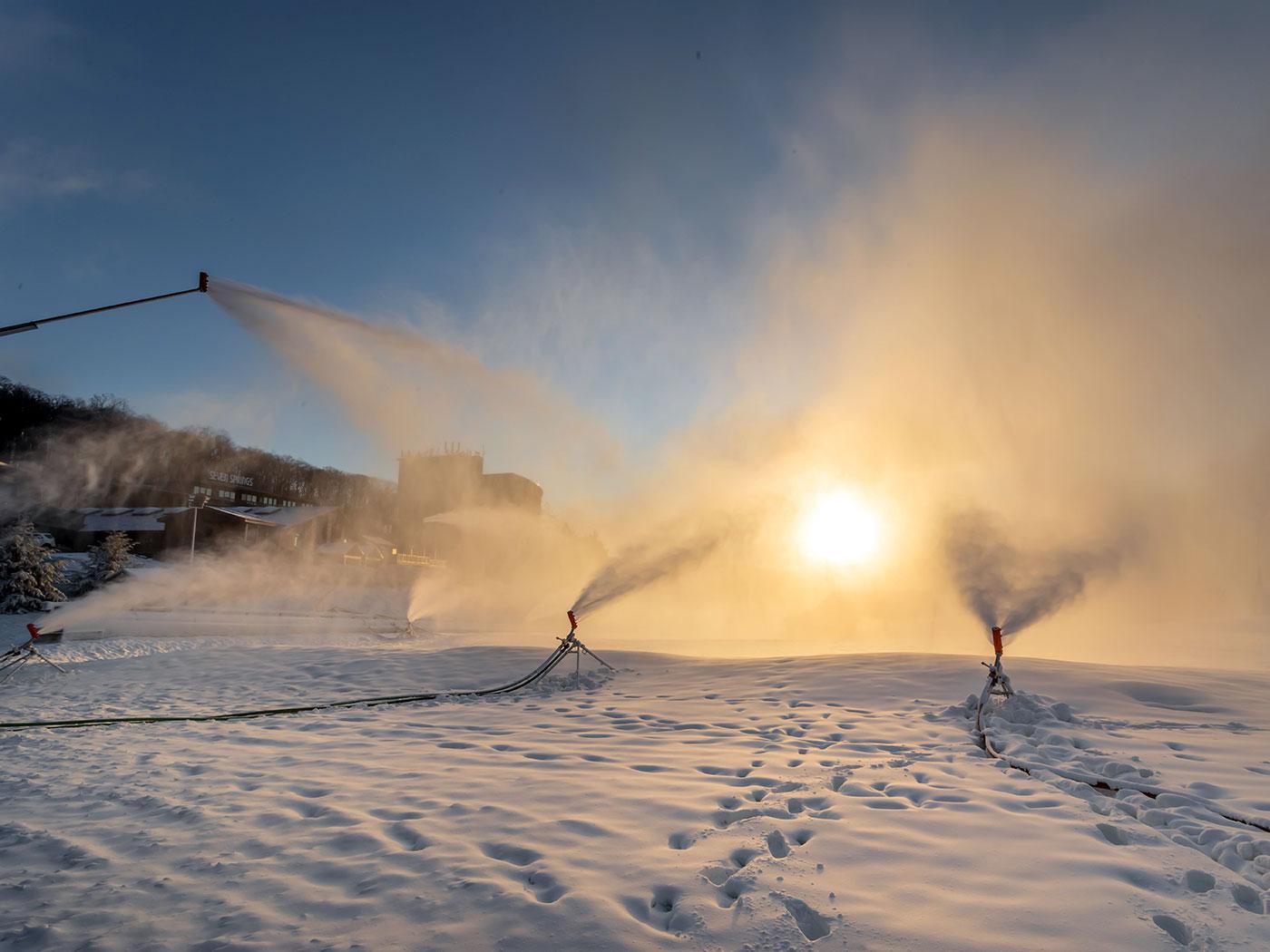 Seven Springs plans on running the guns continuously, as long as conditions permit. It is benefitting from some new HKD tower guns that were installed over the summer. The resort has not yet announced its opening day, but traditionally opens in late November or early December. Visitors to Seven Springs this winter will be greeted with a new Avalanche chairlift — a new Doppelmayr fixed grip quad that has replaced the older Avalanche lift.
"Our new Doppelmayr chairlift will greatly improve our guest experience on the front face of the mountain allowing for many more runs each day," explained Joel Rerko, Director of Mountain Operations at Seven Springs. "Travel time will now be only 4 minutes and 21 seconds to the top."
On the morning of November 24, 2021, snowguns could be seen firing at Pennsylvania's Blue Mountain and Camelback Resorts. Blue Mountain's snowmaking system — capable of pumping 14,000 gallons of water per minute after the recent addition of three new pumps — is helping the ski area prepare to open seven trails on December 3. When Blue Mountain opens, it will also unveil an expanded snow tubing park, which has nearly doubled in size from 24 to 46 lanes.
In Maryland, Wisp Resort was also making snow on November 24.
Snowguns have been roaring in recent days at ski areas in Virginia. Massanutten Resort — which will be celebrating its 50th anniversary this winter — has begun snowmaking operations, benefiting from some significant snowmaking upgrades made over the past summer including the addition of 50 new semi-automatic HKD low energy snowmakers and 4 automated tower-mounted Techno Alpin fans. According to the resort's Kenny Hess, snowmaking began on November 19 and is continuing as conditions permit. An opening date hasn't been set yet.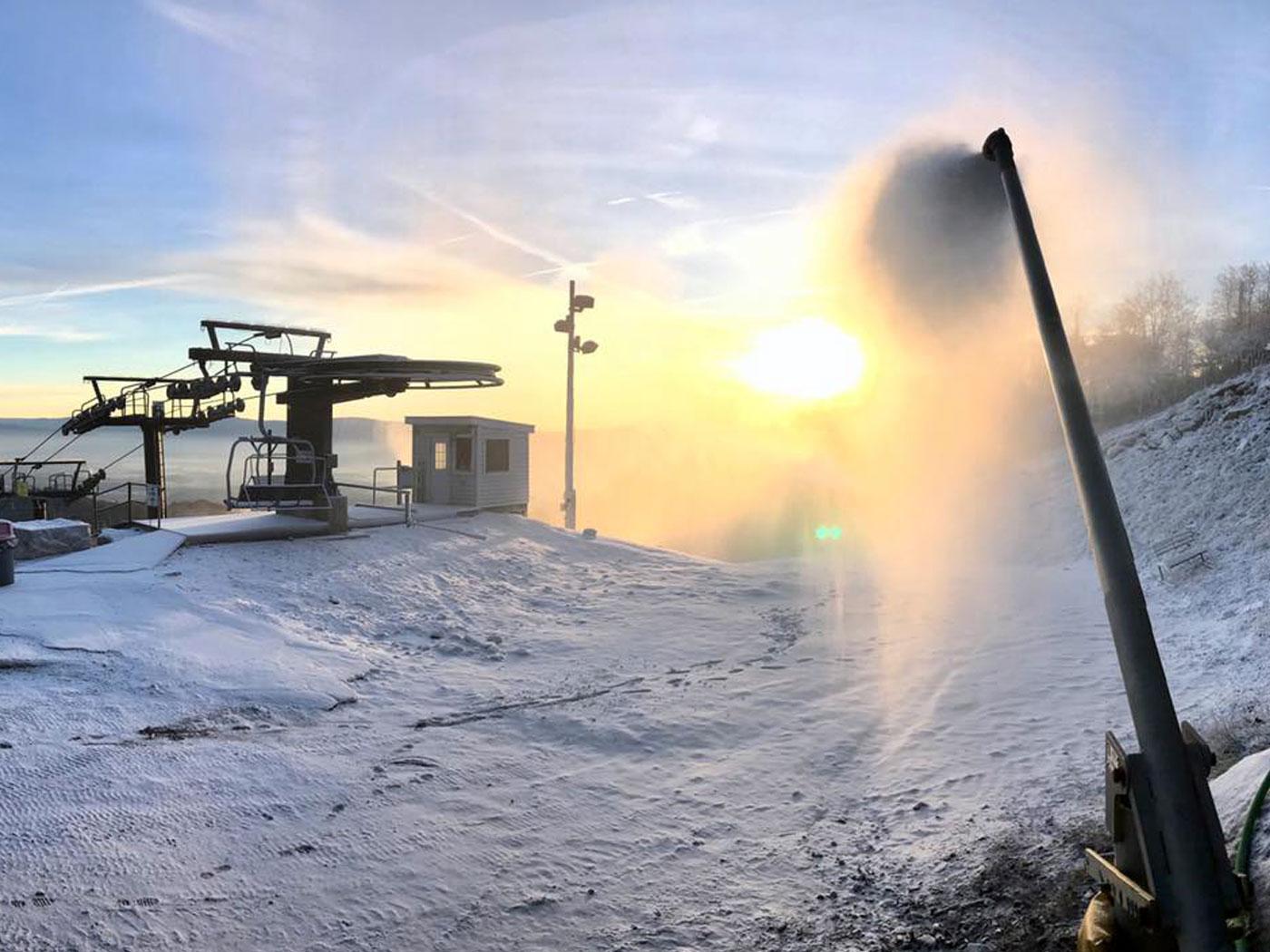 Virginia's Bryce Resort — popular with families and new skiers — also began laying down some snow in recent days, but has not yet announced an opening date.
Wintergreen Resort has fired up some fan guns already and plans to begin more aggressive snowmaking sometime between now and Sunday.
Benefitting from its high elevation, West Virginia's Snowshoe Mountain Resort was able to fire up its snowmaking operations and lay down enough snow to begin its season on Thanksgiving Day. But season passholders were treated to an early start: on Wednesday, November 23, 2021, Snowshoe held a Passholder Preview Day, with a selection of trails open.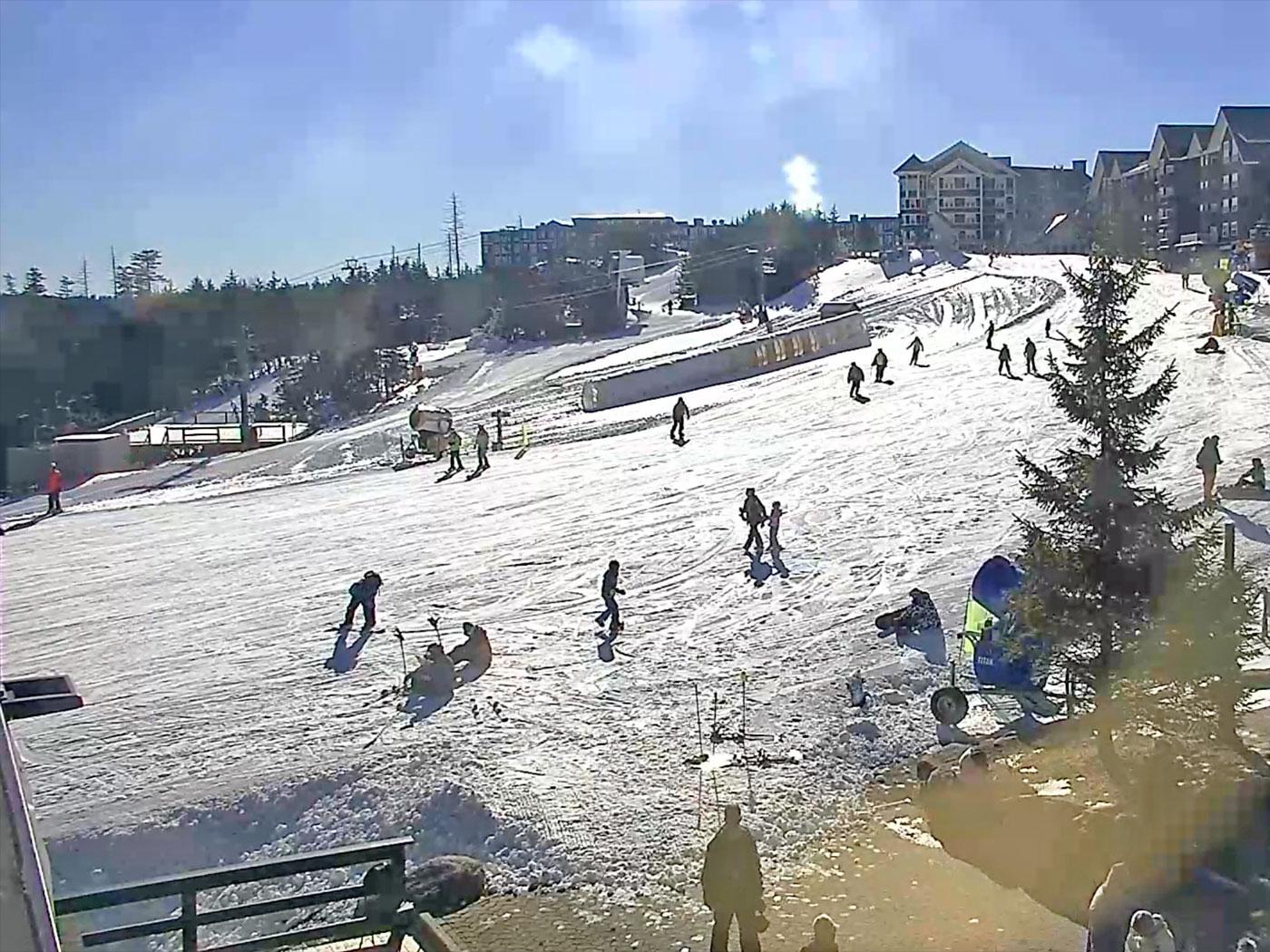 West Virginia's Timberline Resort is preparing to open for its second season under new ownership, after delighting Mid-Atlantic skiers in its debut season with new lifts and upgrades. Timberline is currently making snow but has not yet announced an opening date.
North Carolina's Sugar Mountain Resort is often one of the first ski areas to open in the Mid-Atlantic and southeast, and maintains that tradition this year. The ski area began its ski operations on November 15, 2021. On November 24, it had 7 trails open along with its ice skating rink. Also in North Carolina, Cataloochee Ski Area has 7 trails open with four lifts in operation.
There are no reader comments on this article yet.