The DCSki User of the Month program recognizes some of the best members of the DCSki community based on their contributions to the DCSki Forum. Individuals selected for this Program are interviewed and receive an exclusive DCSki pin that they can proudly wear on their ski jacket.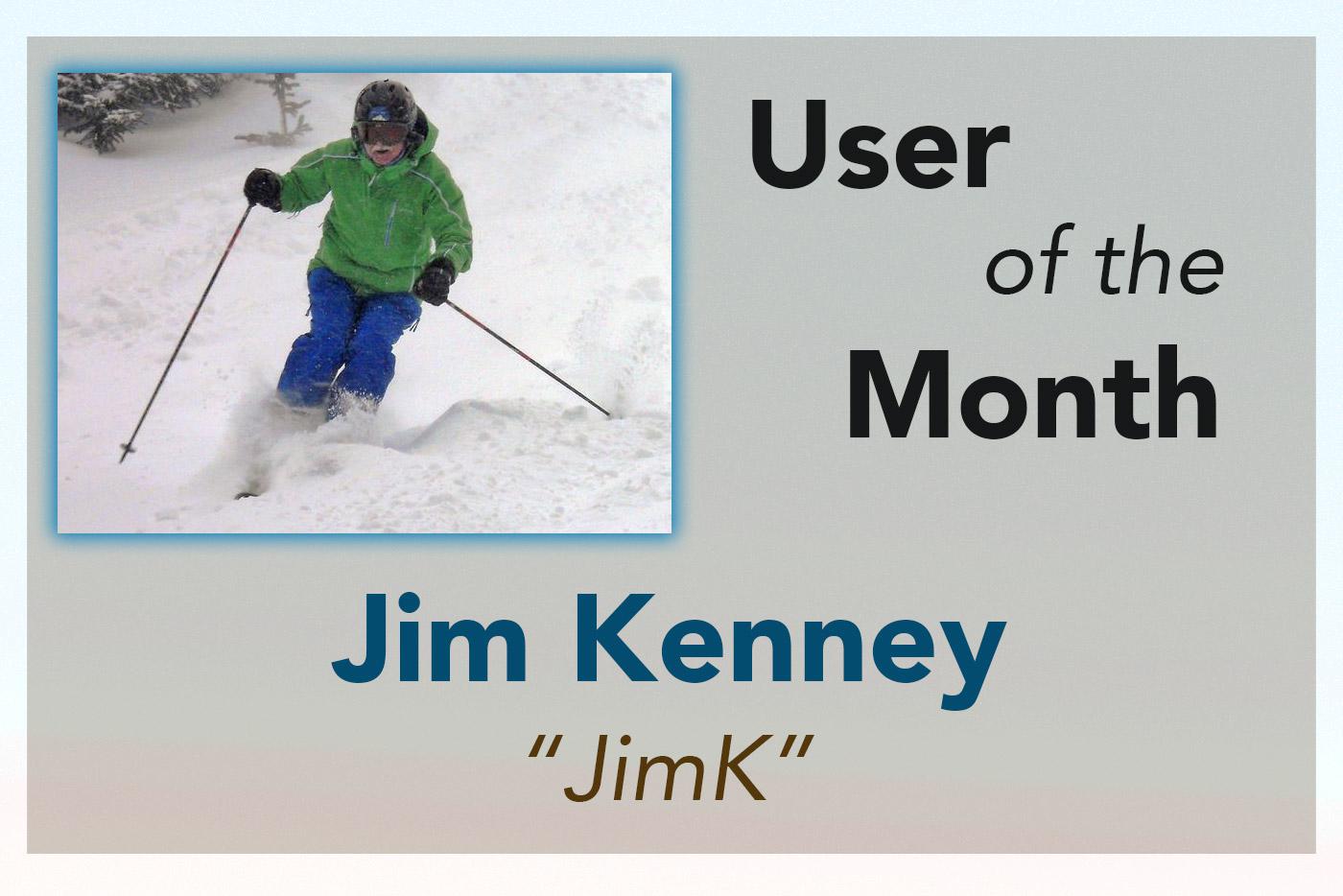 Choosing a DCSki user to highlight this month was a bit of a challenge. Not due to a lack of choices; there are many great users to choose from. No, the challenge was that I knew the right answer, but had to convince myself that it was an appropriate right answer.
You see, this month's User of the Month has not only been active on the DCSki Forums for years, he has also contributed his own stories as a DCSki Columnist.
"Should Columnists be eligible for User of the Month?", I pondered to myself.
The answer became clear as one user after another nominated Jim Kenney for User of the Month. And how could they not? Jim is one of the best ambassadors to the sport, sharing his love and passion for skiing on on-line forums such as DCSki and SkiTalk/PugSki. A consummate professional, Jim has dispensed his expertise to countless others, always in a friendly, engaging way. On DCSki alone, he has contributed over 2,600 posts to the Forum.
Jim has been a Columnist for DCSki for over 20 years, contributing 131 stories during that time. The very first story he wrote for DCSki was a Firsthand Account of Canaan Valley Resort in 2000.
I asked Jim to reflect on some of his favorite stories, and I quickly noticed a common pattern: his favorite stories center around favorite family memories. For example, over the past couple decades, Jim — and by extension his DCSki family — watched his son Vince take to skiing, advancing in skill and ultimately becoming a PSIA instructor.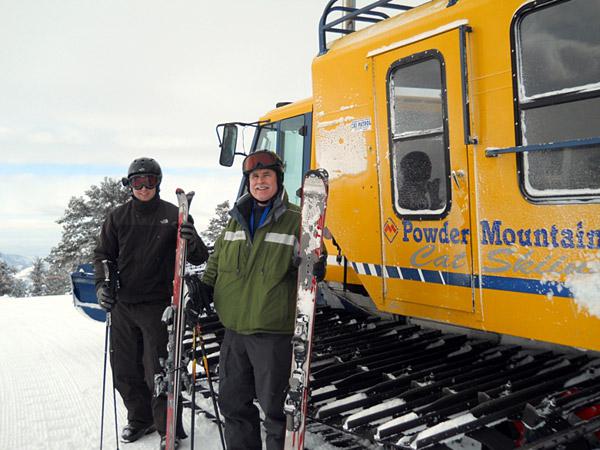 "When my son Vince became a stronger teenage skier we began to make some ambitious father and son ski roadtrips together," recalls Jim.
"One was to Colorado in April, 2009. We got great snow on that trip and had a fun time writing an ongoing travelogue that garnered a ton of views and responses on DCSki," he said.
The next year, in January, 2010, Jim skied with his son at Vermont's Stowe.
"It was my first return to Stowe in almost 40 years, since I was Vince's age at the time," explained Jim.
According to Jim, the story he wrote for DCSki ended with one of his favorite closing sentences:
"It felt good and proper to come full circle at Stowe with my son by my side, two pilgrims riding last chair into the dimming January twilight."
In 2014, Jim witnessed his son achieve an impressive milestone.
"In March of 2014 I accompanied Vince when he took an important two-day PSIA Level III skiing exam. He was intensely focused on that trip and it was cool to be there to share his elation when he passed, the only one in his class of 17 instructors to do so," Jim recalls.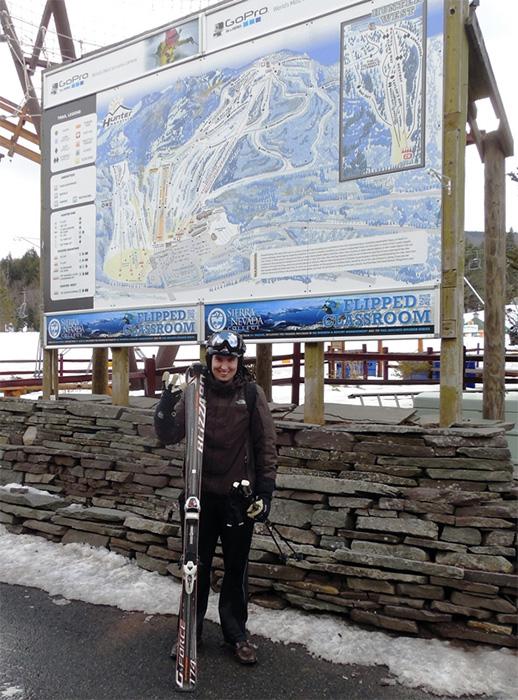 Not every winter brings a banner snowstorm, but Mother Nature delivered in January of 2016, dumping more than two feet of snow. And Jim was with his wife Kathy at Canaan Valley Resort as 28" of snow fell.
"It was one of my biggest mid-Atlantic ski thrills," Jim remembers. He documented what he described as a "skier's jackpot" in this story.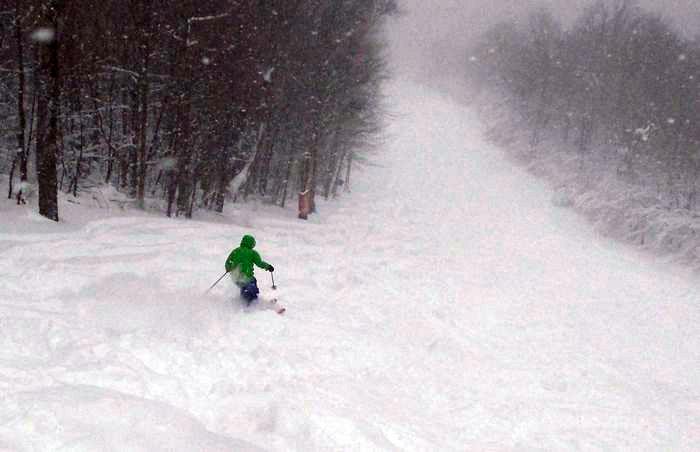 While Jim has shared his stories and advice over the years, he's quick to point out that he has benefitted as well.
"My original ski buddies from my youth and early adulthood all seemed to age out of the sport," Jim notes. "With DCSki and other on-line ski sites I've found a new batch of ski friends and it's added immensely to my enjoyment of skiing."
Jim's stories on DCSki — which have been viewed over 1 million times — highlight both his passion for the sport and his storytelling skills. In addition to providing detailed Firsthand Reports from areas across the Mid-Atlantic and across the country, Jim occasionally steps back and reflects on his lifetime of skiing.
In December of 2000, Jim provided a three-part series titled Ruminations of a Long-Time D.C. Area Skier. In 2014, he provided a retrospective of his first 15 years of stories for DCSki. And this past summer, Jim reflected on over 50 years of skiing, sharing his favorite memories while pondering the meaning of personal freedom.
Be sure to browse through all of Jim's stories. And thanks, Jim, for being a valued member of the DCSki community for over 20 years.