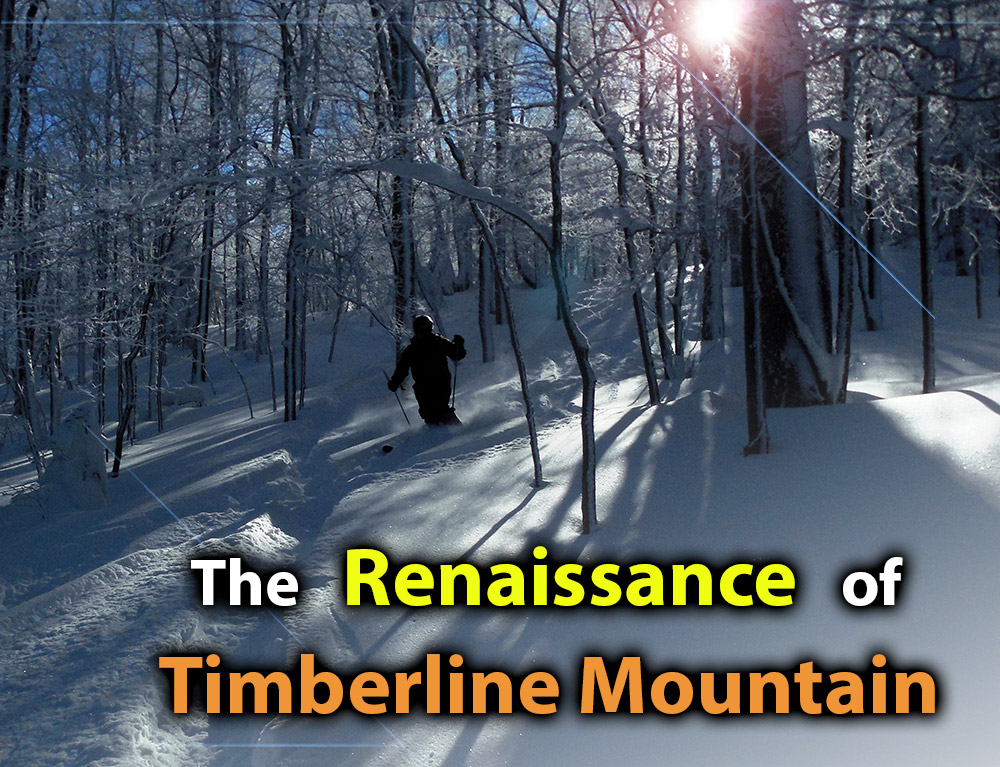 It was starting to look like the lifts at a once-beloved West Virginia ski area had run for the last time.
Timberline Four Seasons Resort, located in the scenic Canaan Valley region, had experienced multiple years of decay, suffering from mild winters and management challenges.
It hadn't always been that way. The roots of Timberline go all the way back to 1971, when David Downs visited the ski area at Canaan Valley State Park. He captured the skiing bug and fell in love with the Valley. In the subsequent years, he partnered with other investors and began purchasing and developing property in the Valley. That included the creation of the Timberline ski area, which opened for the 1982-1983 winter season with a 1,200-foot T-Bar lift, a 350-foot vertical drop, snowmaking, and several trails.
While the T-Bar only accessed 350 feet of Timberline's 1,000-foot vertical, there was a solution for that: skiers could get a trip to the top in a PistenBully groomer.
"Our PistenBully had a passenger cab that carried 14 sober skiers to ski the 1,000-foot vertical drop or up to 20 skiers on New Year's Eve champagne," David Downs told DCSki.
"Very few skied back down or should have," he joked.
A detailed accounting of the early history of Timberline is captured in this document, which is hosted by the Timberline Association, a residential/vacation community located in Canaan Valley.
The operating costs of the ski area were high, which led David and his partners to sell the ski center and an associated water/sewer company in 1985. Today, David still resides in the Valley — he runs an antique shop in Thomas called Three Castle Antiques.
Dr. Frederick A. Reichle, a surgeon from Philadelphia, partnered with family members to purchase the property from David in 1985 and continue its development. By 1987, two chairlifts had been added. With a vertical of 1,000 feet, the mountain provided a variety of terrain that appealed to a wide variety of skiers. Beginners enjoyed the 2-mile long Salamander run, while experts appreciated finding stashes of untracked powder on steep trails and glades. Thanks to plentiful natural snow, Timberline enjoyed long seasons.
Timberline drew the attention of DCSki contributor John Sherwood in 2000, ultimately leading him to purchase property near the resort.
"The place reminded me so much of the places I grew up skiing in New England — places like Gunstock, Sunapee, Waterville Valley, Wachusett Mountain, Mount Snow, and of course my favorite, Stowe. It had old lifts, narrow but long trails, steeps and bumps. Everything you could want in a ski hill," John recalled.
While competing areas such as Snowshoe Mountain Resort began investing heavily in capital improvements and modernization after its purchase by corporate giant Intrawest in 1995, Timberline stayed fairly rustic, and that was part of its charm.
Steve Drumheller, who currently serves as the General Manager of nearby Canaan Valley Resort, recalled to DCSki that Dr. Reichle could often be seen clearing tables and chatting with guests during the early days of Timberline.
Jim Kenney, a contributor to DCSki, remembers partying with "Doc Reichle" during one of the resort's popular end-of-season Snowy Luau Weekends, which may or may not have resulted in Jim donning a hula skirt and coconut bra.
"It was the best ski party in the Mid-Atlantic, in my honest opinion," said Jim.
"They would do fireworks and a torch light parade on Saturday night and roast a pig on Sunday. They also had Hawaiian dancers put on a show at night in the bar/lodge. It was always a great time and drew good crowds," Jim reminisced.
For many years, Timberline hosted trips by Boy Scout troops throughout the region, providing discounted skiing and lodging packages. The ski area was also one of the first to begin providing discounts to first responders and members of the military. Timberline wasn't known for its modern amenities, but it provided a good value and, when Mother Nature was feeling generous, excellent snow.
But over time, skiers began souring on Timberline. They took issue when Timberline closed with plenty of snow still on the slopes, only to re-open a few weeks later to host snowmobile races. Skiers became frustrated that there hadn't been any lift upgrades since — well, since ever. And while ski areas across the region began spending millions of dollars to modernize snowmaking operations with state-of-the-art, automated guns to combat a trend of milder winters, Timberline's snowmaking infrastructure received only minor upgrades. In its heyday, Timberline had often stayed open into April with prime conditions, but it was starting to close earlier and earlier in the season, while opening later and later.
And then, things got worse. Much worse.
Years of Decay
On February 20, 2016, the resort experienced a significant chairlift malfunction that injured multiple skiers when a cross arm separated from a tower and landed on the ground. Although the resort scrambled to quickly repair the lift, many skiers began to question the safety of the aging lifts, wondering if there was an issue with deferred maintenance. The chairlift accident was an omen of additional struggles to follow.
Kim Williams has been in the Valley for many years; he serves on the board of multiple Homeowner Associations, is President of the WV Snow Sports Museum, and previously worked at Timberline as a ski instructor. He's had a front row seat to the challenges Timberline has faced in recent years.
"Timberline has struggled to open for years due to various reasons, one of which was inadequate management of resources," Kim explained.
Timberline opened late in 2018, after initially targeting an opening date around Thanksgiving.
"The late opening that year was due in part to the unusually warm temperatures in December," Kim said.
With minimal snowmaking, very little terrain opened that year.
"The lack of a good Christmas holiday season caused a domino effect on the resort, which led to huge financial issues," Kim said.
"It was around that time that the [previous] owners had legal problems resulting in a variety of charges going back to actions in 2017. The sewer and water utility, which had been investigated for possible fraud, was put into receivership, removing the only source of cash that the owners had," Kim explained.
Later, Timberline's management was charged with 12 counts of failure to pay hotel-motel taxes, and health code violations shuttered the resort's on-site restaurant. After barely offering any open terrain for the 2018-2019 winter season, Timberline began Chapter 11 bankruptcy proceedings on April 30, 2019.
In announcing the bankruptcy, Fred Herz, who was then President of Timberline, said "We believe it is the right time to pass Timberline on to new ownership so that skiers everywhere can continue to enjoy the best mountain in the Mid-Atlantic."
Timberline's woes led to a cascading effect throughout the Canaan Valley region.
"There was a downward trend in attendance and in real estate prices," recalled Kim Landis of Landis Realty LLC.
Chip Chase, who oversees the popular White Grass Ski Touring Center close to Timberline, noted that he had to reduce the nights his café was open last year. The cross country ski area's primary customer base only shows up when there are good natural snow conditions, so White Grass's café benefits from downhill skiers coming over from nearby Timberline or Canaan Valley Resort for lunch and dinner to help even out its business. He suspects that Timberline's closure contributed to a decrease in demand for his café.
Joe Stevens, spokesman for the West Virginia Ski Areas Association, noted that Timberline's struggles had a broader impact across West Virginia tourism.
"When some of the best terrain isn't available for skiers and snowboarders, it takes away from the overall experience," Joe said.
Values of vacation homes tracked Timberline's fall, leading to angry property owners.
"Local businesses saw a huge drop in business, and property owners suffered from a drop in their home values combined with a greatly diminished rental market," John Sherwood reflected. "The county and state government also saw its tax base in the region erode."
Thankfully, Timberline wasn't the only ski area in the valley; nearby Canaan Valley Resort picked up much of the slack when Timberline failed to open, which helped shore up the town of Davis.
"Davis continued to improve with new businesses opening and a thriving summer tourist season even as Timberline failed," John said. "For the past two seasons, most of Timberline property owners have skied Canaan Valley — a great mountain in and of itself with a lot of terrain variety and a first class resort hotel," he added.
Many customers, property owners, and businesses had a stake in Timberline's success, and watching the property fall into disarray was painful, to say the least. It stirred intense emotions within the Valley, which spilled over into hostile discussions on social media. After years of hopeful but false rumors about Timberline being purchased by another entity, the bankruptcy of Timberline in 2019 meant that change was finally coming. But it wasn't clear that the change would include Timberline continuing to operate as a ski area.
Long-time Timberline skiers held their breath, assuming it could be years before they would be able to ski their favorite trails again — if they could ever ski them again.
And then, to almost everyone's surprise, Timberline's fortunes changed dramatically overnight.
A New Owner Steps Up to the Plate; The Renaissance Begins
The Mid-Atlantic ski community was elated when the owners of a small, family-run ski area in Indiana announced that they had purchased Timberline at a bankruptcy auction in November, 2019. The owners had 40 years of experience running Perfect North Slopes, a well-respected day ski area in a challenging weather climate. Perfect North Slopes had stuck to its family-run roots for decades, re-investing profits into improving the ski experience year after year.
Earlier this spring, the new owners began to unveil their plans for Timberline, starting with a $10 million capital investment in new lifts and new infrastructure. The new owners are engaged in an intense effort to prepare Timberline to re-open this coming winter, aiming to open by Thanksgiving. Almost all of the infrastructure on the mountain is in need of refreshing, and they haven't wasted any time getting started.
To produce this feature report on the renaissance of Timberline, DCSki spoke on and off the record with dozens of skiers, industry insiders, business owners, and government officials. A common theme emerged: for the first time in many years, there is palpable excitement about the future of Timberline, which has often been called a "jewel in the rough."
"We're thrilled to welcome Perfect North Slopes to West Virginia and appreciate their investment," West Virginia Governor Jim Justice told DCSki.
"They have big plans to revitalize Timberline, which has been a beloved ski resort for in-state and out-of-state travelers for as long as I can remember," he said.
Joe Stevens shares the Governor's excitement, and believes a revitalized Timberline Mountain will help attract skiers and snowboarders to the state.
"Anytime there is something new and exciting, that helps with bringing in new skiers and snowboarders," Joe said.
"The management of Timberline Mountain are experienced marketers and I know they will be effective in getting the word out about the new aspects of the resort, and that in turn will bring in new visitors," Joe added.
A 40-Year Track Record in Indiana
Joe notes that the new owners have had a consistency in providing a fun product for skiers and snowboarders.
"They have been doing it for 40 years," Joe said, "so they know how to provide an exciting experience."
Over those 40 years, Perfect North Slopes has built up an enthusiastic clientele. It is located right near the confluence of Indiana, Ohio, and Kentucky, and draws skiers from all three states. Its close proximity to Cincinatti — just 35 minutes away — brings large volumes of day trippers to its slopes, which has resulted in the ski area being a finely-oiled revenue engine. Indianapolis is about 90 minutes away, while Columbus is 2 hours away. In a good year, Perfect North Slopes can tally more than 250,000 skier visits. For comparison purposes, Pennsylvania's Whitetail, Liberty, and Roundtop had a combined 600,000 skier visits during the 2017-2018 winter season.
Perfect North Slopes has modest stats. Located in an area of the midwest that's not exactly known for its mountains, the Indiana ski area has a vertical drop of just 400 feet. Out of the 34 ski areas DCSki covers in the Mid-Atlantic, only one — Pennsylvania's Mystic Mountain Ski Area — has a vertical shorter than that.
But Perfect North Slopes does a lot with its limited vertical. 23 trails are located across 100 skiable acres, serviced by 7 lifts. Its longest run is 1 mile. This past winter season, Perfect North Slopes had a 97-day winter season, despite challenging weather conditions throughout.
Perfect North Slopes has even produced an Olympic skier: Freestyle skier Nick Goepper began skiing at Perfect North Slopes and later proceeded to compete in two winter Olympics, most recently in 2018, where he scored a silver medal.
"Skiing at Perfect North fit my personality Perfectly," Nick told DCSki.
"I can rarely sit still and have a lot of energy most of the time. Perfects was a mere 400 feet tall and I could do 50 laps in a day if I wanted to," he said. "It was non-stop skiing all the time and that's what I loved."
"I didn't care about socializing in the lodge or chasing snow bunnies, all I wanted to do was hit a million jumps and a million rails and Perfect North could do that for me," he added.
What was Nick's favorite memory from Perfect North Slopes?
"Lapping the park at night and seeing my mom and Grandma on the deck of the lodge watching me," he said. "Every time I skied into the lift line I would wait for them."
Sue Bertke is from Cincinatti and skied at Perfect North Slopes the first year it opened, in 1980.
"The memory sticks as I recall falling and skiing in frozen jeans, as did most of us back then," she recently told DCSki.
Since 1980, she has been skiing at Perfect North Slopes 5-10 times each season. And she has introduced her children and now grandchildren to the ski area.
Skiing at Perfect North Slopes became "a weekly family event," she said. "There was something for everyone. The lodge was convenient to all slopes."
"I love the family atmosphere. Staff is always attentive and not hard to find, and the ski instructors love their jobs and go above and beyond to help all age levels," she said.
Her children quickly grew to love the sport, and one of her sons began teaching at Perfect North Slopes in 2006 and has taught there ever since.
The ski area is named after the family that owns it. Formed in 1980 by the Perfect Family, it started as a humble ski area with a selection of rope tows. Since then, the owners have expanded and improved the ski area year after year. It is currently overseen by Clyde "Chip" Perfect Junior, a second-generation member of the Chip family. Since 2014, Chip Perfect has also served as a Republican member of the Indiana Senate where he is Chair of the Commerce and Technology Committee and Ranking Member of the Utilities Committee.
The Perfect family is held in high regard by skiers of Perfect North Slopes.
"The Perfects love what they do and it shows," said Sue.
Scott Pierce of Georgetown, Kentucky has been skiing at Perfect North Slopes for 20 years — ever since he was 14.
"I usually get 10 to 20 days per season," he said.
Scott describes the snowmaking at Perfect North Slopes as "second to none."
"The fact that we have skiing just outside Cincinatti is kind of crazy," he said. It's "not exactly the snow belt."
Timberline will be a much longer trip for Scott to make from his home in Kentucky, but he still plans on making some overnight trips to Timberline Mountain once it opens. He last skied at Timberline five years ago, and while he found the amenities and operations lacking, he was impressed with the terrain.
Timberline has "a lot more steep terrain than Snowshoe, and an honest 1,000 vertical feet," Scott explained.
"Timberline is where all the serious skiers and riders will want to flock to," he mused.
Bill Jaquay is also from Kentucky, and counts Perfect North Slopes as his home hill. He's been skiing there since 1984 and averages over 30 days per season.
"I like the convenience and how often they are open with our unpredictable weather," Bill said. "They have the best snowmaking and they always make improvements every year."
Gearing Up for Change
Perfect North Slopes has been eyeing Timberline for several years, and was able to purchase Timberline at auction on November 20, 2019 after Timberline filed for bankruptcy. The sale settled in December. Timberline did not open last winter, which may have been just as well; the Mid-Atlantic experienced frustratingly mild temperatures during the 2019-2020 winter season, which negatively impacted resorts throughout the region. Natural snow was rare, and temperatures were generally too high for resorts to make much snow.
Mild winters are a problem that Mid-Atlantic ski areas are used to facing, and recent years have included several challenging seasons. Fortunately, with a base altitude of 3,268 feet and a peak that tops out at 4,268 feet, Timberline enjoys colder temperatures and more natural snow than many Mid-Atlantic resorts. In a good year, Timberline can receive more than 150 inches of natural snow. With a modernized snowmaking system and a sufficient water supply, Timberline will be able to crank out manmade snow when other lower-altitude ski areas can't, which should help it secure earlier opening dates and a longer season. Within the region, its peak altitude is only bested by a few other ski areas: North Carolina's Beech Mountain (5,506-feet), North Carolina's Sugar Mountain (5,300-feet), West Virginia's Snowshoe Mountain (4,848-feet) and neighboring Canaan Valley Resort (4,280-feet).
The new owners of Timberline plan to focus on snowmaking upgrades in the near future. These upgrades are part of an ambitious plan to re-open Timberline for the 2020-2021 winter season. On March 26, 2020, Timberline Mountain announced $10 million in capital improvements, with the majority of the money being spent on two brand new Doppelmayr chairlifts. The new lifts will include a high-speed detachable 6-pack, as well as a fixed grip quad, which will serve mid-mountain terrain. A surface conveyor is also expected to be installed at Timberline's learning area.
In recent years, 6-packs — so named because they seat six people per chair — have been installed at several Mid-Atlantic ski resorts, due to their ability to quickly haul a lot of people up the mountain. North Carolina's Sugar Mountain added a 6-pack high-speed lift in 2015; Pennsylvania's Blue Mountain has added one; Pennsylvania's Seven Springs has added two; and Virginia's Wintergreen has also added two. But this will be the first 6-pack in West Virginia, and will also be a dramatic improvement over Timberline's prior aging lifts, which in recent months have been removed by the new owners.
In February, 2016, the since-removed Thunderstruck triple lift at Timberline experienced a significant malfunction, injuring two skiers after one of the lift cross-arms separated from the tower. With that memory still fresh in the mind of local skiers, it's no surprise that the new owners chose to purge Timberline of its old lifts and start anew. Chairs from the old lifts were even put on sale to anyone who could swing by to pick one up.
The new owners are wasting no time preparing Timberline for re-opening. Residents of Canaan Valley report seeing crews busy at work. Initial work included cleaning up the property, removing dumpsters and trash that had been left behind by the prior owners.
"Dozens of overflowing dumpsters have been hauled away and are still being hauled out as I write this," said Kim Williams, President of the WV Snow Sports Museum.
There is a lot of work to do in the coming months to install the new lifts, but work is already well underway, and Doppelmayr representatives have been on site to assist with the install. In recent weeks footers have been poured for the new lifts, and towers should be installed soon. Work is continuing 6 days a week.
"It looks like ants over there," said Steve Drumheller, General Manager of Canaan Valley Resort, describing the intense work underway at the base of Timberline.
In addition to lift and snowmaking upgrades, Timberline Mountain is focusing its early capital improvement efforts on regrading its learning area and adding a conveyor carpet lift, remodeling the rental shop, consolidating food service facilities, and updating its outdoor area for a "fresh sense of arrival."
"We look forward to participating in the economic development of Tucker County and we're excited to announce the significant investment in Timberline Mountain's infrastructure that will take place this summer," said Timberline Mountain CEO Chip Perfect in a press release. Chip also serves as Managing Partner of Indiana's Perfect North Slopes.
"I believe skiers and snowboarders next season are going to really enjoy the new experience on this very special mountain," he added.
"These people are smart," said John Sherwood, a property owner near Timberline and a contributor to DCSki. "They are focusing on the fundamentals first — snow and lifts. That's the foundation of a successful resort."
"From there, the owners may want to consider revamping the base area — not just building a new lodge, but a small base village with a new day lodge, some restaurants, and a tasteful overnight lodge offering the kinds of rooms prevalent at most resorts these days — studios with small kitchens," John suggested.
"A Starbucks or the equivalent is also a must. There absolutely must be a place to purchase decent coffee!" John stressed.
The previous owners of Timberline Four Seasons Resort had a stake in real estate associated with the ski area, and had worked in past years to develop real estate opportunities and year-round, four-season activities. The new owners of Timberline only purchased the ski area, which has 91 skiable acres. Their expertise is in running a ski area and not in developing real estate. Not surprisingly, their entire focus currently is on winter operations and developing Timberline into a competitive ski area.
Once Timberline is re-established as a viable ski area, they may begin to explore four-season opportunities, which is something they haven't done in earnest at Perfect North Slopes — and something that might ultimately be necessary to make the long-term economics work for Timberline. Tourists flock to the beautiful Canaan Valley region throughout the year, particularly in the summer and fall, when Canaan Valley offers a respite from the hot and humid temperatures found in lower-altitude metropolitan areas. Tucker County is rich with recreational opportunities such as hiking, biking, and fishing. Mountain biking and festivals are two activities that Timberline Mountain may explore in the coming summers.
Challenging Headwinds
The new owners face several uphill challenges, not the least of which is the COVID-19 pandemic — a challenge that wasn't part of their calculus when they purchased the property last Fall.
Beyond the necessary infrastructure improvements, many skiers, property owners, and industry veterans stressed to DCSki that one of Timberline's key challenges will be marketing, ensuring that Mid-Atlantic skiers are aware of the revitalized resort.
Timberline will be competing with over 30 ski areas in the crowded and intensely competitive Mid-Atlantic market. The new owners changed the ski area's name from Timberline Four Seasons Resort to Timberline Mountain, preserving a name rich in history. But the Timberline brand had become tarnished in recent years as customers publicly vented their frustrations on social media, so it will take some effort for the new owners to communicate that this is a new Timberline, and to draw back skiers who gave up on Timberline years ago.
Joe Stevens believes that the new owner's biggest challenge will be "getting the word out that there is a new sheriff in town, providing the same terrain with new ways of enjoying what is already there."
Kim Landis, Broker/Owner of Landis Realty LLC, a real estate company that serves the Canaan Valley region, agrees.
"The biggest challenge will be to reach out to the Mid-Atlantic ski community and have past loyal Timberline customers come back, and of greater importance, to have skiers who have never tried Timberline give it a try," Kim said.
In addition to messaging challenges, there have been seismic changes in the Mid-Atlantic market just in the past couple of years. Ski conglomerate Vail Resorts now owns Pennsylvania's Liberty, Roundtop, Whitetail, Big Boulder, and Jack Frost; all of these areas are on the popular Epic Pass. Snowshoe is on the popular Ikon Pass. Many Mid-Atlantic skiers are now funneling their entire ski budget into the purchase of one of these "mega passes," which covers skiing at local and far-away resorts. That may not leave much money for resorts such as Timberline, which has not yet announced its pass options or partnerships.
As an independent and small ski area, some expect that Timberline may pair up with the Indy Pass, which in recent years has included skiing privileges at several dozen independently-owned ski resorts. Offering two days each at participating resorts, the Indy Pass would be an ideal way for skiers to try out the newly-revitalized ski area. However, Indiana's Perfect North Slopes has not participated in the Indy Pass. Timberline may also offer a pass that is valid at sister resort Perfect North Slopes for skiers who may wish to ski at both areas, despite their geographic separation. Final pass offerings are expected to be announced in the coming months.
The new owners are making a big bet on the financial viability of a revitalized Timberline Mountain. Unlike resorts such as Snowshoe and Seven Springs, which offer a range of year-round activities and lodging options to diversify revenue sources, at least in the short term, Timberline Mountain will be relying exclusively on winter-season income sources such as lift tickets and food sales to pay its bills.
The substantial investment in new lifts this summer will be followed by additional maintenance costs. Like any high-speed lift, the Doppelmayr 6-pack Timberline is installing will be expensive to operate and maintain.
"High speed lifts include exponentially more moving parts and sensors that must be replaced periodically," said Peter Landsman, author of the popular Lift Blog web site. "Detachable grips in particular are key components that must be inspected and serviced often," he said.
Although a detachable lift comes with a higher maintenance price tag in addition to a hefty installation fee, Peter believes it will be well worth it in Timberline's case. It will now take less than six minutes to go from base to peak — a substantial improvement over Timberline's older lifts.
"These added costs are justifiable on a longer lift where the ride time is significantly improved versus a fixed grip lift," Peter told DCSki. "The six pack will be a flagship base-to-summit lift which will greatly enhance the ski experience."
Several of the individuals DCSki interviewed for this story also stressed that one of the core challenges the new owners will face is finding a reliable workforce.
"It's very difficult to find drug-free and reliable lift operators, heavy equipment operators (groomers, and shuttle bus drivers), and snowmaking staff because of Timberline's isolated geography and the lingering effects of the opiate crisis in Appalachia," explained John Sherwood, based on his observations owning property in the Valley for close to 20 years.
According to the National Institutes of Health, the epicenter of the opioid epidemic in the United States has been West Virginia, which in recent years has had some of the highest rates of overdoses per capita in the country.
To address worker shortages, many ski resorts across the country rely on foreign J-1 visa students to staff seasonal positions, but it is unclear at this time how that program will be affected by the worldwide COVID-19 pandemic or other political considerations. In March, the U.S. State Department put a 60-day pause on the program.
Kim Williams, President of the WV Snow Sports Museum, agrees with John that finding qualified workers will be one of the biggest challenges for Timberline's new owners. While Indiana's Perfect North Slopes is close to multiple high-population centers, providing an abundant source of seasonal labor, Timberline is about as rural as it gets. The total population of Tucker County, West Virginia is just 6,839, according to the most recent estimates from the U.S. Census Bureau. And Tucker County itself is surrounded by wilderness.
"They will have the same issues as the rest of Tucker County, which is finding qualified and ample employees," Kim said.
"Once the employees are found they need to be housed, which is a pressing need for Tucker County. Affordable employee housing has been and is hard to find," he noted.
"Perfect North may want to renovate the bunkhouse [at Timberline] and transform it into an apartment building to house J-1s and other temporary workers," suggested John Sherwood.
Although it may be challenging to staff some positions, there are still a lot of individuals with a previous connection to Timberline that the new owners can reach out to for assistance.
Kim Williams formerly worked at Timberline as a ski instructor and trainer. He says that most of Timberline's instructors and patrollers ended up migrating over to nearby Canaan Valley Resort last winter, but are excited by the prospect of "getting back to" their mountain.
"Some may want to work at Timberline and some may just get a season pass and enjoy the skiing," Kim said.
"Most of the ski school 'family' are excited," he added.
For now, Perfect North Slopes has brought its own management team from Indiana to West Virginia to oversee projects and manage the resort. Key leadership positions are being kept in house. Day-to-day oversight of Timberline is currently being performed by Jonathan Davis, who has worked for Perfect North Slopes for over 27 years. Jonathan began as a lift operator at Perfect North Slopes in 1993 and progressed through positions such as rental shop supervisor, IT manager, Operations Manager, and finally Assistant General Manager before being tapped to oversee Timberline's preparations for reopening.
It is expected that the new owners may reach out to former Timberline employees later this summer or early fall as they shift their focus to staffing up for the winter, but outreach to former staff with institutional knowledge of Timberline so far has been limited as the company focuses on its capital improvement projects.
Of course, there is still one big wildcard: the COVID-19 pandemic. COVID-19 has brought tourism to West Virginia to a halt, and it's unclear what impact it will have on the ski industry next winter.
In the short term, it is possible that COVID-19 may interfere with Timberline's aggressive schedule of upgrades, although there are no signs of that yet. Many ski areas across the country have announced a reduction or suspension of capital improvement projects this summer; for example, Vail Resorts has chosen to defer all chairlift constructions projects, terrain expansion, and base area improvements for now across its dozens of properties, focusing its capital expenditures on areas such as maintenance. Vail Resorts has also instituted widespread furloughs and reduced salaries for remaining employees.
Perfect North Slopes had already secured financing for Timberline Mountain's infrastructure upgrades, so does not share the same exposure as other ski areas. But that could change as COVID-19 continues.
Ski areas across the country are worried about the forward trajectory of COVID-19 and how it may impact ski operations — and visitors — next winter. As COVID-19 cases ramped up earlier this year, North American ski areas had to hit a virtual "stop" button and cease operations before the season was over, missing out on a substantial amount of late-season revenue. Areas such as Eagle County, Colorado — home to Vail and Beaver Creek — as well as Idaho's Sun Valley — became hotspots for the virus. Now, skittish skiers are holding back on pass purchases, unsure how the next winter season will shape up. Many ski areas rely on spring pass purchases to help even out their revenue stream across the year and underwrite summer upgrades.
Steve Drumheller, General Manager of Canaan Valley Resort, told DCSki that COVID-19 is the topic that consumes most of his time right now. He explained that it has already had a severe impact on Valley businesses, and he is worried about how it may affect the upcoming summer, fall, and winter seasons at Canaan Valley Resort. Canaan Valley Resort receives most of its business during the summer, with October being the single busiest month, but the ski season is also critical to its business. Historically, a less-than-stellar ski season could be balanced out by a strong summer season, but with COVID-19, Steve worries both seasons could be impacted.
While it's impossible to predict the near-term impact, eventually COVID-19 will pass, and Steve feels that the Canaan Valley region will be poised to rebound. After all, there's a reason John Denver wrote a song about West Virginia's "Country Roads" — "Social distancing is easy here," said Steve.
Canaan Valley Resort is currently making preparations to ramp up operations for summer, and is taking steps to ensure the safety of guests and employees alike. Steve said that his staff is enjoying the process of re-thinking business operations to adapt to a "new normal." For example, Canaan Valley Resort's hotel has never offered room service before, but Steve is now looking at how to offer that for hotel guests. COVID-19 is causing the resort to "do new things," and he thinks some good will come of that.
With a bit of luck and science, the worst effects of COVID-19 will be in the rear view mirror by next winter. But even if the virus recedes and does not flare up again in the winter, for many skiers, the economic damage has already been done and will linger for some time.
On April 30, 2020, Federal Reserve Chairman Jerome Powell warned "we are going to see economic data for the second quarter that is worse than any data we have seen for the economy." As this story goes to press, the unemployment rate in the United States is expected to rise above 20% — a level that hasn't been seen since the Great Depression in the 1930s.
With many out of work in the short term, there might not be much of a budget for skiing next winter, and that is likely to have a negative impact on Mid-Atlantic resorts — causing even more intense competition in a crowded market. That only presents further headwinds for Timberline Mountain as it prepares to re-launch. Given its distance from major population centers, it won't be a realistic day trip area for many skiers. Located at least 3 hours away from large cities such as Charleston, Richmond, and the Washington/Baltimore metro region, many guests will incur additional travel and lodging expenses to visit Timberline. On the other hand, if skiers have to reduce their snow days next winter, they might want to spend them trying out a new and revitalized Timberline, as it will offer a brand new experience.
A Welcoming Community
Despite these challenges, the new Timberline Mountain will benefit from enthusiastic supporters throughout the Canaan Valley region, all of whom are excited to welcome the new owners and to rally behind Timberline's success and renaissance. It wasn't long ago that many had written off Timberline, fearing that the ski area would not return after its bankruptcy. Many view the purchase of Timberline by the owners of Perfect North Slopes as a best-case scenario.
The feelings for Timberline had previously "fallen to new lows as the debacle unfolded," explained Chip Chase, Founder of the White Grass Touring Center.
"Any anything would have been better. Most of us figured it would take years and no telling if a buyer would be found," he said.
Chip Chase first heard about the purchase of Timberline Mountain from a mutual friend at a snowmaking manufacturer. Familiar with Perfect North Slopes and its leadership team, the friend raved about the new owners, sharing a range of superlatives about the company. Chip Chase now looks forward to welcoming another Chip to the Valley — Chip Perfect, President of Perfect North Slopes and CEO of the new Timberline Mountain — even though it might be confusing with two famous Chips in town.
Chip Chase told DCSki he's had an opportunity to interact with the new owners and likes what he sees.
"We like them, they like it here, they are excited," Chip explained. "They took time to meet us, listen, and seem open in a nice Midwest way. Easy goin' Indiana types that look you in the eye."
Chip described the new owners as honest and committed to sticking to the successful model they have already refined at Perfect North Slopes.
They are "not land grabbers or billionaires, and want to create success one solid step at a time," Chip said. "Real easy folks to read, level headed, beyond this I hear they are fantastic workers," Chip added.
Chip's sentiment is widespread throughout the Valley. Although many residents and stakeholders of the Valley had not heard of Perfect North Slopes prior to the past year, they quickly realized that the company was the perfect investor for Timberline — a match made in heaven, to go with West Virginia's tourism slogan of "Almost Heaven."
"I was thrilled, pleasantly surprised and relieved that finally this amazing resort was being purchased by a genuine Ski Area Operator," recalled Kim Landis of Landis Realty LLC.
They are "an experienced and professional organization that truly cares about the ski industry, the community, and will welcome tourists back to Canaan Valley," Kim added.
Joe Stevens agreed.
"I was excited to have a team with their experience be part of the West Virginia ski industry," Joe said.
"40 years as a successful family business tells me that they will do what's best for the valley as good neighbors," said Kim Williams.
Real estate experts throughout the Valley are already seeing a shift in property values.
"Property owners are very excited," explained Kim Landis. "After all, they bought land and homes in the Canaan region in large part because Timberline was known to the skiing community in the Mid-Atlantic as one of the best ski mountains in the area."
"I expect values to continue to increase," Kim continued. "I also expect investors and small business owners to see the opportunity to open up more restaurants, breweries, and outdoor activities in this area."
Making the Valley Whole Again
It is impossible to look at Timberline Mountain without looking at the broader community it sits in. Located in West Virginia's Tucker County, the Canaan Valley region is a scenic and recreational paradise that includes Blackwater Falls State Park, Canaan Valley Resort State Park, and the Canaan Valley National Wildlife Refuge. Designated a National Natural Landmark in 1974, the largely undeveloped Valley includes extensive wetlands with mountains rising 1,250 feet above the Valley's 3,200-foot base elevation.
Downhill and cross country skiers have been drawn to the Canaan Valley region for years. The White Grass Touring Center provides some of the best cross-country skiing on the East Coast when there is natural snow cover, while Timberline and Canaan Valley Resorts offer downhill skiing.
Steve Drumheller is the General Manager of Canaan Valley Resort and has been in the Valley since 1982. Canaan Valley Resort is a year-round destination offering a range of summer and winter activities, as well as a hotel, spa, restaurants, and conference center. During the winter, the resort offers 47 trails of downhill skiing serviced by 5 lifts; snow tubing; ice skating; and cross country skiing.
Rather than viewing Timberline as a competitor, Steve believes that Timberline adds to an overall value proposition that draws visitors to the region. He told DCSki he is excited to welcome the new owners of Timberline Mountain and looks forward to the possibility of partnering with them on future initiatives; he's already had some discussions with Timberline's new leadership team. A revitalized Timberline will be good for "all of Tucker County," said Steve.
About a decade ago, Canaan Valley Resort and Timberline teamed up to offer a joint "Ski the Valley" two-day pass. The dual-resort voucher made it easy for weekend visitors to ski at Canaan Valley Resort on one day and Timberline the next. The two ski areas are about a 10-minute drive from each other. A coupon book providing discounts on lodging, rentals, lift tickets, dining, and shopping was also included with the pass. The promotion was popular with Mid-Atlantic skiers.
Steve indicated that he welcomes the opportunity to explore opportunities such as a Ski the Valley pass with Timberline's new owners, although it's unlikely anything would happen in time for this coming winter. In the meantime, Canaan Valley Resort plans to re-join the Indy Pass for the 2020-2021 winter season, which provides two days of skiing each at partnering ski resorts across the country. Details for next winter's Indy Pass are due to be released later this summer, and are scheduled to go on sale September 1.
Over the years, Steve has noticed that the number of visitors to the Canaan Valley region has been relatively steady, with guests dividing between Canaan Valley Resort and Timberline. Steve believes that the collective goal of businesses in the Valley should be to increase the overall visitor count, motivating skiers who might otherwise go to places such as Snowshoe Mountain Resort or Whitetail to try the Valley. He believes Canaan Valley Resort and Timberline Mountain will be able to work together towards that common goal, and that the Valley is "primed for explosion" based on the overall value proposition. He anticipates that an increase in guests will allow new restaurants to open in the Valley, after recent years of decline.
The White Grass Touring Center's Chip Chase also believes that a vibrant Timberline Mountain will help boost the fortunes of all businesses in the Valley.
"More ski areas, better lifts, and deep snowmaking" will result in more skiers visiting the Valley, said Chip. Chip anticipates expanding the number of evenings the White Grass café is open next winter.
In the meantime, there's a lot of work to be done. The base area of Timberline Mountain is currently a sea of mud as preparations are made for the installation of lift towers. And everyone in the community is hoping that COVID-19 won't delay an aggressive timeline of actions that must be completed if Timberline is to re-open this winter.
If everything aligns perfectly, the new Timberline Mountain stands to attract a lot of attention.
"I have no doubt this investment will pay great dividends for the Canaan Valley area and our entire state. It's yet another sign of the continued investment we're seeing in our growing tourism industry," West Virginia Governor Jim Justice told DCSki.
"You only have one chance to make a first impression," said Chip Chase, noting that Timberline's fall from grace meant it would take "something big to make a wave and be noticed." He believes the new lift investment makes that statement, saying that the new owners "will blow some doors!"
David Downs, the original developer of Timberline, is excited to see the evolution occurring at the ski area he first envisioned and developed in the early 1980s.
"At least once a week, Luna, my German Shepherd, and I hike to the summit and marvel at the progress the new owners are making," David told DCSki. "Perfect North offers the salvation our mountain richly deserves."