Ten Reasons to Ski at Snowshoe in the Spring
1
Let's face it. Skiing when it's really cold can totally suck. And when do we ski? During the coldest months of January and February. During President's Day weekend this year, the high temps were at minus 3 degrees Fahrenheit in the mountains of the mid-Atlantic — minus 3 degrees!!! There's a better way to have fun skiing — wait until Spring. And there's no better place for spring skiing than Snowshoe. Here are ten reasons why.
1. Snow — At 4848 feet, Snowshoe is constantly blanketed by snowstorms and lake effect snow — receiving an annual average of over 180 inches of powder. That combined with their intensive snowmaking efforts throughout December, January and February means that the mountain is typically covered in the white, fluffy stuff with all of the trails open until the beginning of April. The higher elevation also means that temperatures are generally 15 to 20 degrees cooler than temps in DC. Thus, while spring may have arrived in the city, it's still winter in the mountains of West Virginia. Plus, there's always a big snowstorm in March. So instead of the brutally cold temps of high-season, the March and early April temperatures hover in the mid-30s… perfect for skiing where you can still feel your fingers and toes at the end of the day. And at the very end of the season with temps approaching 50, it's short-sleeve skiing weather. Sometimes you'll even spot someone skiing in shorts!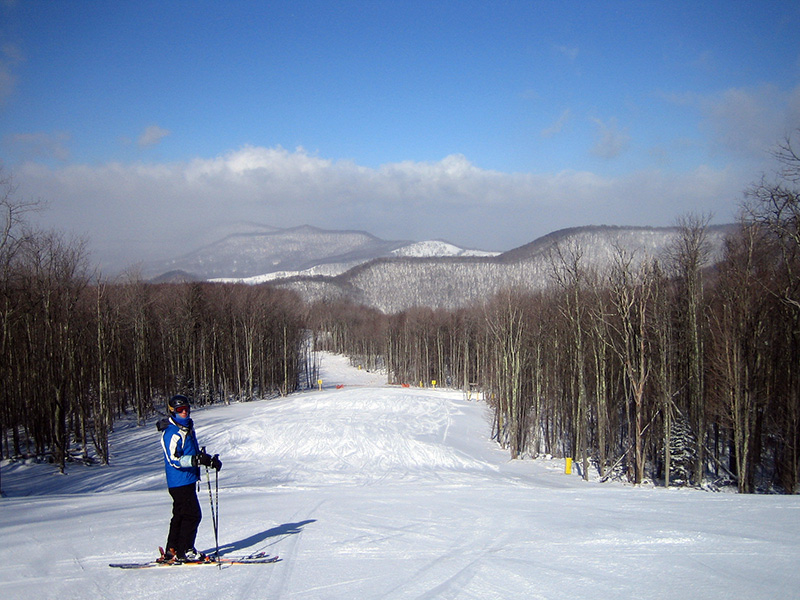 2. Variety of terrain — Snowshoe is really four distinct ski areas — the main basin with a mix of blue cruisers, easy beginner trails and a couple of black diamonds; the Widowmaker section having fun and steep, but manageable expert trails; the Western Territory with 1,500 feet of vertical drop and some true advanced terrain; and the separate Silver Creek Area, that is never crowded (even on weekends) and offers night skiing — 60 named trails in all!
3. No Crowds — Inexplicably, nearly everyone stops skiing after Presidents Day weekend. People start to see green on lawns and trees and they forget that 200 miles away it's a whole different climate. But the nearsightedness of the masses makes for empty slopes and open lift lines. There's nothing better than having a trail all to yourself and skiing right up to the chairlift to repeat the process over and over again.
4. Great Choice of Accommodations — There are over two dozen different lodges, inns and condo buildings at Snowshoe, including the new boutique hotel, the Corduroy Inn. This ski in/ski out inn, at the top of the Powder Monkey lift across from the Western Territory, features twelve upscale rooms and suites, a cafe and a restaurant, the Alpine Ristoronte.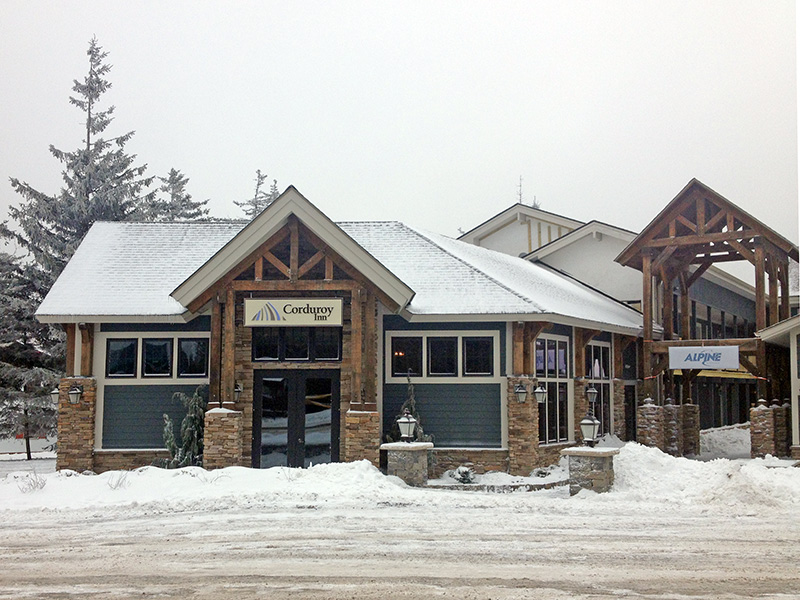 5. Price — A lift ticket costs only $59 per day from March 16 until April 5, 2015, as opposed to $89 per day on a weekend during the regular season. The value is even greater with the purchase of a multi-day ticket. Likewise, the cost for accommodations is dramatically less towards the spring.
6. Events — The Ballhooter Spring Break College Fest runs from March 8-11, 2015. The festival includes free live music onstage each night in the Snowshoe Village, a beach party, comedy shows and a variety of snowsports competitions.
7. Restaurants — Usually the only place to eat at a ski resort is a cafeteria where a slice of cardboard pizza costs ten bucks. But the village at Snowshoe has a variety of restaurants. The Junction Restaurant has pub fare at reasonable prices and the Cheat Mountain Pizza Company has gourmet pizzas and sandwiches at Pizza Hut prices. For a little more upscale dining, check out The Foxfire Grill. There's also Italian Fare at Pastas and southwestern cuisine at the Sunset Cantina. And, of course, the new Alpine Ristoronte.
8. Chill-laxing — Every guest receives free admission to Split Rock Pool Center next to the Allegheny Springs Lodge. The Center includes a large heated pool with portions both inside and outside the heated building. A pass-through connects the inside and outside sections of the pool. There are also water slides, two large outdoor hot tubs and a sauna to help loosen the muscles after a hard day on the slopes. If that's not enough, hit the Spa at Snowshoe for a Swedish, Deep Tissue or Hot Stone massage. Or take a yoga class. Yes, yoga at Snowshoe! Classes are offered in the Allegheny Springs building by the only yoga instructor in the county. See www.eightriversyoga.com for more info.
9. Off-the-slope winter fun — Tired of skiing and boarding? Then, how about snowshoeing or cross-country skiing? Perhaps try snow tubing or a horse-drawn sleigh ride, a snowcat tour or even snowmobiling.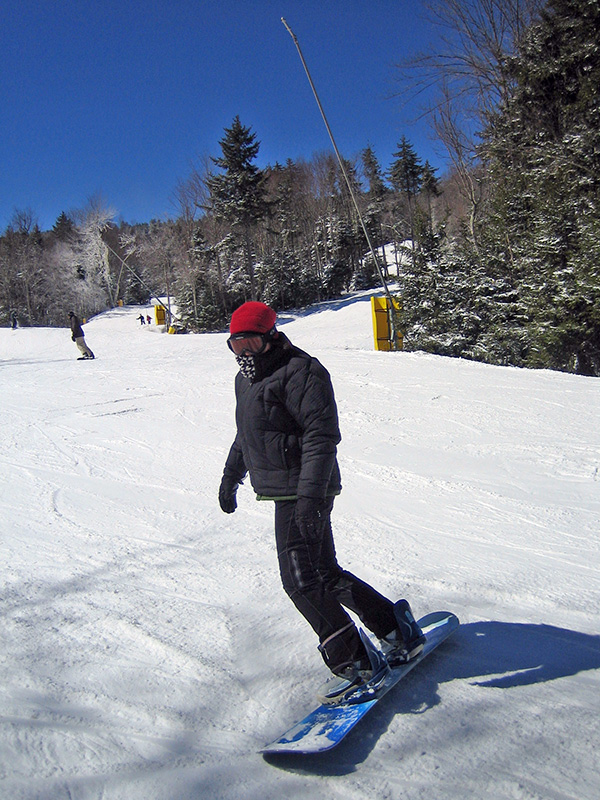 10. Ski School — You're never too old or too young to learn or improve technique. And the soft snow of spring is a far better surface to learn on (i.e. fall on) than the hard-packed powder and ice of January and February. Snowshoe now offers terrain-based learning in which molded snow features (ramps and curves) help facilitate speed control and turning technique for both skiing and snowboarding.