Trying Something New: Telemark Skiing, the Original Ski Method
2
The best part about skiing at local areas is that they are local. Resorts like Liberty and Whitetail are an easy day trip for Washington and Baltimore area residents. Resorts like Timberline, Wisp and Seven Springs are a weekend away without spending more time on the roads than the slopes. Of course, the downside is limited terrain and verticals far short of their Rocky Mountain, Sierra Nevada and Wasatch Mountain counterparts. So with budget-busting airfares out west and the drought in California serving as impediments to "big mountain" country, what's a local skier looking for some new challenges to do? I found the answer recently in trying a new-to-me type of skiing: telemark.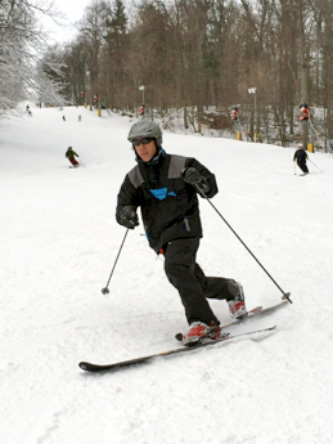 For those who have never heard of it, telemark skiing is the original ski technique. Invented in the 1800s by the father of modern skiing, Sondre Norheim, telemark is the oldest form of skiing combining the best of modern alpine skiing and cross country. Telemark skiing's name originated from Norheim's hometown of Telemark, Norway. Equipment usually consists of a plastic shell boot with a duck-type bill in front and bellows at the forefoot (this latter feature allows flexing at the toe area), and alpine-type skis with a binding that holds the boot firmly at the duck bill and a cable around the heel, but leaving the heel free to lift.
Telemark boots, by the way, are significantly more comfortable than traditional alpine boots with natural flex built into the boot through the bellows. Telemark skiing technique involves flexing the uphill ski with the knee nearly bending down towards the ski while the downhill ski leg is bent under the skier's hips. As I explained to a friend of mine, telemark turns are like going downhill by doing knee lunges the whole way down! It's a heck of a quad workout.
I first tried skiing's oldest technique several years ago at Stratton Mountain, Vermont where telemark equipment is nearly as common as alpine gear. Shops specializing in telemark rental equipment are fairly easy to find. After a single session with friends (also Liberty Patrollers), I was hooked. Granted, this did involve a lot of falling and a lot of laughing at each other, but the style was unique and challenging. Later the next season, I purchased a set of Scarpa T2X boots from a well-known, small Eastern outdoor sports shop (on clearance!).
Over the course of several seasons, using borrowed skis with telemark bindings, I learned that getting the hang of this style of skiing involves learning how to ski all over again. For example, while challenging, I was able to pick up the fundamentals of tele-turns my first time out — at least when turning left. Turning right, on the other hand, was nearly impossible without rocking my heels back and doing a traditional alpine skid turn. I later found out that this is typical. The dominant leg for most skiers allows for picking up one turn, but not the other — at least at first.
Not being a quitter and enjoying this new challenge, I've kept at it over the course of a number of day trips through several seasons to the point where I can now make "tele-turns" (both left and right) on several of the runs at Liberty. Shortly after my first season, I invested in a pair of secondhand telemark skis/bindings and have loved going out on them every possible chance since.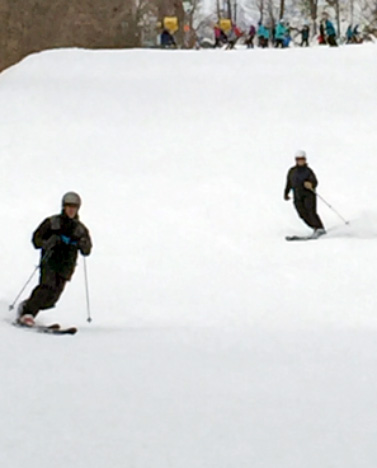 I will say that telemark skiing has given me a new appreciation for the challenges available at Pennsylvania's Liberty Mountain Resort. Dipsy Doodle is no longer avoided and runs like Whitney's Way, Heavenly and Lower Strata felt all new. After a couple of seasons in on this new technique, I'm still only skiing blue and black runs at Liberty (including Upper Ultra). However, I'm nowhere near ready to try the bumps of lower Eastwind or even think about the upper stretches of the double blacks of Upper Eastwind or Strata. And, of course, I'm still strengthening my technique and increasing my proficiency. It is nice to know that challenges still abound for long-time skiers of the Mid-Atlantic Region!
If you're interested in trying something new, I highly recommend getting out of your comfort zone and trying something different like telemark skiing. Not only does the terrain of our local areas become much larger, there is the satisfaction of taking on new challenges. On top of that, there is nothing more humbling than the experience of realizing no matter how well you ski, there's always another challenge out there.
Fortunately for telemark wannabes, areas within striking distance of the DC metro area make this possible. Dominating the list for availability of terrain and gear, White Grass Touring Center in nearby Davis, West Virginia offers a variety of trails ideal for telemark skiing. Shops in the area offer rentals of telemark equipment. Downhill resorts like Timberline, Seven Springs and Whitetail offer telemark ski lessons (nearly all through advance reservation). And at least one local shop (Eastern Mountain Sports) carries telemark equipment, as well as a slew of online retailers (e.g., Sierra Trading Post, Backcountry Ski, etc.) Of course, I would be remiss if I didn't note that telemark equipment can occasionally be found at the Liberty Mountain Ski Patrol's annual Ski Swap in Washington, D.C. during the month of October.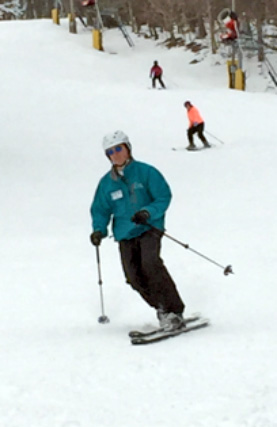 One thing to watch out for as with any snow sport, is that the technology keeps changing. As noted above, the "standard" telemark binding system clamps onto the duck bill portion of a telemark boot and a cable locks around the heel. This system is referred to as the 75mm or 3-pin binding system. Over the past few years, a new type of binding has arisen. Called the "New Telemark Norm" (NTN), these bindings are more a "step-in" type with ski brakes instead of the runaway straps on 75mm bindings. Only NTN-rated telemark boots will work with this system as the binding locks to a second "heel" under the toe piece of the boot and the duck bill is greatly pared back. Some older telemark skiers prefer the still widely available 75mm system vs. the NTN system, claiming the new system is heavier and more complex. NTN systems also seem less common in backcountry areas versus resort runs.
Personally, I prefer the 75mm system myself as NTN is still relatively new (and expensive!). Moreover, I find 75mm systems easier to find both online and in local shops. Regardless, either way you go, telemark skiing is a fun new way to enjoy skiing and the great outdoors and I highly recommend this to anyone game to take on new challenges while staying close to home.