Going Further Afield: June Mountain, California - the Forgotten Sister
2
In the Sierras of Central California, June Mountain Ski Area is located just twenty minutes north of the mega Mammoth Mountain Resort but a world away. It is the best little ski area you never heard of. June Mountain has 3,000 feet of vertical drop, over 300 inches of snow a year, and 30 challenging trails. And did I mention that no one comes here so you have the place to yourself? You get the idea. It is well worth those twenty minutes!
June Mountain is owned by Mammoth Mountain and is a sister resort, but the relationship is strained. For years Mammoth's owners Starwood Capital Group have not really been sure what do with June Mountain. In the snow-starved season of 2013-2014, they closed the doors at June Mountain for one season as a cost cutting measure. To put this in East Coast terms, the relationship is similar to that of Mount Snow and Haystack in the early 2000s. In that case Mount Snow was never sure what to do with Haystack and it has since become a "lost "resort." Luckily Mammoth chose not to let June become "lost" and opened the mountain this year.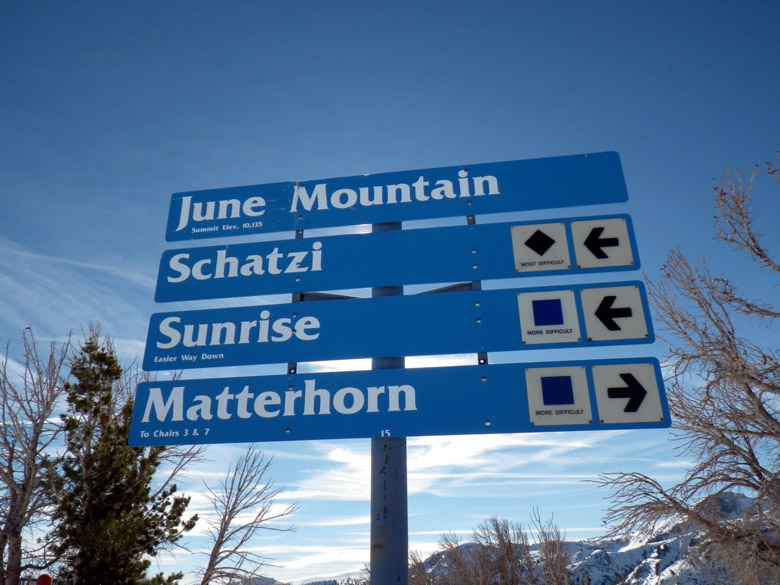 For the 2014-15 season June Mountain is back with new marketing campaign as a "family friendly" resort. Not sure how that is working, but I was pleased to see the hill back open as I drove in on a cold late December day.
June Mountain is noticeably weird. When you drive through the quaint town of June Lake and pull into the parking lot, the first thing you notice is you can't see the mountain, nor the lodge, nor can you see most of the trails. They are above you. In the parking lot there is a small ticket building and the bottom of a double chairlift. That is it. Follow the chairline 1,200 feet up the slopes and you will see the main June Meadows Lodge and the rest of June.
It's one of the most unique set ups I have ever seen. You buy your tickets at the bottom, gear up, and hop on the lift: a very steep fixed double lift with safety bars that fold from the center. I am not sure how "family friendly" this is. But families were piling into the chairs with coolers, backpacks and all types of gear. Even rentals are located above.
But once you have ridden up, a different world awaits you. It was cold in the valley but the sun was shining at the top. It is here in June Meadows that the skiing begins. June has snowmaking but rarely uses it. The snow comes in early and stays late. The day we skied, June Mountain was reporting 20 open trails and six lifts running. This is a family place so most trails were groomed blue cruisers, but there are a couple of challenging bowls and chutes thrown in for good measure. And, oh yeah: there is no one here.
We were on the snow by just after nine. We headed up the hill to June Mountain proper topping out at 10,090 feet. We skied off the high-speed quad, one of two on the hill. We skied all morning without a wait and mostly without see anyone on the trails. And I mean no one! We counted and never saw more than ten folks skiing off the lift we were. We had the place to ourselves and it was Holiday week! Not sure how this plays into the new marketing plan but it was great for us!
Moving over the trails off Rainbow Summit (10,040-feet) the other peak at June served a slow fixed double. The coverage was great, however we were a bit disappointed to see three great looking blue runs still roped off at 11 am. Not sure why they were closed, I asked a lift operator what the deal was. "Oh, they are not ready yet" was the reply. Looking over from the lift I am not sure what they were waiting for. They were well covered, groomed and looked good to me. After awhile we followed a wayward snowboarder through the woods and poached a run or two off these trails. They seemed good to go to us. A few bare spots and some tops of trees sticking out, but great in my book. This is probably a bit of Western bias versus Eastern bias. Out West they hold the trails closed 'til they are perfect. Back East if it has any white on it, it is skiable. Not wanting to face the wrath of the ski patrol, we left these trails to percolate.
The main lodge at June is reminiscent of day lodges of the past. It was very old school with a three-story low rise with plenty of lockers, many tables inside, and a nice wide deck outside.
After 20 runs and 17,000 feet of vertical my skiing companion was beat. So we called it a day. On the way back down we saw that the beginner area near the June Meadows Lodge was indeed packed with families learning to ski. Riding down on the chair to the parking lot we saw even more families on the way up. Getting up early to ski must be an Eastern thing.
All in all I was very pleased with my day a June. I was happy to see this old school ski area back in action. If its big sister Mammoth could figure out how to market June Mountain more effectively, maybe invest in a gondola from the parking to the lodge or a free shuttle from Mammoth, it may have a fighting chance. For now it is a unique place that is a hidden old school gem and a forgotten sister.