Move over, West and New England. On a perfect day, you don't hold a candle to Whitetail. On Wednesday, March 5, 2014, the slopes were gleaming, the entire mountain was open, the sky was blue, and the temperatures were warm. It gave a hint of the upcoming Springfest Weekend (scheduled for March 8-9) and other fun activities ahead. But there are also the expectations that this will be the longest season Whitetail (and its sister resorts, Liberty and Roundtop) will have experienced in years.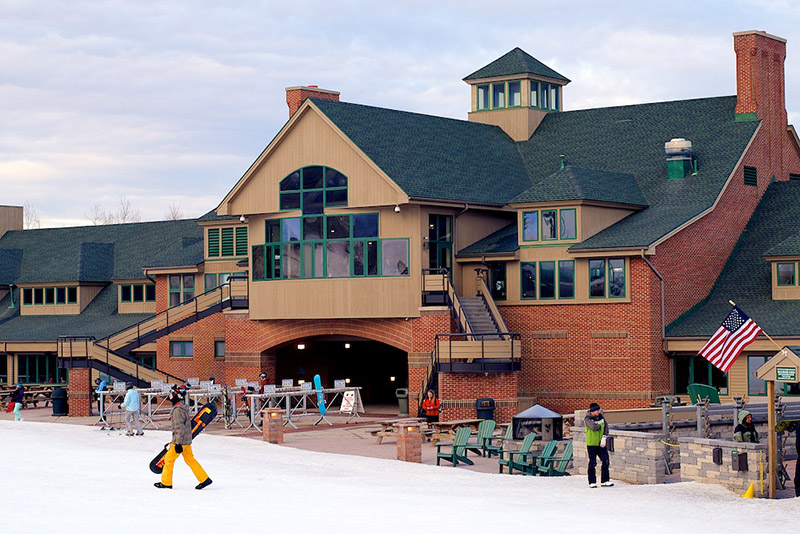 This visit provided another special treat - I finally had the chance to meet DCSki founder and editor M. Scott Smith. After 13 years of writing, and nearly 200 stories, it was about time. He is really a nice, fine young gentleman. I watched as he gave up his runs on the advanced slopes and taught a beginner friend of his how to ski. He learned quickly. Nice going Scott - proud to be associated with you!
Scott and I also paid a visit to Whitetail's General Manager, Don MacAskill, who has done much to improve Whitetail. And we saw many other staff members, who have become friends over the years. But one special one was missing. Buddy Hauck passed away a couple years ago. Buddy served as a long-time mountain host at Whitetail. His famous cowboy hat is still on display.
Now a few thoughts from Charles:
"I checked out the trails for Connie and Scott. Tough job, but somebody had to do it! Bold Decision was the right decision for me! I was a little reluctant because I had not done that long double black since last year, but I asked an instructor who was at the top and he said it was in good shape. In fact it was in excellent shape with good powder and no moguls. I have found that sometimes the most intimidating trails are actually the easiest because the surface groom doesn't get skied off by midday. Nevertheless, my legs were done after 6 runs and I am glad I had cruise control for the drive home!
There are no reader comments on this article yet.