Firsthand Report: Snow Tubing at Liberty Mountain Resort
1
It is sometimes said we in the Washington, DC area spin around in circles and accomplish nothing. If that is true, we can at least have fun and excitement in the process. One great way to do so is to go to the mountains and snow tube. On December 27, 2013, we chose Liberty Mountain in Caroll Valley, Pennsylvania to do that — one of the closest snow resorts to the Washington and Baltimore metropolitan areas.

The Liberty tubing program is managed by the energetic Karen Pennington. It is very popular and was crowded on the days after Christmas. In fact, it was best to make a reservation for the hours available. But, once in line, the crowds moved quickly. It was well managed and there appeared to be no danger of collision at high speeds.

Tubing is really thrilling and scary. You sit in a big inflated inner tube and hurl down the mountain. Sometimes you are spinning in circles and go airborne as you go over a bump. It takes no special skills and the tubes are part of the cost - $18 for an hour on weekdays and $25 on weekends or $30 for two hours. Everyone has their own method of coping. I felt safe because we tube in 15 lanes which are well separated. I knew we slowed down at the end. There are also strong staff members to catch us, and the outer fence is padded and uphill — if you make it that far. Helmets are a good idea, if you have them.



Despite the safety precautions, I cannot help screaming on my way down. I close my eyes during the fastest parts. The little kids in the nearby lanes shriek with delight. I prefer to sit up on the tube. Hold the handles tight, and keep your rear up from the snow! Also keep your hands and feet up, unless you want to use them to help slow you at the end. Best to wear sneakers — no ski boots. Some tubers prefer to lie down, but I am afraid of breaking my front teeth if there is a problem. Some tubers tie onto each other and go down in a chain. Don't think I want to try that. Manager Karen showed us an extra large tube, where an adult can carry a child on their lap. She also said tubers with disabilities are welcome, and the staff helps them out. Among them have been some very brave blind people. They are amazing in all the sports they undertake.

For tubing, a long magic carpet takes you slowly to the top of the lanes. You drag your tube up behind you. The Liberty carpet is enclosed and looks like a New England covered bridge. For me it was a bit tricky, because I have balance issues. But I knelt in a crouch position, and stayed on. Many of the younger and stronger set avoided the lines and the lift. They went to the far side of the ridge and climbed up, as they do with sleigh riding.

I highly recommend tubing for all ages — lots of scary fun. You can park in the lots of Boulder Ridge, or take a short shuttle bus from the main Liberty resort. There is also a lodge and cafeteria area, and some groups meet there for parties and other events. We saw groups from Baltimore and Florida, holding large family reunions. I am also pleased to see so many people of various races and nationalities skiing, boarding, or tubing. Snow sports are color blind, thank goodness!

By the way, we did also ski at Liberty. My husband Charles tried most of the advanced trails, and said they were in excellent condition. Coward that I am, I stayed on blues and greens. In doing so, I had a very good experience. At one point I hit a small rock and fell down hard on my right hip (as opposed to the left one which I broke out West 3 years ago!). This time I was wearing my "Impactwear" hip protectors from New Zealand. The pads are slim and lightweight, but harden on impact — like a bullet proof vest for the hips. They have now saved me twice and I hope they will soon be on sale in the US.

Liberty was giving out homemade cookies and hot cocoa on the slopes — near the area where many ski lessons were underway. A nice touch, just like Colorado's Beaver Creek. Snow season is in full swing. Enjoy it while the cold lasts!
When she wasn't skiing, Connie Lawn covered the White House as a reporter since 1968.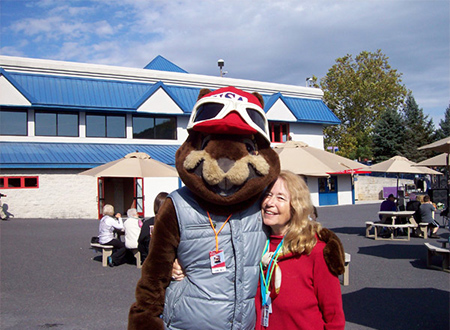 Reader Comments
As usual, wonderful article Connie!
The Colonel

Speak truth to powder.
Join the conversation by logging in.
Don't have an account? Create one here.