The snow was erratic in southern Colorado this year, but we lucked out during our four days in Crested Butte for the North American Snowsports Journalists Association (NASJA) annual meeting. We flew Southwest Airlines from BWI to Denver and then drove a rental compact to Crested Butte. A front was blowing in against us, pounding northern Colorado with heavy snow, Denver with rain, and eastern Colorado with tornados over night. I-70 westbound was closed, so Charles took us south via Colorado Springs and over Monarch Pass. The return was via scenic US 285; a four hour drive from Gunnison to Denver. (We stayed overnight in a lovely Motel 8 in Gunnison, 35 miles from Crested Butte).
In retrospect it would have been easier and not much more expensive to fly United from Dulles to Gunnison, connecting via Dallas. Gunnison accommodates full size commercial jets and rarely is closed by weather. We did not realize our resort, Crested Butte Mountain Resort, arranged very good package deals for most of our members. Lesson learned here - always check with the resort, and ask about packages, before making your own arrangements. If not, try to join a package with a ski club or another charter group.
This has been a year of the blizzard in Northern Colorado. Southern Colorado was not as fortunate, but what we found was terrific! There were constant snow showers, so every morning the groomed trails had a dusting of powder over a hard pack, skillfully groomed surface. Crested Butte is famous for its extreme skiing championships, but this was late in a season with low snowfall, and much of the double black and some of the green trails were either closed or not at their best. Our favorite area was Paradise Bowl, which has spectacular views and trails of all ratings. Best trail down was Ruby Chief. We took one "black" with little trouble, but I preferred the fast, wide, and well groomed "blues." They enabled me to feel like an Olympic champion, as I whizzed down, singing and saying prayers of thanks for the beauties of nature all around me. How fortunate I was to be able to see. One of our best NASJA members is nearly blind, but she managed to ski down many of the trails, and compete in the NASJA race. Her young daughter guided her down, or shouted instructions from behind. I am proud of them, and hope someday she can share the views around us.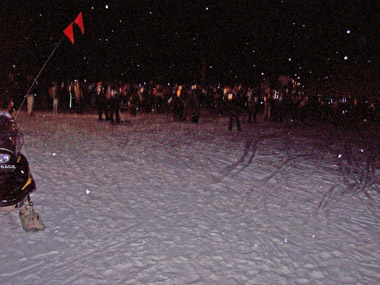 Charles considered himself lucky to be in Crested Butte in time for the tenth annual "Grand Traverse," a 40 mile backcountry race from Crested Butte to Aspen. We are talking about crossing two mountain ranges with telemark skis, little headlamps, avalanche beacons, and trail mix. It started at midnight on March 30 with a torchlight escort, fireworks, and blessing from the bishop of free heelers. The race is run at night because there is less avalanche danger. The crowd (including a few hecklers, since the slopeside bars had just closed) shouted such encouragement as "hey, if you find the glove I dropped today, bring it back." Unbelievably, some iron men and women were in Aspen in nine hours. Charles said he would have entered, but he only does races measured in kilometers. There is literally something for everyone at Crested Butte.
As for our group of snowsports writers, the agenda was full and there were serious issues to discuss. The major one was the definition and nature of a journalist, especially in this time of internet sites - such as DCSki.com, which may have much more impact on the skiers and boarders than do the newspapers, magazines, and radio and T.V. stations. So far, there has been no clear resolution to the issue. Many other organizations are grappling with the same topics of changing journalism.
It may be significant there were few snowboarders in our group - this may be another sign the Membership needs to solicit new and different types of members. The mountain scene appeared to be dominated by skiers, but the number of snowboarders was not far behind. This was especially true for the competitions and the pond skimming on the weekend.
Between meetings, discussions, and reporting awards, there was a lot of time to ski and party in the beautiful Elevation Hotel and Spa, which was a Club Med a few years ago. We had a disco party, where we dressed in crazy 60's-style costumes. After the final banquet, we had a chance to ride a bucking, mechanical bull. It is bigger, fatter, and harder than it looks. We also had endless, delicious, and generous buffets. I can't believe I ate so much steak and roast in a week. So much for trying to become vegetarian! One night, we fanned out and visited some of the gourmet restaurants in Crested Butte. My favorite meal of all was breakfast in the Paradise warming house, after the most remarkable first tracks run we have ever taken. The snow was fresh, the sun shining, and it was nearly a shame to have to stop and eat. But, it was worth it. I never did visit the famous "Ice House" restaurant on the slopes, where you can sit on, or eat from ice sculptures. Next trip!
Crested Butte is a fascinating mountain, which is said to look like Mt. Blanc in some ways. The Mountain Resort was purchased over two years ago by Tim and Diane Mueller, and it is managed by their son Ethan. The family also owns Okemo Mountain Resort in Vermont and Mt. Sunapee, in New Hampshire. They are spending over 200 million dollars to improve and revitalize the area. The Elevation Hotel, where we stayed, was sumptuous and modern. Like many of the grand hotels in the area, it is a few short steps to the mountain lifts. All these hotels are a bit pricey, but look for those package deals, which include the transportation, lift tickets, and rentals, if needed.
The elevation did not affect me this time, but Charles had persistent headaches, and some of our group members were quite dizzy for a while. The base area is 9,375 feet with the summit at 12,162 feet. There are 121 listed trails, with 23% beginner, 57% intermediate, and 20% advanced, or incredibly extreme! All the usual facilities are there, including the terrain parks, tubing hill, and snowshoe trails, with midnight tours available.
As is always the case, I am impressed when an area has a good Adaptive Ski program, and Crested Butte has a large one with a skilled staff. Some of the skiers came down the steep blacks on their sit-skis, and not all were tethered to instructors. Remarkable! One of the Adaptive volunteers has worked in Wintergreen, Virginia, and may return there one day. Another example of East-West cooperation in Crested Butte.
There is one feature I must mention - the safety bars on the lifts. They were strong and sturdy, and had a map of the area on the handle bar. How clever and how easy to study the area that way!
Some of the older lifts did not have safety bars, and that can be terrifying. The newer ones were excellent, but chairlifts can still be dangerous for little kids. Charles and I helped an instructor take a class of about 10 wee ones to the top. I warned the little ones with me to hold on, and not slip under the safety bar. That could be fatal; my own son almost slipped through a lift when he was a young child skiing at Cooper Mountain. So, safety bars are important, but are not the only precaution.
There is so much to discuss regarding Crested Butte, and snow sports, but if you keep reading you won't get outside and enjoy them! But, I want to close with a few phrases that impressed me.
One instructor was playing around in the snow and said, "it's tough to make a snowball in Colorado!" How lucky they are with the dry, fluffy snow!
In our NASJA awards dinner, one speaker said snowsports combine the chance to live your passions, and often face fear and conquer it at the same time. Another said our motto should be, "seize the snow!" How fortunate we are to still have snow to play in!
Have a great summer, and pray for snow next season! Yours, Connie and Charles
The video below shows members of the North American Snowsports Journalists Association (NASJA) racing at Crested Butte, Colorado. Video provided by Charles Sneiderman.
There are no reader comments on this article yet.