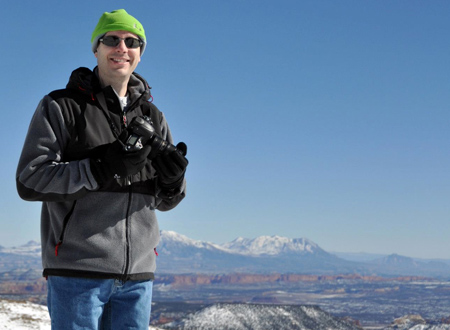 M. Scott Smith
Scott is Editor and founder of DCSki. He writes the articles, takes the photographs, designs the pages, programs the site, pays the bills, and occasionally catches a wink of sleep. In addition to DCSki, Scott works full time as a researcher and computer scientist.
Scott loves outdoor activities such as camping, hiking, travel, skiing, kayaking, and mountain biking. He is an avid photographer and writer, and also plays keyboards and drums. Scott grew up in Colorado and currently resides in Maryland. (That's right - he went from Colorado to Maryland - what was he thinking?!) Scott maintains a personal weblog at www.mscottsmith.org.
Scott is a member of the Eastern Ski Writers Association and the North American Snowsports Journalists Association.
Scott has written 825 stories for DCSki since 1997.
February 4, 2019

- During the first three days of February, DCSki's Editor sampled three winter treats: a night of fresh-powder skiing at Whitetail; an evening exploring downtown Frederick during its Fire in Ice event; and an evening skiing at Liberty Mountain Resort. He provides this triple play Firsthand Report.
January 29, 2019

- DCSki's Editor made his first turns of the season Sunday evening at Whitetail. As he describes in this detailed Firsthand Report, the masses of skiers and snowboarders that descend upon Whitetail on weekends largely dissipate by sundown on Sunday, setting the stage for a serene (if sometimes icy) night of skiing.
January 3, 2019

- The 2018-2019 winter season is off to a rocky start, with above-average temperatures throughout much of December. DCSki provides a roundup of current conditions and struggles across the Mid-Atlantic.
December 20, 2018

- Early-season cold temperatures enabled many Mid-Atlantic resorts to fire up the snowguns, but the cold gave way to some bouts of milder temps and heavy rain, which has delayed the start of the season for some resorts. Although pre-Christmas rain is still adding to the challenge, several additional resorts plan to open in the coming days.
November 22, 2018

- It's not summer anymore. That will become abundantly obvious on Thanksgiving, when temperatures in the northeast and Mid-Atlantic are expected to plunge to their lowest turkey day reading in over a century. That's allowed several resorts to move towards the "open" column.
November 16, 2018

- Do you enjoy Fall? If you blinked, it looks like you missed it this year. But that's OK — it just means the ski season will arrive quicker. The arrival of colder temperatures has allowed many Mid-Atlantic resorts to fire up the snowguns, as they charge towards opening dates.
September 25, 2018

- This week marks the end of an era for the Mid-Atlantic, with Liberty, Roundtop, and Whitetail changing ownership from Snow Time, Inc. to midwest-based Peak Resorts. DCSki provides a detailed history of the Snow Time resorts that Irv Naylor started in 1964.
April 2, 2018

- DCSki lost a valuable member of its community on April 2, 2018. Connie Lawn — the "Skiing White House Reporter" who contributed 178 stories to DCSki over the past 15 years — passed away at the age of 73.
March 18, 2018

- It may be March 18, but many Mid-Atlantic ski areas are still hanging onto the ski season by a thread. Whitetail has taken advantage of recent cold nights to make snow, allowing it to keep some slopes open with springlike conditions. DCSki's Editor swung by Whitetail on a sunny Sunday afternoon to check out the conditions.
March 11, 2018

- For his final ski day during Snow Trip 2018, DCSki's Editor headed to the slopes of Deer Valley, a Utah resort known for its service and frequent top ranking in the U.S. Unfortunately, the flu caught up with him and kept him from exploring all of the resort.