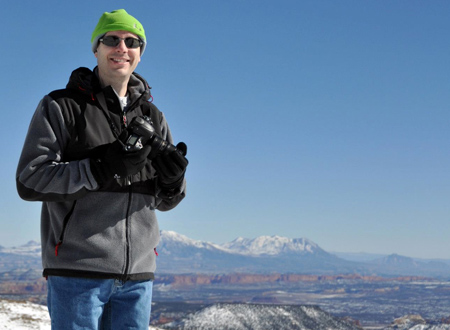 M. Scott Smith
Scott is Editor and founder of DCSki. He writes the articles, takes the photographs, designs the pages, programs the site, pays the bills, and occasionally catches a wink of sleep. In addition to DCSki, Scott works full time as a researcher and computer scientist.
Scott loves outdoor activities such as camping, hiking, travel, skiing, kayaking, and mountain biking. He is an avid photographer and writer, and also plays keyboards and drums. Scott grew up in Colorado and currently resides in Maryland. (That's right - he went from Colorado to Maryland - what was he thinking?!) Scott maintains a personal weblog at www.mscottsmith.org.
Scott is a member of the Eastern Ski Writers Association and the North American Snowsports Journalists Association.
Scott has written 804 stories for DCSki since 1997.
January 8, 2018

- Usually, skiing requires snow, but the Mid-Atlantic ski season typically only lasts three months. Brian and Nancy Deely, owners of Pro-Fit Ski & Mountain Sports, decided to address that problem by adding a year-round, indoor ski simulator next door to their ski shop in Leesburg, Virginia.
January 7, 2018

- Somehow, DCSki's Editor had never skied at Liberty Mountain, despite covering Mid-Atlantic snowsports for over two decades. He fixed that on Sunday evening, and provides this Firsthand Report.
January 2, 2018

- On December 31, 2017, a middle-aged skier was discovered unresponsive around 10 a.m. on a slope at Pennsylvania's Whitetail Ski Resort and was later pronounced dead. His widow is seeking assistance from anyone who may have observed the accident.
January 1, 2018

- DCSki's Editor rang in the New Year on the slopes of Pennsylvania's Whitetail Resort, where he found fireworks, a bonfire, and frigid temperatures. He provides this Firsthand Report and set of photos documenting the event.
December 28, 2017

- On December 20, 2017, Liftopia announced its Second Annual Best in Snow Awards, and Mid-Atlantic ski area Canaan Valley Resort received top billing in two categories.
December 18, 2017

- North Carolina's Beech Mountain Resort is celebrating its 50th year in operation with discounts and special events throughout the winter season.
December 16, 2017

- On December 16, 2017, skiers and riders underwent a chairlift evacuation at Pennsylvania's Tussey Mountain after several chairs slid from the haul rope and crashed into each other.
December 14, 2017

- The past week saw the arrival of cold temperatures, and the dip in Mercury allowed ski areas to fire up their snowguns. Although lifts have already started running at several resorts, by the end of the December 16-17 weekend nearly every ski resort in the Mid-Atlantic will have kicked off its 2017-2018 winter season. DCSki has the latest opening information here.
November 26, 2017

- Blue Mountain celebrates its 40th season this winter. The Pennsylvania resort has made some enhancements to ski trails and has installed a new ski access gate system.
November 10, 2017

- On Friday, November 10, 2017, Pennsylvania's Seven Springs Resort took advantage of falling temperatures to fire up its snowguns.