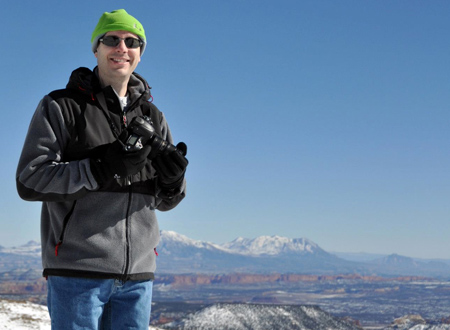 M. Scott Smith
Scott is Editor and founder of DCSki. He writes the articles, takes the photographs, designs the pages, programs the site, pays the bills, and occasionally catches a wink of sleep. In addition to DCSki, Scott works full time as a researcher and computer scientist.
Scott loves outdoor activities such as camping, hiking, travel, skiing, kayaking, and mountain biking. He is an avid photographer and writer, and also plays keyboards and drums. Scott grew up in Colorado and currently resides in Maryland. (That's right - he went from Colorado to Maryland - what was he thinking?!) Scott maintains a personal weblog at www.mscottsmith.org.
Scott is a member of the Eastern Ski Writers Association and the North American Snowsports Journalists Association.
Scott has written 831 stories for DCSki since 1997.
August 2, 2019

- There has been a changing of the guard at two Mid-Atlantic ski areas as two long-time General Managers have retired. Whitetail's Don MacAskill is being succeeded by Brett Cook, while Wisp's Jerry Geisler is being succeeded by Ron Hawkes.
July 22, 2019

- Vail Resorts announced on Monday, July 22, 2019 its intent to acquire Peak Resorts, setting in motion another seismic shift in the ski industry — and a further round of consolidation that leaves few players in charge of an ever-widening set of ski areas across the United States.
April 3, 2019

- On April 2, 2019, Peak Resorts, Inc. announced that it will be investing $3.5 million in capital improvement projects this summer at Pennsylvania ski areas Liberty Mountain, Roundtop Mountain, and Whitetail Resort, with a focus on snowmaking enhancements.
April 2, 2019

- Fifty years ago, the two passenger, fixed-grip Easy Street chairlift was installed at Sugar Mountain. This summer, the North Carolina ski resort will retire the old lift and replace it with a brand new, state-of-the-art quad detachable.
March 13, 2019

- DCSki recently covered the outrage many Mid-Atlantic skiers are having over the elimination of popular season pass products at Liberty, Roundtop, and Whitetail. The new Peak Passes are priced significantly higher but expand the number of ski areas available. Does that justify the higher cost? We analyze the properties that are part of the Peak Resorts portfolio to assist skiers in determining whether the substantially higher pricing of these passes is worth it.
March 12, 2019

- The honeymoon didn't last long. Last week, Mid-Atlantic skiers and snowboarders awakened to a new reality: now that Missouri-based Peak Resorts, Inc. owns Liberty, Roundtop, and Whitetail Resorts, changes are afoot. And these changes mean there could be much less change in the pockets of local winter sports enthusiasts starting next winter. That has led to outrage on the part of many Mid-Atlantic skiers.
February 4, 2019

- During the first three days of February, DCSki's Editor sampled three winter treats: a night of fresh-powder skiing at Whitetail; an evening exploring downtown Frederick during its Fire in Ice event; and an evening skiing at Liberty Mountain Resort. He provides this triple play Firsthand Report.
January 29, 2019

- DCSki's Editor made his first turns of the season Sunday evening at Whitetail. As he describes in this detailed Firsthand Report, the masses of skiers and snowboarders that descend upon Whitetail on weekends largely dissipate by sundown on Sunday, setting the stage for a serene (if sometimes icy) night of skiing.
January 3, 2019

- The 2018-2019 winter season is off to a rocky start, with above-average temperatures throughout much of December. DCSki provides a roundup of current conditions and struggles across the Mid-Atlantic.
December 20, 2018

- Early-season cold temperatures enabled many Mid-Atlantic resorts to fire up the snowguns, but the cold gave way to some bouts of milder temps and heavy rain, which has delayed the start of the season for some resorts. Although pre-Christmas rain is still adding to the challenge, several additional resorts plan to open in the coming days.