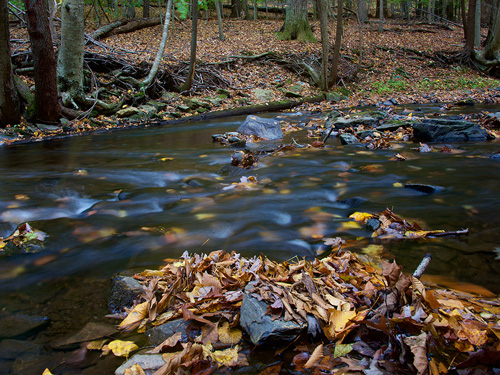 Falling towards Winter
Cool temperatures. A landscape full of golden hues. Fall has arrived, bringing a fantastic display of foliage and the promise of a ski season just around the corner.
2 comments

October 26, 2014
- In late February, 2014, Jim Kenney took part in a gathering of about 25 on-line friends for a long weekend at Timberline and Canaan Valley ski areas. Jim provides this Firsthand Report.

October 26, 2014
- Connie Lawn and Charles Sneiderman swung by Liberty Mountain's Annual Fall Festival on October 19, 2014. They provide this Firsthand Report.

October 13, 2014
- A brand new, 2,900-foot long intermediate trail will greet guests at North Carolina's Sugar Mountain Resort this winter.
October 5, 2014
- Roundtop will present guests with upgraded snowmaking and a repaved parking lot this winter.

October 5, 2014
- Liberty Mountain Resort is in the middle of a multi-year Master Plan to bring significant improvements to the Pennsylvania resort. DCSki Reader Ed Fowler checks in with an update of what's new for this winter and beyond.
2 comments

September 3, 2014
- Whitetail is spending $2.5 million in capital improvements this summer, modernizing snowmaking on the Angel Drop trail, expanding the Kid's Mountain Camp facility, and more.

May 31, 2014
- Depressed that the winter season is over? No worries. Mid-Atlantic ski resorts will provide plenty of activities this summer to distract you from the fact that there is no snow on the ground. Here's a look at the summer offerings of many local resorts.
1 comment

May 24, 2014
- DCSki Columnist John Sherwood is drawn to Utah's Snowbasin Resort, and he likes the ski area so much, he keeps returning. John describes the charisma and presence of Snowbasin in this story.
2 comments

May 4, 2014
- DCSki Columnist Robbie Allen wasn't content to hang up his skis just yet. Thanks to a late-season blizzard, he swung by California's Kirkwood Mountain Resort for late-April skiing. He describes the experience, noting that steep trails truly make Kirkwood a "Skier's Mountain."
2 comments

April 20, 2014
- What do you do if you're on a week-long ski trip to Colorado's Telluride Resort and you just don't feel like skiing? Guest Contributor Gary Serrao discovered plenty of off-slope activities, including hiking, snowmobiling, and gliding. He provides this Firsthand Report.
1 comment