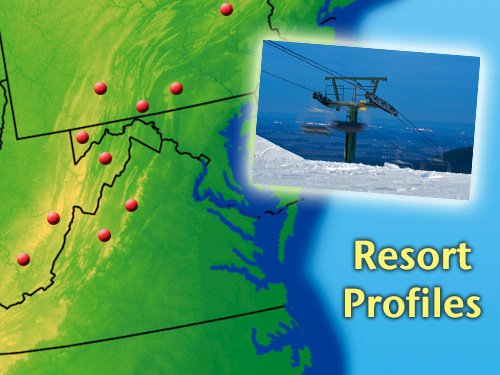 DCSki Resort Profiles
After a summer-like December, the Mid-Atlantic ski season is finally under way, with some extra help from a January blizzard. (Better late than never, we say.) The conditions are now great at Mid-Atlantic resorts. Need help deciding where to go? DCSki has detailed
resort profiles
for 34 mid-Atlantic ski areas, showing key statistics, trail maps, reviews from other readers, and much more. A handy
interactive map
shows the location of resorts and makes it quick to jump to your favorite.

February 3, 2016
- DCSki Columnist Robbie Allen always seems to be finding off-the-beaten-track ski areas, and during a recent trip to Washington state, he discovered Hurricane Ridge. In this Firsthand Report, Robbie describes the "old school skiing" he found at Hurricane Ridge Ski and Snowboard Area, located right in Olympic National Park.
2 comments

January 17, 2016
- Sourced Adventures, an outdoor activity company, will begin offering bus trips from Washington, DC to Whitetail Ski Resort on many Saturdays this winter, providing a hassle-free way to make it to the slopes for those who lack cars or prefer not to drive. Sourced Adventures is offering a 20% discount to DCSki readers on some packages.
2 comments
January 16, 2016
- On Friday, January 15, Jim Kenney stopped by for a few hours of skiing at Virginia's Bryce Resort. He provides this Firsthand Report.

January 9, 2016
- DCSki Columnist Robbie Allen was looking for a White Christmas, so he packed up his family and headed to Utah. There, he discovered plenty of snow at four ski areas: Snowbird, Deer Valley, Brighton, and Solitude. Robbie provides this Firsthand Report.
1 comment

December 23, 2015
- There was once a time when it snowed in the Mid-Atlantic in December. Sadly, this is not one of those years. On Christmas Eve, temperatures are forecast to reach the
mid-70s
— possibly smashing records. As a public service, and to help you get through the next couple snowless weeks, DCSki presents this series of photos showing snow.
6 comments

December 4, 2015
- If there is one word in the American ski lexicon that is guaranteed to fire the imagination of expert snowriders it is
Jackson
. DCSki Columnist Jim Kenney made his inaugural visit to the famed Wyoming resort this past February. He provides this Firsthand Report.

November 16, 2015
- It's not too easy to run a ski resort in the Mid-Atlantic. Some winters bring banner amounts of snow, while others bring 70-degree days in the middle of January. With natural snow a wild card for all but the highest-elevation resorts, local ski areas live or die based on the amount of artificial snow they can make — and that requires low temperatures and low humidity. With another El Niño weather pattern settling into place, long-range forecasts suggest this could be a challenging winter for many Mid-Atlantic skiers and resorts.
5 comments

November 15, 2015
- Snow tubing has become a popular alternative (or supplement) to skiing and snowboarding at ski resorts, and this winter, Beech Mountain will open up a brand new tubing park.

November 15, 2015
- Located in the scenic and snowy Allegheny Mountains of West Virginia, Canaan Valley Resort is taking advantage of its 180-inches of average snowfall to add some glade skiing. Over the summer, Canaan Valley Resort has cut three glade skiing trails in the eastern part of the mountain, located between the Prosperity and Dark Side of the Moon black diamond runs.

November 15, 2015
- Sister properties Seven Springs and Hidden Valley Resorts pulled out the checkbook this winter and made a significant expansion to their snow grooming fleet: Seven Springs purchased four brand new Pisten Bully 400 ParkPro snowcats, while nearby Hidden Valley added two Prinoth BR 350s to its fleet. These groomers will help the resorts maintain their reputation for excellent snow quality and grooming. Seven Springs is also becoming the first downhill ski area in the state of Pennsylvania to offer uphill travel access.