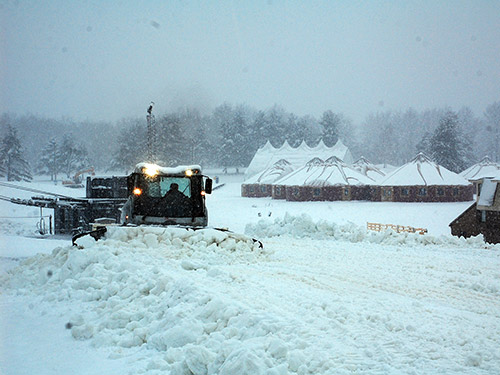 It's On: The Ski Season Kicks Off
The 2014-2015 ski season is about to kick off. While many people will be hitting the stores on Black Friday, diehard skiers and snowboarders will be pointing their cars away from the shopping malls and towards the mountains — where they'll find a variety of ski resorts launching their winter season.

November 25, 2014
- Jim Kenney provides this Firsthand Report from a late March, 2014 visit to Lake Placid, New York's Whiteface Mountain - site of the 1932 and 1980 Winter Olympics.

November 9, 2014
- Pennsylvania's Seven Springs Mountain Resort has kept busy with capital improvements over the past year. Enhancements include re-graded slopes, additional snowmaking, a new experience-based instruction program, and a new dining option.

November 9, 2014
- Pennsylvania's Hidden Valley Resort has been refreshed with multiple enhancements and beautification projects over the past summer.

November 9, 2014
- In late March, 2014, DCSki Columnist Jim Kenney and his son, Vince, headed north to New York's Hunter Mountain for some skiing and a two-day PSIA Level III skiing exam for Vince. Jim provides this Firsthand Report.

October 26, 2014
- In late February, 2014, Jim Kenney took part in a gathering of about 25 on-line friends for a long weekend at Timberline and Canaan Valley ski areas. Jim provides this Firsthand Report.

October 26, 2014
- Connie Lawn and Charles Sneiderman swung by Liberty Mountain's Annual Fall Festival on October 19, 2014. They provide this Firsthand Report.

October 19, 2014
- Cool temperatures. A landscape full of golden hues. Fall has arrived, bringing a fantastic display of foliage and the promise of a ski season just around the corner.
2 comments

October 13, 2014
- A brand new, 2,900-foot long intermediate trail will greet guests at North Carolina's Sugar Mountain Resort this winter.
October 5, 2014
- Roundtop will present guests with upgraded snowmaking and a repaved parking lot this winter.
1 comment

October 5, 2014
- Liberty Mountain Resort is in the middle of a multi-year Master Plan to bring significant improvements to the Pennsylvania resort. DCSki Reader Ed Fowler checks in with an update of what's new for this winter and beyond.
2 comments