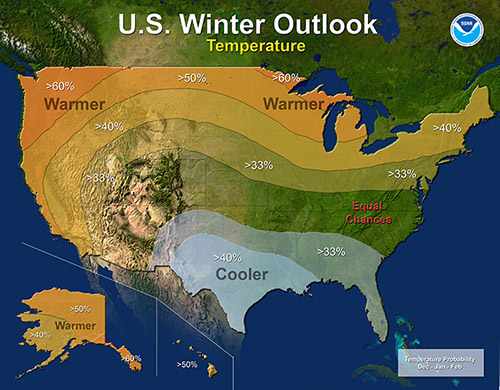 El Niño Presents Challenge for Mid-Atlantic Ski Areas
It's not too easy to run a ski resort in the Mid-Atlantic. Some winters bring banner amounts of snow, while others bring 70-degree days in the middle of January. With natural snow a wild card for all but the highest-elevation resorts, local ski areas live or die based on the amount of artificial snow they can make — and that requires low temperatures and low humidity. With another El Niño weather pattern settling into place, long-range forecasts suggest this could be a challenging winter for many Mid-Atlantic skiers and resorts. Image provided by NOAA.
5 comments

November 15, 2015
- Snow tubing has become a popular alternative (or supplement) to skiing and snowboarding at ski resorts, and this winter, Beech Mountain will open up a brand new tubing park.

November 15, 2015
- Located in the scenic and snowy Allegheny Mountains of West Virginia, Canaan Valley Resort is taking advantage of its 180-inches of average snowfall to add some glade skiing. Over the summer, Canaan Valley Resort has cut three glade skiing trails in the eastern part of the mountain, located between the Prosperity and Dark Side of the Moon black diamond runs.

November 15, 2015
- Sister properties Seven Springs and Hidden Valley Resorts pulled out the checkbook this winter and made a significant expansion to their snow grooming fleet: Seven Springs purchased four brand new Pisten Bully 400 ParkPro snowcats, while nearby Hidden Valley added two Prinoth BR 350s to its fleet. These groomers will help the resorts maintain their reputation for excellent snow quality and grooming. Seven Springs is also becoming the first downhill ski area in the state of Pennsylvania to offer uphill travel access.

September 20, 2015
- With a significant investment in snowmaking upgrades, West Virginia's Snowshoe Mountain Resort is hoping to open the revered Cupp Run trail earlier in the season. Additional enhancements include the addition of gladed skiing in the Western Territory.

September 19, 2015
- It's Fall, which means the ski season is just around the corner. Numerous resorts and ski shops throughout the Mid-Atlantic region offer "Ski Swaps" during the Fall, providing a chance to buy or sell used snowsports equipment. DCSki takes a look at some upcoming Swaps.
4 comments

May 31, 2015
- Due to the ongoing drought, California ski areas struggled through the winter, but a series of snowstorms in May allowed Mammoth Mountain to stay open into mid-May. This provided DCSki Columnist Robbie Allen with a chance to make some late-season turns. He checks in with this report.

May 31, 2015
- A busy winter season has led directly into a busy summer season at Pennsylvania's Whitetail Resort. The ski area has already begun its capital improvement program for the 2015-2016 winter season. Before next fall, $2.5 million will be spent on various upgrades and enhancements.
5 comments

April 15, 2015
- North Carolina's Sugar Mountain Resort is wasting no time announcing improvements for the 2015-2016 ski season. In late March, 2015, the ski area revealed that it will be installing a new "six pack" high-speed chairlift in time for the opening of the 2015-2016 winter season.
1 comment

March 29, 2015
- Connie Lawn and Charles Sneiderman visited Pennsylvania's Liberty Mountain Resort on its final day of the season, discovering plenty of snow, a lack of crowds, and a relaxed atmosphere.

March 22, 2015
- DCSki Columnist Jim Kenney used to work to ski. Recently retired, he can now focus exclusively on skiing. He's in the midst of a two-month journey to discover his inner ski bum, and is checking in with updates on the DCSki Forums. In his fifth update, he describes a recent rendezvous with family and friends at various resorts throughout Colorado.