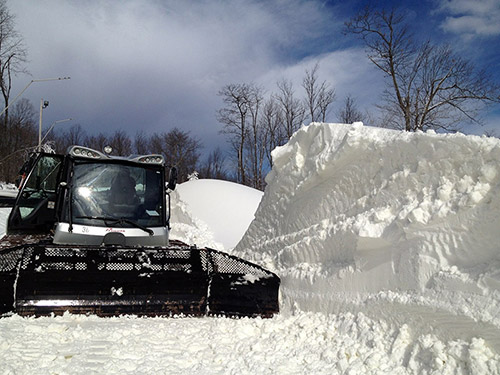 Thanksgiving Delivers Turkey, Pumpkin Pie, and Skiing
In a typical Mid-Atlantic season, ski resorts struggle to open by mid-December. But something odd happened this year. In November, it got cold, stayed cold, and even snowed at higher-elevation areas. That allowed a herd of local resorts to open slopes by late November, with great snow conditions more typical of mid-season.
1 comment

December 9, 2013
- While the Mid-Atlantic was getting snow over the weekend, DCSki Columnist Robbie Allen was skiing in snow-starved New England. He provides this Firsthand Report from New Hampshire's Waterville Valley.
December 8, 2013
- Connie Lawn reflects on the early start to the ski season, and provides a Firsthand Report from an opening weekend trip to Pennsylvania's Liberty Mountain Resort.
1 comment

November 5, 2013
- Over the years, Jim Kenney has visited a number of ski areas where sea meets snow. He recalls 11 of his favorites in this pictorial.
8 comments

November 4, 2013
- The Ski Club of Washington, DC (SCWDC) will be presenting Warren Miller's 64th film -
Ticket to Ride
- on Sunday, November 10, 2013 at the US Naval Heritage Center in Washington, DC.
3 comments

October 21, 2013
- Connie Lawn and Charles Sneiderman were on hand for Liberty Mountain's annual Fall Fest this past weekend. They provide this Firsthand Report.

October 20, 2013
- The Virginia ski retail market saw some changes in October with the transfer in ownership of one ski shop and the re-opening of another. Pro-Fit Ski & Mountain Sports is re-launching, while the Virginia location of Willi's Ski Shop has been purchased by Alpine Ski Shop.

October 16, 2013
- Before the snow falls, the leaves must fall, and they're beginning to do that with spectacular color in the Dolly Sods region of West Virginia. DCSki Contributor David Wray recently completed a 15-mile hike through this scenic portion of the Allegheny Mountains. He provides this collection of photos from the hike.
5 comments

October 14, 2013
- While leaves are changing in the Mid-Atlantic, the winter ski season has already arrived in the high country of Colorado. On October 13, 2013, Arapahoe Basin became the first ski resort in North America to open for the season, welcoming skiers and boarders with an 18-inch base and two open trails.

September 15, 2013
- The "Dilly in Chantilly" retail sale enters its 30th year from September 27-29, 2013 at the Chantilly, Virginia location of Sun & Ski.
1 comment

September 3, 2013
- On September 3, 2013, Seven Springs Mountain Resort announced that it is acquiring nearby Hidden Valley Resort from The Buncher Company, confirming rumors that began to swirl over the summer.

Ad:
Carmel Cove Inn

Ad:
SKIDOME