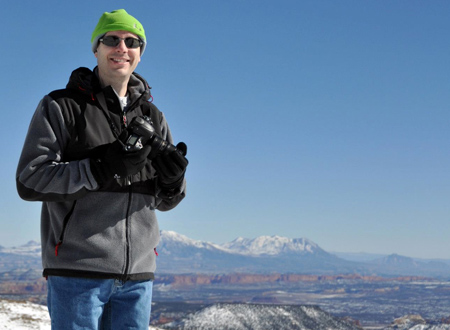 M. Scott Smith
Scott is Editor and founder of DCSki. He writes the articles, takes the photographs, designs the pages, programs the site, pays the bills, and occasionally catches a wink of sleep. In addition to DCSki, Scott works full time as a researcher and computer scientist.
Scott loves outdoor activities such as camping, hiking, travel, skiing, kayaking, and mountain biking. He is an avid photographer and writer, and also plays keyboards and drums. Scott grew up in Colorado and currently resides in Maryland. (That's right - he went from Colorado to Maryland - what was he thinking?!) Scott maintains a personal weblog at www.mscottsmith.org.
Scott is a member of the Eastern Ski Writers Association and the North American Snowsports Journalists Association.
Scott has written 790 stories for DCSki since 1997.
August 16, 2017

- Whitetail Resort is in the process of spending just over $1 million this summer towards capital improvements as it prepares for the upcoming winter season.
February 18, 2017

- DCSki's Editor had a chance to make two recent trips to Pennsylvania's Whitetail Resort. He provides this Firsthand Report on ski conditions and Whitetail's recent lodge expansion.
December 4, 2016

- It's been a very busy summer at Whitetail Resort. When guests arrive this winter and walk up the steps towards Whitetail's base lodge, things are going to look very different: the resort is putting the finishing touches on an $8.5 million, 31,000-square foot lodge expansion.
December 3, 2016

- A new bistro, upgraded snowmaking and snow grooming, and enhancements throughout the Lodge will greet guests at Pennsylvania's Seven Springs Mountain Resort this winter.
November 27, 2016

- The Thanksgiving Holiday weekend saw the opening of several ski areas in the Mid-Atlantic region, thanks to a recent stretch of cold temperatures that enabled productive snowmaking.
November 23, 2016

- Thanks to the arrival of wintry temperatures last weekend and the snowmaking it enabled, Seven Springs Mountain Resort announced that it will open for skiing, snowboarding, and snow tubing on Friday, November 25, the day after Thanksgiving.
November 21, 2016

- Wisp has renamed its slopeside hotel the Lodge at Wisp, and is in the midst of a 3-year, $3.7 million renovation. Guests this winter will find many enhancements on the inside and outside of the on-site hotel.
November 20, 2016

- On Saturday, November 19, temperatures in the Washington D.C. area climbed above 70 degrees. Then a cold front swept through. It brought temperatures down to the freezing mark in a matter of hours. At higher elevation areas, it brought snow and snowmaking at some local ski resorts.
November 20, 2016

- Each year, DCSki chronicles some of the newest enhancements at Mid-Atlantic ski resorts. These upgrades typically consist of snowmaking enhancements, renovated lodges, a new fleet of rental skis, or even an occasional chairlift upgrade. But announcing a new resort? Well, that's almost unheard of. Until now. Sort of, anyway.
November 11, 2016

- A doubling of snowmaking capacity highlights improvements at Canaan Valley Resort, setting up the West Virginia ski area to open more trails earlier in the season.