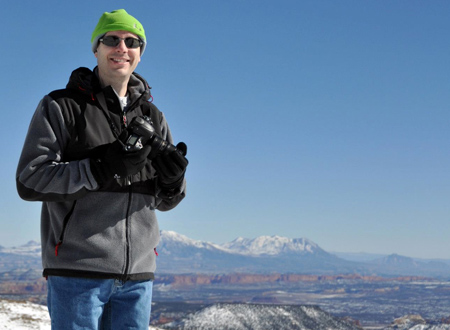 M. Scott Smith
Scott is Editor and founder of DCSki. He writes the articles, takes the photographs, designs the pages, programs the site, pays the bills, and occasionally catches a wink of sleep. In addition to DCSki, Scott works full time as a researcher and computer scientist.
Scott loves outdoor activities such as camping, hiking, travel, skiing, kayaking, and mountain biking. He is an avid photographer and writer, and also plays keyboards and drums. Scott grew up in Colorado and currently resides in Maryland. (That's right - he went from Colorado to Maryland - what was he thinking?!) Scott maintains a personal weblog at www.mscottsmith.org.
Scott has written 850 stories for DCSki since 1997.
May 25, 2020

- It's a magical moment when passion collides with vocation, and Phil and Tricia Pugliese have made that a reality through their operation of Pugski.com. Pugski has always had a strong focus on ski gear, and is also known for its Forums, where a strong community of skiers and snowboarders from across the world discuss a wide variety of topics. DCSki recently interviewed Tricia and Phil to learn more about Pugski and what led them to create the popular web site.
May 6, 2020

- It was starting to look like the lifts at a once-beloved West Virginia ski area had run for the last time. Years of struggles had led Timberline Four Seasons Resort to file for bankruptcy. Then, new owners stepped up to the plate, with a bold plan to reinvigorate the ski area. In this extensive Feature Story, DCSki covers the past, present, and future of Timberline Mountain.
April 26, 2020

- In response to the COVID-19 pandemic, a grass roots effort has already donated over 35,000 goggles to medical centers, but more help is needed from members of the ski and snowboard community.
April 1, 2020

- Ski Denton was a Pennsylvania ski area that received ample amounts of snow each winter — usually over 100 inches annually. Located in northcentral PA, it was a bit hard to get to, but it offered a wide variety of terrain for those willing to make the trip. Ski Denton closed in 2014, although there continue to be efforts to re-open the ski area.
March 29, 2020

- Alpine Mountain Ski Area was located in the Poconos in northeastern Pennsylvania. Prior to closing ski operations around 2016, the resort was one of the oldest ski areas in Pennsylvania, and also one of the least visited, which made it a fine choice for new skiers and families looking for a lot of snow time and not a lot of crowds. DCSki captures some details about this ski area in this new Lost Ski Area profile.
March 3, 2020

- The ski industry has changed significantly in recent years: ski conglomerates Vail Resorts and the Alterra Mountain Company have gobbled up resorts across the country, and now offer competing "mega passes" that provide skiing and riding across dozens of properties for one historically low price. The proposition has been simple: commit to buying a mega pass in the spring, and you'll receive countless ski days across North America the following winter. Epic and Ikon have now released pricing and details for their 2020-2021 winter season passes. In this story, DCSki takes a look at these passes from the perspective of a Mid-Atlantic skier.
February 22, 2020

- Have you ever walked out of a movie, once it became clear that it was terrible and not worth spending any more time watching? DCSki's Editor did the skiing equivalent of that on the evening of February 22, 2020 at Pennsylvania's Whitetail Resort.
January 28, 2020

- Chris Diamond is a veteran of the ski industry, having served in leadership positions at Mount Snow and Steamboat. During his 44 years in the ski business, he saw a lot of change, but nothing like he's seen since he retired in 2015. Since then, he's published two books covering his experiences in the ski industry and the tectonic shifts caused in the past few years by acquisitions and the emergence of mega passes. DCSki interviewed Chris to discuss his books, his perspective on the industry, and where he sees the industry moving forward next.
December 28, 2019

- Lifts have evolved a lot over the years, and there are now thousands in operation across the world — ranging from simple surface lifts to high-speed gondolas that have a 1.88-mile free span between two towers. And thoroughly documenting all of those lifts — past, present, and future — is Peter Landsman, founder and editor of the excellent web site LiftBlog.com. DCSki recently interviewed Peter to learn more about his passion for lifts and the success he's had operating LiftBlog.
December 21, 2019

- After a burst of cold weather in November allowed some Mid-Atlantic resorts to snag pre-Thanksgiving opening dates, the balance of resorts have now officially begun their season in recent days thanks to a stretch of snowmaking-friendly temperatures.