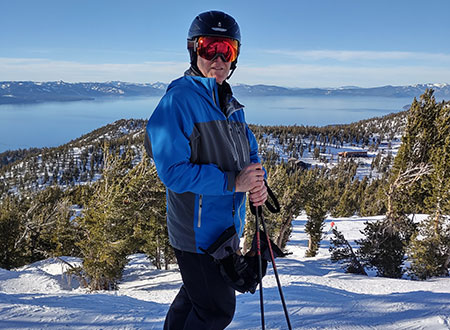 John Sherwood
John Sherwood hails from Bedford, Massachusetts - the snow belt of Boston's western suburbs. He first experienced the joys of skiing on the 240-foot vertical slopes of Nashoba Valley in Littleton, Massachusetts. As a teenager, he enjoyed skiing at Gunstock, Waterville Valley, and Stowe. A season pass holder at Timberline for the past 8 years, John now considers himself a connoisseur of West Virginia powder. John also enjoys skiing in Europe, where he has skied or visited over twenty resorts, mainly in Austria. More recently, he has taken a keen interest in Utah's Wasatch mountains.
In addition to DCSki, John has published winter sports related articles in the The Slovak Spectator, Financial Times, Ski Racing Magazine, and the SkiEurope Report, and has written five books on military history. His most recent, War in the Shallows: Navy Coastal and Riverine Warfare in Vietnam, will be published by the Government Printing Office in 2013.
John has written 89 stories for DCSki since 2001.
March 21, 2016

- On a recent ski trip to Utah, DCSki Columnist John Sherwood spent seven days skiing at Snowbasin, and then decided to mix things up by heading to Powder Mountain. Powder Mountain quickly became one of John's favorite ski areas in Utah. He describes why in this report.
February 22, 2015

- DCSki Columnist John Sherwood recently returned from a trip to the Alrberg ski region of Austria. "One could spend a month here and not ski every trail," John writes, "a season and not experience all of its ski routes and sidebound zones, and a lifetime, and never ski every off-piste line." John provides this detailed Firsthand Report on the expansive ski area located in the Alps.
May 24, 2014

- DCSki Columnist John Sherwood is drawn to Utah's Snowbasin Resort, and he likes the ski area so much, he keeps returning. John describes the charisma and presence of Snowbasin in this story.
October 7, 2012

- DCSki Columnist John Sherwood recently stopped by Zell am See Kaprun during a visit to Austria. Kaprun offers high elevation skiing up to 9,843 feet. John provides a few photos from his trip.
April 24, 2012

- DCSki Columnist John Sherwood reviews a book that describes how to properly condition in preparation for the ski season.
March 23, 2012

- DCSki Columnist John Sherwood decided to forgo a ski trip to Europe, saving money by heading west to Utah's Snowbasin Resort instead. He has no regrets. John provides this detailed Firsthand Report from his trip to Snowbasin March 12-16, 2012.
February 13, 2010

- We often perceive skiing more as a pastime than a sport, especially in this region where the slopes are short and almost always groomed to perfection. Skiing, though, involves many muscle groups, some of which never get properly exercised under normal circumstances. DCSki Columnist John Sherwood describes the benefits of strength training for on- and off-slope activities, using his own experiences as a guide.
June 25, 2008

- DCSki Columnist John Sherwood recently made a trip to the Canaan Valley region of West Virginia, where he visited Dolly Sods, Roaring Plains (South Prong Trail), and the Canaan Valley National Wildlife Refuge. He provides some photos from his visit.
December 1, 2007

- Many DCSki readers know Tim Romano and his wife Madeline. They're regular attendees at DCSki slope-side gatherings. After spending 28 years in the DC area, Tim recently packed up and moved to Logan, Utah. DCSki Columnist John Sherwood interviews Tim to learn about the differences in skiing and lifestyle between the Mid-Atlantic region and a state that includes the word "Ski" on its license plate.
January 23, 2007

- John Sherwood skied at West Virginia's Timberline Resort on Sunday, and provides this Firsthand Report.