Once up on Dolly Sods the scenery changes every 50 feet it seems. You walk through the true "Sods" areas with wide open views and the ground cover consisting of mainly low lying blueberry bushes and rhododendrons. There are pine and spruce forests that can become extremely thick and painful if you feel like any bushwhacking. There are stunted deciduous forests with ground cover consisting almost totally of ferns. Literally the changes from one quarter mile to the next are amazing. In my opinion, the most picturesque spot (one of many) in the sods is a small sandy bottom stream that you cross very soon after climbing up from the red creek trail. The sides of the creek are heavy with rhododendrons followed by spruce, literally cant help but to stop and start for a few mins.
The actual hiking once up on the sods is much easier than how this backpack starts with the ups and downs of the red creek trail. Most of the trails are flat and well defined. Only problem we ran into is crossing one major bog on Breathed Mountain Trail. There are a few sticks and stones already in place but on both sides is mud that really is knee deep. We tried crossing on the branches that were already laid down but they were too unstable and we did not want to risk falling in. The best option here is to try to walk around the side or through a little island (less muddy) area off tot he left. Really glad we all had solid waterproof hiking boots for this section.
The best camping spot is at the intersection of Dukenbarger and Big Stonecoal. It is often taken due to its popularity but if it is available, grab it. Big Stonecoal in this area flows slowly over a rocky or sandy bottom and is lined with spruce trees on both sides. The spot is very spacious with a great fire pit already built. If it is taken, there are a few more spots a tenth or a mile or so back up little stonecoal, all are very nice with plenty of space.
On Sunday morning we decided to hike up to Lions Head, an overlook that needs to be bushwhacked too and is not the easiest to find. On the way there also make sure to visit a very cool waterfall on little stonecoal run off to the right of the trail. Here I was very thankful for my GPS because every simi trial we tried to take to the summit ended up ending and needed to be bushwhacked. However, I have to encourage everyone to do this side trip (leave backpacks at camp); the views once up on Lions Head are amazing. It is a large flat rock plateau at around 3900 feet with about 270 degree views that go for miles. The stunning thing here is that nowhere can you see anything that is manmade; the views look over crest after crest of stunning scenery. What is amazing here is also the terrain. The Peak itself is literally one large fractured rock with crevasse that are up to 40 feed deep but maybe only 3 feet wide. They are easy to simply hop over but if you look down when in the air your heard definitely skips a beat. The drops off of the sides of the peak are also very steep. One rock we were sitting on was about 50 feet above the surrounding treetops (probably 100 feet or more from the actual ground. Encourage this extra sidetrip, make sure to bring water and a camera.
The trip down Dunkenbarger trail and Little Stonecoal trail is a little under 3 miles but is a rough one on your knees. Little stonecoal is very steep for the entire 1.4 miles and even though it is downhill it is exhausting negotiating the steeper areas along with sections of the trail that are a bit washed out due to small streams coming down the side of the mnt. Where Red Creek Trail and Little Stonecoal intersect is a large pool of water on Red Creek that is around 8 feet deep in the center where I highly encourage a quick afternoon swim/lunch. After linch/swim, cross red creek and it is a quick .67 mile walk to the parking lot.
I am planning to hike dolly sods north in 3 weeks which will be a new area for me but I really cannot imagine a more "all inclusive" hike than this circuit. This circuit includes a real burner 1200 foot vertical elevation gain (really much more due to the constant ups and downs), stunning views, areas to swim on red creek, windswept plains, waterfalls galore, bogs, ect.. ect.
Link to the site I used to find this trip
Map of our trip: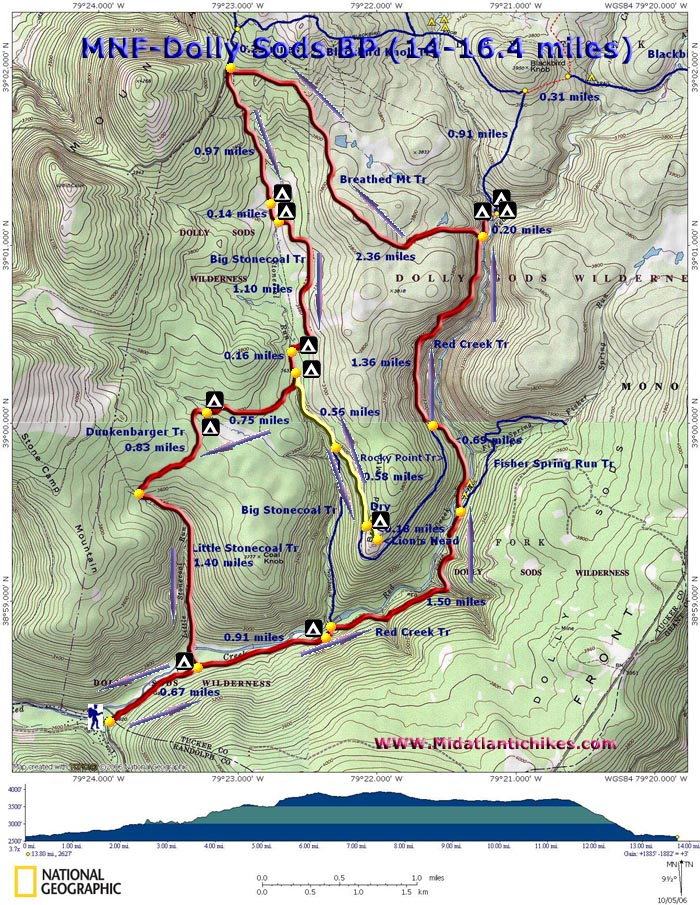 Pics:
Day One
Stream off of red creek trial:
Red Creek:
Swimming in Red Creek:
First area of Sods:
Small stream, cant tell here but the rhododendrons lining it are bright pink:
Right off the trail, bushwhacked about 30 feet and it completely opened up, picture is nice but actual view was stunning:
Plenty of room for a large tent:
Most sites have a fire pit built long ago. Make sure to clean up after yourself, pack out everything you packed in. Really is great how 99% of the time this principal is followed, area is very clean.:
Our Campsite was off to the right: