Last Saturday, my girlfriend (Jana) and I headed out to Hidden Valley. We wanted to get one more day in, and maybe a group lesson, before we head west to Colorado next weekend. After skiing Seven Springs in January, we were trying to decide between Hidden Valley and Seven Springs again. Based on the fact that HV had almost all of their green and blue terrain open, and the recommendations of people on this site, we decided to try HV. (Note: we were using the PSAA "Dedicated Skier" passes I got from Jimmy... They are definitely cool, and I hope he has them again next year!)
The drive up was shorter than to Seven Springs, mostly because we took 15 to 70 to the turnpike, and then got off in Somerset and went up that way. On the last trip, we followed MapQuest or something, and ended up doing 15-70-68-Rockwood? Lots more backroad driving = longer time on the road.
The trip got off to a rocky start. We packed the night before, to make sure everything was ready to go. Gloves, hats, helmet, masks, and goggles were packed in the duffle bags. Skis and poles were put in the car. Jackets, mid-layers, and outer pants (vs. the base layer pants) were stacked next to the door to be ready to go. Woke up early (6, which is early for us!), made tea, made some breakfast burritos, drank the tea, wrapped the burritos, packed them in the little soft-sided cooler, and threw everything in the car, and we were off. We were past Lucketts (about 20 minutes from my house) when we realized we'd left the boots at home. Oops.
The ride up was pretty, and we kept going in and out of snow showers. We toyed with the idea of stopping at Whitetail (since it was snowing when we were going past the Clear Spring exit), but thought better of it, and pressed onward. We had hoped to be there in time for the 10:30 lesson, but with the little boot fiasco, we pulled into the parking lot at 9:50, which really didn't give us time, since we wanted to get a few turns in before the lesson.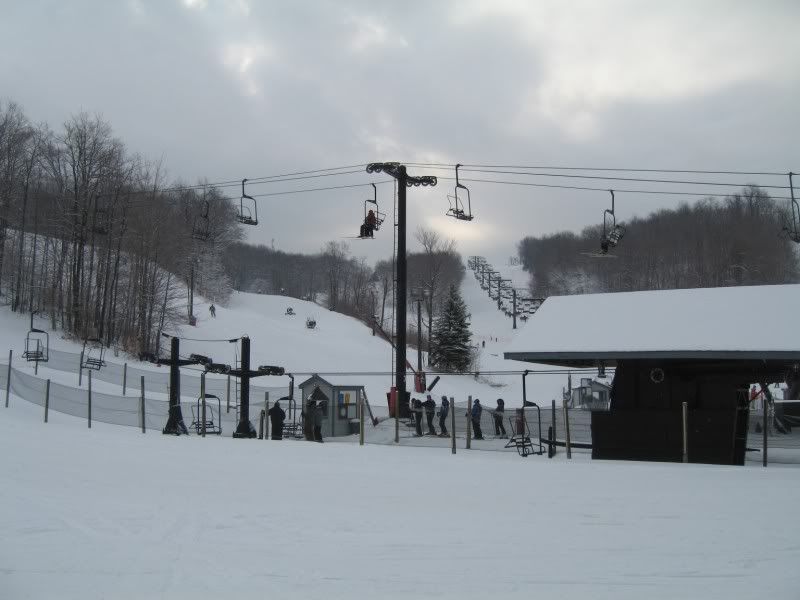 We started the day on the Sunrise/Sunset double triple chair. After a few warmup runs down Continental, we headed to Imperial. Lucky for me, Jana didn't check the trail map, and went by feel. Normally, she's hesitant to try blue runs, but she looked at Imperial, and said "let's do that one!". I said OK, and hoped that she wouldn't get caught up in the trail labels, since the "blue" Imperial really wansn't much more than a green anywhere else.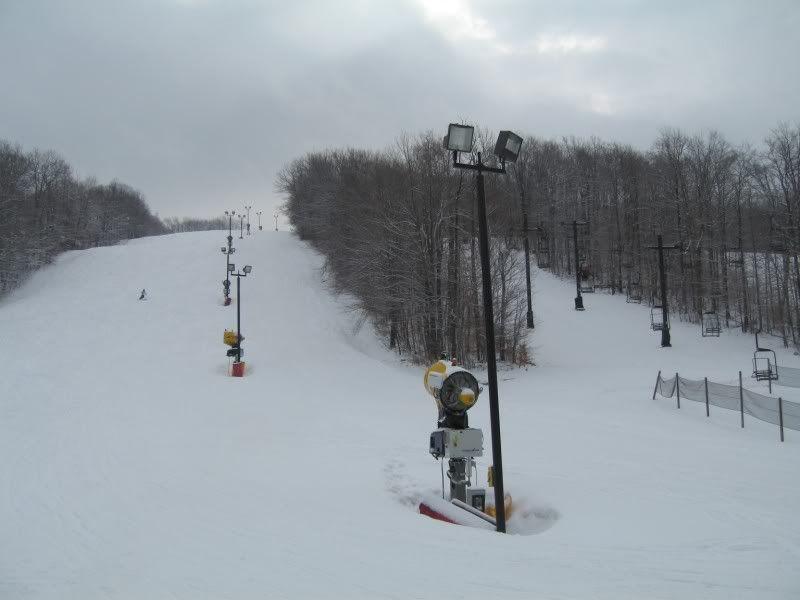 I should mention at this point that we didn't wait more than about 2 minutes all day for any chair, and that was only when the lift stopped or when we ended up behind the HV Race Team. Other than that, we skied right on to almost every chair.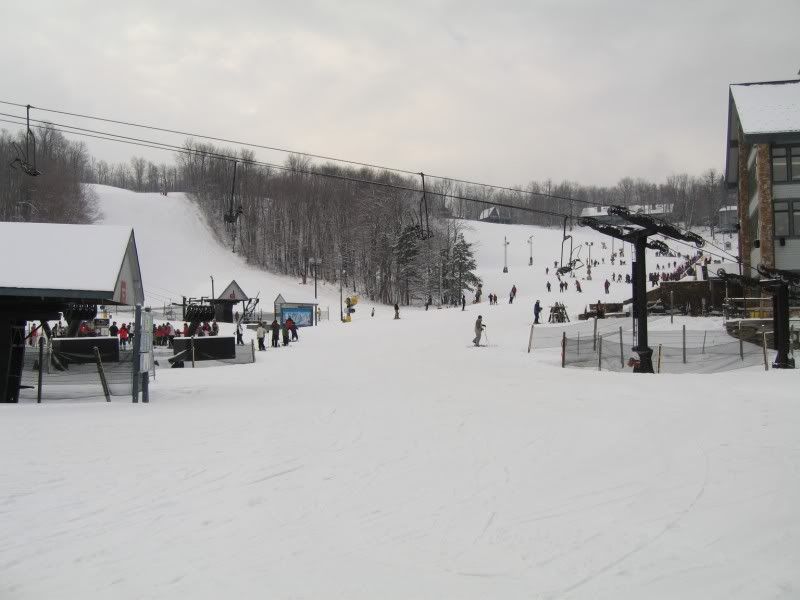 After spending a bit of time on the "Valley" side of things, we moved over to the "Summit" side. The conditions there were great when we started, but the weather was crazy (upper level clouds were moving like mad, but the wind wasn't too bad on the ground). We went from snowy, to cloudy, to bright sunshine, and back, about every 15 minutes. It made for rapidly changing snow conditions, but when it was cloudy, things were great. When it got sunny, the snow would get sticky, and then it would cloud up, and things would be fine again. It was rather odd, and I'd never skied on that wide a variety of things on the same terrain in the same day.
The Avalanche lift was an experience. The auto-loader thingy is really kind of odd. Cool, but it takes getting used to. We skied Outback, Voyager, and Wrangler, but Comet was in rough shape. The good side of the trail was being used by the race team, and the other side was, um, not good.
Then, we headed back to the lodge for some granola bars before our lesson. The lesson was $25 each, so we can't complain, but I don't really like the "if there are 3 or less, you only get an hour" policy. Given how slow the lifts are, I think we got 5 runs (top to bottom) in an hour. That might be fine at some place with 1000 ft of vertical, but when you're talking about maybe 400 feet, I expect a lot more up and down. We worked on some simple drills, but felt like we did get something out of it. I just thought we'd get more out of it.
Then, it was back to skiing by ourselves. We skied Rambler and Riviera a few times, and then I felt a little frisky, so I went for Thunderbird and Firebird - my first "Black Diamonds" of the season, and the first ones I've tried since I discovered the concept of "technique" (instead of just feeling pride in remaining in one piece at the bottom of a run).
I even tried "jumping" the little spot where Stingray can cut over to Continental. You know, like the kids do...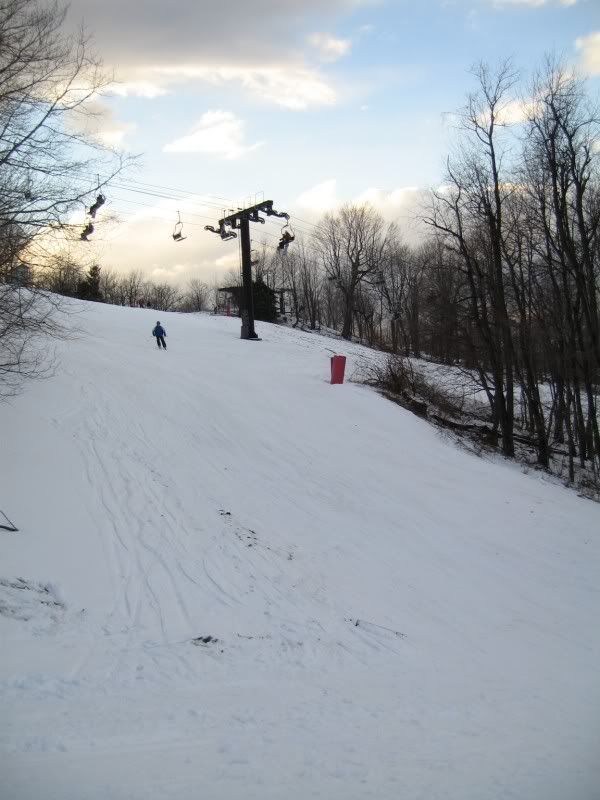 And I was totally shredding:
Then I took a few runs alone, since Jana was tired and didn't want to get sloppy...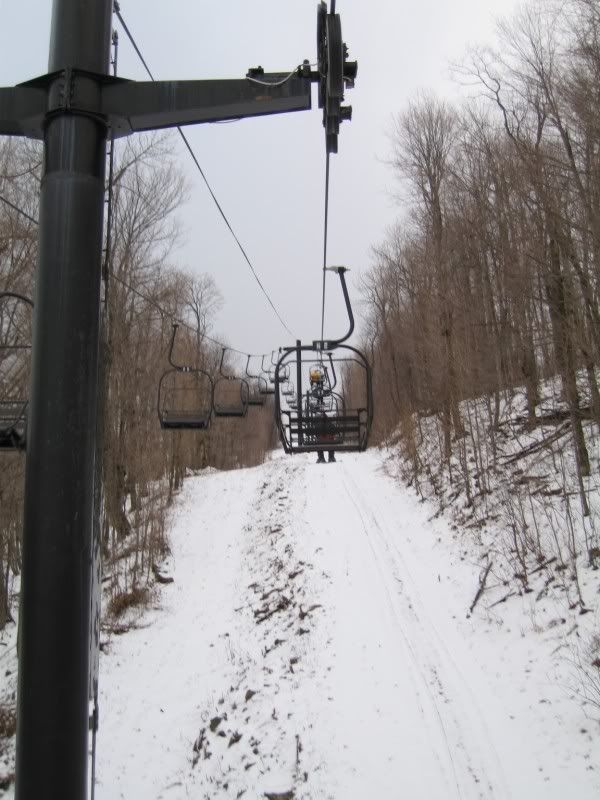 We pretty much skied as much as we wanted to on Saturday, and had a good time. Jana loved the place for the fact that it made her feel really good about herself (she was talking to her friend on the way home, and said "it was very cool... most places, I'm scared to practice my turns because there are people zooming by me everywhere, but at Hidden Valley, I felt like I was the one that was zooming, even though I know I don't ski very fast"). The lesson was worthwhile, even if it could (should?) have been longer. The snow was great for most of the day, but got a little sticky when the sun was out, and was skied off in some places. Where there was coverage, though, it stayed pretty good all day.
I'd absolutely recommend Hidden Valley to beginners and intermediates looking to feel like they are improving. The psychological "boost" of skiing blue runs with ease is definitely going to help Jana feel better about trying them while we're in Colorado. The black runs are easy enough and empty enough that you can run them a few times to get a feel for them, and then gradually add speed to feel confident.
I can also imagine that it would be a great place for a family with younger (<12 or so) kids because you can feel safe about letting them "wander" since most of the front side hills are visible from the bottom. Then again, I'm not a parent, so what do I know?
I would NOT recommend Hidden Valley to anyone looking for real steep anything, or even moderate challenge. Compared to Seven Springs, Hidden Valley is definitely JV, but that's OK. There's a need for those places, and a need for ski areas where you don't have to be amazing to ski all over the hill. There's nothing worse than being a beginner or low intermediate, and only getting to ski 2 or 3 runs all day that are all in the same spot.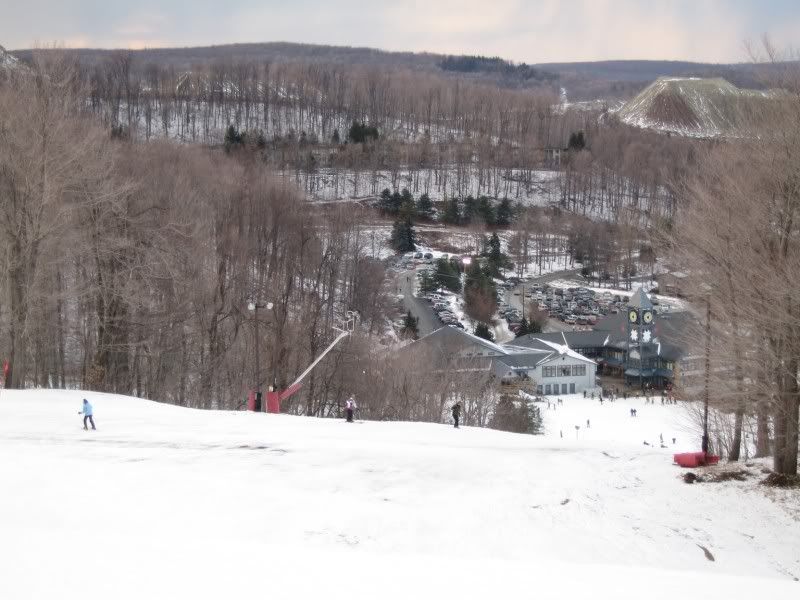 We'll probably go back again this year, and maybe next year, but by then, I hope that we've outgrown it. We'll also take a few of our "never ever" friends who have said that they'd like to ski with us, since it's perfect for that. It will be interesting to see what the new village brings to the table...
All in all, a great day of skiing, and a good ego boost before we tackle the big boys out west!
aaron