John, there have been a few issues where the light was very flat, making terrain hard to read, but it's been minimal. When it's been snowing during the day, long range visibility has been poor (which I suspect is what the webcams show) but short range visibility on the trails has been just fine.
The skiing was spectacular yesterday (Thursday). It snowed all day long, hard at times, and conditions improved with every run. I had a couple outstanding runs at the end of the day with a full range of terrain/conditions; I found 8-12" of powder on the edge of some trails, transitioned to some easy soft crud, hopped over the edge of a cat track into 15-20" of powder, then tackled some easy bumps in a not too steep chute. From there, it was 4-8" of powder over a groomer back to the chair. I think that was one of my most enjoyable runs ever, in terms of variety and fun. This place is awesome!
Tuesday was good at Alta, following about 15" of snow the previous day or two. Since that was my first day, I was planning to take it easy but that plan caved by lunchtime. The powder got tracked out pretty quick, but I was able to cut two clean lines off Ballroom before lunch. I wore myself out that day between all the snow, getting acclimated to elevation, and feeling out my new skis. There were a lot of bumps (soft easy bumps at least) and I about turned my legs to jello skiing all the way back down to the base at the end of the day.
Wednesday was an absolute bluebird day if I ever saw one. Colonel and I headed over to Snowbird that day, and I spent a lot of time in Mineral Basin after we split up around lunch time. The snow was real good there, but did get a tad heavy as the day wore on. I cut a traverse off the backside of Baldy to get a clean line in blue-ish terrain, and realized I should have been there yesterday! I didn't really even need to turn on the way down, just gunned it straight (which was cool in itself).
One of the slope photographers got some good shots of me Wednesday in Mineral Basin, on the runout to the lifts, and I need to post a turn sequence up on Epic for some analysis; it's the first time someone has captured me during 3-4 key parts of a turn. Here are a couple of the shots, going into and coming out of a turn:
(just about to swing my left pole forward and initiate the new turn)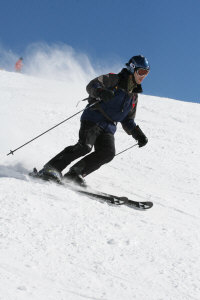 (sinking into the new turn)
I hope to sort out all my scenery photographs over the weekend and post a gallery. By the way, those are 186cm Fischer Watea 94 skis, with a 94mm waist, and I was continually amazed how well they ripped on groomers. They are great skis. I might prefer something shorter and narrower for the real gnarly terrain, but for everything else, these are great AltaBird skis. They floated over everything and just demolished crud.
Craig