Just got back from an entire day of skiing at Elk mountain. I did not get there until around 10:30 and stayed until the very last run at 10 PM. Of course the friggan place was crowded during the day, but by the last three hours before closing, the lift was virtually ski-on. However, the majar bummer is that for night skiing they only have a fraction of thier trails opened. None of the mogul runs were available. One thing I did notice, is that this place definitly seems to cater more to the experienced skiier. For example for night-skiing, all of the available runs where blue or black. There was no green terrain opened. The only green that was opened was the little bunny slope down at the bottom, which did have its own chair lift.
Like I mentioned, during the day, the crowds were getting rediculous! I've been told that this had to of been one of the most crowded days ever! I wonder if part of it was due to the fact that I-80 was pretty much closed, so people opted to come up to Elk Mountain since it would've been easier to get to than any of the areas off of I-80. I would also imagine that after that big snowstorm, everybody decided they had to get out and ski, since the conditions were going to be so good.
The place was a friggan mad-house. It seemed like it took forever for me to get a lift ticket, and then finally on the lift. But once I finally got up there, I was treated to an incredible view:
Not only that, but the conditions were just friggan incredible! What was even better, was that around 6 or so, it started to snowing. Later in the evening, the conditions where just sick! I was having so much fun carving turns down Sesquahanna as well as the blue cruisers that where available at night as well. During the day, I was having a real skiing down the moguls (I really need to tighten up my mogal skiing - I can ski them, but I would like to do it more gracefully) as well as some of the other blacks, such as Wyalusing (most of the runs were named after local indian tribes - what mountain is not complete without a run called Kickapoo

)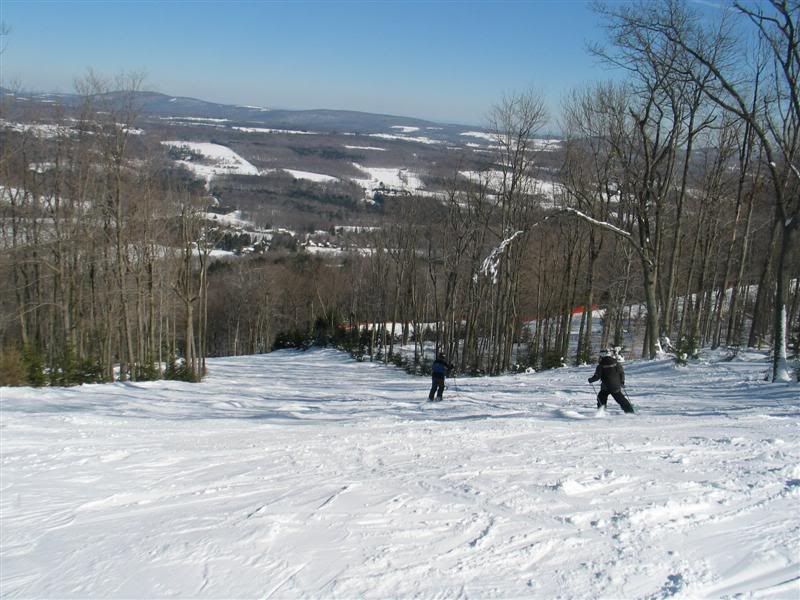 As can be seen in that picture, the conditions really looked good, with really nice poweder on the surface. Even the moguls were in excellent shape such as these on Upper Tunkhannok (man, how I wish we had a mogul field like that at Massanutten):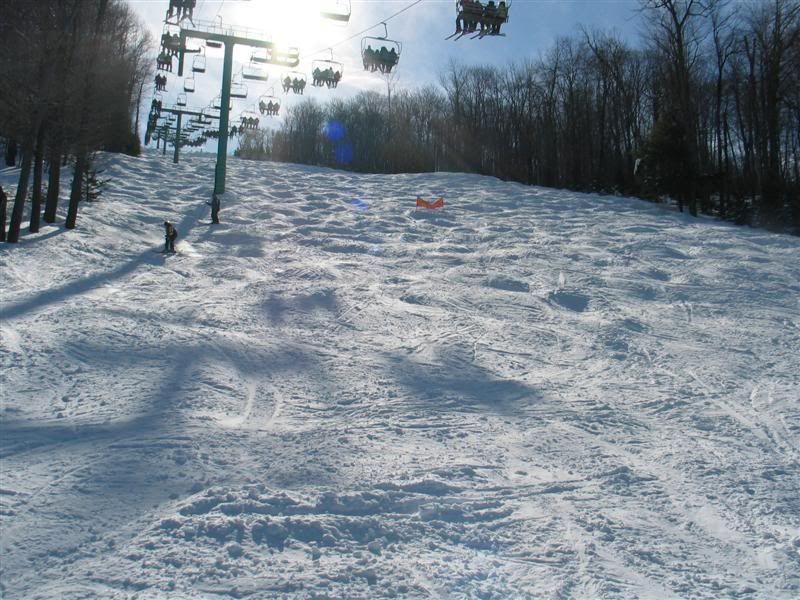 Also, I had to check out that green cruiser, Lehigh, that runs down around the back side and then dumps back at the top of the beginner's area. It was actually quite pretty back there (should've took a picture back there), but it was pretty narrow in some places. Nothing like going for a nice ride through the forest during the winter.
One thing I did notice that I've seen a few people, mostly kids on snowboards that where poaching runs through the woods. Believe me, I was tempted, but I was unfamilier with the area and what it was like in the woods. Also, I asked the local ski patrol about that, and they did say it was a big no-no and that they have been yanking people's passes for doing that. Thus, I opted to stay with the marked runs. BTW, the ski patrol there has been really cool. Of course, I had to drop in for a visit.
After a few runs, I had to go in for lunch. Of course, the cafeteria was also a friggan mad-house as well, but the food service folks were doing a great job of getting the people though. Those meatball subs they got there were quite tasty. I enjoyed it so much that I had to get another one for dinner. The fries were also pretty good as well. I opted to just grab water from the self-serve fountain they had there, which was free, thus setting me back "only" about $7 for a sub and fries. Still somewhat pricey, but still pretty reasonable for what you get.
Overall, I was very impressed with Elk Mountain, despite the crowds during the day (one advantage of going solo, I just ducked into the "singles" line off the quad, thus getting away with barely a 5 minute wait for the lift). They have good vertical at 1,000 feet with some excellent, challenging terrain. I did not even get to ski all the runs that I wanted to check out (wish they would light the whole mountain). Also, would've been nice if they could've had more than just that one double opened at night to get to the summit (they did have two more doubles, one on the biginner slope and one going up the West Slope (a blue - but man, did it have some sweet coverage - never had so much fun carving turns on a blue before) But anyway, definitly will have to return again sometime in the future - but maybe I can try on a weekday (may have to consider a whole week here at the Poconos, or at least a long non-holiday weekend)
Well, tommorrow, Sno Mountain (TSAFKAM - The Ski Area Formerly Known As Montage).
I'll definitly have to visit Elk Mountain again in the future, however, it will not be on a holiday weekend!