Ok yesterday we had an *insane* snow storm with crazy wind gusts of about 60 mph easy (my place was scary-creakin' from the wind) but this morning it was incredible so I put on my climbing skins and skied down under the Golden Eagle lift at The Canyons ... hee hee hee as usual I laid down the biggest-radius tracks ... can you guess which one I made lol

!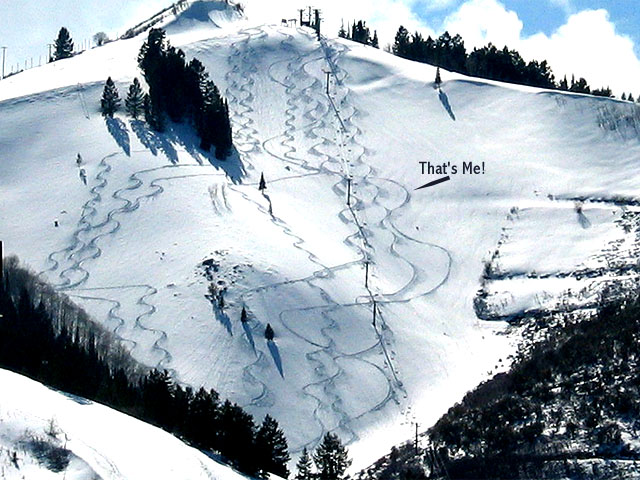 It took 1 hour to climb up and 1 minute to come down .. but it was sweet!
Oh yeah! It was definitely a great storm. Skied knee to thigh deep with my father in-law today at Snowbird. The powder was light and fluffy. Alta is closing this weekend with a drunk-fest/barbeque/musical shindig at the Watson shelter all three days. Damn I love this place!
I noticed on the Snowbird (Utah) website yesterday the following: "WOW we've had a lot of snow this year! You might notice that the Snowcam has been getting snow on the lens recently. This is because we've reached the top of our 16 foot tall mounting poles and can't raise the camera any higher!!!" Snowbird installed an automatic snowgauge and cam on the mountain this year. Each day they clean off the gauge and the next day the viewers can see the snow totals for the day/night. Picture of gauge on Snowbird.com
I also noticed today that Alta has received 18 inches of new snow, with temps in the teens/twenties. This brings the Alta snow total (mostly light Utah powder) for this season to 638 inches (that is 53+ feet!) and they have a late April base of 174", or 14.5 feet!!! AND THEY ARE CLOSING THIS WEEKEND!!!!!!!!! See Alta.com
Is it too much to ask them to send a little snow to the WV Alps since they are not going to use it for the rest of the year?! By the way, the current base at Alta (mid-mountain) is deeper than the entire snowfall for Snowshoe for the year!
And remember, unlike the CA Sierras, this is mostly soft fluffy dry Utah powder, not the heavy wet snows of the Tahoe areas.
It is really something to drive up the canyon to Alta and see the snow on the ground higher than the tops of some of the garages!
We need such problems!!
Anybody ready to go next year on a DCSkiers' get together, probably in mid-January??!!!
The Colonel
Snowbird reported 12inches.

At snowbird 12inches means it thigh deep and your choking on it on your way down silver fox;).
Yep there's no mistaking who ripped that line. That looks very nice Crush, good work.
WOOHOOOOOOO my friend, why ski one line when you can ski them all so

, skiing outside the box, keep it coming, ski it til it's gone
Crush,
You lucky dog!!
Anyway, like has been said, ski 'em till they're gone.

Do some turns for me man, my season's over

-Warren-

I'm in Bellingham Washington right now and it's still puking snow up here in the Cascades, too. Mount Baker recorded "only" another 15 inches yesterday, and I think Alpental got 31 inches. The sun came out yesterday afternoon (and is remaining out for the entire weekend!!!!!!!




Not that I'm excited or anything) and you could see snow down to about 2000-2500 feet in the foothills. It snowed down to 1000 feet last weekend. This might be the one area in the country that had a cool winter and man has it been a relief to be walking around in temps in the 40s and 50s again. Was 33 this morning.
Quote:

---


Anybody ready to go next year on a DCSkiers' get together, probably in mid-January??!!!
The Colonel



---
I might be up for that!!