Jimmy - Yup things are gearing up! Many resorts will be open this Thurs-Sat. We had a nice storm yesterday ... this morning was *great*! See look I am all ready for the season, with gear on !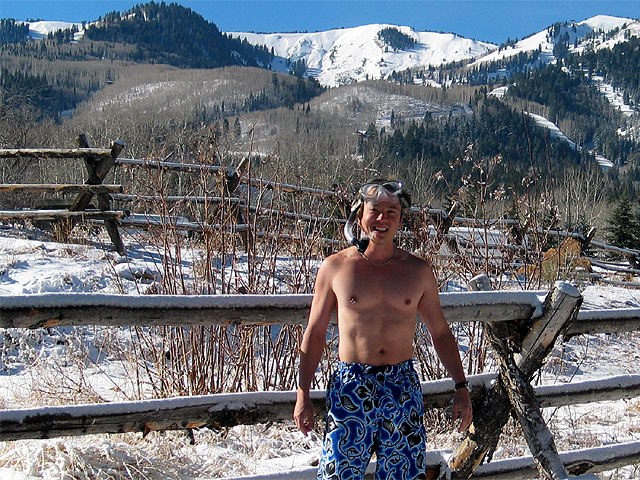 ... ooops wrong gear !
RodgerZ - This info has been played nearly every day on Park City TV via Katie Eldrige (Canyons Marketing head) and indeed it is really true.
For those of you returning to The Canyons this year the first thing you will notice is the current construction of THREE new developments ... Silverado, Escala, and something else that I can't get a handle on. Silverado is a full ownership condo ... a 260 sq ft efficiency went for about $170k and all condos sold out in two days. So they then are planning Phase II next year and they sold out already in one day (I tried to get one). Escala will be ski-in ski out off the Sunrise lift (ASC moved it just for Escala). That one is in the millions for ownership.
To match the above property expansions ASC has already talked about their expansion plans for The Canyons, and I already can see a clearing the new lift off of Dreamscape that goes down into The Colonies. The golf course (ASC, Westgate, Miner's Club and individual entities) I do believe is going in and ASC has allocated funds for that.
The Canyons/ASC is also planning significant upgrades to on-mountain amenities in an effort to address shortcommings such as on-mountain dining, etc. as well as additional lifts to take the burden off the Tombstone lift and possibly the Gondola. Terrain expansions are also in the works.
The base village is going to be re-vamped as well; I did once hear mention of an "ice facility" with ice skating and such but I think that may be on the back-burner.
The general perception from here at the base is that this location is the last area that can be reasonably expanded as a ski resort both in terms of resort real estate and terrain; ASC is trying to make it a world-class ski area and given time and $$$ they may do that. Refrains at The Canyons employee orientation meetings constantly repeat the new goal is to be only second to Deer Valley (oh boy ... a long way to go on that one).
Pragmatically? I know only this: I bought my little condo 2 years ago and the price has doubled. One-bedrooms that use to go for 90-100K are now selling for 209K.
All in all, I would say "yes" to your tongue-in-cheek comment about ASC "building a town"; that is basically what they are planning. I know they are involved in building "Frostwood" (yet another development) - luxury homes that will sit above The Miner's Club (timeshares). I think they will be ski-in, ski-out .
So we shall see!