As a birder and a skier, I often enjoy predicting winter weather based on bird sightings and behavior. Well folks, I have some bad news..
1. Biking from work this week, I saw a Blue Heron fishing in the Rock Creek Park. Usually, the water in the creek is too cold (or even frozen) by this time for Blues and the birds are farther south in happier hunting grounds.
2. The Ohio River Islands National Wildlife Refuge
office in Parkersburg trapped a Purple Gallinule at 2 am on Tueday morning. This bird is an exotic tropical and sub tropical bird. They occasionally make their way up to the Mid-Atlantic during the warmest months of the summer but are almost never seen any other time. Seeing one in the summer would generate a rare bird alert and cause people from thousands of miles away to drive to the scene to see it. Even in FL, sightings of this bird are rare. I've only seen one and that was in Costa Rica near the Nicaraguan border on a birding expedition on the Rio Frio. To think that one was found in WV in January is SCARRY and beyond the wildest imagination of most birders. The bird, btw, was taken to a Raptor vet for observation and will be repatriated to a warmer climate.
I guess we can blame this winter on the curse of the purple Gallinule: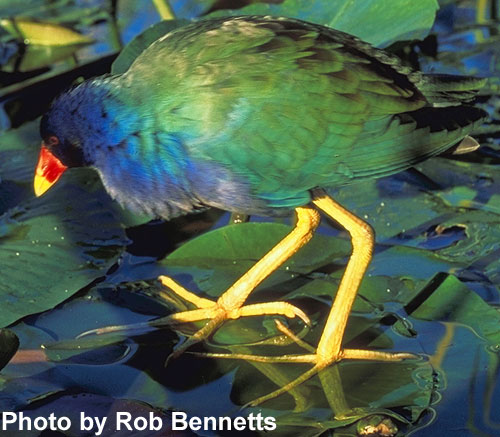 Photo Courtesy of the USGS web site.