Weathering Utah's Record Winter of 2023
by Jim Kenney

I spent the better part of the last five winters personally researching the veracity of Utah's claim to the greatest snow on Earth. The winter of 2023 was the best evidence yet and delivered beyond anyone's wildest dreams.  Alta ski area saw a record 903" of snow, topping its previous high by more than 150".  Snowbird set a record of 838".  The ski areas of Brighton, Solitude, Snowbasin, Sundance, Nordic Valley, Woodward Park City, Park City Mountain, and Deer Valley also set all-time seasonal snowfall records.

However, there's an old saying that goes something like this: be careful what you wish for, you just might get it!  With big snow came big crowds, tight parking, snarled traffic, and exhaustive avalanche mitigation work.  I logged a total of 62 ski days in Utah in 2023 while enjoying a dozen or more legitimate powder days, but at times the Wasatch Mountains were a madhouse.  I heard from a Snowbird employee that the access road up to the resort in Little Cottonwood Canyon was closed for all or part of 39 different days during the 2022-23 ski season.

It was truly a standout season and unprecedented in a number of ways. I wasn't there for the entire  winter, but I caught a good chunk of it, residing in the Salt Lake Valley for over four months.  I started skiing in Utah on 21 Jan 2023 and my last ski day there was 29 May 2023.  This report contains the highlights and lowlights of my four month Utah powder immersion.

Massive mid-winter snowbanks in Solitude Village on 5 March (photo by Jim Kenney)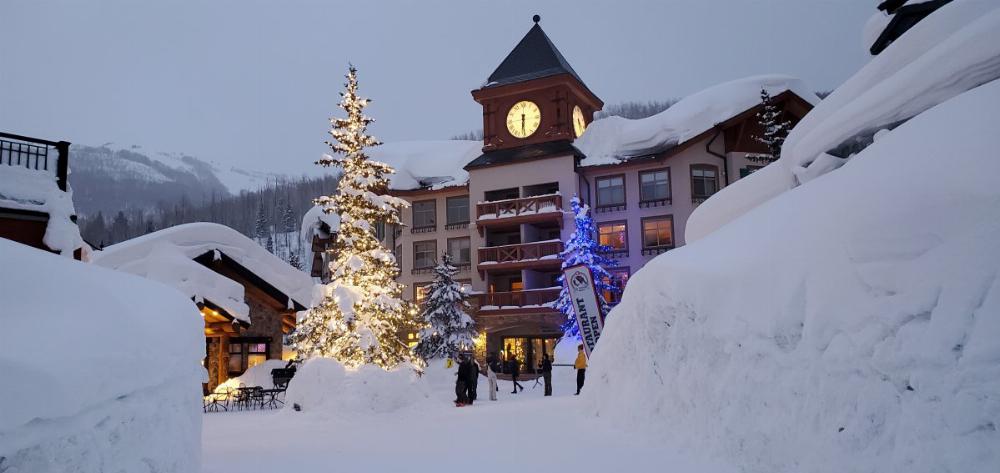 My first ski days after arriving in Utah were 21, 22, and 23 January at Snowbird ski area.  The existing snowpack over the entire resort was mind blowing that weekend, but so was the traffic and parking congestion.  During that initial three-day stretch my son already had me skiing one of Snowbird's steepest runs, Great Scott.  I didn't ski Great Scott a single time the previous winter because a decent amount of snow is needed to make the sketchy entrance sufficiently user-friendly for a recreational skier such as myself.

On the morning of Saturday, 21 January the parking lots at Snowbird were totally full when I attempted to go skiing with my son and daughter.  After a long search for a spot my daughter volunteered to drop two of us off while she returned home with the car.  It was the first time I'd ever experienced a true "shut out" situation at a ski area due to a lack of parking.

Good January snow in Hanging Bowl (photo by Jim Kenney)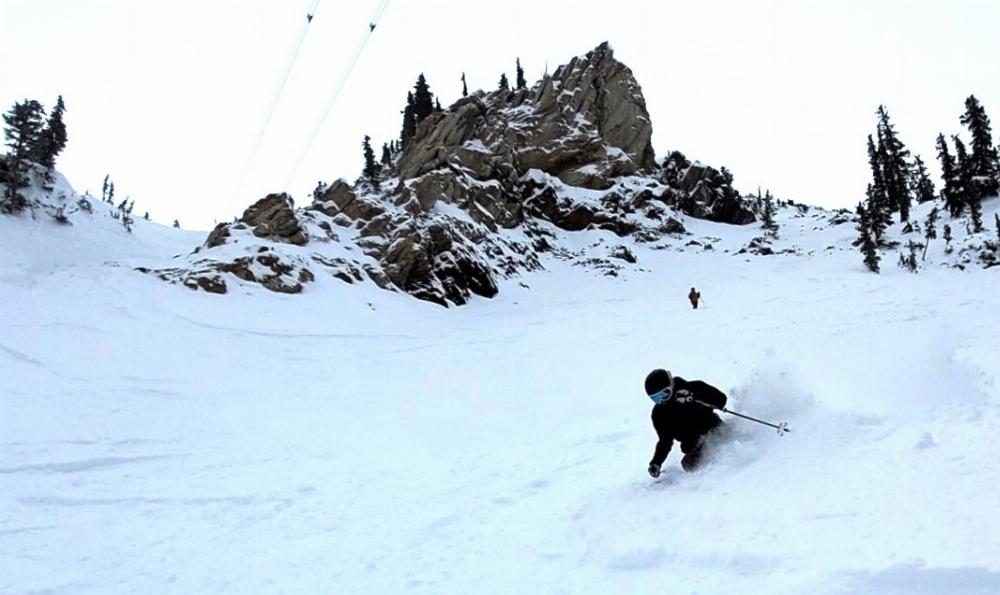 The first of many one+ foot powder days during my time in Utah occurred on 25 January when my son led me down Hanging Bowl under the upper tram line at Snowbird.  I'd never skied this particular run before. Normally, mandatory air is required in one or more places to get into Hanging Bowl, but by late January 2023 it was so filled in with snow that it was doable by earth-bound geezers.

6 February was another one foot powder day and my friend John from Virginia joined me for a great time at Snowbird.  By this point the storms were coming so frequently that in-bounds terrain wasn't getting fully tracked out before the next dump.  And even when it wasn't snowing the temperatures remained cool in Utah for much of the winter of 2023.  The abundant snowpack stayed well preserved.   
John skiing near Snowbird's Gad 2 chairlift (photo by Jim Kenney)


I went skiing with John again on the afternoon of Friday, 10 February and the experience was considerably less pleasant!  We arrived at Brighton ski area about 12:45 PM and got turned away by attendants due to a full parking lot.  Usually that day and time is good because many early bird skiers depart for home after lunch.  But this was the first sunny day in a while and it brought out hoards of folks getting a jump on the weekend.  

After being turned away at Brighton we drove to nearby Solitude, but all parking was full there too. We yoyo'd back to Brighton without luck. Finally, at 2 PM we were permitted to enter Solitude's Moonbeam parking lot.  It took another 10 minutes to find an open spot near the Eagle chair. We squeezed in seven runs before closing time at 4 PM.  

Brighton traffic on 10 February 2023 (photo by Jim Kenney)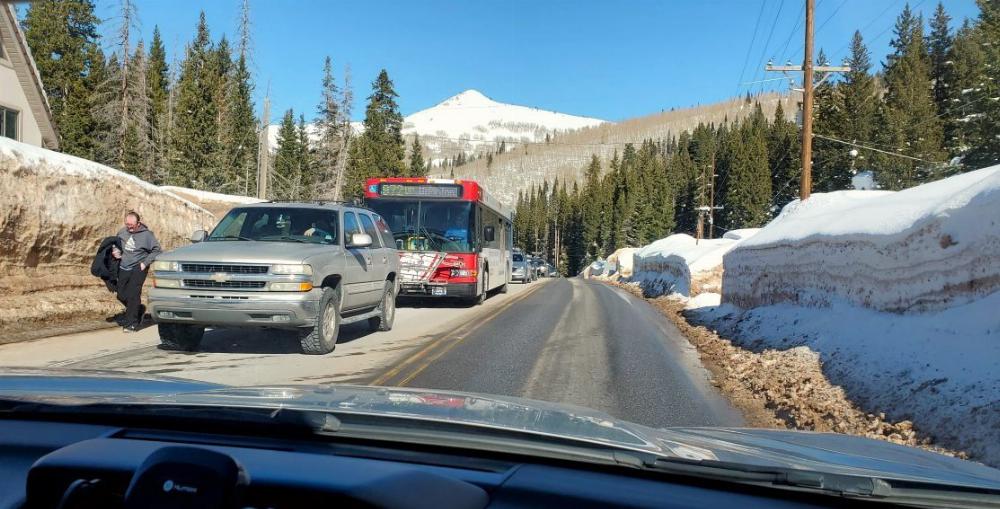 Strangely, despite all the cars in the lot the lift lines were small to moderate and the drive down the Big Cottonwood Canyon access road afterwards was fairly normal.  Maybe everyone left while we got our late afternoon ski runs?  The whole mess had us scratching our heads.  Catching the 972 UTA bus from down in the Salt Lake Valley might have been a decent alternative?  Friday had definitely become the new Saturday in the crazy Utah winter of 2023.

The entire month of February featured great snow conditions.  But the mega passes and the mega snowfall continued to spawn unpredictable crowding and volatile traffic patterns.  Even the drive on "normal" weekdays elicited stressful anticipation of what awaited on access roads for the 8 AM ascent or the 4 PM descent.  Like a maximum capacity day on Washington DC's Capital Beltway, one wreck could snarl ski resort traffic for hours.   

Logistically, every day was a roll of the dice, but once you clicked into your bindings the skiing was awesome.  Generally, weekdays were easier to ski as might be expected.  However, I skied over Presidents Weekend at Snowbird and it was superb.  The mountain was crowd-free due to the holiday weekend being blacked out on the Ikon base pass.  Go figure!

Snowbird's Mineral Basin remained lightly tracked at 3 PM on the Sunday of President's Weekend 2023 (photo by Jim Kenney)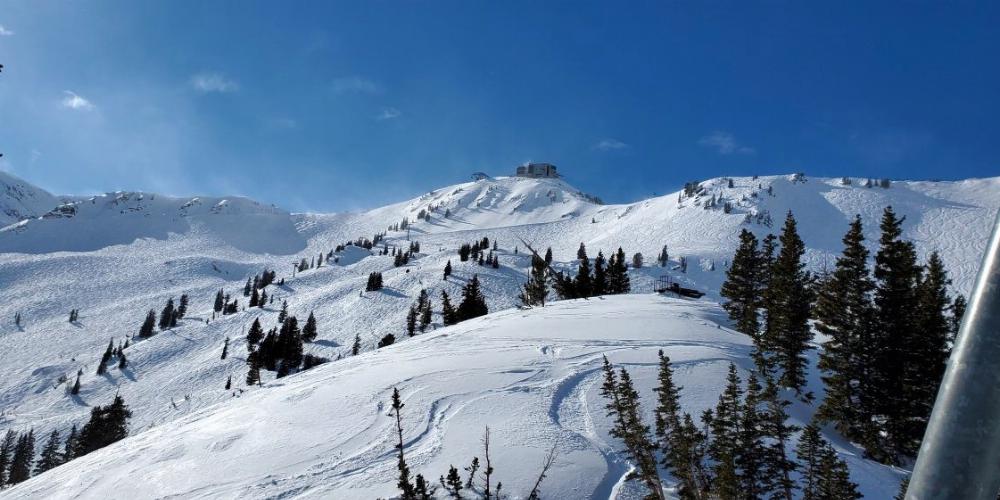 I had some personal matters to attend to in mid-late February and missed some time on the slopes.  When I returned the all-natural Wasatch snow machine was still cranking and the crazy-good skiing got even more intense.  27 February was another one foot powder day in the Wasatch.  This time I was at Alta with a bunch of friends.  I had a great time riding the Supreme chair and getting fresh tracks while lapping Catherine's Area.

Alta powder on 27 February (photo by Jim Kenney)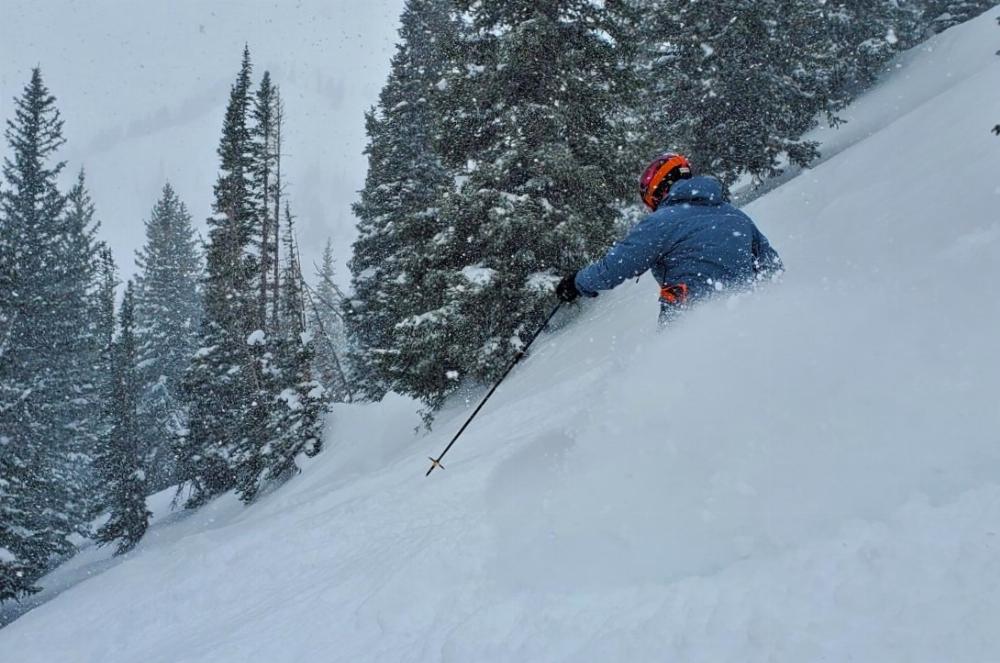 It continued to dump all day on the 27th and after Alta's lifts stopped spinning at 4 PM I spent three hours in the Gold Miner Daughter's Lounge waiting for the traffic to clear on the access road. I was stuck there with about 20 friends, but fortunately I had a fifth of Irish Whiskey in my boot bag and a designated driver to take me down the hill. When we finally left Alta it took two more hours to slowly drive seven miles and arrive at the mouth of Little Cottonwood Canyon at 9 PM.  Good thing too, because UDOT closed the road at 10 PM for overnight plowing and avalanche mitigation work.

On 1 March 2023 I made a short day-trip for my first ever visit to Sundance Mountain Resort near Provo, UT. It was one of the deepest and most exhilarating days of my winter.  The best thing about it was no crowds, no lines, and no traffic!  The weather report said five to seven inches of new overnight snow, but it kept coming down during the day. And because the previous few days had also been stormy there was a cumulative effect that skied more like 15 inches of light, fluffy powder.  As much as I love the conditions and terrain of the Big and Little Cottonwood Canyon resorts, the day at Sundance might have been my highlight of the season.
Sundance powder shot (photo by Jim Kenney)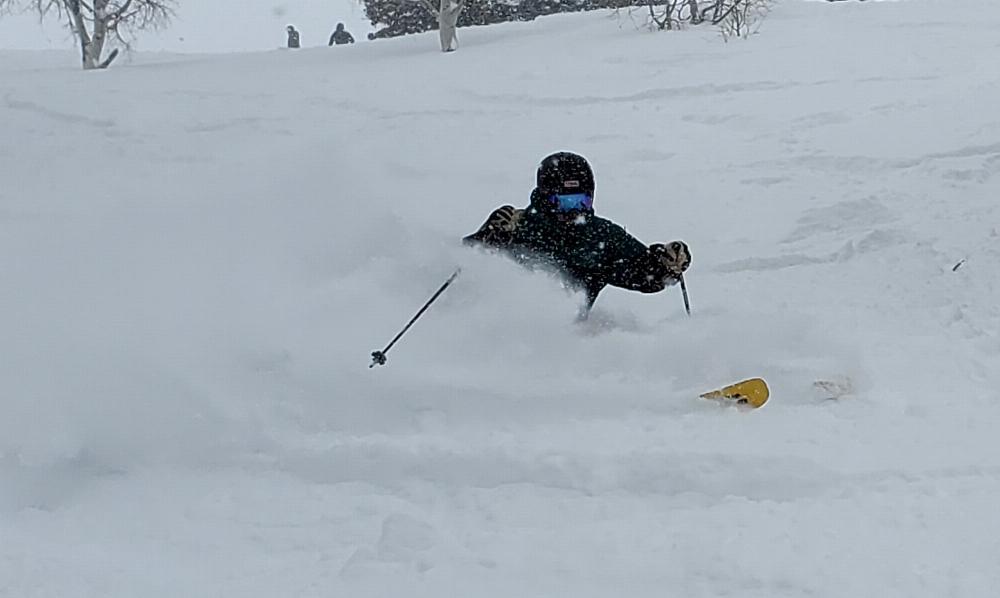 At Sundance there is no Epic or Ikon passes. It's not even on the Indy Pass. It's a true independently run ski area, like the old days. The mountain features 2,150' vertical, five chairlifts, 50 runs, and 500 skiable acres.  It's those 500 acres that make Sundance ski very big on a powder day. The entire mountain came into play, with numerous gullies, bowls, ridges, and tree shots in and around the designated runs.  And most importantly, there were only a few hundred other people to help slay the pow.
Sundance's Lookout Lodge buried in snow (photo by Jim Kenney)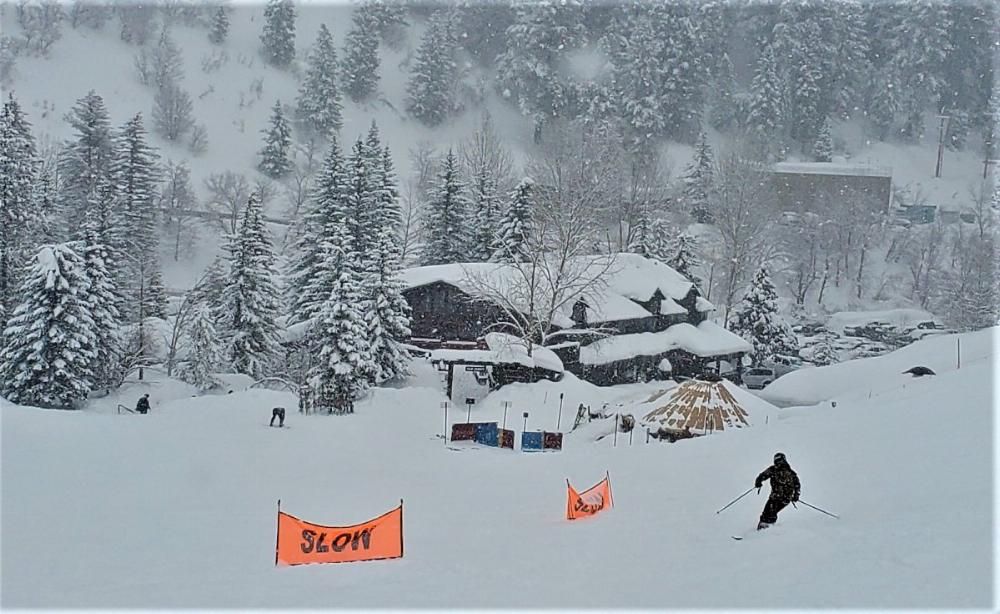 The stellar skiing continued in March with perhaps a few less overcast days and more sunny moments on the slopes. 9 March was a very nice blue sky day after a 6" snowfall.  It was not the deepest snow, but I didn't have to struggle with the phone to snap photos while snow dumped all around. 14 March was a similar sunny day with good snow conditions.  I skied at Solitude that day with two friends who knew the mountain well.  The great 2023 snowpack allowed them to take me to places on the mountain I had never skied before even though I've probably visited Solitude 30 times in the last five years.
Utah Photo Montage from March (photos by Jim Kenney):

Snowbird's Ski Patrol Gully on 9 March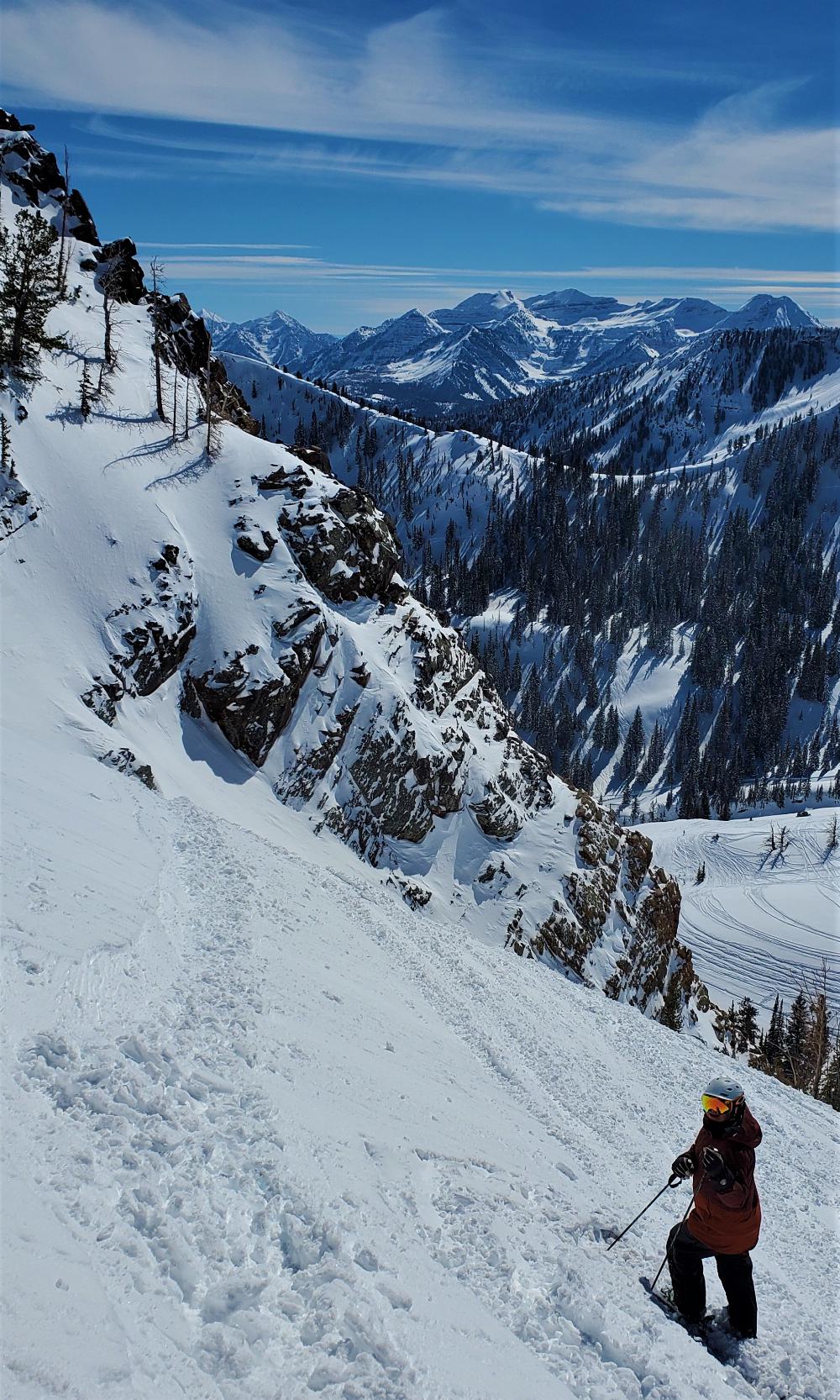 Friends lead me on my first ever run down Solitude's Cathedral Cirque, 14 March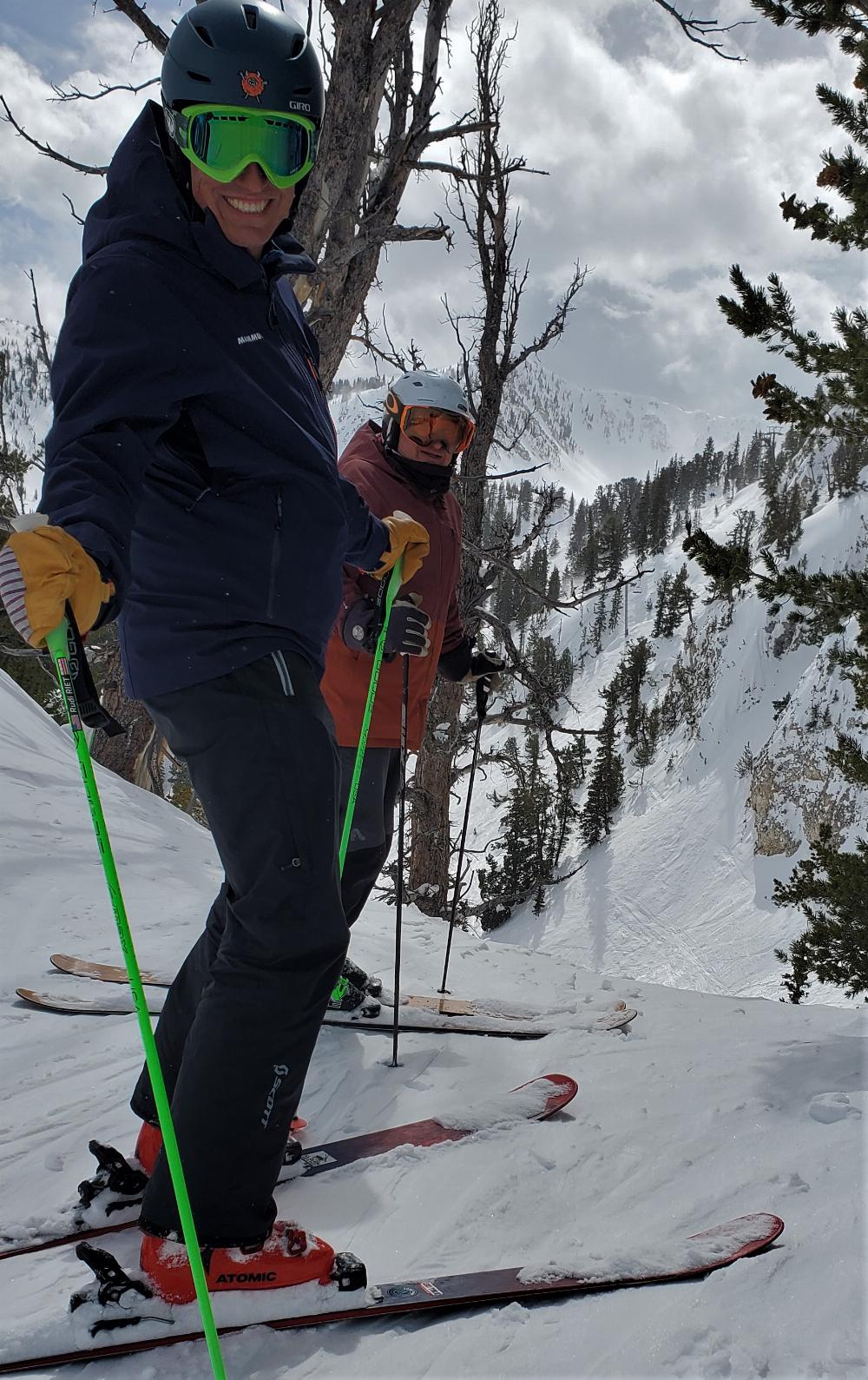 Skiing powder in the world class trees of Brighton on 20 March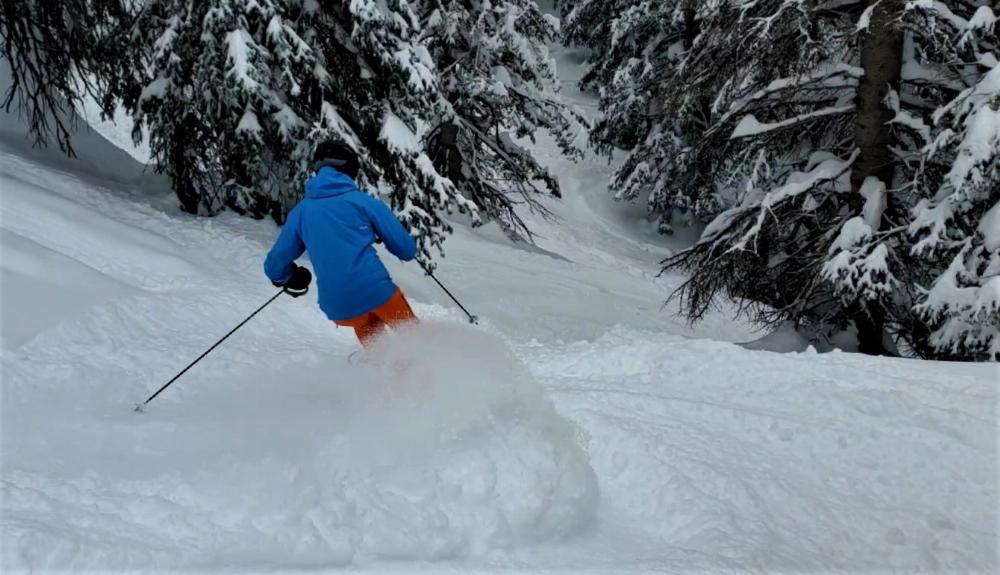 Smilin' John on another one foot powder day at Solitude, 22 March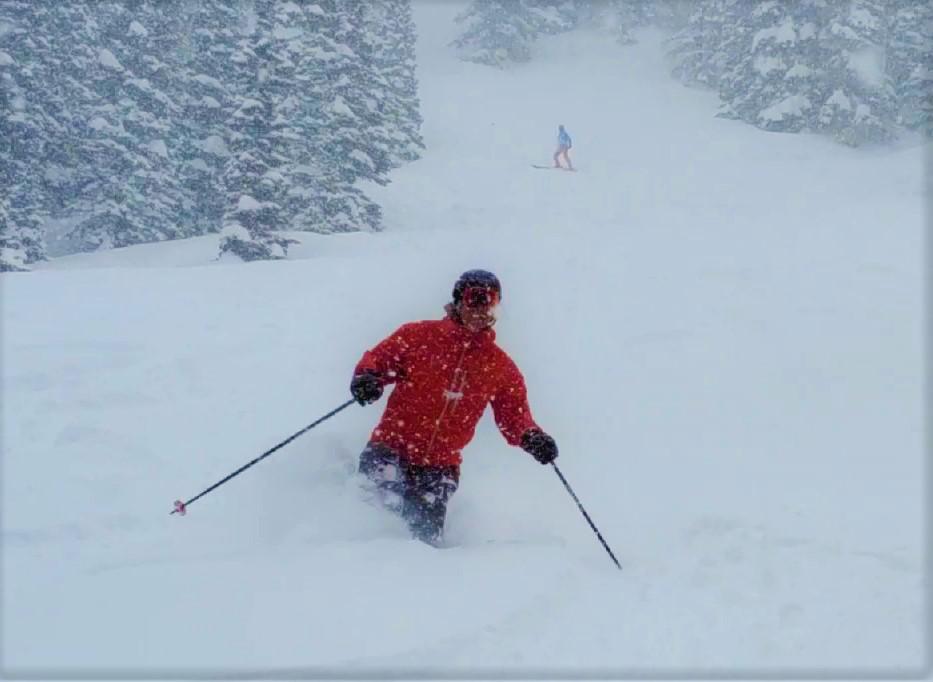 Creative parking at Snowbird on 25 March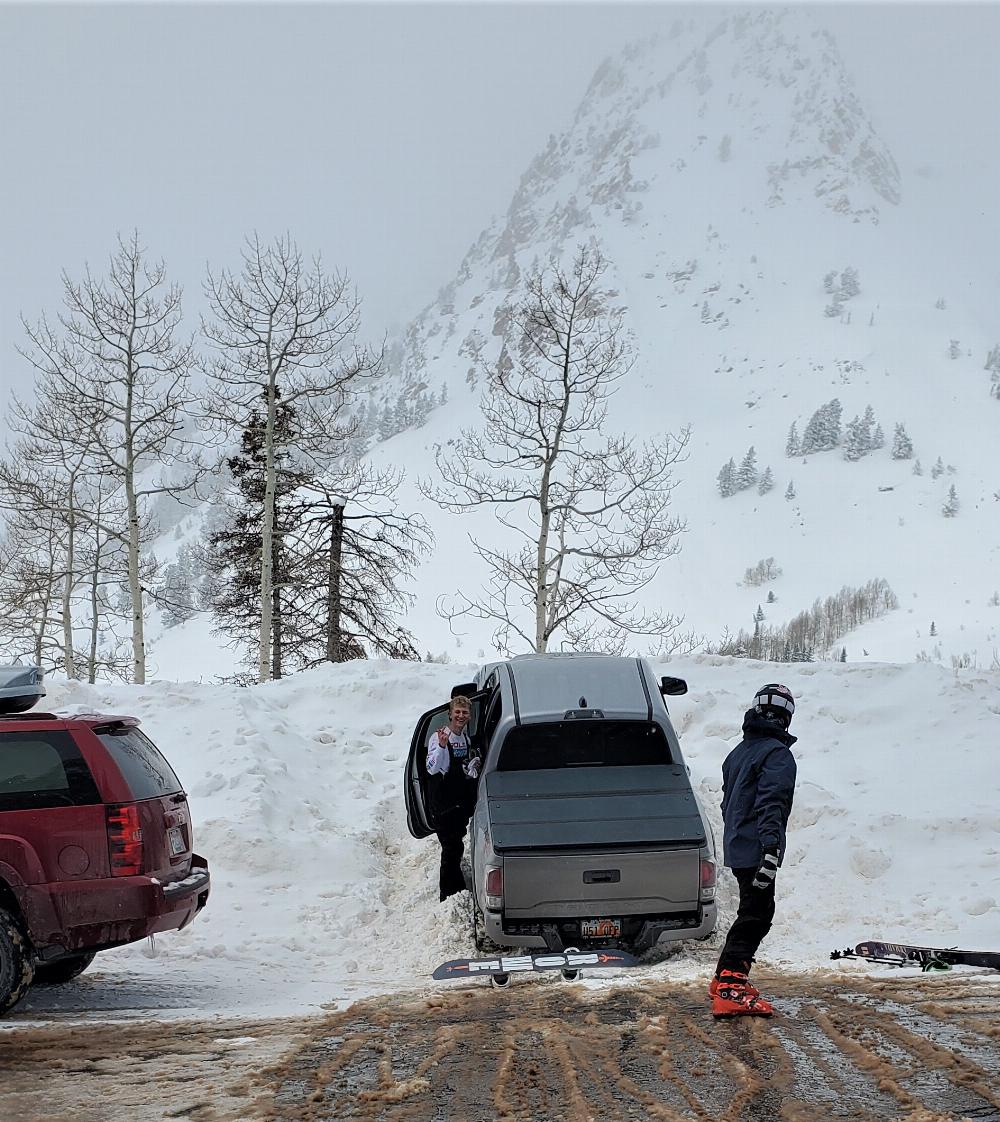 Tele-friend with 15" of powder in Solitude's Memorial Chute on 30 March