I'm the guy who posted a question on the forum about Elk or Timberline a few days ago and, based on the amount open on the two mountains, went to Elk on Sunday for the first time with two of my kids (a 17-year-old boy who is an amazing snowboarder and a 13-year-old girl who is an advanced skier -- I'm 51, took up skiing 10 years ago, and can ski easy blacks but prefer the blues).
The drive from Baltimore was an easy drive (mostly on I-83 to I-81) -- we drove up on Saturday night and stayed in the Hampton Inn in Clarks Summit, PA (it was clean and reasonably priced (about $109 with free breakfast).  It seemed as if the hotel took COVID precautions seriously.  The ride to the hotel was about 3 hours and 10 minutes with a stop and from the hotel to the mountain was about 25 minutes.
Rising early (for us), we arrived at the mountain by 8:40 am.  I've read complaints about the jitney ride from the parking lot to the mountain, but we did not find that an issue at all.  There was no line at the ticket window and throughout, I found the staff at the mountain competent and friendly.  I also saw plenty of ski patrol on the mountain, which was good to see.  
There was some light snow the night of our arrival and throughout the day and the conditions were excellent.  There was never a wait at a lift line, and although others have complained about slow lifts, having skied in Vermont, the fact that the lifts were not high speed did not bother me (it gave me a little time to rest and the ride was just a few minutes anyway).  With all the spruce trees planted on the mountain by the owners, it was very pretty and the view from the top of the snow-covered surroundings did remind me somewhat of being in Vermont.  No, it's not Vermont, but I can see why Elk advertises itself as the closest thing to Vermont skiing in Pennsylvania.  Many of the trails we skied did remind me of trails at Bolton Valley, for example.
The grooming and snow coverage was great (25 of 27 trails were opened -- one -- Lehigh, is supposed to be a great green but is only open when there's enough natural snow) and my skis only hit ice a few times all day (Seneca, which is a black diamond mogul run under the lifts, looked pretty icy, but people were getting down it -- including my kids, who are much more courageous than I am).  There are some fun blues on the mountain, especially Delaware, which goes from the top of the mountain to the base lodge.  The blues are mostly pretty wide, surrounded by trees, and not crowded.  In fact, when I went down Delaware on my last run at 3 pm, I only saw one other skier.  I've skied Whitetail, Liberty, Round Top, Montage, and Camelback in the Mid-Atlantic and that's hardly ever happened before.  But often at Elk, I'd see just a few other people when I was on a run and this was on MLK weekend.  Mahican, Schuylkill (both nice blues from the top) and the other runs were also in fine shape throughout the day.  Even in the afternoon, there was plenty of snow on Susquehanna, which is a pretty wide black with a moderate pitch from the top.
Compared to the other Mid-Atlantic mountains I've visited, there seemed to be a greater percentage of skiers than boarders.  I also noticed, that, even on the greens, it seemed that everyone knew how to ski or board.  Perhaps that is because for beginners, there is a nice bunny hill area as well as a chair that takes beginners about midway up the mountain to East Slope and West Slope, where most of the blacks and blues run off into as well -- those slopes are pretty wide and were also in good condition all day.  There is also a green from the top of the mountain to the bottom -- Tecumsah -- off of which there are blues and blacks, but a beginner can take a green all the way down, make some turns, and, at times, ski at a decent pitch.  .
The people working at Elk were great.  The liftees I saw were adults who knew what they were doing (no chairs crashed into my back) and I appreciate that.  The lodge was clean and there were people inside when we had questions (such as about use of a locker) who were happy to help.  It really is a well-run operation.
I also thought the prices were reasonable for lift tickets and like that they give a youth ticket for age 14.  So for my three people, our total lift ticket cost for all day was $205 -- that's a great deal in my opinion and particularly compared to Liberty/Roundtop/Elk.
I've added two photos -- one is looking up at the East and West Slope and the other is at the top of Susquehanna.  I highly recommend Elk -- the drive is definitely worth it in my opinion and I will be back again.  
Looking up from Base Lodge at East and West Slopes.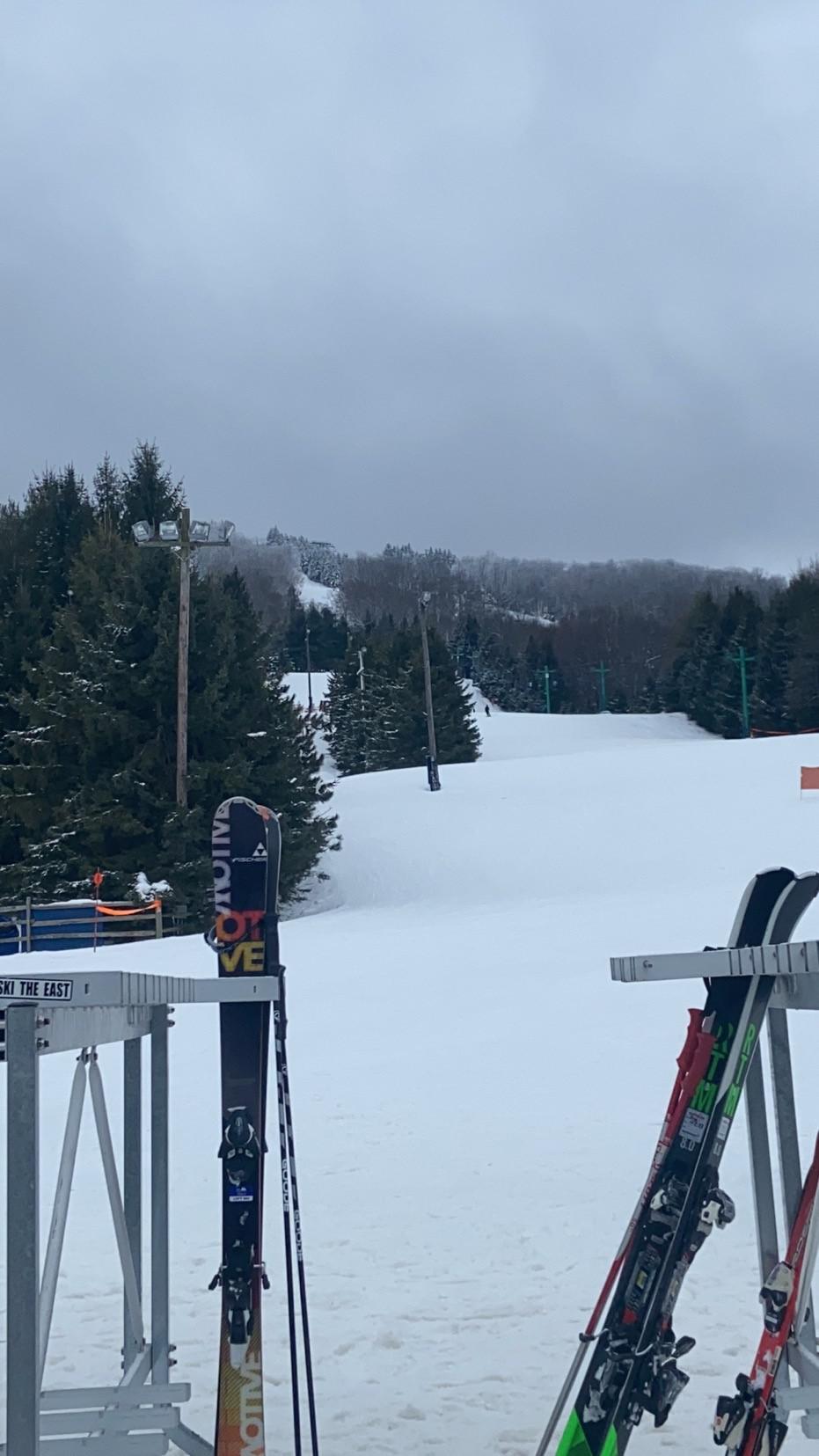 The view from the top of Seneca.