Thinking about a ski trip this winter? Want to stay in the Eastern US, but want that big mountain feel, maybe a little off the Vermont Route 100 beaten path? Think about Wildcat Ski Area, king of New Hampshire's White Mountain National Forest.
Late at night I count ski areas the way some folks count sheep. Over the last four decades I reckon I've visited close to 35 ski hills this side of the Mississippi River. Perhaps my very favorite of the bunch is Wildcat, nestled just across Pinkham Notch from the Northeast's highest peak, 6,288' Mt. Washington, New Hampshire.
It was love at first sight when I set eyes on Wildcat one beautiful day in early March 1995. The ski trails, the scenery, and the alpine character of the surrounding Mt. Washington Valley are truly remarkable for the East. A decade went by in my busy life, but I finally made it back to Wildcat for two superb days of spring skiing during Easter Week 2005. This time I brought along my teenage son Vince and nephew Ricky Howe. Now all three of us have a crush on this beautiful hunk of ski country.
You can't discuss Wildcat without coughing up a furball of feline puns. The trails, buildings, and other aspects of this ski area are labeled in a catchy (or is that kitschy) cat theme. Regardless, it's the sinuous length and multi-striped variety of the ski trails that makes this place the cat's meow of Eastern skiing. And the howling never seems to stop; many trail combinations are over two miles in length. Just when you think you've finished a run, the next bend will reveal another half mile and 500 vertical feet still to go - bringing a Cheshire cat smile to your face.
You could arguably call this place one of the single best trail pods in America since the entire 47 trail layout can be accessed by the eight-year-old Wildcat Express Quad chair (6700' long with a vertical rise of ~2100'). Over our two day visit me and the boys easily racked up vertical at 6,000-8,000 feet per hour, a rate that had my legs turning to jelly by each afternoon in the soft spring snow. 95% percent of Wildcat's terrain was still open when we headed home on April 1st.
Seeking any excuse to slow the pace of my mad-bombing pair of teenagers, during my spring visit I'd occasionally stop mid-run for chats with Wildcat regulars. Several proclaimed it the home of their favorite New England ski trail. Most telling, however, was that different folks nominated different runs for the prize; the eponymous Wildcat - a fun, long, scenic single black diamond trail, ditto for Lynx - a slightly easier solid blue square cascade down the other side of the mountain, or Polecat - a 2.75 mile green circle classic with the finest summit to base scenery any East Coast novice could ever hope to gaze.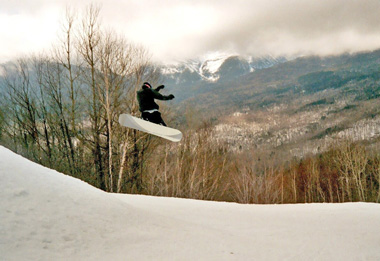 Wildcat is consistently named one of the most scenic Eastern areas in ski mag reader polls. The fantastic in-your-face views of Mt. Washington rising 4,000 vertical feet just across the street from the base lodge add drama to every run. It's the tallest landform for a thousand miles in any direction and towers above Wildcat, which itself features one of the loftiest lift served summits in the Northeast. The gaping jaw of Tuckerman's Ravine on the flank of Mt. Washington taunted us on every chair lift ride. Situated completely within the White Mountain National Forest there is little to detract from the wild in Wildcat.
For all its pristine ruggedness, Wildcat is not really thought of as a super steep mountain. Rather, it's perfectly pitched for the intermediate to single black diamond skill level. Serious double black diamond experts, however, make big fun tackling long fall-line bump runs like the old Gondi Line, which includes a sprinkling of huckable boulders in plain view beneath the Wildcat Express. Aggressive types also seek out several gladed areas, some marked - some not, and the challenging backcountry of the Wildcat Valley Trail. It can be accessed from the 4,062' summit of Wildcat and descends 11 miles and 3,240 vertical feet to the valley floor near the town of Jackson, NH. Of course, the legendary hike-to-only terrain of Tuckerman's Ravine is just a couple miles away for those who wish to earn some truly extreme turns come springtime.
The town of Jackson, about ten miles south of Wildcat, earns universal kudos for its Currier and Ives charm, complete with covered bridge, rustic lodges, and quaint B&B's. It is the epicenter of a renowned 90-mile XC ski trail network. Snowmobiling, ice skating, and sleigh rides are also big in these parts.
The town of North Conway is about ten minutes further down the valley and serves as a large and, shall we say, practical base for Wildcat (and four or five other nearby ski areas). North Conway contains dozens of dining and lodging choices for every budget. It is a huge shopping Mecca for summer and fall foliage visitors with more than 100 tax-free factory outlet stores. The multiple personality diagnosis of this town is confirmed by the presence of a historic little train station not too far down Main Street from a state-of-the-art mountain climbing school.
Regardless of your take on the commercialism vs. nature issue, North Conway comes in very handy for winter visitors looking for bargains on lodging, dining, forgotten footwear, or a swim suit for the hotel pool. The local communities, business establishments, and ski areas constitute The Valley and collectively provide everything you'd need for a weekend or a week in a destination ski town, including great Sicilian style pizza at Elvio's.
Postscript: In 2005-2006 the basic adult lift ticket will go for $55. But Wildcat offers all kinds of creative pricing, for example, next consecutive day is always $25, ski Sunday afternoons for $20, two-fer Wednesdays, ladies & over 50 days, ski free on your birthday, and ski for single digits on the April 1st birthday of the Wildcat Express - no foolin'.
Drive time from the Washington/Baltimore region to North Conway is about 10 hours in light traffic if you don't mess around. For those who wish to fly, good fares are available to Manchester, NH or Boston, MA, approximately 2.5 and 3 hours respectively from the ski area. Consult your favorite online map or travel service for details.
Wildcat cracked the Eastern top ten in the October 2005 "Resorts" issue of SKI magazine in the critical areas of best snow, terrain, and value, yet didn't make the overall top 20 list. Go figure? Based on that paradox and my own experiences I'd recommend it as a great place to visit, perhaps a little under appreciated and therefore offering lower crowds and prices then many other New England skiing hotbeds.
Speaking of hotbeds, the Mt. Washington Valley is renowned for a robust winter climate that is highly conducive to all manner of snow play. But take note, this graybeard's two visits to the region occurred in the month of March. Spring is when The Valley, and Wildcat in particular, literally outshines all the competition.
Nice article. Wilcat might benefit from some "wilma" snow as I saw the Weather Channel forecast snow from the hurricane in nigher New England elevations. What a crazy weather year.
I grew in New England but have never skied Wildcat. When we skied NH, we usally ended up at Waterville Valley because it is closer to the Boston area. Well, I obviously missed out on a great mountain--one I will have to check out one one of these days. Thanks for the nice report Jim.
Cat History in the Making - 10/28/05!
So here it is! Open with all natural snow -- earliest opening ever in almost 50 years of lift-served operation here at Wildcat! And get this: Wildcat is the 3rd ski area to open for this season in North America! We got SNOW! Come enjoy it!
http://www.skiwildcat.com/displayimage.html?id359
I too love to ski Wildcat. The trails and scenery are beautiful. Don't miss Wild Kitten, a green with great views, especially at the end of the day. My husband and I first went to Wildcat as new snow riders because of the long green run from the top which is enjoyed by skiers of all levels.