Heavenly Ski Resort sits on the southernmost lip of Lake Tahoe in an area known as the "South Shore." Heavenly also has the interesting position of actually being in two states, California and Nevada, and there are two "sides" to the resort, Nevada and California. I found this latter part out when trying to decipher the ski maps posted in strategic locations at the resort in late January when I visited for 1.5 days of skiing while taking a couple of day off a work assignment in the San Francisco area.
When my work trip was formally approved, I knew virtually nothing about Lake Tahoe, much less skiing there - but I knew you could do it. So with a determined grimace, I quickly gathered information and made the decision that I would just do it, drag my skis, my ski boot, ski clothes with all my work items too - what a pain! But I was hoping for the best. And it turns out there at least FOURTEEN ski resorts dotting Lake Tahoe that offer a variety of thrills and chills for the intrepid skier. With little time before I was leaving to properly weigh the pros and cons of each, I quickly narrowed the search to Heavenly and Squaw Valley.
Squaw Valley, you might recall, was the home of the 1960 Winter Olympics, while Heavenly's claim to fame is unfortunately darker; it's where Sonny Bono made the ultimate sacrifice in his quest for skiing nirvana. Another interesting point to be made about the two is that they are at opposite sides of Lake Tahoe. I glanced through all that the online world could provide me on them in the limited time I had and made a decision: It would be Heavenly. Morbid curiosity of the late Mr. Bono's unfortunate end not withstanding, it really came down to this: I liked the way the ski map looked. I know, I know, that's no way to judge anything. But I needed something to tip the balance into action and that's what I settled on.
Having made that decision, in short order I ordered up two days of lift tickets online via the Peak System - the same system used at Vail, Beaver Creek and all other resorts in the Vail Ski Companies network. That's right, Vail Resorts owns Heavenly. Then I ordered up airline tickets from Southwest online for my flight out of San Jose and into Reno. Finally, I called the CasinoExpress Bus Company in Reno Airport to try to reserve a round-trip ride to a Heavenly Resort Area Hotel and Casino of choice that I had booked moments before using Expedia. But it turns out CasinoExpress is a first-come, first-served service with buses running approximately every hour to and from various casinos in the South Shore region, so no reservations are required nor accepted. I crossed my fingers on that one.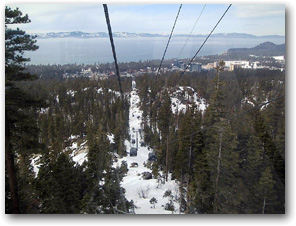 Figuring out where to stay was at first a little confusing as it turns out Heavenly doesn't own its own hotels. Instead, you have several quite nice and somewhat expensive (at least on Super Bowl Sunday) hotels to choose from that are within tens of feet of the Heavenly Gondola that runs right into town. Or alternatively, there are several other properties in the South Shore region that are serviced by a ski bus to the gondola. Using Expedia, I chose Lakeside Inn and Casino as my hotel destination of choice for my Tahoe ski weekend - which just happens to be right on the bus route from Reno. Excellent.
And yes, it is a Casino as well, and hardly the only one. It turns out the South Shore area is mostly in Nevada - home of Las Vegas. So come on out and gamble your ski tickets away or ski them away, it's your call.
In the end, a flurry of online activity netted plane and ski tickets, a hotel for one night near the gondola by ski bus, and the assurances of the bus company that they were ready to serve whenever I showed up. The total cost:
Round-trip airfare from Southwest San Jose to Reno: $104 with all fees
Two day Peak Pass: $104
Lakeside Inn and Casino: $59 for one night, Expedia "web deal"
Round-trip bus trip from Reno to Lakeside Inn: $34
Grand Total: $301 approximately

Now I realize that's not really all the cheap. But I really have no complaints except for the ski tickets - I think $52 is total rip-off personally as far as that goes but that's very similar to Whitetail day tickets, which by most measures has vastly less to offer the skier. Still, is it just me or does that seem expensive?

Getting there is all a blur -; travel that I hardly seem to recall. But Southwest flew impeccably on-time to Reno from San Jose in a short 45 minute airtime ride. From there I disembarked and waddled my way down to the CasinoExpress bus company, ski bag in one hand balanced against the weight of luggage in the other. There I paid my $34 dollars and within minutes was on my way to Lakeside Inn, improbably on time again and arriving exactly 1.25 hours later, just as they said I would.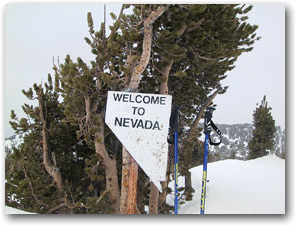 I checked in, quickly changed to my ski gear, clomped out to the curb and got on the town ski bus. In minutes I was on the gondola and watching the Lake appear below me as the gondola rose to Heavenly. After getting off and clicking into my ski boots and checking my watch, I noticed the time: 12:15 p.m.! Ok, so I was already down a half-day, but it had nothing to do with travel and more to do with a lack of options on my end as to getting there earlier. Nonetheless, cool, I was skiing!

The skiing was good. I can't say it was great. Then again, in 1.5 days what can you really tell? I dunno, in 1 day Vail really got to me, I could tell it was great. But this didn't quite do the same for me. Still, it's a dang good skiing destination, but not quite at the same level as Colorado (and probably Utah and Wyoming). One problem is the snow that is just a heavier wetter snow than "out west." Another problem was the lack of snow - no significant snowfall in several weeks, locals said. Still, it's all relative and compared to those painted rocks you and I often find ourselves skiing on, this place was snowed under.

In its defense, this place is big with a lot of lifts and skiing stretched across two states, a vertical drop of around 4,000 feet, a top altitude of over 10,000 feet and fantastic views of stately pine forests, distant mountains and the crystal clear Lake Tahoe. Nice.

Also in its favor are the vast amounts of skiing terrain - everything SEEMS like it can be skied, and given the right conditions, everything looks like it can be. So yes, there are the groomed trails that most people travel down, but then in-between them are really big pine trees with lots and lots of space that just beg for exploration. It seems to me that you could ski everywhere if you had some combination of stupidity, skill, guts, and snow, and I think people do. BUT really I have no idea. I didn't see anyone doing this and I am only going by the old ski tracks that I saw going off into the trees from the edges of trail and under lifts and the gondola itself.

In my quest for Heavenly, I decided to try to ski something under every lift, and if I was particularly enchanted with it, go back and do it again. Taking this approach, the first thing that struct me was the vast amount of long blue runs the resort has. Up through the end of my first day there I kept thinking that was all it had, even though the ski map seemed to indicate otherwise, and this slightly annoyed me. For some reason Heavenly challenged my sense of ski-resorted-ness and I couldn't seem to get the hang of it. In fact, I struggled to find a particular lift and failed over and over again. And yet it was right there on the map! What was I doing wrong?

By the end of the trip, and having eventually found that lift (it was right under my nose the whole time) I would say the true Heavenly experience started to make its way through the cloud into my brain. There are tons of blues as I said, but also each main group of them has plenty of blacks hanging off them here and there. Many are bumped; even some of the blues have bumps. There are bowls, some big and some little, and tree skiing galore, or at least if you want, or so it would seem. And there is a whole section of even ski map-looking scary double-black diamonds that were roped and closed off the days I was there, dang snow (in my dreams!)

In the end I had two favorites, a run called Stagecoach - a black, I think, and steep, which ran out into a blue or maybe a lesser black and down, down, down to the bottom of Stagecoach lift. Nice stuff for me, steep at the top, kinda hard (for me), then fast and long the rest of the way. I wanted more and re-did it several times before making my way back through the snow that was falling that day towards the gondola.

Runner up goes to the California side - I can't put my finger on one run but I just enjoyed these runs over there more than some of the central runs that are in Nevada. I think many folks agreed with me on this and they were there too, unfortunately. It's also a bowl-shaped area and has a lot of ways to get down. I like that.

But beyond that, I can't name a thing, a lift or a run whose name stuck into my brain. But it's all there for you to play in and it's nice stuff!

Let's talk food for a second. Eating at Heavenly resort just plain sucked. The first day I had a thin "bowl" of soup and a Pepsi that came to a near whopping $10. The second day I ate a plate of greasy fries and Pepsi, which was vastly cheaper, but the place was so packed with folks I ended up eating outside in the pouring snow and sleet.

Things were different at the hotel; the prime rib dinner which consisted of the beef, fresh hot sourdough bread, baked potato, salad, grilled veggies, pre-meal beer, during-dinner red wine (alright, is that soo wrong?), and DESSERT came to a very reasonable $21. For breakfast the next day (as if I was hungry) the "special" consisting of two eggs, two slices of bacon, two pieces of Gran Marnier french toast, orange juice and a cup of hot tea came to $3.54. Now that's a deal and it was good eats to match.

So what can I say? Don't fly over Colorado to go skiing at Lake Tahoe, not for skiing ALONE at least. But if you are out that way, try it. I hear you can take a boat across the lake to Squaw Valley, which might be an interesting adventure after a few days of Heavenly.

Photos provided by Kevin Rice.
Great article Kevin. I skied Heavenly a couple of years ago (before Vail bought it) and found virtually same experience (conditions, price, crowd level, etc.). I also found a lot of skating back and forth as there were many flat areas.

Don't give up on Tahoe. Kirkwood (not on the lake but nearby) and Squaw are excellent mountains and worth flying over Colorado. I want to go back and give Alpine Meadows and Northstar a try too.
I'll be @ Tahoe in early April. What's the spring skiing like at the various resorts? Anyone been there during that time frame with any additional recreational advice (hiking/biking/fishing/etc.)???
Kevin...good job. I spent a week in that area years ago...it was great. Ski them all great fun...
fred
Sorry folks meant to include these in the article:

http://www.virtualtahoe.com/SkiTahoe/ -- check out the pop-up Tahoe area map with the ski resort locations on it

http://www.tahoesbest.com/Skiing/alpine.htm -- short reviews of each resort with links to their websites

Unfortunately I don't know anything about Spring skiing there (although I believe that they get a ton of snow so hopefully it will last), and I agree with Roy about flat spots at Heavenly & the need for polling, especially around the lift areas. What's up with that?
Chris,

I skied Tahoe in early/mid-April several years ago. The conditions and the bases were awesome. Typically, the Tahoe areas close not due to lack of snow pack but due to competing warm-weather activities reducing the number of skiers. The upside: warmer weather for skiing and reduced crowds. Can't argue with that.

Tahoe tends to either get a real lot of snow or very little (wrt western standards). The year I went for spring skiing was a very good ski year. After an outstanding start, this year is turning out to be a sub-par snow year for most of the West. Tahoe, Colorado, New Mexico and even Utah have below average bases. The good news for you is that the Tahoe snow pack is much greater in March/early April than in January. Plus, when the storms hit Tahoe, they dump epic amounts. One year when I was at Squaw Valley, it dumped two feet of snow a day for four straight days!

Squaw, Alpine Meadows and Kirkwood typically have the best late season bases, but the other areas still have a lot of snow.

In April, there still is a lot of snow on the ground, so that will affect biking, hiking, mountain biking, etc.

Have fun, and let us know how your spring skiing trip turns out.
Chris,

The best views of Lake Tahoe are probably from a tiny locals area called Homewood. It's on the western edge of Tahoe, about halfway between Squaw Valley and Heavenly. The base area (not a lodge but trailers serving as a lodge) is only a few hundred feet from the lake itself. There are a several mid-mountain vantage points with incredible vistas. Lake Tahoe is the bluest lake I've ever seen.

Homewood is primarily an intermediate mountain, but there are some glades and a couple of faces to keep experts happy. It's a good place to mellow out, especially on a weekend where the other areas are being overrun by the hordes.
Stayed at the Forest Inn Suites (under the Heavenly lift)...very nice location walking to the casinos, but we found Heavenly boring. Taking the boat to Squaw was interesting - breakfast on the way over...dinner/dancing on the way back...but one big open bowl easily socked in by bad weather. If given one day to ski, I'd do Northstar; two days, I'd do Northstar twice! It's just the damn buses. When filled, they simply drive by you, and you try to go skiing again the next day! From now on - ski in/ski out, and we're willing to pay for the convenience. Oh, did you know the buses have to stop and put on snow chains half way to the slopes, by law.
I wish had more specific info to give folks but all I have are little tidbits of info that might not be accurate, so proceed at your own risk.
It definitely seems to me that Tahoe area has a lot to offer the vacationer. Besides the ski resorts, there's gambling/shows/partying in the Nevada area, Reno/Carson City and Southlake by Heavenly. There are mom&pop places like Lakeside Inn & Casino, or bigger places like Caesers just down the street that have shows, concerts, etc...
There are lots of different options there for the traveler and I just don't know them all.
Also you can stay right under the Heavenly gondola at a new spiffy looking Marriot owned hotel and walk to it, very convenient! But seemed pricey to me.
In terms of snow, my understanding is this year they got 6-7' in December and then it's been pretty thin since then, oh to have that problem around here!
And there's got to be lots of other outdoorsy things to do around Tahoe. For example there's a hiker/walker/biker trail that circumnavigates the lake -- 70 miles or so according to a bus driver. The lake itself would seem to offer boating, fishing (?), swimming (?) and other watery activities -- again, no idea on specifics for time of year.
Beyond that SF is a fairly short 3-5 hr? drive, and you could always extend this to a Napa Valley winery tour day.
Oh, and lastly, some US history, Virginia City is just east of Tahoe and supposedly produced several hundred BILLION dollars in gold & silver over the years, and sits on top of the FAMED COMSTOCK LOAD... all pretty much gone now of course.

http://www.suite101.com/article.cfm/oldwest/18259

http://www.calliope.org/gold/gold3.html
As Fred hinted, suggest the above for revised title of this piece. Except Heaven-ly was slightly flawed, but that's reality and that's what makes these reports so good. I took a trip like this once to New Mexico, 5 days business, 1.5 days skiing. I froze skiing Taos in a casual leather bomber type jacket on a real snowy mid-March day and with zero adjustment time I got a touch of altitude sickness too. It is hard to fully judge a big area in just a day or two, but still an impression can be made about whether a return is merited or where the place fits in your personal pecking order of ski areas.
Did Heavenly in April a few years ago.
Snow was kind of heavy, and there were more-than-usual flat areas between lifts. Balance that with a better-than-average variety of alternate, non-skiing activities, skiing, nightlife, and you have a good option, though I'd recommend no later than end March.
I skied Heavenly in April 2002. I guess I lucked out. The snow was crisp, dry and powdery. The temperature stayed below freezing but it was very comfortable in light gear (low humidity). Because there wasn't much skiing in the DC area last year my legs weren't quite up to the task. But I couldn't pull myself off that mountain. The view of the lake from the California side is absolutely awesome. I found the variety of slopes on the CA side more than adequate, especially compared to anything the Washington, DC region has to offer. If you are going in April be sure to check the closing date. They closed April 15 last year.

The town is fun with plenty to do, even if you don't like gambling. Highly recommend.
Just got back from Heavenly.

Skiied Mar 31 - Apr 3, 2003 first day was 60 degrees, wet snow and HOT weather. Clear, too. Got great pics.

Next day was WINDY and COLD. It didn't get to me, though. Snow was coming down and 3-6 inches fell by the end of the day. Groomed ICE were the main trails, but you could chop them up if you cut hard.

Day three was blurry from the previous night. Windy (up to 40 - 50 gusts) and still snowing from the previous day.

Day four was EPIC. The sky was clear and over 3 feet of snow gathered in the trees. My first time in powder. I took it slow in the trees and zig zagged more than I went downward.. Mainly for exploration. EPIC DAY!! Everyone said that, also..

All in all, great mountain with nice bus services in the surroudning area. If it's windy, they'll cut some lifts, which is what happened to me 2 out of 4 days.

I liked it all, with the nevada side being my favorite. Dipper Express lift to Orions and the trees in the area. Not really tightly packed and good for a person who never skiied powder or trees.

- See ya -
East Coast Skiier - DE