Editor's Note: Going Further Afield is a new series on DCSki that covers skiing in far away places (from just outside the Mid-Atlantic to across the world), presented in the words of Mid-Atlantic skiers. This series begins with a Firsthand Report from John Sherwood, who recently returned from a trip to Sunday River, Maine.
---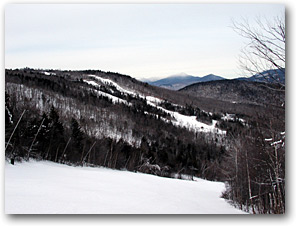 Around December, many Washingtonians must use up vacation days or lose them forever. This year, I decided to burn my extra vacation time by taking a short midweek ski trip to New England with my brother.
After much soul searching, the two of us decided to head to Sunday River (SR), Maine. We wanted to go to a large resort with robust snowmaking that was within a four hour drive of his home in Natick, Massachusetts. Killington emerged as a close second choice, but since both of us have skied Killington in the past, we opted to head for a mountain new to us. For both of us, this would be our first foray into the ski wilds of Maine.
I left Washington just before the storm hit on Tuesday. As I headed North, the temperature began to drop. When I left Washington at 0400, my car thermometer read 33 degrees, and by the time I hit Connecticut, it had fallen to 12 degrees and the ground was covered with snow. The drive to Boston took roughly 9 hours and the drive to SR the next morning, about 3.5. If you bypass Boston and drive directly to the resort from DC, the entire trip can be made in less than ten hours.
SR was the first resort developed by Les Otten, the founder of the American Ski Company. In many respects, it still stands as the crowning achievement of this legendary ski entrepreneur. Imagine 128 trails, many comparable to Cupp Run at Snowshoe, stretching across eight mountains. Now sprinkle in 1,740 snow guns, including 550 towers, and 15 chair lifts, including 4 high-speed quads. That is the essence of SR: dozens of classic "twist, turn, and dip" New England trails combined with a modern lift and snowmaking system capable of delivering world class skiing just a few days after Thanksgiving. A fit skier will have no problem bagging over 25,000 feet of vertical per day during the midweek.
After throwing our luggage into a slopeside Cascade condominium, we put on our skis and began exploring the resort. We started off at the South Ridge area-a magnificent learning area conveniently situated at the geographical heart of the resort. The cold Maine air shocked our systems as we boarded lift 2, but once we hit the impeccably groomed slopes of South Ridge, we forgot about cold and started enjoying ourselves. The green slopes at South Ride gave us a lot of confidence. After two runs, we headed to the top of the nearby Spruce Peak and tried one of the longer intermediate trails.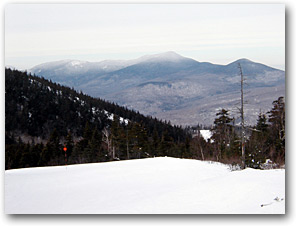 As I headed up lift 8, I noted how steep the trails were, and began to regret my decision. This was my first day of the season and I was now about to take on a "blue" trail steeper in many sections than Mid-Atlantic blacks. My brother, who hadn't skied in two years, looked even more hesitant. "Don't worry," I tried to assure him (and myself as well), "there's no one on these trails, so you cut them as wide as you please." True to my words, American Express was devoid of skiers, allowing the two of us to make our way cautiously down the slope. Although neither of us fell, we realized that our legs weren't quite ready for this level of challenge, and so we beat a retreat to the North Peak for some more confidence building green skiing.
At North, we found exactly what we needed: a green trail that skied like a long Mid-Atlantic blue. Dreamaker lived up to its name, offering just enough undulations and steep dips to raise our skiing and our spirits to the next level. That night, we toasted our first turns of the season at the Suds Pub in the Sudbury Inn. The Suds Pub is a classic mountain pub: a place where you can show up in jeans and flannel shirt, enjoy a burger, a pizza, or even a more elaborate New England seafood dish. We opted for the daily special: steak, steamed fresh vegetables, and a choice of potato for just $7.95.
The next day, we awoke determined to ride most of resort's 46 open trails. The storm front moving up the coast brought milder weather with it. After warming up on Dreamaker, we hit Spruce Peak again. Freshly groomed, American Express felt much easier the second day as did its neighbor, Risky Business. Risky Business is the kind of trail I just love-a cruiser (no pun intended) that flirts with the fall line in many sections, but always contains nice recovery zones.
From Risky Business, we made our way to Barker Mountain. At the beginning of each season, SR tries to get its middle mountains ready first, and then works its way to the wings. Each wing of the resort is anchored by a large, four star hotel whereas the middle contains most of the slopeside condos. Trying to characterize each mountain at SR is difficult because most of the peaks contain a variety of terrain. However, much of the area's intermediate terrain can be found on Locke, Barker, and Spruce peaks. Beginners tend to gravitate to South Ridge and North and experts head out to White Cap or Oz. Aurora and the Jordan bowl have a good mix of blacks, blues, and even greens. There are enough trails at SR to keep any skier busy for a week, if not a lifetime. If by some miracle you get bored, Sugarloaf USA, with 129 trails, is just 1 hour and 45 minutes away.
At Barker, we made long runs on Cascade and Sunday Punch, and enjoyed traveling back up the mountain on the Barker high-speed lift quad. At one point, I did eight runs in just over an hour. My brother eventually opted to head back to North and I continued bashing down Risky Business for my last runs of the day. Amazingly, cold weather and a lack of ski traffic meant that Risky skied almost as nicely on my last run as on my first. Words cannot describe the feeling of having a massive slope like Risky all to yourself on your first trip of the season. It was the best cure in the world for the seasonal snow fever that always afflicts me as ski season approaches.
We dined on pizza our final night at the nearby Matterhorn pub, another typical ski restaurant and bar. Overall, Bethel Maine does not have as many restaurants as the Killington or Stowe areas, but its 20 restaurants deliver quality at affordable prices. My brother commented that SR is more of a "skier's mountain" than Breckenridge, the last big mountain he skied at. There is no slopeside village, the nightlife is subdued, and shopping is limited. However, I appreciated the rustic, natural feel of the place-it made me feel like I was back in West Virginia. Some of the views actually reminded me of Snowshoe.
Another quality we appreciated was price. A slopeside studio condo capable of sleeping three can be rented midweek for less than a $100 a night. My brother, a realtor, was also impressed that one can still buy a slopeside studio at SR for as little $44,000. The resort also has great children's' programs, and programs for never evers. For Nordic skiers, SR offers 40 kilometers of tracked and groomed trails complete with warm up huts. An additional 125 kilometers of trails are at two more centers in nearby Bethel.
SR now has over 60 runs open. What are you waiting for? Consider taking some of that use it or lose it leave and experience the downhill pleasures of the Maine wilderness. Take yourself, a friend, or the entire family to the River.
Photos by John Sherwood.
I like this new section for DC Ski. In fact, I'm in the middle of one of those trips with an article in the making (I forgot pictures for the first part, though).

I've never been to Sunday River but it sounds like one to put on the list. And the real estate sounds cheap! Especially for a ski area.
John,

Wish I had your problem about vacation time ;)

I skiied Sunday River about 7-8 years ago during the opposite end of the season: mid-April. Despite the late date, most of the mountain was still open. The one mid-week day we got in was similar to your experience: we had the mountain to ourselves. We did light-speed cruisers all day without worrying about other skiiers. That was definitely a very rare treat. I'm sure those trails were crowded on a mid-Winter weekend.

Sunday River has some great wide cruisers, most of which as you said have some interesting rolls/drop offs and turns. For those who love GS turns, it's tough to beat. However, the advanced terrain definitely pales in comparison to that of other New England areas (Sugarbush, Stowe, Smuggler's Notch, etc).

See any moose up there?
JohnL

Did SR have White Heat, Agony, or Icaramba open when you visited 7-8 years ago? If not, I would recommend going back because these trails looked VERY challenging. I got a close up look at Agony from lift 1 and it reminded me a lot of Liftline, one of Stowe's famous front 4.

SR opened a lot more advanced terrain just after I left. However, I must confess that I did not miss the double blacks. I was there to get my ski legs back and the warp speed cruisers were perfect: very steep by Mid-Atlantic standards with some nice undulations, and even a double fall line or two. I'll have to return for the steep and the deep.

Prost!

John

PS SR's trails are much longer than they appear on the map. This is one of the few cases I have found where the trail map actually makes the mountains look shorter than they really are.
I've been looking for the article for a few days, now I see why it took some time! Really great article, I so want to jump out of my seat in chemistry and hit the slopes! I found a really nice pair of poles on sale from sierra trading post, I'm thinking Christmas! See ya'll!
Roy:

Where are you skiing right now? Can you comment on current conditions?

John
John:

I skiied White Heat when I was there. It's Sunday River's signature trail for marketing purposes. Back when The River was locking horns with Killington in the New England marketing battles, ASC dubbed White Heat the "longest, steepest, widest" trail in New England, even though it was none of the "est's" alone, but if you put them all together ...

I dunno, I thought White Heat had the charm of the Beltway. Pretty steep with challenging bumps, but cut straight down the mountain with very consistent pitch. Very crowded when the other trails were empty. It was the same sort of madhouse as Outer Limits in Killington.

I had to look at a trail map for the other trails. I think I recall Agony.(Gotta love those names!) Not bad if I remember correctly. ICaramba! from the trail map is under the Jordan Bowl lift. I honestly don't remember what was under the lift, probably because it wasn't covered with snow.

Don't get me wrong, Sunday River has some advanced terrain, I just think their advanced terrain is not as good as that of other New England areas. If I'm driving 8-10 hours, I definitely have to prioritize.