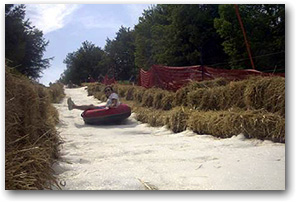 On July 4, unpleasantly high temperatures and humidity in the Mid-Atlantic region removed any doubt that summer is here. To the north, in New Hampshire, temperatures weren't much cooler -; reaching the mid-90's. Despite this, more than 200 snowsport enthusiasts showed up at the Tenney Mountain ski resort, climbed up the top of a hill with their snowboards and tubes in tow, and slid down the mountain -; on snow.
Snow and July don't normally mix, at least not in the northern hemisphere -; but the Plymouth-based resort plans to offer a slope and tubing run throughout the summer. To accomplish this, Tenney Mountain is the first resort in the United States to incorporate a new type of snowmaking system that can make snow regardless of temperature. The new technology, termed Infinite Crystals Snowmaking (ICS), comes courtesy of Tenney Mountain's parent company, SnowMagic Entertainment. (SnowMagic purchased Tenney Mountain in October, 2002.) With ICS, snow is generated in a climate-controlled building and then transported to slopes in a wide-diameter flexible tube. Traditional snowmaking systems rely on sub-freezing air temperatures to crystalize water into snow just as it exits a slopeside snowgun.
The temperature-independent snowmaking equipment doesn't come cheap; ranging from 50 to 200 tons, an ICS unit can cost as much as $1 million. Tenney Mountain's system, installed just days before the July 4 premier, will support the new Tenney Mountain Glacier Tubing Park, which will provide on-snow tubing and a freeride (ski and snowboard) terrain park.
Tenney Mountain had initially hoped to open Glacier on June 13, but a labor dispute among east coast dockworkers delayed the arrival of the ICS equipment, which was trapped on a cargo ship. With the equipment in place, Tenney had a successful debut of the Glacier on July 4, and immediately began strategizing how to best preserve and groom snow in the heat and sun of summertime.
"We faced a steep learning curve to install and operate our revolutionary temperature-independent snowmaking system just a few days before our Grand Opening on July 4," explained Dan Egan, General Manager of Tenney Mountain.
"Now we are refining the slope based on what we have learned will make it more accessible to skiers and snowboarders, and make the tubing run even more fun," he added.
Resort staff spent July 6-8 incorporating improvements into the operation, and reopened on July 9. Weather permitting, Tenney Mountain plans to remain open through August 24. Until then, Tenney Mountain's web site will feature a "summer snow report" -; probably the first east coast resort ever to do this.
Summertime skiing has achieved some popularity in other countries, such as Japan. As reported by DCSki in May, there are preliminary plans in the works to develop enclosed "snow domes" in both New York and New Jersey. Existing ski resorts will undoubtedly pay close attention to Tenney Mountain's efforts to gauge whether there is a market for limited summer skiing, and whether the new technology makes it feasible.
For more information, visit www.tenneymtn.com. Photo provided by Tenney Mountain.
There are no reader comments on this article yet.