Editor's Note: DCSki Columnist John Sherwood just returned from a 13-day, 3-resort ski safari of Austria and Switzerland. This report, on Ischgl in Austria, is the first of three articles on this trip, describing his experience in Austria January 28-31, 2004. (His second report focuses on Sölden, Austria, and his third report focuses on St. Moritz, Switzerland.)
---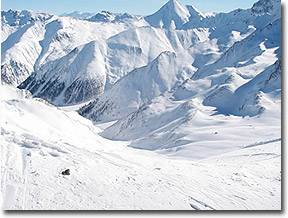 Ischgl is completely off the radar screen for most North American skiers. In my four days there, I only ran into one American group. For Europeans, however, this resort is a top destination on the continent. Why? Ninety percent of its 205 kilometers (127 miles) of prepared trails are located between 2,000 and 2,872 meters (6,561 and 9,422 feet) above sea level. The high altitude of this terrain makes Ischgl one of the most snow-sure resorts in the entire Alps. If that were not enough, Ischgl has invested over €100,000,000 ($126,880,000) in recent years to create one of the most modern lift systems in the world. The huge number of high-speed, detachable, bubble chairs, high-speed gondolas, and modern trams at Ischgl ensure that guests rarely if ever see a lift line. Idalp, the resort's mid-mountain base station, is literally the Metro Center of lifts. When you emerge from one of the three village access gondolas and arrive at the snowy Idalp basin (2,300 meters/7,545 feet), you are confronted by 6 modern chair lifts radiating in every direction from the gondola stations. To quote DCSki columnist Jim Kenney, "Big lifts equal big fun!"
I flew out of DC on a snowy Tuesday night on January 27 to Vienna, Austria (VIE). Despite being delayed five hours at Dulles, Austrian Airlines made sure that seats were reserved on a later shuttle flight from Vienna to Innsbruck (INN), and more importantly, that my bags also made the later connection. The 45-minute shuttle from VIE to INN is pure pleasure. If you are lucky, you will fly a turboprop rather than a jet, allowing for much better views of the Austrian Alps. As I gazed out the window, I could not help but notice how snowy the mountains appeared. The Alps had received four days of periodic snow prior to our arrival, ensuring that conditions would be superb.
It took my wife and I less than two hours to drive from Innsbruck to Ischgl. We stayed in the Hotel Salnerhof, an exquisite four-star establishment just steps away from the town's main gondola, the Silvrettabahn. At Ischgl, most guests eat both dinners and breakfasts at their hotels. This "half pension" system makes the real cost of a room much cheaper than the cover price might suggest. Our meals at Salnerhof were five course affairs prepared by a culinary school trained chef. Each day, we had a choice of three main entrees (meat, seafood, or vegetarian) plus an appetizer, salad bar selections, a cheese course, and dessert. The food at the hotel was continental cuisine at its best and compared very favorably to some of Washington's better restaurants. Arguably, my cod dish one night was just as delicious as a cod entrée I ordered just a few weeks before at Woodley Park's New Heights restaurant.
Our first day of skiing at Ischgl was our only bad weather day. As usual, I woke up early that day, poked my nose out the window, noticed the snow and grey skies and promptly went back to bed. We didn't make it up to Idalp until ten and -14 Celsius (6.8 Fahrenheit) temperatures and poor visibility above the tree line kept us on easy slopes. We'd hang out in the lodge sipping hot chocolate, wait until visibility improved a bit, and then ski a relatively short, 440 meter/1,443 feet vertical run near the Idalp plateau. Eventually, we found some good, tree-lined slopes on the Paznauer side of the mountain. As a general rule of thumb, skiers should seek lower, tree-lined runs on low visibility days in the Alps because trees provide much needed contrast. Fortunately, Ischgl has extensive tree-lined territory below both sides of Idalp -; some of which are quite steep and long. Skiers can bag 920 meter/3,018 foot vertical runs from Idalp to the village.
The next day was a true blue bird: sunny skies, perfect snow, and smiling faces everywhere. We easily logged 40,000 feet of vertical on this truly epic day. We began our journey by taking a series of high-speed lifts to the top of Palinkopf mountain (2,864 meters/9,396 feet), and then playing on the 38-degree, north facing headwalls of the mountain. You know a headwall is steep when you create small avalanches behind you as you make turns. At Ischgl, I rented Atomic SL-9s -; skis that were good for short-radius turns but not wonderful for GS, open throttle skiing. On the black 21 trail I would have preferred the, harder Volkl Superstar 6 skis I rented at St. Moritz because this slope was empty and extremely wide -; just the type of hero terrain that can make an upper level intermediate feel like Bode Miller for a day.
After a few warm-up runs, we charged down the number 80 trail to the Swiss town of Samnaun. Ischgl and Samnaun share a common lift pass, known as the Silvretta Arena card -; a chip card that opens turnstiles at both resorts. For a few Euros more, one can also buy a pass good not only at Ischgl and Samnaun but the neighboring resorts of Galtur, See, and Kappl. In short, one could easily spend a week in the area and rarely ski the same trail twice. The 80 trail down to Samnaun (1,840 meters/6,036 feet) is a classic, big mountain decent that covers miles of terrain and 1,024 meters/3,359 feet of vertical.
Anyone comfortable skiing Upper Cupp Run at Snowshoe should easily be able to handle most of the red (intermediate runs) terrain at Ischgl. Those comfortable with Bold Decision at Whitetail should be able to handle most of the blacks as well. Ischgl grooms nearly all of its marked pistes daily, making steeper descents very accessible to most intermediates. I would only warn timid intermediates to avoid some of the high-altitude catwalks such as the number 15 trail linking Greitspitz (2,872 meters/9,422 feet) with the Hollenkar area. Although not very steep, the red (intermediate) 15 trail is narrow and unfenced. If you skied off the edge in spots, you would end up being Seth Morrison for a day (i.e. cliff diving).
Samnaun is a much quieter place than Ischgl -; perfect for families wishing to get away from the occasionally intense après ski scene at Ischgl. It connects to the Silvretta Arena via a unique, double-decker, 80-person tram. At the end of the day, this tram can get crowded, so skiers wishing to visit Samnaun are advised to go early. The Samnaun tram takes skiers to Alp Trida (2,263 meters/7,424 feet), a high bowl surrounded on all sides by mountains between 2,488 meters/8,162 feet and 2,872 meters/9,422 feet in height. One could spend an entire day at Alp Trida and barely ski all the terrain accessible from this high base. I enjoyed the red trails radiating down from Viznitzkopf. 60 percent of trails at Ischgl are red, making this an ideal resort for strong intermediates.
We spent the final part of our first day exploring the trails on the far right side of Palinkopf. These trails are slightly steeper and narrower than the reds found at Idalp and Alp Trida, making them good testing slopes for advanced intermediates. By the end of the day, the trails also had small but soft bumps, giving me a wonderful opportunity to take advantage of my Atomic slalom skis. The highlight of the day was skiing from Palinkopf (2,864 meters/9,396 feet) all the way down to Ischgl (1,400 meters/4,593 feet) -; a 1,464 meter/4,803 foot vertical evolution! That's five times the vertical of Whitetail.
Exhausted would be an understatement to describe my physical condition after a day of big mountain skiing at Ischgl. Fortunately, Salnerhof offered a variety of warm water pleasures to sooth body and soul. I enjoyed the subterranean pool with its waterfall and whirlpool areas.
My wife and I are not huge après ski fanatics. We ski hard, sleep, and then ski hard again. However, no article on Ischgl would be complete without some comment on the party scene at Ischgl. Austria has a reputation for offering some of the best après ski in the Alps. Like St. Anton, the après ski begins early in the day at the various mountain huts lining the lower trails of the mountains. By 3 pm, expect to see people dancing on tables to Euro pop music. My wife and I got a huge chuckle at the Gampenalp hut when they played the Dutch group Hermes House Band's version of John Denver's Country Roads. West Virginia all of a sudden seemed much closer.
The party continues until about 8 pm at the many bars in the village of Ischgl. There is then a two-hour break for dinner followed by more revelry at the town's various night bars and discos. As in most ski towns, the ratio of men to women is weighted heavily to the advantage of women, but that does not seem to discourage anyone from partying until the wee hours of the morning.
For us, however, sleep was more important because we had many more kilometers of runs to make before we left Ischgl. One of the most interesting was the 7 trail from Pardatschgrat to Velilltal. This trail appears relatively short on the map, but is huge in actuality. Since few people ski it, the piste gives one a taste of some of the ample backcountry to be found in the Silvretta Alps. For freeriders, Silvretta compares favorably to the Arlberg. After the snow, we saw plenty of backcountry snowboarders making huge, Craig Kelly style rooster tails as they descended impossibly steep terrain off the many lift served peaks of the Silvretta. Those wishing to "go big" and experience backcountry skiing can hire a mountain guide through Ischgl's tourist board. I'm not a backcountry skier, so I was content to view the terrain from the safety of the marked pistes -; many of which give one the experience of backcountry riding without the dangers and difficulty.
In all, I only skied Ischgl for four days and left feeling that I had only sampled a small portion of this amazing ski region. Although we skied most of terrain above Ischgl and Samnaun, we never made it to Galtur, See, or Kappl. We also rarely waited in a lift line. In fact, the only semblance of a wait was at the beginning of each day at the Silvrettabahn's gondola station and this line never lasted longer than ten minutes. Getting to Idalp from the town used to be a problem but the new, 16-person, high-speed Silvrettabahn, along with the two older 4-person gondolas, is handling crowds well.
Ischgl, a town of just 1,500 citizens, is one of the newest ski arenas in the Alps. Its first cableway was constructed in 1963 and now it offers 42 lifts and can accommodate over 10,000 guests. What is more, the resort is not finished. In the future, Ischgl plans to open up even more terrain in the Fimbatal/Piz Val Gronda area near the Swiss border. I enjoyed the place tremendously and would rank it as a top ski spot in the Alps.
Photos provided by John Sherwood.
Excellent article John. Could you share with us a little bit of the cost side (lift, lodging, transporation...)?

Thanks.
Hotel and lift tickets prices should be available on the general Ischgl web site: www.ischgl.com. With that being said, Austria is one of the least expensive Alps countries to ski at, but Ischgl is one of the more expensive venues in Austria because of its superior lift system, and also because the village is small and contains mainly 3 and 4 star hotels. Our four star cost about 200 euros a night--a price that included a huge buffet breakfast for two and a gourmet 5 course dinner. This price did not seem unreasonable to me given the level of services provided (food, pool, spa, etc). A four-day lift pass for Ischgl/Samnaun will run you 109 euros, which averages out to about 27 euros a day.

With the Euro over $1.20, Europe is no longer the bargain it once was. However, airfares are quite reasonable in Jan-March (the Austrian Airlines flight from IAD to VIE can run under $500 during this period). Cheap ground transportation (2nd class rail and Post busses), and inexpensive lift tickets also make up some of the difference. Finally, if you shop around, you can often find a cheaper hotel. In the Ischgl area, See and Kappl offer very reasonable digs and are accessible to Ischgl by a shuttle bus. Trips booked in January and March also tend to be much cheaper than February (high season).

Some of the best package deals I've seen are offered by a British travel agency called Thomson holidays, http://www.thomson-holidays.com/. Thomson rents apartments for the season at big-name Alps resorts and so it can offer really good rates. The drawback of a Thomson holiday is that you often have to share a suite with strangers, share bathrooms, and eat communally-tough for Americans who love their privacy and personal space, but a heck of a bargain, especially if you enjoy hanging out with our good friends from the UK.
40,000 vertical in one day. That's a serious amount of skiing! I don't know if I've ever come close to that.

How far off the groomed can you safely go without a guide? With the possible exception of the very first picture on this page, it seems all the terrain at lift-level in your pictures is safely skiable. Is this true? Looks like there are a lot of tracks in between the groomed sections, similar to what you'd find in the U.S.
I'm glad you enjoyed the trip John! The photos you took of the lifts is crazy - maybe some of our local resorts can do that too!
On an uncrowded day, you can easily log that kind of vertical on Snowshoe's Western Territory, but most of us never really push it that hard on local slopes. What kept me going in the Alps was the vast amount of terrain that I wanted to cover in a limited period of time. After skiing some excellent snow or neat steep terrain, the nagging question was always, "Do I want to ski that again or move on to something new?" At a place like the Silvretta arena, you would need a month to ski everything. Furthermore, there are additional galaxies of terrain just a few hours away by car: St. Anton, Soelden, Obergurgl, Serfhaus, Seefeld, etc. As someone primarily interested in skiing as opposed to food, culture, or aprs ski, I pushed myself in Alps and paid the price by being quite sore after my first few days. Why I love the Alps so much is that under decent conditions, few ski resorts in the world can beat them when it comes to piste length, skiable acreage, modern uphill transport, and big vertical. To put it this way, big mountains in the US have about 3K of vertical, but big mountains in the Alps have between 5 and 6K. Size does not always matter if the snow is crap and a place is crowded but in the Alps, the lift upgrades (some of which have been publicly funded) in past ten years mean that lines are no longer a huge problem at the best resorts, and as for snow quality, you just have to watch the weather and go at a good time: late January/early February is one of the best times to go but it's also an expensive period.
With regard to off piste skiing, if you see it in Europe, you can ski it. However, you do so at your own risk. There are cases of people dying because of Alpine hazards just meters from the boundaries of marked pistes. I'm not talking so much about avalanche hazards, but gullies, rocks, crevasses, and hard to spot drops. At Soelden, I skied off trail once to try and take a short cut to a hut. From my uphill, port side vantage point, I could not see a serious, 20 foot drop until I was nearly over it. For Canaanman, such drops may not be a problem but for me, it was a sobering experience. It's also sobering to see skiers take blind turns too fast and end up over the edge. Basically, if you want to bag fresh tracks on powder just beyond a piste boundary, scout the trail first and then make your tracks. Better yet, just hire a mountain guide, and go wild.

Also, in Alps, if you do get hurt, there's a good chance that you will be evacuated by helo as opposed to toboggan because the mountains are just too big for toboggans to be an effective evacuation tool. Many American insurance companies will not pay for the cost of such service--normally about $5,000. Therefore, it is advisable to pay a few euros extra at the lift ticket office for rescue insurance in the Alps. As a member of the Austrian Ski Federation (34 euros a year with discounts at most Austrian resorts), I get liability insurance and helo evac insurance at all Austrian ski resorts. The only drawback of joining ASF is that some of my dues go to the Austrian National Ski team--a terrible thing for a US Ski Team fan. :)
Gorgeous photos - so WHITE! Curious about any differences in feel or quality betweeen Austrian and Swiss ski areas. Also, got any brief pros and cons of timing a visit during the months of Jan, Feb, Mar, Apr for skiing the alps?
I've got two more reports to write: one on Soelden and one on St. Moritz, but I will comment these questions.

The Austrians and Swiss both do a fabulous job of running ski resorts and both seem committed to building more and more modern lifts. Snowmaking is also becoming more prevalent in both countries--especially on lower access slopes. At top resorts like Ischgl in Austria and St. Moritz in Switzerland, snowmaking is even found above 2,000 meters.

Switzerland is a little more expensive, but this makes Swiss resorts less crowded. The tram going to the Corvatsch glacier was half empty at St. Moritz. When it emptied, I waited 10 minutes for people to ski away and then savored the experience of riding the glacier without any people--a once in a lifetime experience well worth the extra cost of a lift ticket and a more expensive hotel room. At Soelden by contrast, getting up to the glaciers can mean enduring a 20 minute lift line here and there. Once on the glaciers, the extent of the terrain allowed for excellent skiing--i.e. the slopes were not crowded, just the lifts.

To put it another way, St. Moritz is Aspen and Soelden, Vail.
European resorts get 3-4 major snowfalls a year (mainly in January and March) and a lot of 2-3 cm dustings. Your best skiing is just after a big dump--once the sky becomes blue again and the avalanche hazard begins to recede. Both last year and this year, my timing was perfect.

The best month to ski in Europe is February because it is the sunniest and most snowsure. It's also the most crowded and expensive because European schools have vacations during this month. Great skiing can be found in January and March but you have to watch the weather and travel last minute to get it right. This sounds like an oxymoron, but nothing is worse in Europe for skiers than snow. It reduces visibility above the treeline to 0 and many upper lifts close due to wind and avalanche hazard. I'd rather ski older, fern snow in March under sunny skies than powder in January under flat light conditions and snow. That's just my opinion.
Where are the trees? Just got back from sking vail-beavercreek & the tree line was at about 11300'.The highest altitude you mentioned was about 9700'?? & none of your pics showed any trees.We had problems sleeping at nite at 8000' so i like the idea of less alt,but does that mean more wind in the alps with a lot of above timberline sking?
Andy:

In general, the treeline in Europe is much lower than it is in the American west.

The treeline in this part of the Alps is approximately 2,000 meters (6,561 feet). Since 90 percent of the trails at Ischgl are above this line, I mainly shot photos of above treeline pistes. That's not to say that Ischgl does not have decent below treeline territory. There's some steep terrain below the tree line at Ischgl--perfect for low visibility days, but when the sun is shining, I'm usually above the treeline when in the Alps. I see enough trees in WV and do not miss them in Europe. :)

BTW, as you move East in Europe, the treeline gets lower. Hence, in the Carpathian mountains (Slovakia, Czech Republic, Poland, Romania), you'll see trees begin to dissappear at 1,400 meters (4,593 feet). Why? Colder, continental temperatures. The Carpathians, not surprisingly, hold snow at lower altitudes than the Alps, but they also get much less precipitation.
Just booked for January 05 only one ski holiday behind us, what are the blue runs, easy/red runs like
Blue runs at Ischgl are about the same as Mid-Atlantic intermediate runs. If you are a less confident intermediate, you might consider downloading the end of the day on the gondola rather than taking a red back down to Ischgl. I did not find the lower slopes at Ischgl to be as hard as the Reuter's Guide suggested, but lower intermediates still may wish to avoid them.