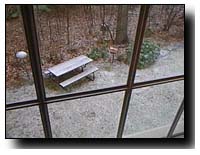 Snow is currently falling in the Baltimore and D.C. area. Due to warmer ground temperatures, heavy accumulation is not expected, although local ski areas should receive 1-2" of the white stuff. The National Weather Service expects the snow to taper to flurries this evening. Temperatures will drop into the night, creating the possibility of slick roads as water freezes.
Local ski areas are examining the extended forecast with glee, noting that temperatures will be ideal for snowmaking for at least the next five nights. Expect the ski areas to aggressively make snow - all local areas have opened, and have the high overhead of keeping the resort open, so unlike in late November, snowmaking efforts should be intense.
Today's winter storm may be a dress rehearsal for a potentially larger "snow event" early next week. Few area meteorologists are willing to make firm predictions, but the right conditions for a snow storm appear to be converging for Monday, Tuesday, and Wednesday. The storm could bring snow flurries, or it could bring more significant snowfall. We'll keep you updated.
By this time next week, area resorts should be offering expanded terrain and healthy base depths.
There are no reader comments on this article yet.