Firsthand Report: Season Finale at Wachusett Mountain, Massachusetts
It was a case of delayed gratification when my family and I stepped into our bindings under a glorious morning sun for our first-ever visit to Wachusett Mountain Ski Area in mid March 2006. We had spent the two previous days dodging rain, sleet, and wet snow in some of New England's most volatile spring ski conditions. A day of fun in the sun with 1,000 of our closest buddies at Wawa, as the ski area is affectionately known, was just what the doctor ordered.
When approached from the north, first views of Wachusett Mountain are impressive as it rises above its namesake lake. Wawa's 22 trails overlay the highest point (elevation 2,006') and constitute the largest ski area in the eastern two-thirds of the state of Massachusetts. 20 minutes from Worcester, one hour from Boston, Wawa also features 1,000 feet of vertical and eight lifts including two high speed quad chairs. Set amidst rolling countryside, this monadnock is a most convenient geographic anomaly for those looking to escape the Boston metro region for a day of excellent snowriding. And as my family found out, it is also a great stopover on the way to or from ski areas further to the north.
Like many ski hills with good proximity to urban areas, Wawa can be very busy on prime weekends. However, on the Saturday of our visit the two high speed quads effectively mitigated any serious lift lines and we never waited longer than five minutes. Also fortunate for us tourists, many locals seeking fast conditions departed the scene by noon, leaving sunshine and softer snow for those of us lingering to gorge on a full day of New England gorgeousness.
My wife and I started the day with a warm up on a beginner trail called Indian Summer. It is served by a dedicated triple chair (~300' vertical, 2,300' length) and a couple of surface lifts. This represents one of the longer and more benign beginner areas I've seen and reminded me of Southern Comfort slope at Massanutten, VA, although it was longer, wider, and better set apart from the rest of the ski area.
Moving up a notch on the difficulty scale, we next hopped on the Minuteman Express Quad chair (~600' vertical, 3,500' length). This crowd eater serves several blue/green groomers and a notable terrain park and halfpipe. My easy skiing wife really enjoyed the wide and scenic Ralph's Run from this lift. It is named after the late patriarch of the Crowley family that founded and still operates the ski area.
My two children quickly found out about Wawa's very responsible park and pipe policy. They got booted out when a patroller noticed they were entering it without proper "credentials." At Wawa every terrain park and halfpipe user must take a brief video instruction class and purchase a nominally priced access pass. The park contains larger features than typically seen at mid-Atlantic ski areas and I'm sure this policy saves a few necks during busy times.
Finally around 11 a.m. we made it up to Wawa's summit via the Polar Express Quad Chair (~950' vertical, 4,300' length). From here there is a choice of about a half dozen blue square and easy black diamond runs. All share pretty views of a rural Massachusetts landscape dappled with blue ponds and evergreen forests. We really enjoyed the well groomed and family friendly run from the top called Conifer. It's relatively long and contains a few turns and steeper pitches to keep solid intermediates on their toes.
There are also some moderately difficult black diamond runs from the top of the Polar Express (the Crowley family also owns Polar Beverages Inc). Smith Walton is a wide and straightforward pitch reminiscent of a longer version of The Face at Wisp, MD. It was groomed on the day of our visit and is a good place for advancing snow riders to test their mettle. The 10th Mountain Trail is possibly the toughest black diamond run from the summit. One side of the steepest part of this trail contains a 200-300 yard stretch of big moguls and reminded me of Bold Decision when that run is allowed to bump-up at Whitetail, PA. A young telemark skier in a train engineer type hat caught my attention here for his blazing repeat rips through the moguls, including some exceptionally nice air time for a freeheeler.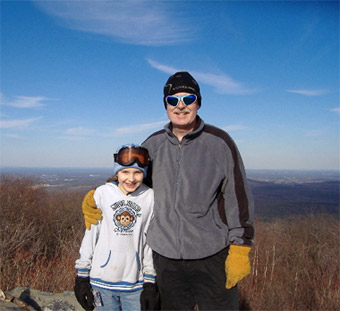 The lodge at Wawa is huge, Seven Springs, PA huge. On the day of our visit the outdoor grills were fired up for lunch and attracted my burger-loving kids from far across the mountainside. I went for the promotional samples of spicy hummus, bread sticks, and soda that were being handed out freely around the base area. In between bites we splashed on the sun block while lounging in deck chairs. The weather was great; sunny and close to 60 degrees. It was the best kind of family fun on classic spring ski day. After lunch we shared more ski time together until the shadows began to stretch across the trails.
Just before our last run of the day I paired off with my youngest daughter Suzy for a short climb up the weathered stone steps above the Polar Express Quad. They led us to the true summit of Wachusett Mountain where we took in 360-degree views including the high rises of Boston some 50 miles to the East. From the heights I felt a twinge of emotion contemplating the close of another ski season.
I didn't necessarily plan on making my season finale at Wawa, but that's the way it turned out. Like life itself, sometimes you never know where or when the end of a ski season will come. In recent years little Suzy has been one of my best ski travel buddies from the far West to West Virginia to Wawa, and many points in between. With her and the rest of the family along for the ride, each season becomes a gift more precious than the last for this old man. In return, it pleases me to extend to the next generation the promise of a lifetime of satisfying winters yet to come.
Extra Details:
Access: Wawa is one hour from Boston and just a couple easy miles from the divided highway of State Route 2. It is approximately an eight hour drive from the Washington, DC area.
Base lodge: Wawa's 48,000 sq ft lodge contains all the usual ski and snowboard rental/lessons/retail services, along with a food court, lounge, coffee shop, restaurant, entertainment suites, and conference rooms.
Accommodations: Wawa is located within a state reservation. To preserve the natural quality of the area the nearest lodging is located two miles away at the Wachusett Village Inn and Conference Center beside Route 2.
Ski train: Massachusetts transit authorities will run a ski train every Saturday and Sunday this season from Boston's North Station to nearby Fitchburg with free shuttle service to the slopes. Train passengers will receive a one way fare credit to use for lifts, rentals, or food at Wawa.
Night skiing: 18 trails are lit for night skiing.
2006-2007 lift rates: Lift ticket rates are very competitively priced, adults are $49 weekends and $39 weekdays, with lots of specials and promotions. Visit their website for emerging deals.
There are no reader comments on this article yet.