Sometimes even the most obsessed ski freaks must put the interests of loved ones before the eternal quest for vertical feet. Because of Okemo's well deserved reputation as a meticulously managed family place my two children and I came up with a Mom-centric game plan for our first ever visit to this southern Vermont behemoth in early March 2006. Our top priority was to show Mom (my easy skiing wife Kathy) a GOOD time. If the rest of us happened to squeeze in a thrill or two over Okemo's 117 trails and 2,200 vertical feet, well that was OK too.
We unloaded our gear beside the ticket windows and I parked the minivan at a lot just across the street. Phase one of our plan called for grabbing some quick breakfast while helping Mom set up a family command post in the Okemo Main Base Lodge. Then my son, daughter, and I promptly headed out to make a few reconnaissance runs.
It was one of those mild spring days with sporadic sprinkles and highly variable conditions. The lower half of the mountain remained socked in fog while the upper summit enjoyed partial sun and good visibility. With Mom's pleasure in mind we moved on to scout higher ground by catching the Glades Peak Quad (length 3,926', vertical 1,023'). It took us to the highest point in the ski area, elevation 3,344', and some very cool morning views above the cloud shrouded Okemo Valley.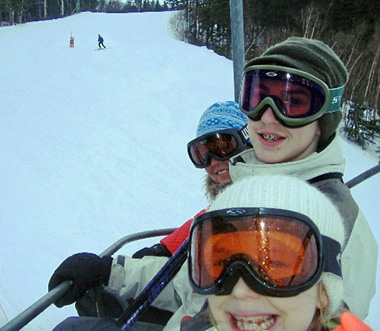 If you ski Okemo or ponder the trail map you'll discover that there is a green circle run from the upper terminus of almost every lift on the mountain, including several from the summit. I knew Kathy was going to like this layout, but before we could get back to her at the base lodge we stumbled upon the Blind Faith Terrain Park over on the South Face section of the mountain. Blind Faith is a boarder cross set-up laid out high on the mountain with rainbow rails, boxes, banked turns, big hits, and south-central Vermont views too sweet for mere park rats.
The park and other great runs including some double diamond glades are conveniently served by the South Face Express Quad (length 4,717', vertical 1,072'). It was all I could do to tear the kids away after about three passes through this spectacular playground. The promise of some Okemo french fries finally did the trick.
Back in the Main Base Lodge we gobbled down the fries and some juice. Then all of us, Mom included, took a cute little magic carpet lift to access the nearby Sachem Quad Chair (length 4,454'/vertical 967'). There were a bunch of ski school toddlers milling around between the carpet lift and the quad chair. I could sense Kathy the homemaker was immediately finding her comfort zone at a mountain whose name according to local Indian lore means "all come home."
The Sachem Quad Chair, one of 18 lifts with a total capacity of 32,250 riders per hour at Okemo, serves a trail pod that would constitute an entire decent sized ski hill in the mid-Atlantic. At the top of the quad chair we took the long, green circle run it's named after - Sachem. It reminded me of Mambo Alley at Blue Knob, PA or the lower part of Twister at Timberline, WV and weaves nearly 1,000 vertical feet through some of Okemo's finest slopeside real estate. My wife and I agreed that the impressive real estate along with Okemo's fine grooming and lift infrastructure impart a decidedly upscale aura.
Since Tim and Diane Mueller took over Okemo 25 years ago you might say it has become something of a model of modern ski resort management coupled with tasteful slopeside real estate development. Sachem is an Indian word for chief and I wouldn't be surprised if more than a few CEOs and CFOs inhabited those big single family homes lining the Sachem trail. On the other side of the Main Base Lodge are four or five major clusters of slopeside condos. The Jackson Gore trail complex, base area, and Inn were added in 2004 on the far northern edge of the mountain. The destination status of the area is also enhanced by high quality retail, dining, and lodging establishments in the nearby town of Ludlow, Vermont.
After the impromptu real estate appraisal we headed up to Okemo's peak and reprised the pristine South Face, this time for a spin down my wife's dream ski run. The long and aptly named Dream Weaver descended more than one thousand mellow and scenic vertical feet with nary a soul on it but us four Kenney's. There was a lot of elbow room on this March weekday all around Okemo, especially with 95% of the terrain still open.
Eventually we left Okemo's South Face and crisscrossed the summit for a run down the long, lonesome Upper Mountain Road. This is an extremely benign touring trail and can be stretched to a maximum of 4.5 miles following the contours of the mountain. It gave Kathy a feeling she was strolling through something like Robert Frost's woods; lovely, dark, and deep, but with miles to go before we sleep!
Just when the kids were feeling a bit under-challenged we came upon the Dew Zone Jib Park and SoBe Superpipe. My son dropped into the halfpipe and my daughter jibbed her way through the park, which included extracting revenge on an old minivan not too unlike our family vehicle. My wife trailed alongside looking to pick up the pieces while I just marveled at perhaps the best maintained batch of parks and pipes I've seen in the Eastern US. No wonder Okemo has spawned the likes of 2006 Olympic Halfpipe Gold Medalist Hannah Teter.
We took a few more runs together as a family on the main face of the mountain and then all too soon our time at Okemo came to an end. Most grievously, I never made it to the new and highly regarded advanced terrain of Jackson Gore. Family togetherness took precedent this time, but I'd sure like another visit focused on the well tended black diamonds scattered about Okemo.
On our drive north to this great resort my family couldn't miss Okemo's aggressive billboard ad campaign. Each sign along the Connecticut interstate highways piqued our interest with a play on the word Okemo, accompanied by an oversized photo of somebody having fun on the snow. We got a chance to personalize a few of those slogans. My easy skiing wife became a certified Okemomma on buffed groomers. My kids got their Okemojo working every time we came upon one of the half dozen terrain parks or halfpipes. And after just a single day on the intriguing 624 acre trail layout I was left wanting for Okemore.
There are no reader comments on this article yet.