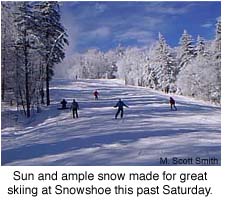 West Virginia's Snowshoe Mountain Resort enjoys an elevation higher than any resort in New England - an elevation that brings colder temperatures and snow to Snowshoe early in the season. This past weekend, snow conditions at Snowshoe and the neighboring Silver Creek ski area were about as good as conditions get on the east coast. That's not bad, considering it's only mid-December.
A week ago, Snowshoe received over two feet of natural snow. Combined with aggressive snowmaking, this has allowed Snowshoe to open approximately half of their trails with a base depth between 30-62".
Conditions this weekend were ideal: the bright sun smiled on freshly-groomed slopes of packed powder. Early-morning fog, which often hangs over Snowshoe like an uninvited guest, was burned away by the sun by the time the lifts started running. Crisp temperatures kept the snow firm and the snow guns firing all day.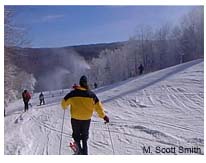 Snowmaking can be a mixed blessing: skiing in the path of a loud snow gun rates on the "pleasant" scale with a trip to the dentist, but it does a fairly good job covering dirt and rocks, which is generally considered a good thing by skiers and snowboarders. Like many resorts, Snowshoe makes snow in the middle of the day when temperatures permit, which has prompted many DCSki readers to complain. This policy was being practiced this weekend on a few slopes, particularly Upper Cupp Run, where it was virtually impossible to ski without goggles. (Nothing like having ice crystals freeze on your sunglasses!) Snowshoe was taking advantage of the cold temperatures to build up their base while they could - since warm weather has a habit of making an impromptu entrance in the Mid-Atlantic - but I anxiously await the day when snow falls gracefully and quietly out of snow guns, losing that "fire hose" semblance.
Enough slopes were open this weekend to disperse crowds effectively. Snowshoe's new high-speed Ball Hooter quad prompted a great deal of positive comments from skiers and boarders who were used to the older quad it replaced - or were riding a high-speed quad for their first time. (Many wondered how the chairs slowed down when they reached the top of the lift, a mystery partially explained by the "detachable" moniker given to high-speed lifts.) Lift attendants did a good job directing traffic onto the lift - when lines became long, one courtesy patroller helping out joked "I hate it when my maze gets complicated!" But even then, the wait for Ball Hooter was never longer than 5 minutes, and usually averaged around 2 minutes.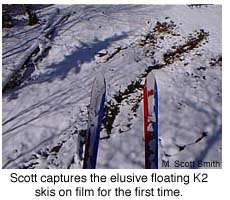 At the nearby Silver Creek ski area, a snowboarding competition consumed the Mountaineer trail on Saturday. Dozens of snowboarders competed, catching air on numerous tabletops as fellow boarders (and curious skiers) watched in awe - or agony, as some boarders demonstrated the wrong way to land.
Silver Creek's new tubing area also captured the interest of many, offering exhilarating rides down a slope on an inflated tube that often decides to turn around as it goes downhill. A rope tow drags tubers back to the top; like several ski slopes at Silver Creek, the tubing hill is lit for night skiing until 10 p.m. (The Snowshoe area closes at 4:30 p.m.)
Demo Days at Snowshoe this weekend allowed skiers to try out new equipment without taking out a mortgage on the house (at least until narrowing in on the best piece of equipment). The new fad this year? Ski boards, which are "mini" skis that come in pairs - unlike snowboards - but offer some of the versatility of snowboards, such as the ability to turn backwards intentionally (instead of just unintentionally, which has been known to happen in my case more than once on regular skis, to the delight of those riding the lift above.) You will undoubtedly see ski boards on the slopes this year; time will tell if they're a passing fad.
All in all, it was a great weekend of skiing at Snowshoe. For those in the D.C. area, Snowshoe is a hike - about a six hour drive from D.C. - but those making the trek are well-rewarded, especially when early-season conditions are as good as they are this year. Snowshoe offers a plethora of day and night activities for everyone in the family. One longtime Snowshoe skier remarked that things have been improving at Snowshoe since it was purchased by Intrawest (a developer of ski areas across North America, such as Whistler/Blackcomb, Mammoth, and Stratton); Intrawest has big plans for Snowshoe in the coming years, and we'll be detailing those plans in an upcoming DCSki article.
There are no reader comments on this article yet.