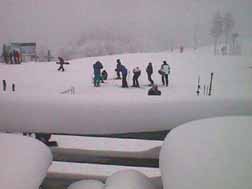 Natural snowfall and ideal snowmaking temperatures have been good news for area resorts over the weekend. Wisp, Seven Springs, and Snowshoe have been able to fortify and expand open terrain, while Roundtop, Liberty, and Whitetail have come a step closer to opening for the 1997-98 ski and snowboard season.
A winter storm passed to the north and west of Baltimore, dumping snow on resorts such as Snowshoe, Wisp, and Seven Springs. As of Sunday morning, Wisp had received 10 inches of accumulation. Snowshoe amassed 25" of powder - a scene from Snowshoe taken on Sunday is shown in the picture to the left. Seven Springs has received 6" of snowfall from the storm.
Seven Springs is open with the Beginner's Bowl, Fawn Lane, Philip's Run, Wagner, and Cortina trails open. By Thursday, Seven Springs intends to open the entire front side of the mountain, and a good portion of the back. Seven Springs will remain open throughout the week; adult lift tickets will run $25, and children lift tickets will be $20.
Conditions at Snowshoe are ideal, with a base depth ranging from 30-60 inches. 13 trails are open, and more are slated to open soon. Snowmaking is in full fource at Snowshoe, with daytime temperatures hovering in the teens.
Wisp has 7 trails open (Belly Flop, Muskrat, Boulder, Grouse Way, Devil's Drop, Squirrel Cage, and the Face) with a base depth ranging from 4-36 inches. Wisp anticipates continuing snowmaking operations through Monday.
Colder temperatures have given Roundtop, Liberty, and Whitetail an opportunity to make snow. These resorts predict an opening date by next weekend, if conditions remain low. Roundtop is anxious to re-open for the season; they were able to open for one day in late November, but quickly succumbed to warm temperatures.
There are no reader comments on this article yet.