Ski resorts need to reinvent themselves and need to listen for once to skiers and boarders.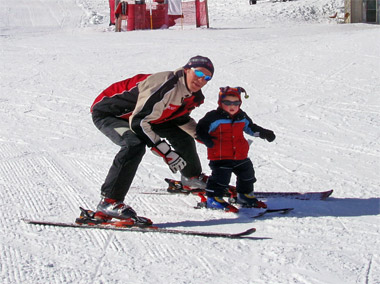 Skiers and boarders are the backbone of any ski resort and are as much neglected as they are needed. After finishing my first few years at different Swiss ski resorts as a ski instructor/backcountry guide I saw some of the best and the worst managed resorts. Following my International MBA in 2002, I believed I had eaten the wisdom by the spoon. I guess, as we all learn after a few years into our own adventure, everything has to be learned through experience regardless of our background. Well, like a good ski instructor and/or a dedicated skier, a jam-packed backpack of knowledge is needed to survive as a skier with today's high-tech equipment and fast changing ski industry. We all know there are well-known, well financed and well managed resorts. There are also resorts that are not so lucky and operate on a smaller budget and many times under a non-skier oriented management. Stowe, VT -; the first ski resort in the US and for that matter Yellowstone Club, Montana, a private ski resort -; are definitely some of the better known and managed resorts. No suggestion on which will make my poorly managed ski resort list. My superior question I am asking myself and especially you: "Can we, as individual skiers, change our beloved resorts by just being skiers?" I also will have a small resort IQ test at the end of this article for you.
As the ski school director at Pennsylvania's Hidden Valley Resort, I did not only have to be a certified ski instructor, I also needed to be an economist -; not certified. Establishing and creating programs was the main task at the beginning of every new season. In my case it wasn't easy, especially when my market - and possibly your market - just happened to be in a highly competitive and mature market with little annual growth. As in every industry, companies need to reinvent themselves over time to meet customers' needs and if they don't they will loss market share.
First, competition is a good sign for the customers because it will increase their options and will keep prices at a reasonable level. Second, resorts that work in the same region should work together to attract even more customers to the region. It would be a win-win situation for everyone. The mountains in the East are limited and by working together we would open up more slopes to our guests. According to the National Ski Areas Association (NSSA), the ski industry is a growing one. We have more visitors in nearly all regions of the US of A now than ever before.
According to the Federation de International Ski (F.I.S), freestyle skiing is the future for alpine skiing. Freestyle becomes the number one investment for most resorts whether it's in Park and Pipe or in new equipment for grooming such super pipes and parks. ESPN's X Games also contributed a lot to the new movement. Making some freestyle disciplines such as skier & boarder cross an F.I.S. own world cup series helped the alpine sport. The industry reinvented itself to better the overall ski industry. The ski manufacturers stopped being stubborn and started listening to their costumers and saw the revolution we went through in virtually every aspect of the alpine sport. But why are some resorts on a pressing edge angle against the new movement of skiers? I believe they still count on the baby boomers to spend prime dollars at their traditional resorts but forget they deal with multiple generations at the same time.
I guess Adam Smith's economic theory or Ricardo's theory won't help you much running a ski resort. Could there be a skier theory? If we have one, could it help in successfully running a ski resort virtually anywhere?
All that non-skier background noise of economics brings me to my position as the ski school director. What could I possibly do to help a resort currently going down a steep hill, to change its direction?
When a chief editor of a well-know magazine was asked by the resort PR department to write an article about learning how to ski for his travel section, it sounded like we would get some great exposure. It just happened to be on a warm rainy day in January and on top of that I had about two hours notice of our visitor. After knowing I needed to teach the poor journalist how to skate down with skis on a small icy trail -; keep in mind we had only one slope open and two other skiers on the entire mountain -; I started by giving him a tour of the ski & kinder school. After he managed going through the rental shop and finally was standing outside at around 3 p.m. ready to go, they turned off the ski lifts. There I was with an editor of a well-known magazine and I needed to give him a wonderful skiing experience at our ski resort. Well, it worked out like everything else usually does. Like in any other business you need to improvise. That was a unique experience for me and I guess it would have been for most of us. But what can I possibly do to help make improvements and to avoid any similar situation in the future?
During my first season as the director I did not see many activities going on at the resort. I did see many people complaining about how things were managed. Or which slopes should not be groomed so we will have bumps. Or what should be done to the pipe & park? We all know we have that at our resorts regardless of our ski resort's location. Coming from another part of the world and working at Eastern resorts, or as I recall - being the outsider trying to tell them how we need to do things around here, was as much of a help as it was a handicap for me at the beginning.
Reflecting on my experience during my time in the East I did not think much about how I could change the resort but rather how I could make it a unique experience for all of our guests and my instructors. After one month into the season I saw we needed to enhance the overall experience for the guests and the homeowners of the resort. I also saw how management and skiers did not blend together well -; I guess this happens if you have a non-ski management who tells you on a daily basis the ski season isn't their priority, it's real estate. I had to say wait a minute, are we not their priority? I believe they did not realize that the majority of people buy houses because of us -; the ski area.
First, I started a virtual ski racing team with only me as the president which became a certified USSA club -; that was awesome. We soon transformed the people from complainers into helpers. I used some of the après ski time as a networking tool for my virtual racing club. I was surprised how people were receptive and interested in starting or participating in "my" club idea.
When the ski school technical director Ryan Purvis introduced me to a guy by the name of Joe for our annual skier & boarder cross competition for sponsoring the event, I thought he might be interested in my virtual team. To my surprise he was not only interested in helping me, he also was a homeowner/regular at the resort. While not bringing much ski experience to the table, he definitely had a passion for the sport. After bringing a pool of people together for the club we just needed the resort to buy into the idea of having a certified USSA racing club. To my disbelief the resort offered great support for the venture, after some influential letters to the owner of the resort. We had a win-win situation. Look at it from my side, I will have great talented ski instructors in a few years and the families have a place to go with their children. Creating programs will become easier in the near future. The energy families spent complaining about the resort ended up being spent as time together improving the resort for THEMSELVES.
Taking my experience even further, I believe strongly in moving towards customer's needs and trends. One prime example: many resorts around the world lack a professional freestyle club at their own mountain. Even the core countries' professional snow sport instructor organizations are not moving fast enough on that subject. You don't need a 1,000-foot vertical drop to have a great freestyle pipe & park.
Let's help each other and work together to make our beloved resorts a place of interest to all of us alpine skiers regardless of age and style.
Test Your Resort IQ
1) True or false? The best ski resort management is managed by non-skiers.
2) True or false? Rainy and warm days are the best weather for introducing your ski resort to a well-known journalist.
3) According to the NSAA, US ski resorts are:
a) losing costumers.
b) gaining popularity with lawmakers in Washington DC.
c) have great support from the Canadian government.
d) a growing industry.
4) Après ski is part of the overall ski experience only in Switzerland.
a) Cannot be true because we all like to have a glass of wine or beer after a wonderful ski day.
b) The Swiss have Iwan and therefore it's true.
c) Après ski is not customary in the Eastern part of the USA.
d) I don't know what Après ski is.
5) The USSA is needed to manage a ski resort on all aspects of its business?
a) Yes, the USSA is a part of the US government and gives substitutes to ski resorts.
b) No, the USSA is the main labor organization for all ski instructors.
c) Yes, the USSA is a business application process system and helps its manager to manage better.
d) No, the USSA is the US Ski Association for alpine ski racing clubs and has nothing to do with the resort management.
6) True or false? You don't need to be a professional certified instructor and/or employee of the resort to make an impact.
Answers: 1. false; 2. false; 3. d; 4. a (if you don't know what Après ski is please consult with your local ski resort for some educational warm up.); 5. d; 6. true
Iwan:

Since you are no longer employed by Hidden Valley, can you comment a bit about the current situation. What's the solution as you see it? Any thoughts also on Laurel Mountain?

John Sherwood
Hi John,

I know it is hard for the Pittsburgh region not to know what is true and what is not and whats going on in general. Regardles of my position at HV and 7springs, I believe we need resorts owners who care about the region. We also need business people who know how to do business in todays complicated business environment and do not always use the resort as a tax write off or move profits somewhere else (i guess its a tax write off). Lets work together just like other regions in the East and offer a regional package through Lauren Highlands, which HV does not participate. I guess until then we only can hope we will have a deticated management and make smart business moves. Of course, there are more solutions out there but working together in the region is an important part of it. Working together is a well used business model world wide in the ski industry, a working solution in my point. We could go on with this topic but lets be hopeful and wish HV a great season, 7springs with a new ownership could take off on the national map, and LM out of the picture only will keep more presure on HV to stay in business, we only can hope for the best.

Let it snow and let the season start.
iwan,

do you have any knowledge of blue knob getting the needed boost of some outside investors?

mark a
Iwan:

I agree wholeheartedly about alliances. As someone who has skied frequently in Europe, I appreciate what an alliance can do to promote small resorts, as well as mega resorts. At Hauser Kaibling, for example, the ski legend Helmut Hoflehner can run just a couple of lifts and make a living even though he is surrounded by mega resorts. The trick is the chip card, which enables alliances to equitably distribute income based on lift usage of individual skiers. Laurel Highlands should adopt a similar strategy.
You are one hunderd per cent right John with the chip card. We at HV almost introduced the RFTag system, which is a radio frequency transmider. Most ski resorts are using this technology for about the past five years in Europe. I also have a Swiss Swtach were my season pass is on. With this technology, resorts in the East, increase their services and conviniences to their customers. You can track better your clients as well. One other big adventage, most families have four members and all four members have different levels of interest in winter activities. You need to offer more services and activities.
I do not have any insider info regarding BK but one thing is clear. The owner of BK have a similar management style then HV. They both had their financial high around the same time the late 80s. They both are having similar ouside ventors and outsource most of the restaurants and bars to the same company. I do beleieve, when we look at financial terms they both need outside investors....no questions asked. They both used their resort businesses as a cash cow until it did not offset the spending/profit ratio. There are many outside investors this days looking for a great capital investment into resort properties. Talking from a fiscal perspective we are in a up-swing turn.......loots of hope for the western PA region. I would like to take a resort in the region because the sky is the limit in the long run (5 years in the capital market).
Let me know when you know more Mark I would be interested. I only know the ski school director and technical director and they both are great skiers and good friends.
Iwan Fuchs knows alot about skiing and he really likes to drink strong coffee.I know he thinks the swiss make the best cheese, but I prefer Norwegian cheese. What does this have to do with his ski ability - nothing, I just like to aggravate him!!